When I woke up, the first thing I did was to check the sunrise. It was magnificent. And I could see snow-capped peaks in the distance as well ! I was so mesmerized by the scenery that I forgot to take proper pictures. I managed to take this one when the peaks were illuminated by the magical sunrays!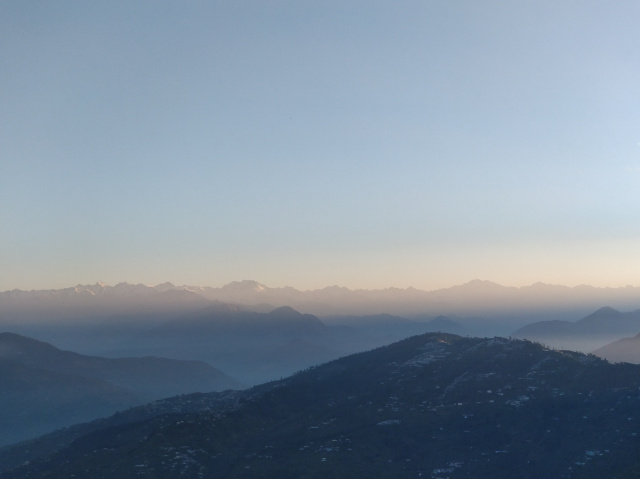 Today we were going to travel to Kalpa which lies in Kinnaur district. It's a small town, situated just 10 mins from Reckong Peo, which is the district headquarters. It is approximately 162 kms from Narkanda. The backpacker team would be going to Chitkul today. The route is same till Karcham, from where one road leads to Sangla and Chitkul and the other to Reckong Peo and Kalpa. We were also going to visit a place popularly called as Suicide Point in Roghi village near Kalpa. I had seen loads of pictures on Instagram of this place and was excited to visit it in reality.
We had our breakfast (not in Negi Dhaba :)), packed our luggage and started the journey. We had the Sutlej river for company. We took a small break at this place where there was a bridge across it. All of us got down to stretch our legs and ended up spending some 30 mins here :)

Soon our captain started calling us to get back. We stopped for lunch at a small dhaba named Basmati Dhaba. Had our lunch and bade goodbyes to Badal and his backpackers. So now it was the 19 of us. 13 of us in the TT and 6 in the Tavera. The scenery outside was slowly changing from lush green to semi-barren mountains. It felt like the roads were carved from the mountains so beautifully! Passing under those low height mountain face felt just out of the world. All those pictures and videos on Instagram of this route were coming to life right infront of my eyes!
We reached Suicide Point by 5.30 PM. The first reactions were of shock! There was a small ledge over which people were setting and getting their pictures clicked. And below them lay a 1000 feet deep abyss. No wonder its called Suicide Point! Check out these pics to get a sense of the sheer scariness of this place.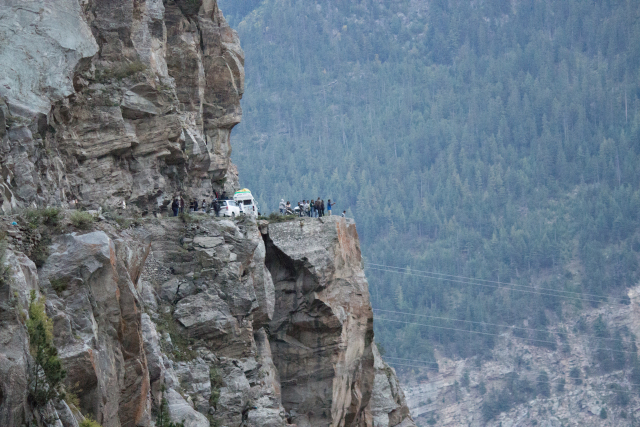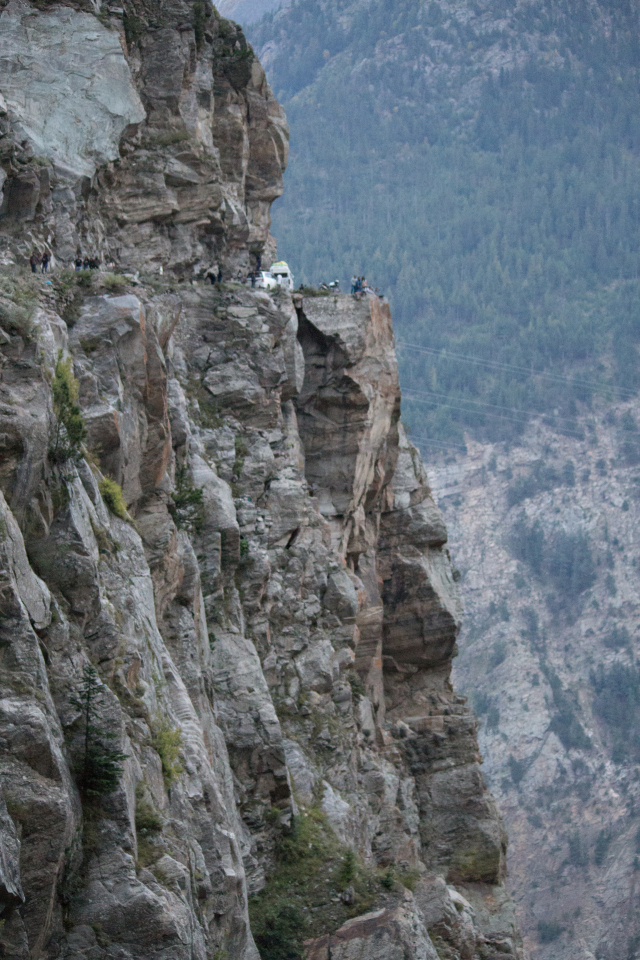 Once our adrenaline levels had come down, we proceeded to our hotel. We stayed in Tab Exotic hotel in Kalpa. The rooms were really nice and warm. The four of us went for a small walk and found out that our backyard was full of apple trees! Since it was dark we couldn't see much. But that didn't stop Abhishek from plucking some :) He quickly pocketed them before anyone could notice. He was about to pluck another one when we saw two guys coming towards us and asked us not to pluck them. We apologized and went back to our rooms.
I was lying on the bed when Amulyam, Rounak and Abhishek began setting up their tripods to take some night shots. I wanted to go so badly with them. But I wanted to rest for tomorrow's long journey. I kept everything ready for next day and went off to sleep, hoping to wake up early and catch some morning views!