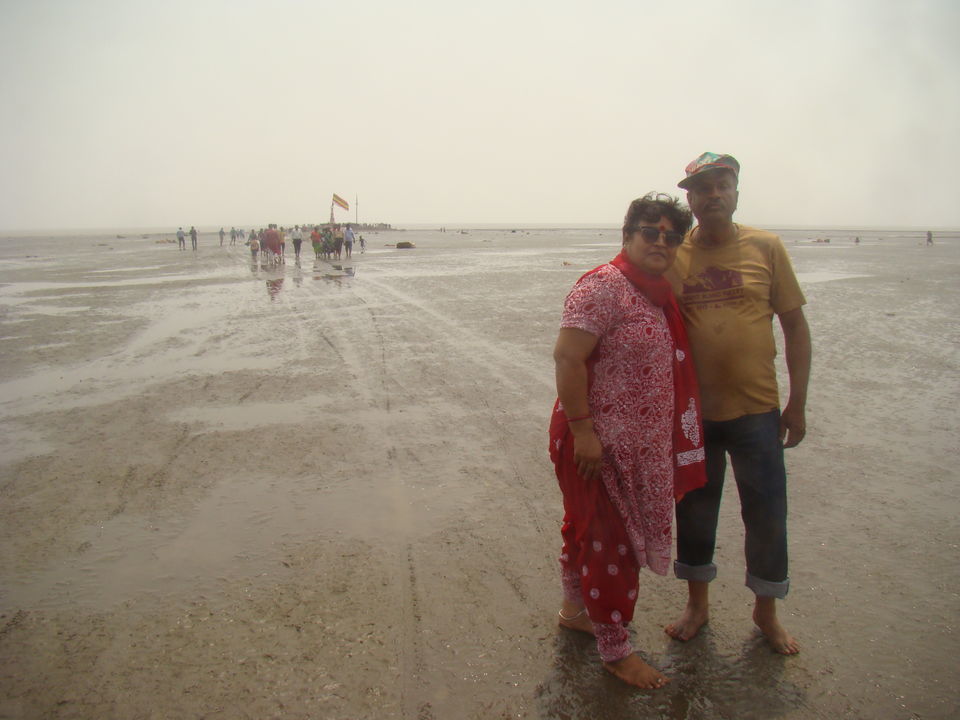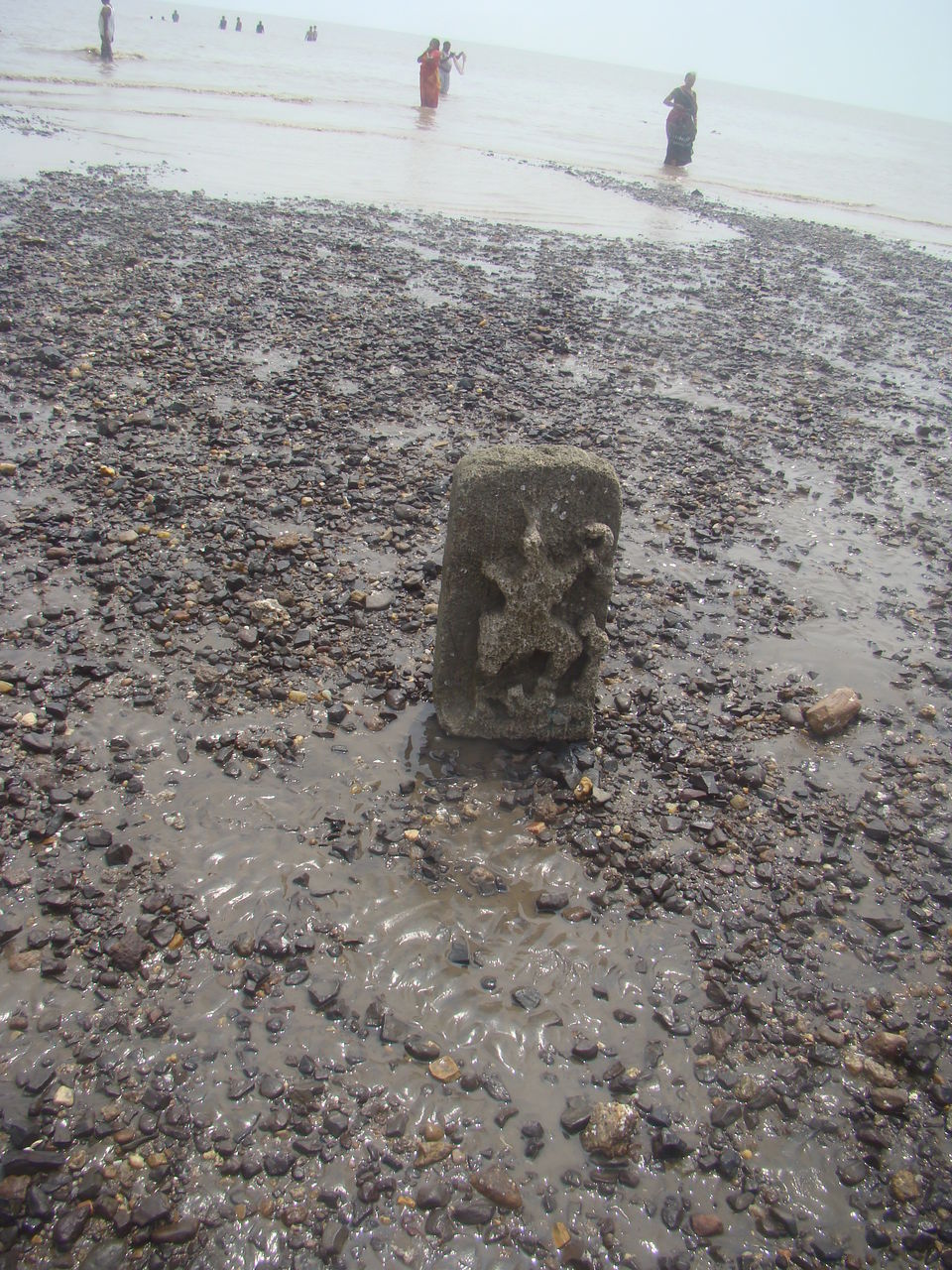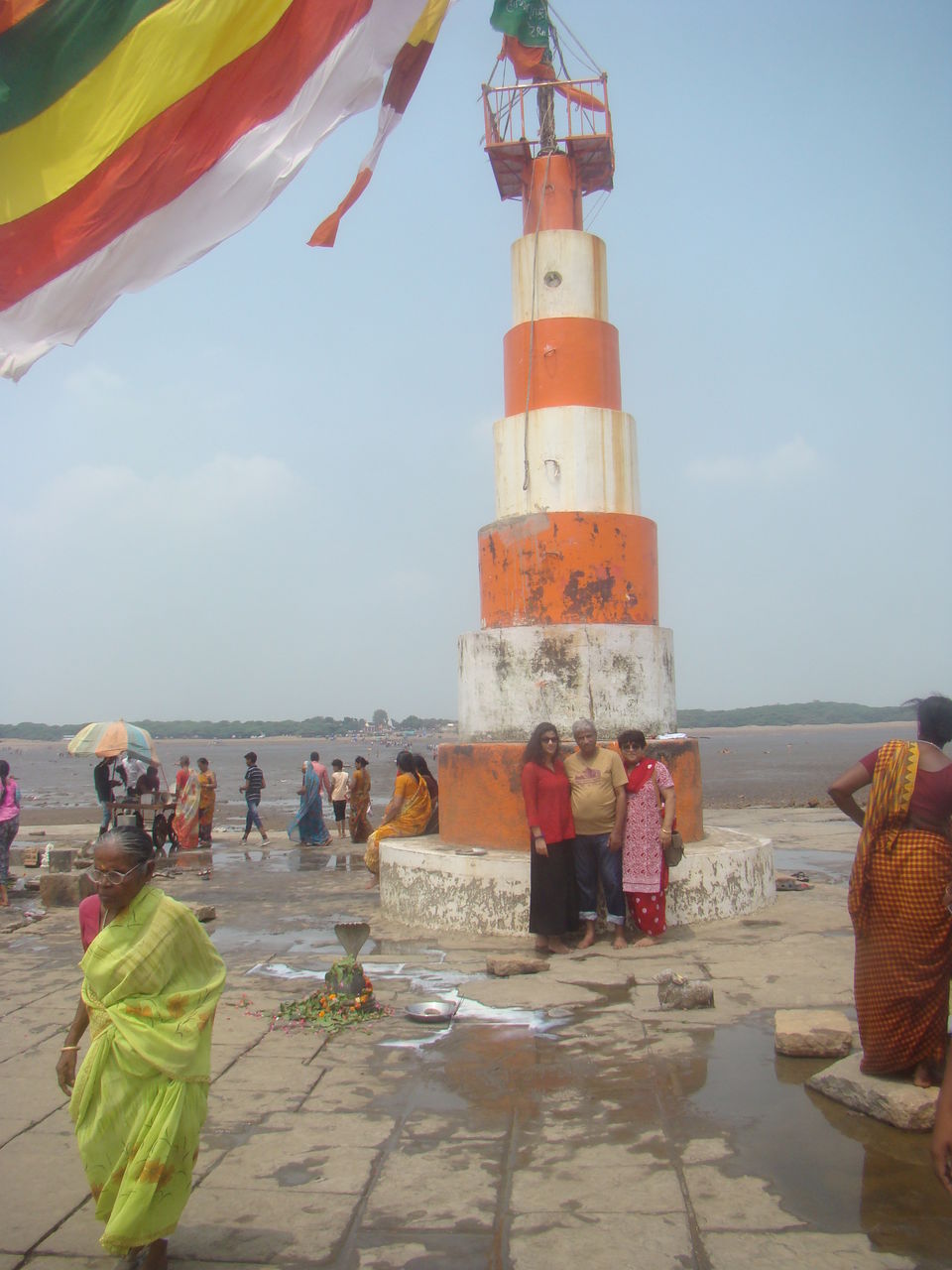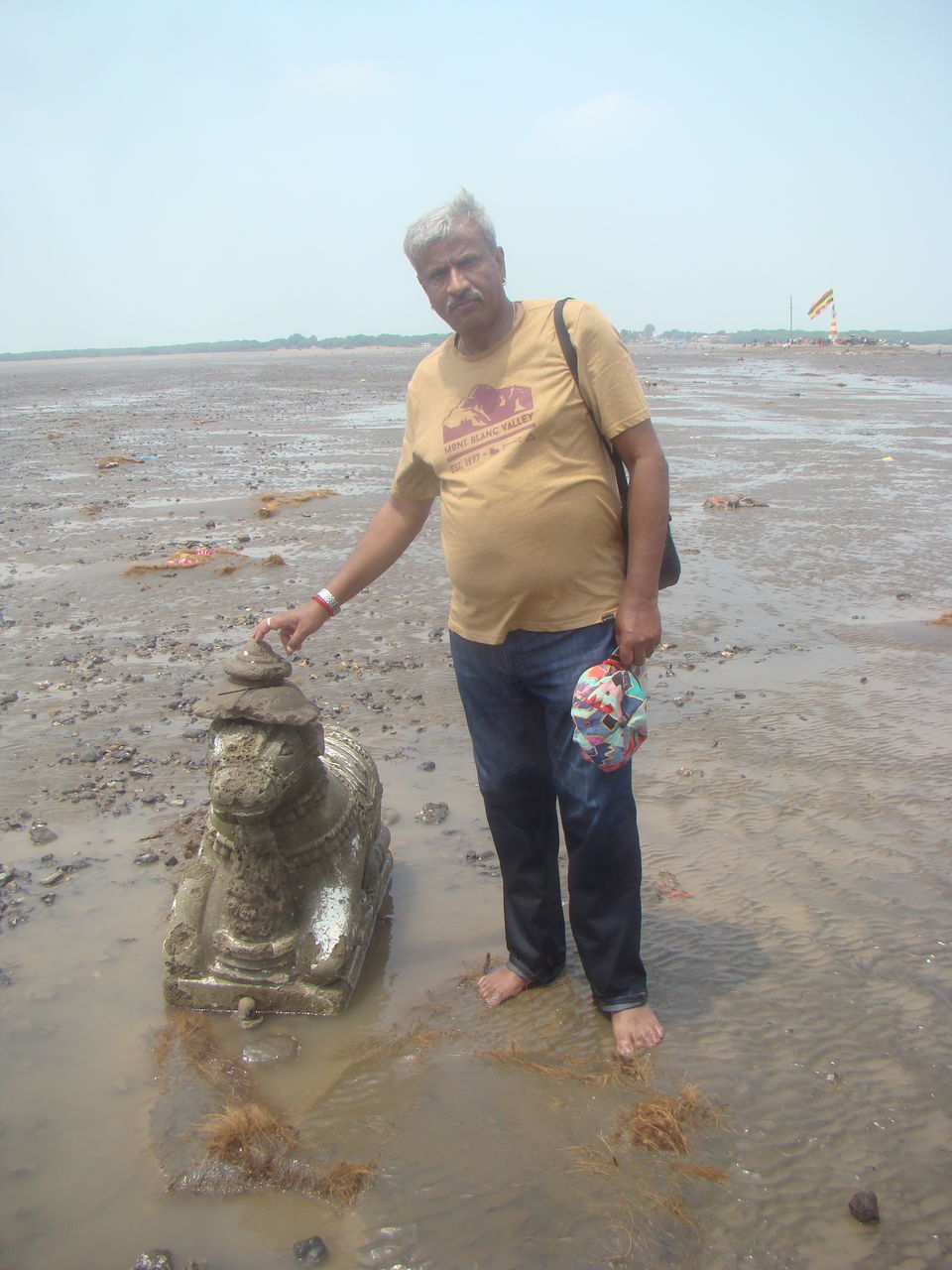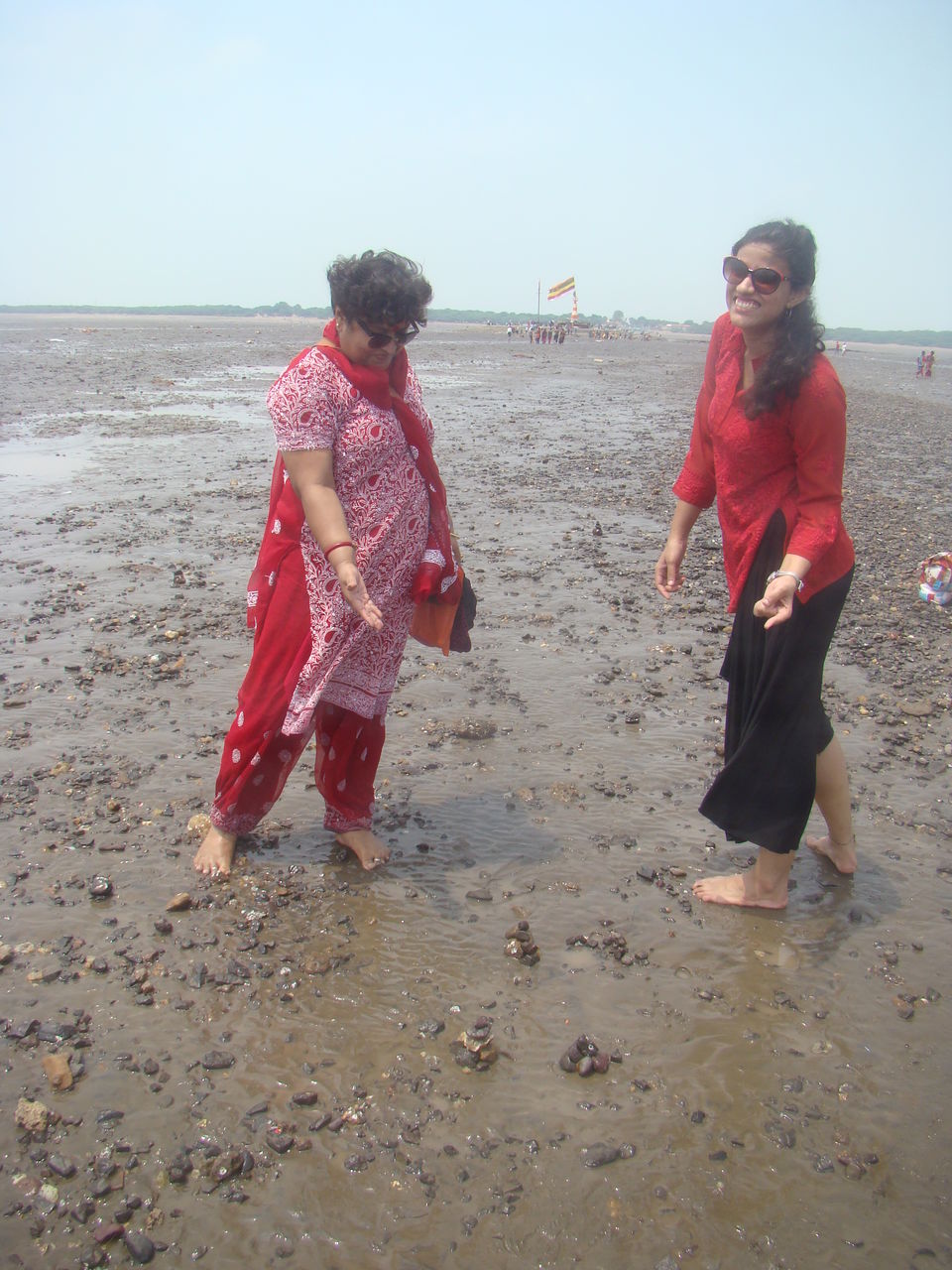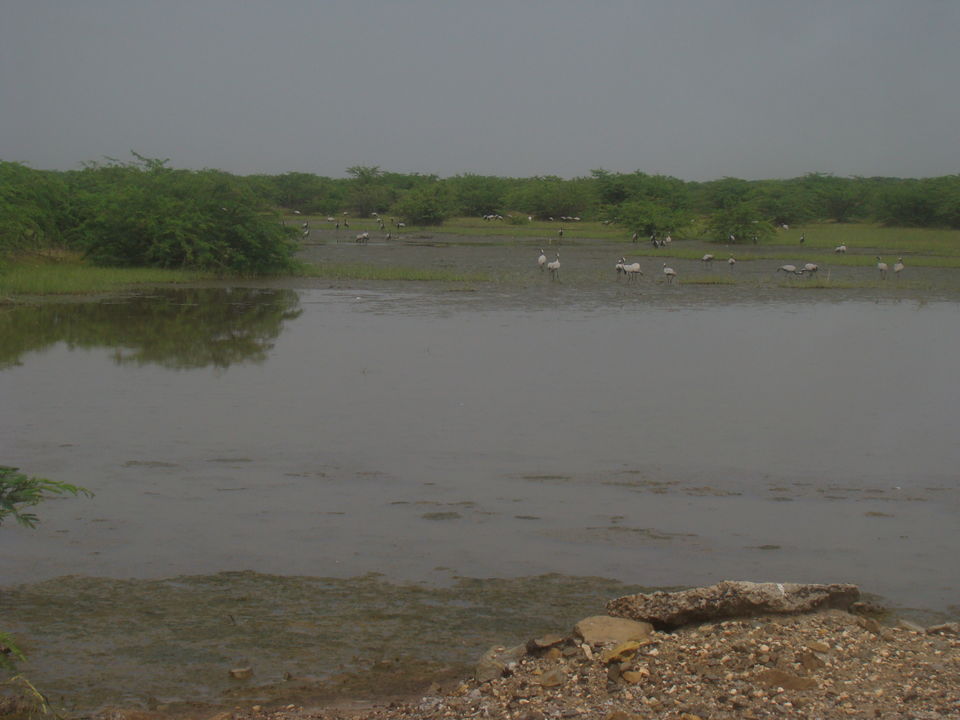 Nishkalank nath Mahadev is at a distance of around 4 hour drive from Ahmedabad. This place is off the coast of Bhavnagar in the Arabian sea. The uniqueness of the place being, it is 3 kms inside the sea and emerges out of the sea only twice every 24 hours. It's immersed in the water for the better half of a day. The timings of its emergence depend on tidal position and can be known by Bhavnagar tide table which can be checked on the website before going.
There is no temple in the conventional sense. There are five Shivlings of different sizes with corresponding Nandis on a hardened plinth also having one flag post and a metallic pole. There is a very small rectangular pond , which is used by devotees for cleaning their hands before making offerings to Shiva.Only the flag post and pole remains visible during high tide , when all Shivlings are completely submerged in water.
Getting from the road to the temple was an easy walk on sand, but beyond the temple when walking towards the sea it was a bit difficult to walk around, as the area is covered with broken building materials and pebbles. Also one can see a number of varied idols spread around of other god and goddess during low tide.
According to local folklore, this temple signifies the point of Atonement of the Pandavas after the Mahabharata. After the great war ended, the Pandavas were ridden with guilt for having killed their own kin and the sins they had committed. They went to Lord Krishna and asked for ways to cleanse their soul. For this, Lord Krishna gave them a black flag and a black cow and told them to travel to the place , where the flag And the cow turn white, which will be the "nishkalank" spot, so to say sin-free. Then to worship and mediate for getting blessings of lord Shiva's . The 5 shivlings signifying the spot of each brother and the shivling given to them by lord Shiva himself. This is the reason why this temple does not have the characteristic orange colored flag .
When we were walking on the shore, which was full of pebbles, some localites told us to build houses from the pebbles for happiness in our household. And even offered us lunch at their place, we were in a rush to get back home, not wanting to make it an overnight trip, so we decided to head back home.
It is a quiet place, and a beautiful drive up from Ahmedabad. Filled with fields on both sides, with pleasant people.
It is a very small place near Bhavnagar, so there are no lavish hotels or restaurants, just simple stalls along the road leading to the temple, run by the people of the village. The only issue faced was a lack of public washroom.