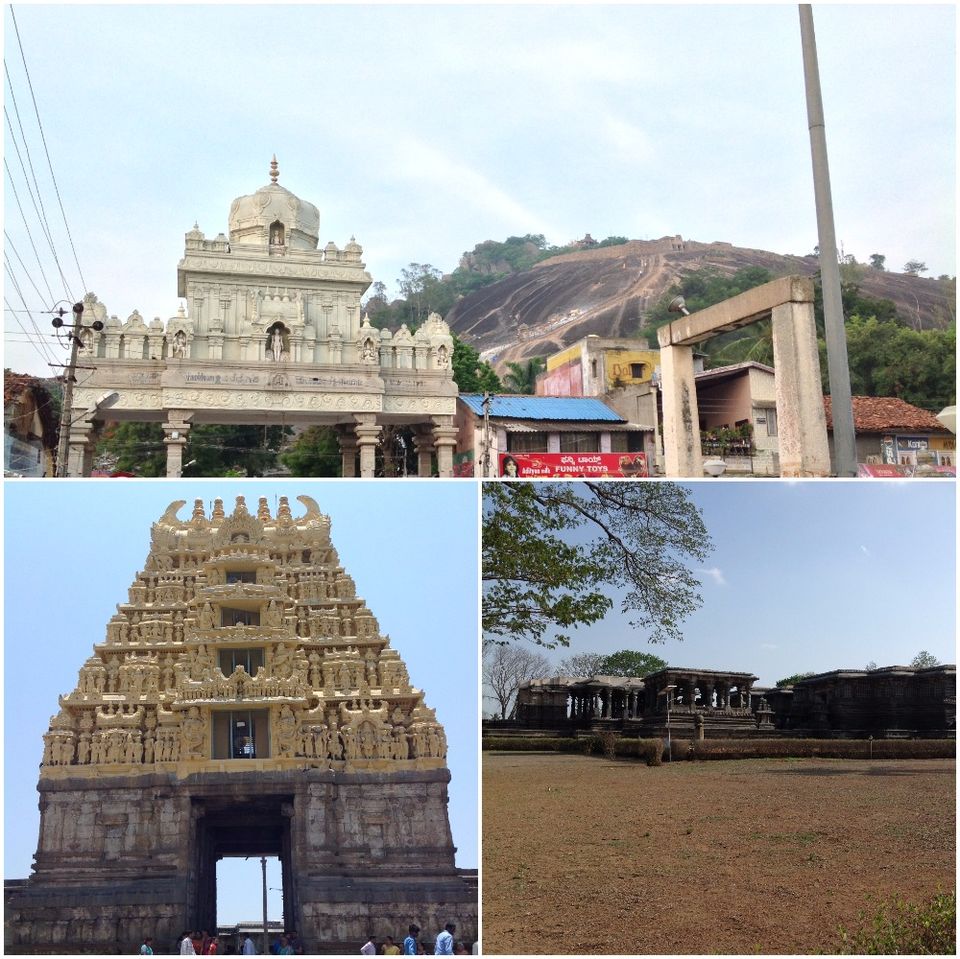 Hello! I am writing my experience after visited few places in Hassan district of Karnataka. Shravanabelagola, a Jain pilgrim center where we can found tallest monolithic statue of one of the Jain thirthankara and another two are architectural marvels of Hoysala's dynasty, Belur and Halebeedu.
We have started from Hyderabad on Saturday morning by bus to Bangalore and then hired a cab[self drive] to visit these places. There were couple of buses operating by Telangana and Karnataka state transport corporation buses available at 06:00 and 06:30 AM respectively from Hyderabad to Bangalore. If you're planning to visit these places during weekend, I would suggest to opt for these services. Started our trip from Bangalore to Shravanabelagola on Saturday evening and reached by 08:30 PM. We have booked a room in nearby hotel for the night stay. Hotel Raghu present in-front of hill provides good accommodation as well as decent food.
Shravanabelagola is small village in Hassan district which was sacred pilgrim center of Jains. This village was situated in between two hills Vindyagiri and Chandragiri and it was famous for the world's largest monolithic statue of Gommateshwara [Jain Tirthankara]. As per the inscriptions, one of the great kings of India, Chandragupta Maurya was lead his life in this village as a Jain monk after he decided to live a ascetic life.
Vindyagiri Hill:
Vindyagiri hill, the hill where we can find the largest statue of the Gommateshwara widely regarded as "Bahubali". To see this statue, people should climb close to 600 steps which were carved on the hill itself. As per the inscriptions, this statue was constructed back in 10th century. Once we reached the hill top, we can see beautiful landscapes with lush-green trees and agricultural fields around the village. Summers were very hot in this area., it is better to climb the hill during early morning between 06:00 - 08:00 AM, where we can experience fresh breezes during that time. The carvings on the walls of the temples were elegant. In southern part of India, Jain temples were widely regarded as Basadi's. Couple of Basadi's present on the hill top.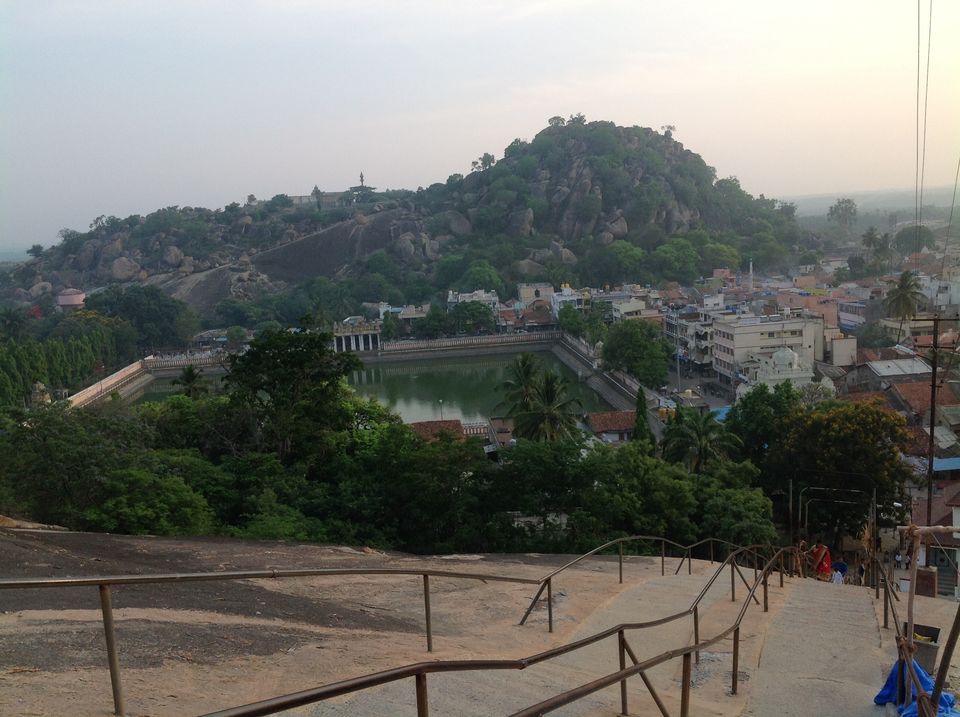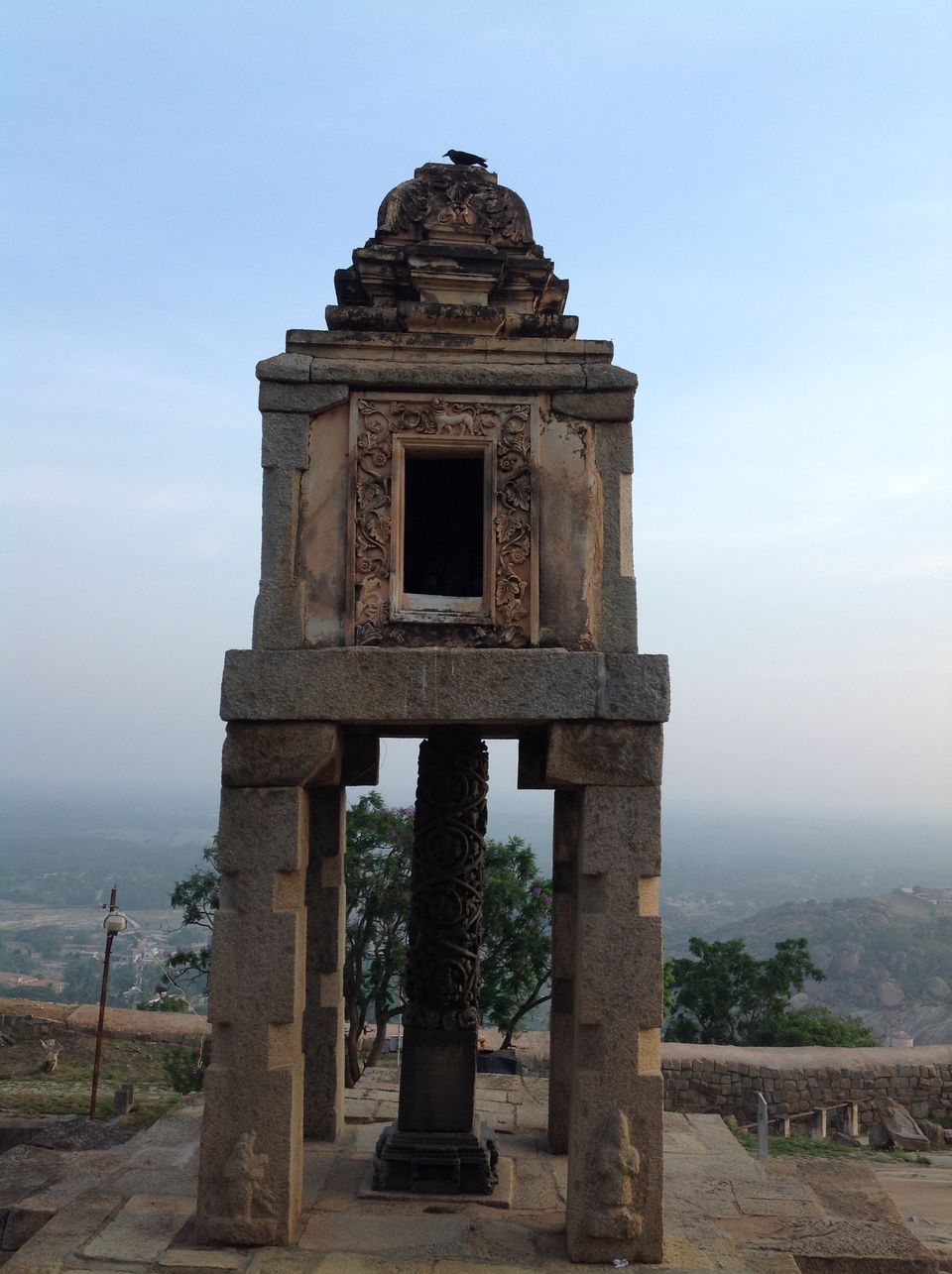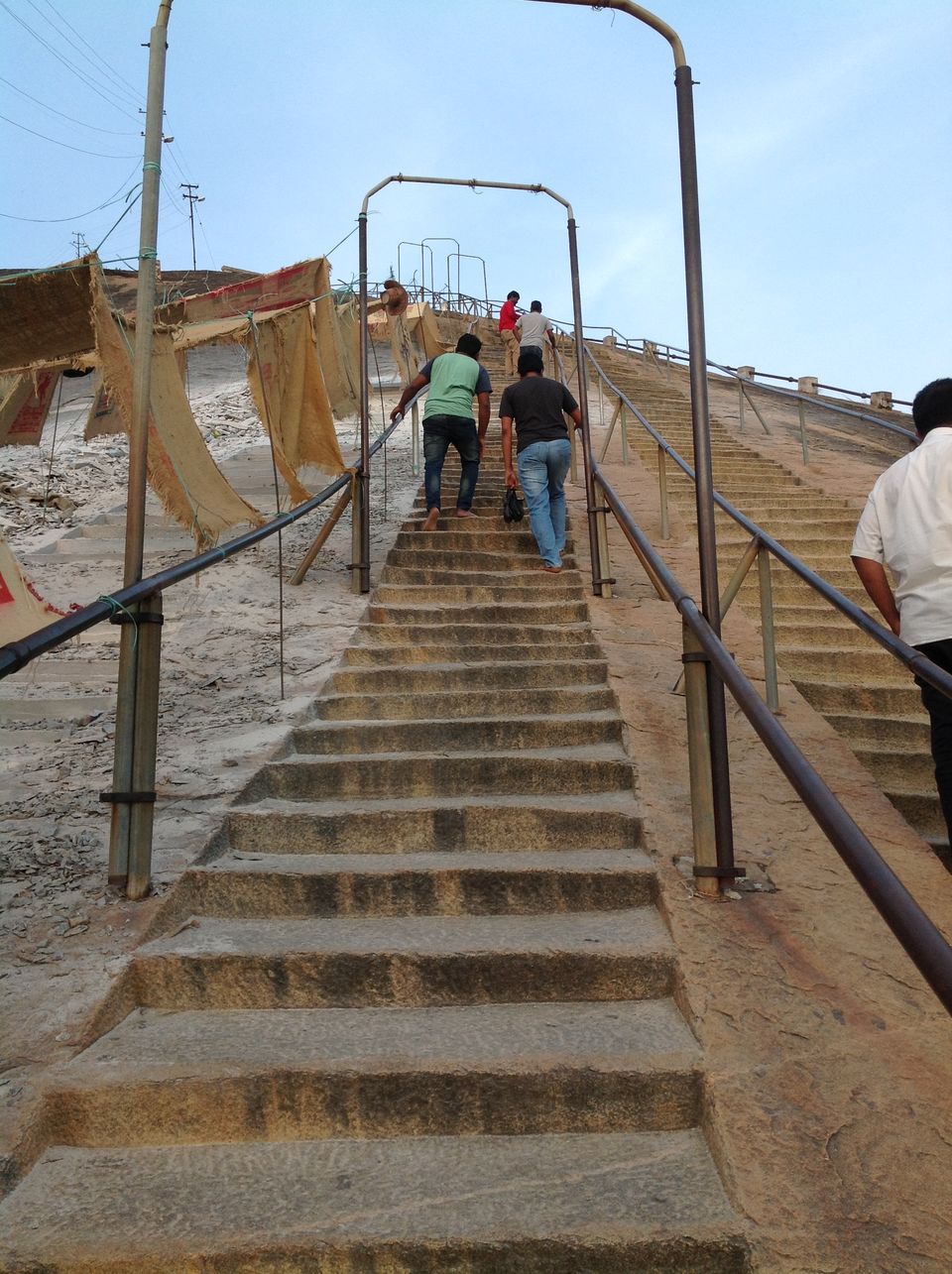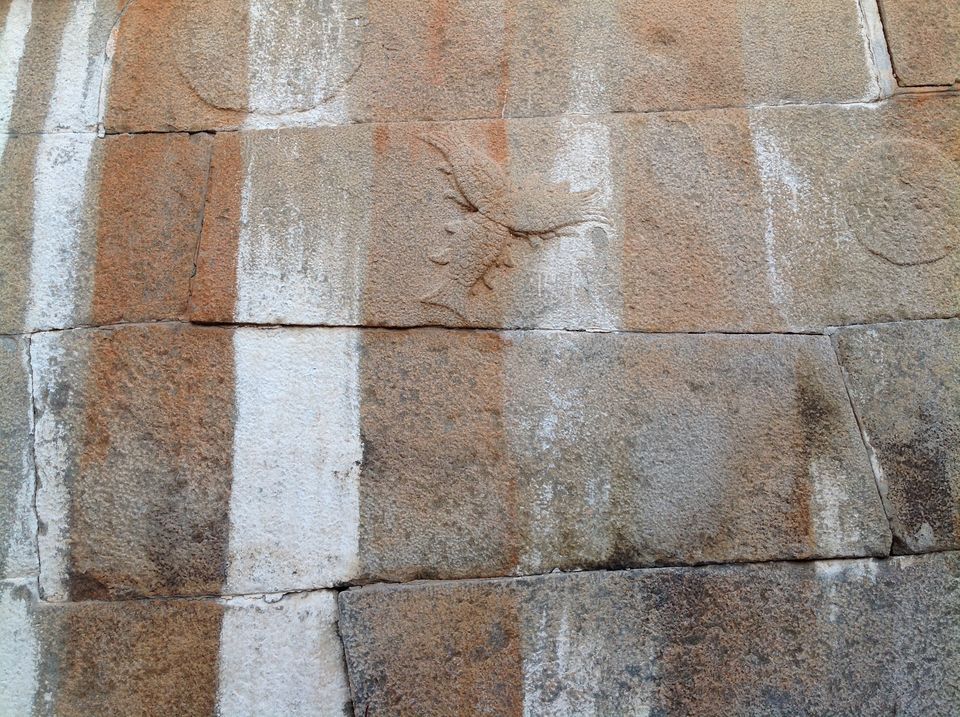 Chandragiri Hill:
This hill was close to 500 mts from the Vindyagiri hill. We can reach by foot and there were few Basadi's of Jain thirthankaras on the hill top. We can experience beautiful view of the Vindyagiri hill and the Bahubali statue along with pond in front of the Vindyagiri from this Chandragiri hill. This hill was named after one of the great Mauryan king Chandragupta Maurya who was turned as Jain monk and lead his ascetic life here. Once we reached the hill top, we can find so many temples of Jain thirthankaras which were constructed between 9-11th Century. We can find one of the prominent thirthankara of Jains, Parshwanatha Basadi is built in Shravanabelagola during 10th century enshrines a 18 feet in tall image of Parshwanatha in kayotsarga posture.[Usually, we will find two postures of Jain thirthankaras 1. Yoga Posture [Sitting position] and 2.Kayotsarga Posture [Standing Position].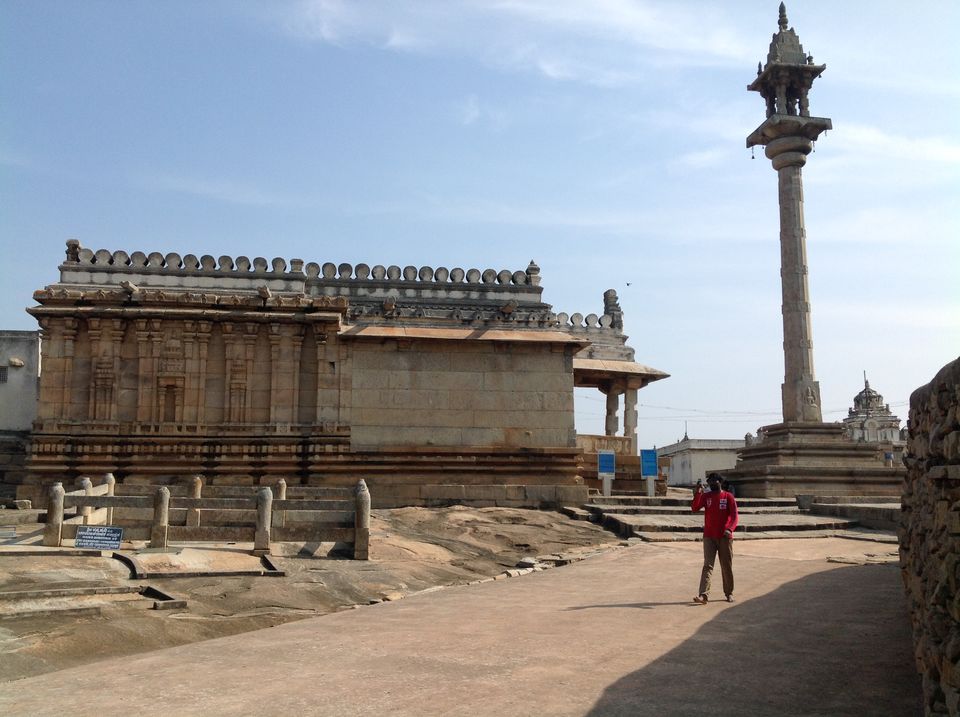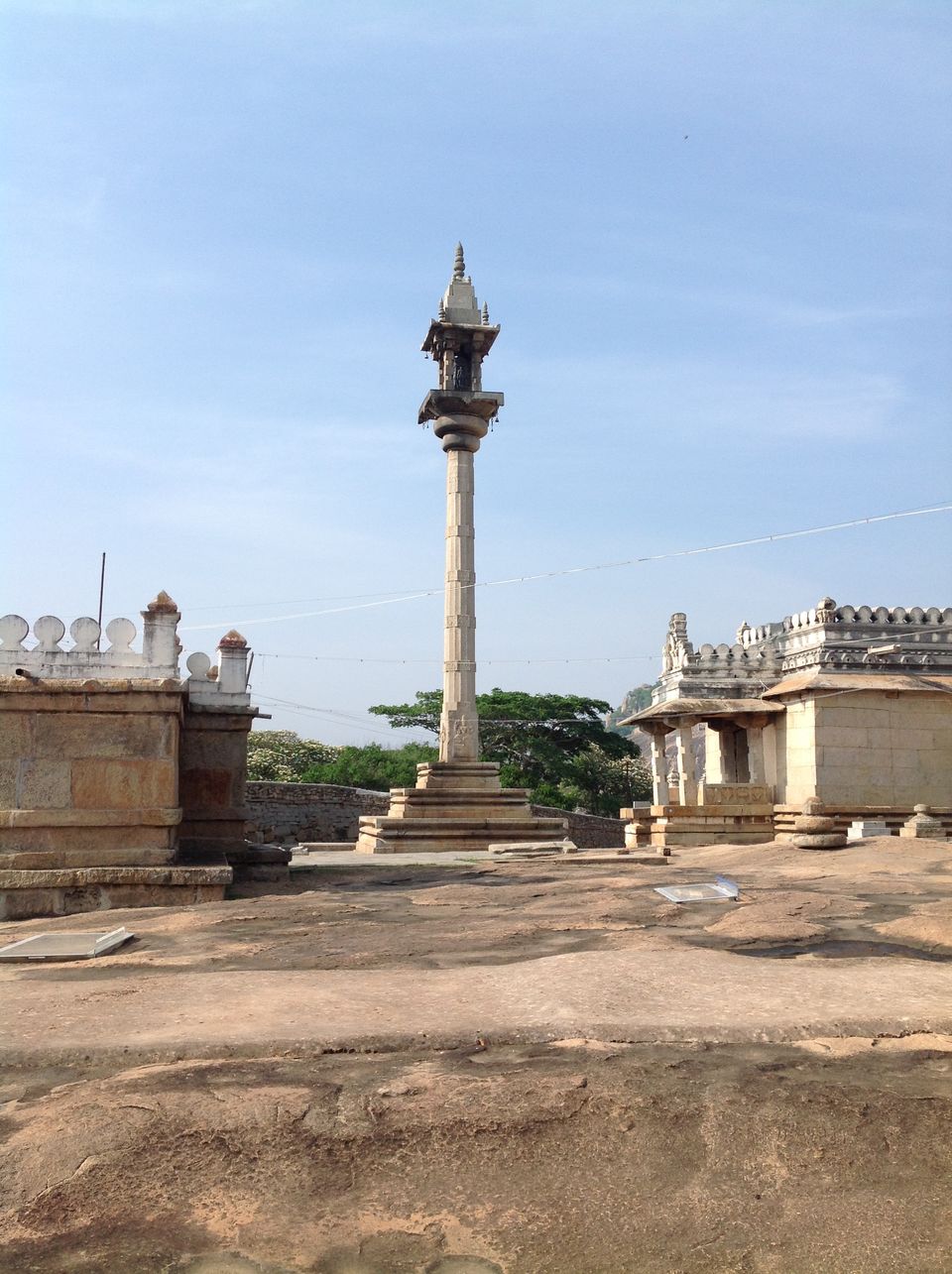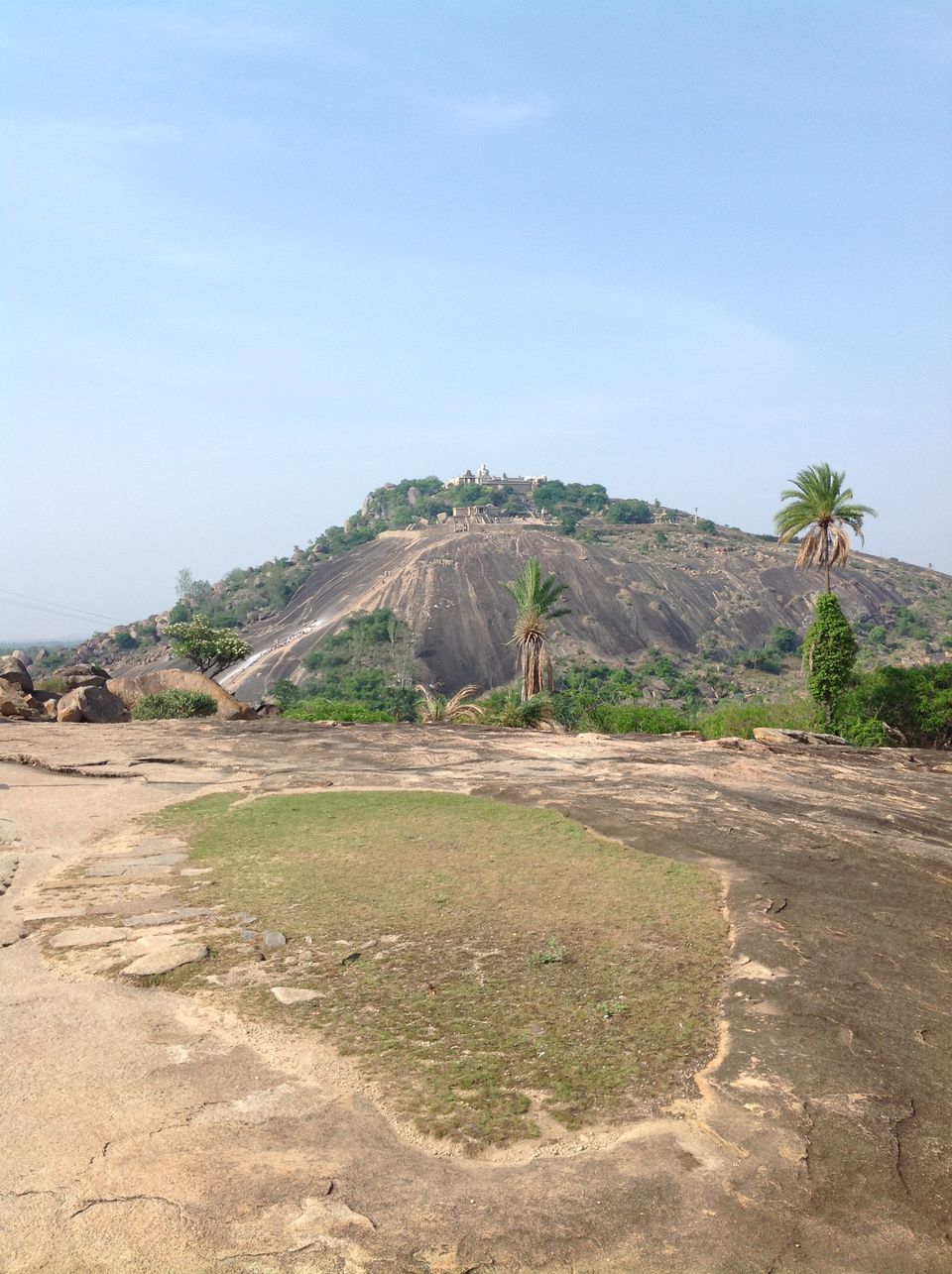 After visited these places, we have completed our breakfast in nearby tiffin center which was very delicious and economic. Started our journey towards Belur which was around 90 kms from Shravanabelagola.
Belur: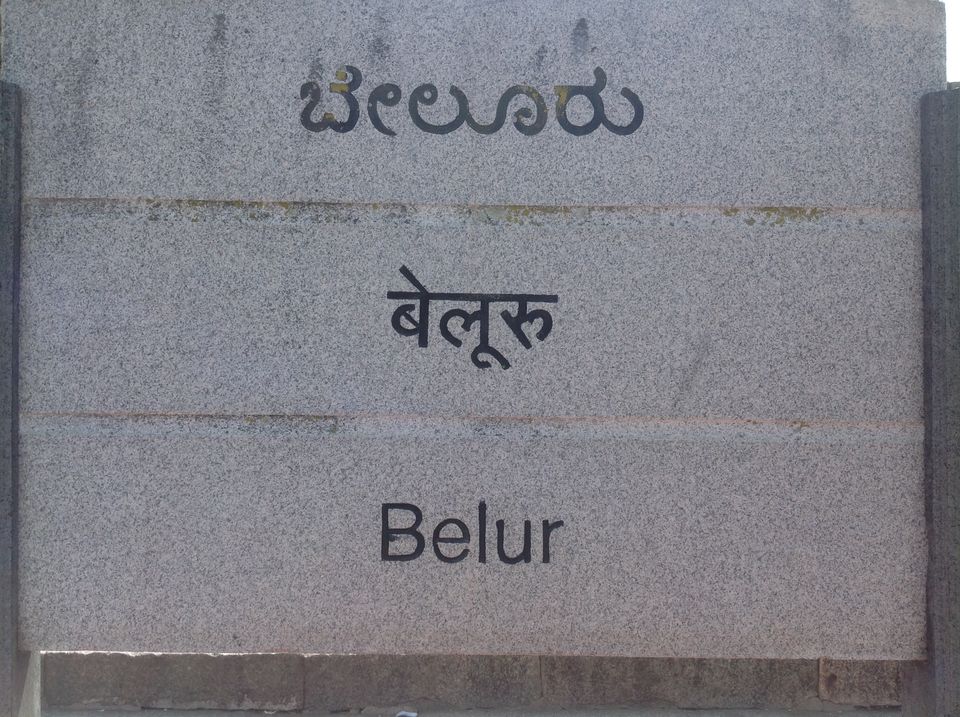 One of the ancient cities in Southern part of India and gateway to the western ghats and renowned for Chenna Kesava Temple one of the finest examples of Hoysala architecture and early capital of Hoysala's and later the capital was moved to Halebeedu. In ancient days, Belur was also referred as Velapuri. The main attraction in the town was Sri Chennakesava Temple, here the shrine was Lord Chennakesava [Chenna means Beautiful[handsome] and Kesava is another name of Vishnu]. The temple construction was started by the Hoysala King Vishnuvardhana in 12th Century and completed by his Grandson Veera Balladeva II. The entire temple construction took more than 100 years. Three generations of this empire has been taken part during the temple construction. Soap stone was used for this temple construction. There was another temple Chennigaraya in the complex built by the queen of Vishnuvardhana, Shantala Devi. Shantala Devi is a Bharatanatyam dancer and she danced infornt of the main shrine during the installation. To know about this temple's history, I would suggest to take a guide[they will charge Rs. 300/-].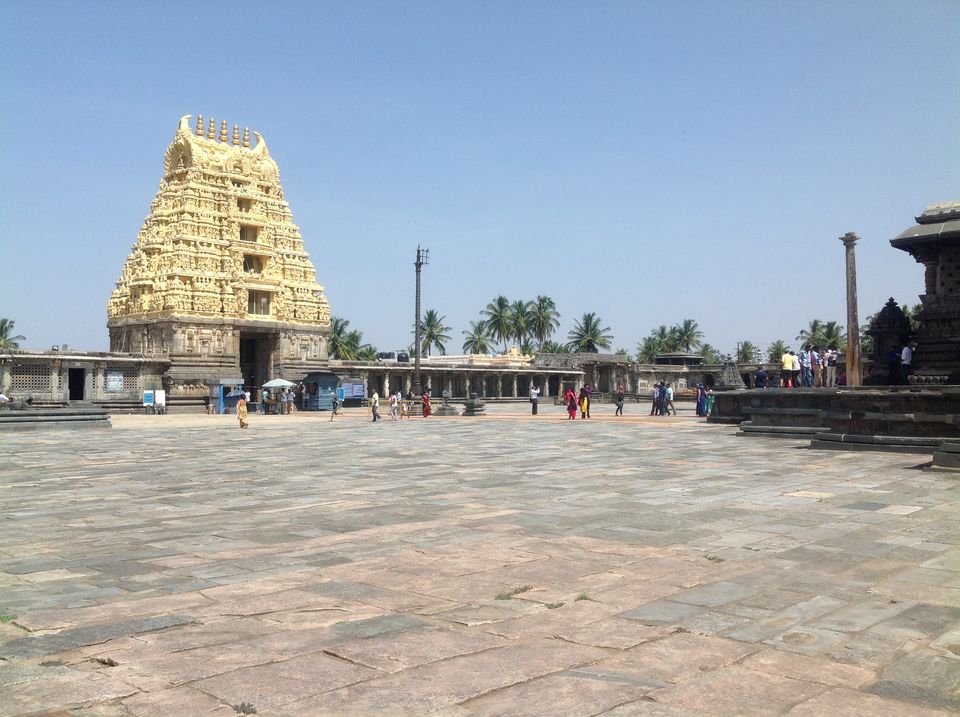 During my visit to Aihole, Pattadakal and Badami. Everyone told that Aihole is school of architecture, Badami is secondary school of architecture, Pattadakal as College of architecture whereas Belur and Halebeedu were universities of architecture. This is the perfect statement about the architecture. While going through every carving, everyone should appreciate the workmanship of the sculptors during that time.
Specialities of the Chennakesava Temple:
Most of the carvings on the temple walls depicts about Indian women in different styles, mythological characters of Ramayana and Mahabharata along with Hindu gods especially Brahma, Vishnu and Maheswara. The temple explains about the culture and art of the Indians. We can find different carvings of Lord Narasimha on the temple walls, one of the incarnation of Lord Vishnu and principal deity of Hoysala Empire. Each side of the entrance of the temple especially above the door has been well equipped with the ornamental carvings which has the different forms of Lord Vishnu and guarded by the emblem of Hoysala Empire.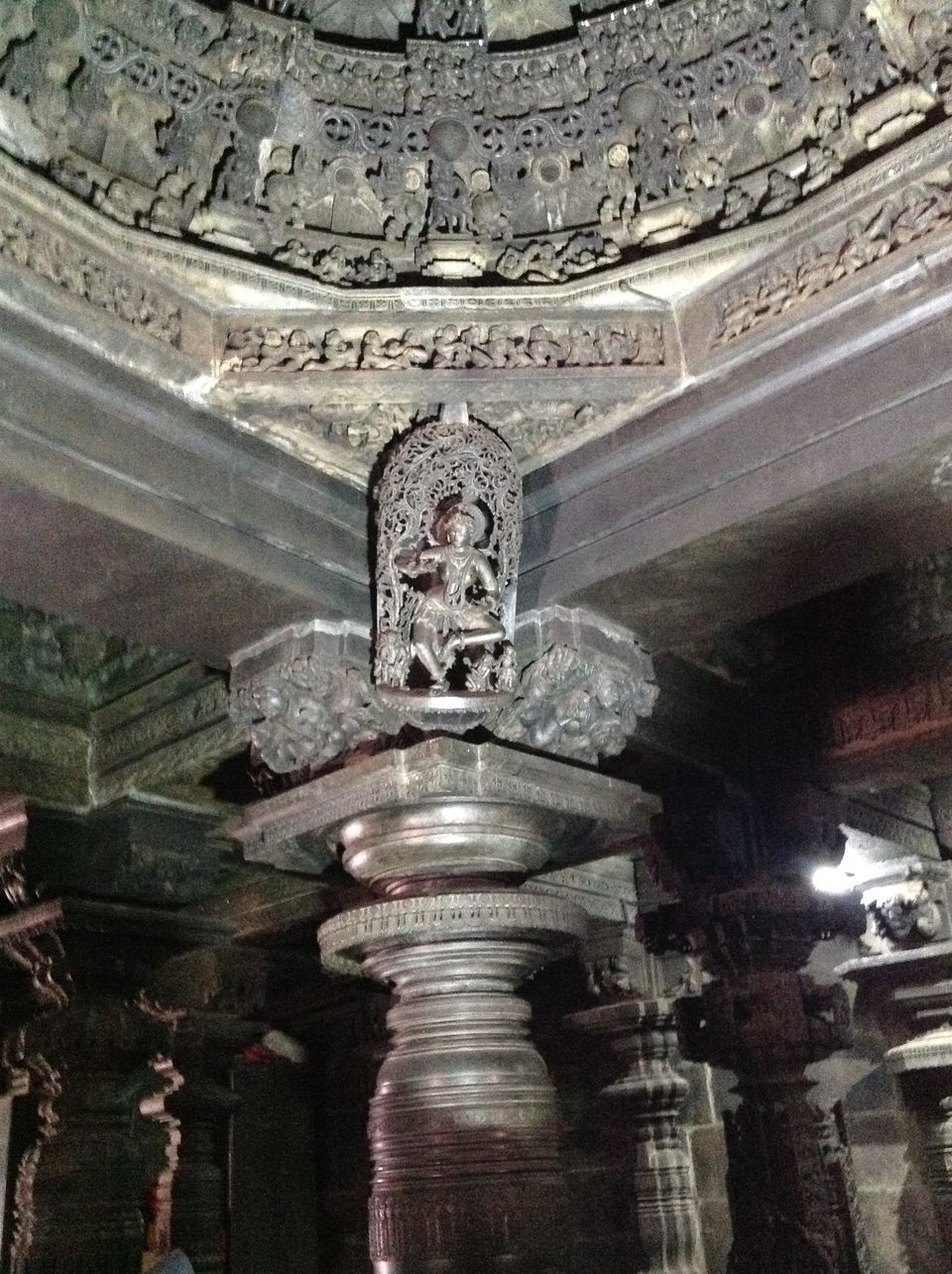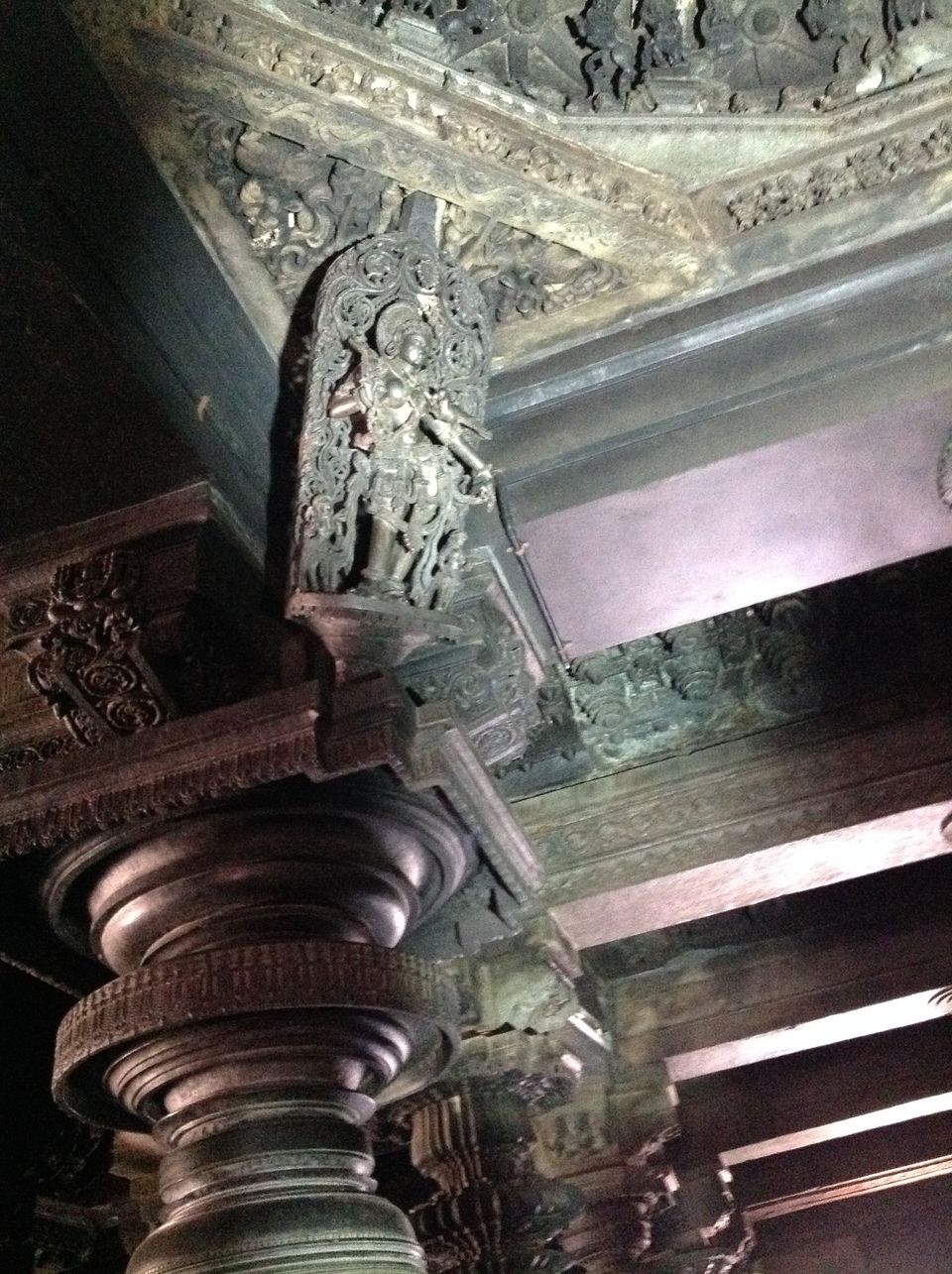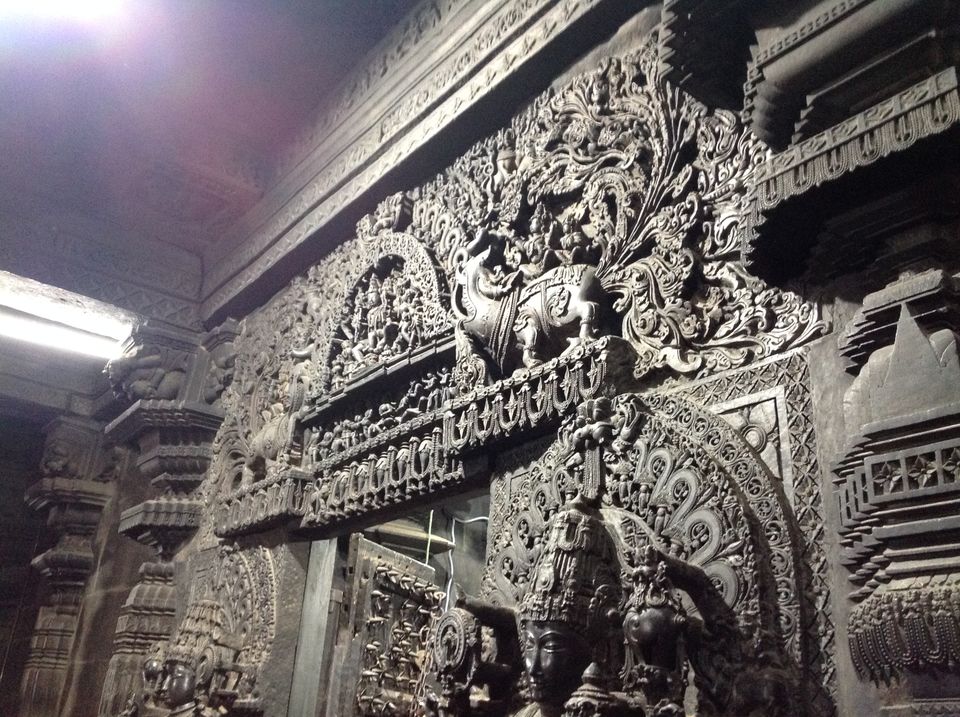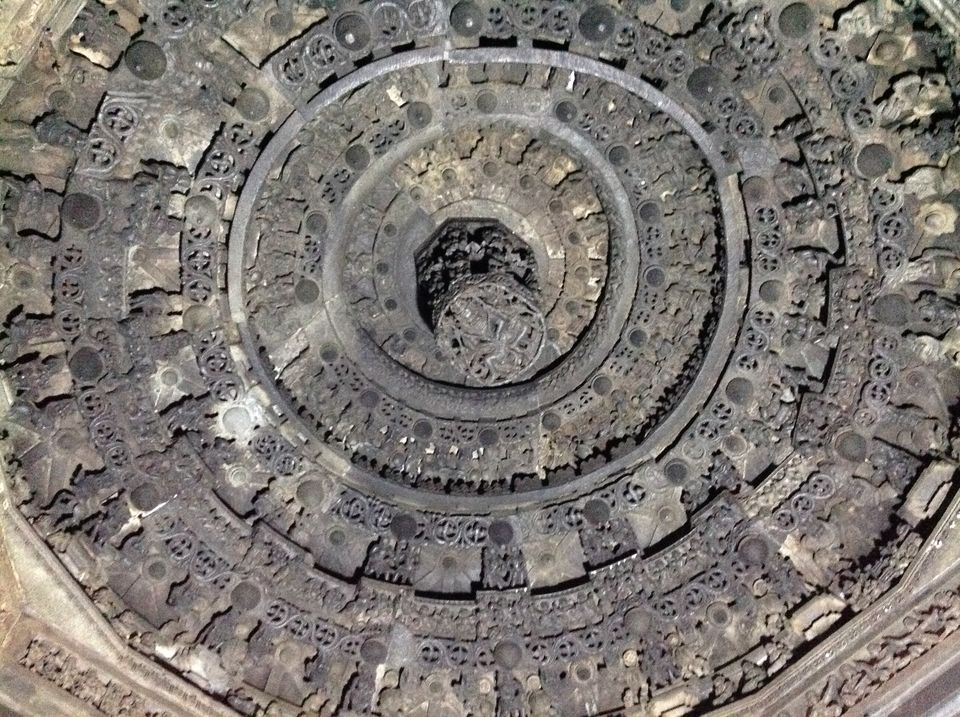 There was a pillar in the middle of temple complex which was placed on surface without any support and we can see the either sides from the base of the pillar. One more attraction of the temple complex is Gopuram which was built by King of Vijayanagara in 16th Century. Couple of temples beside the Chennakesava temple, Sridevi and Bhudevi, wife of Lord Vishnu. We can also find beautiful carvings of Hindu gods on the walls of these two temples.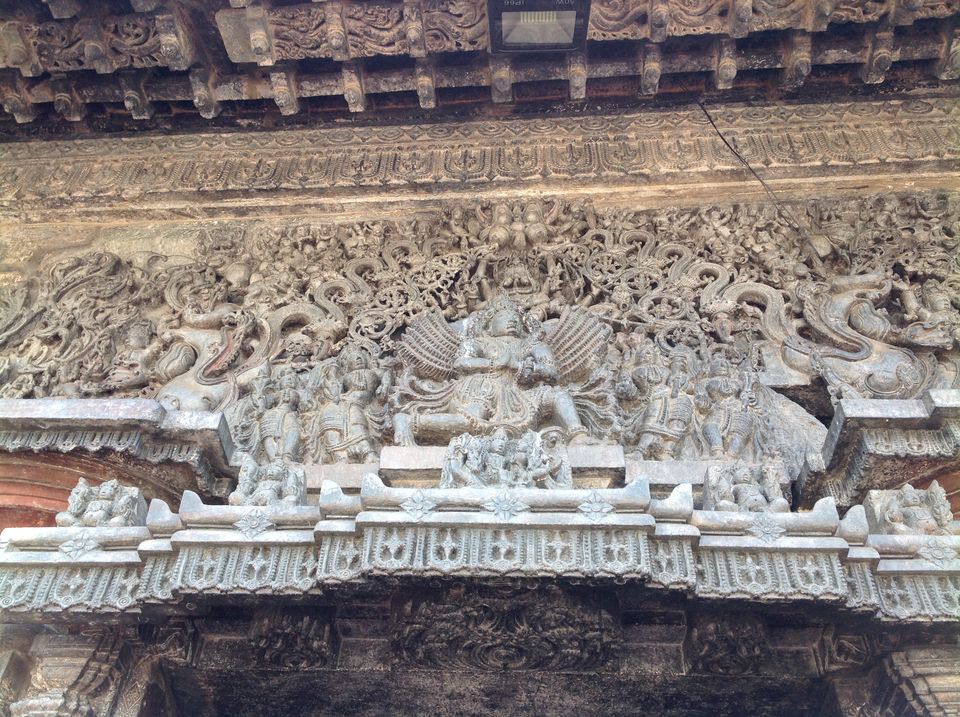 One of the great thing about this sculptures is that we can find hollowness between the statue and the temple wall.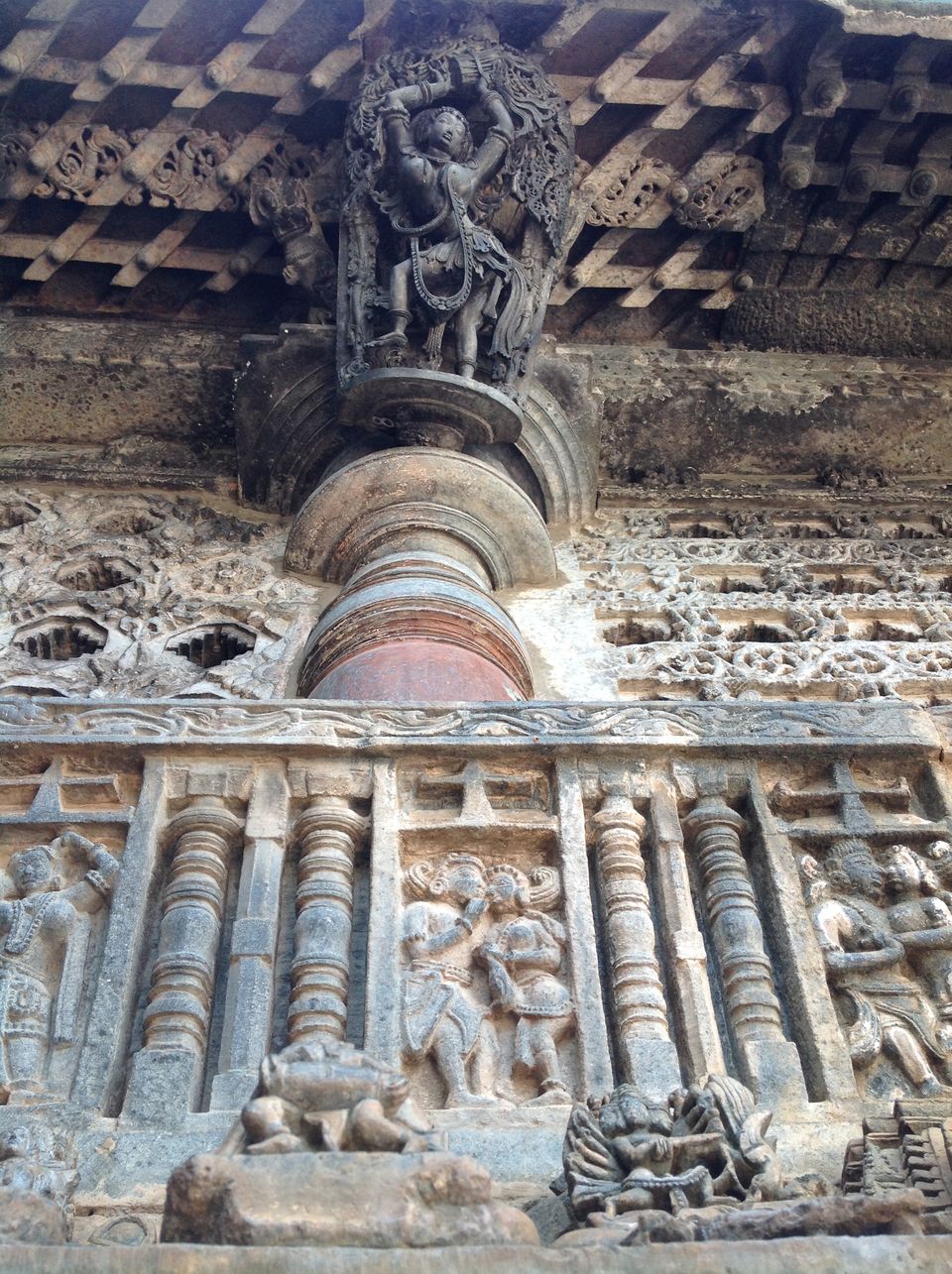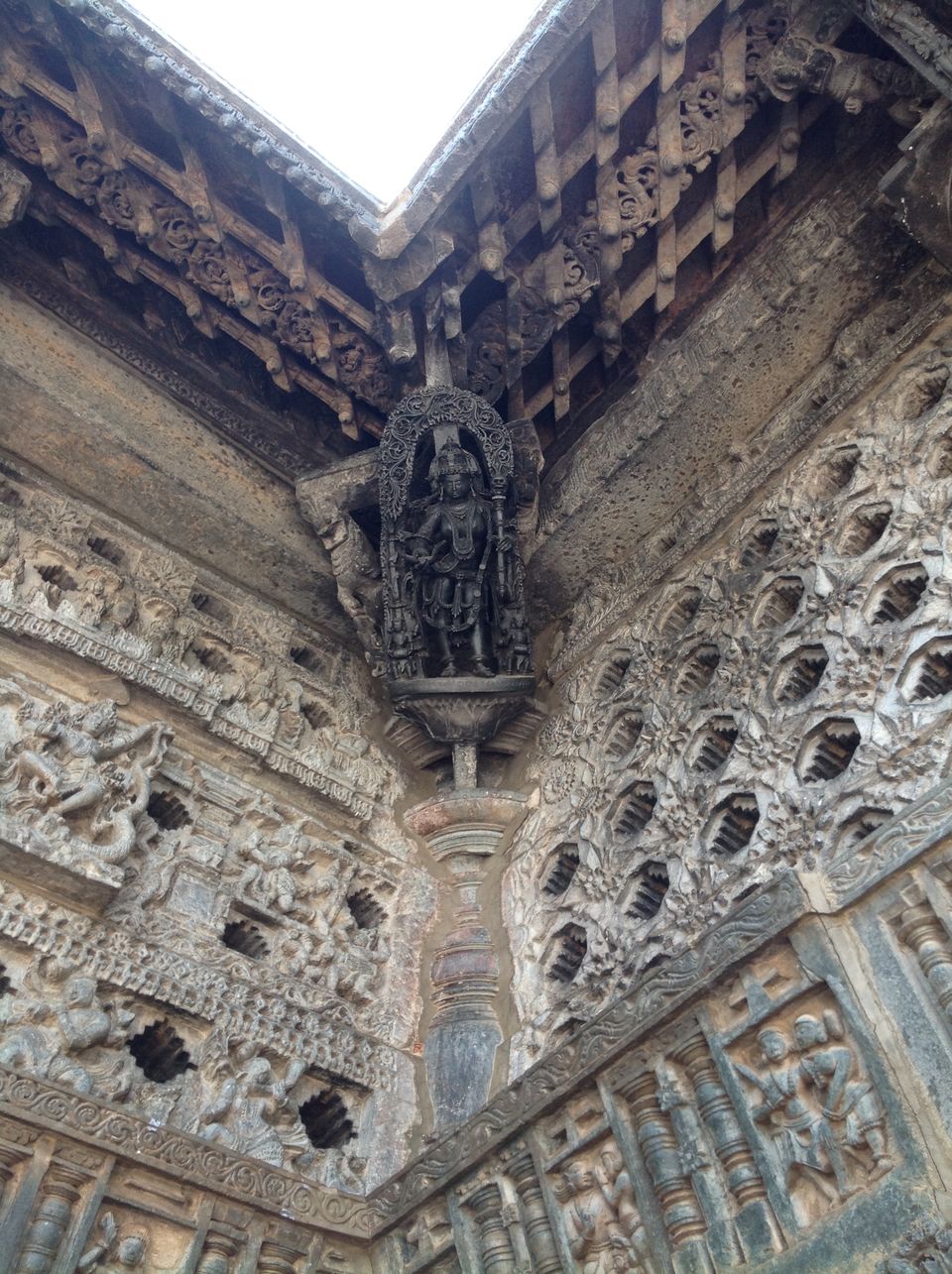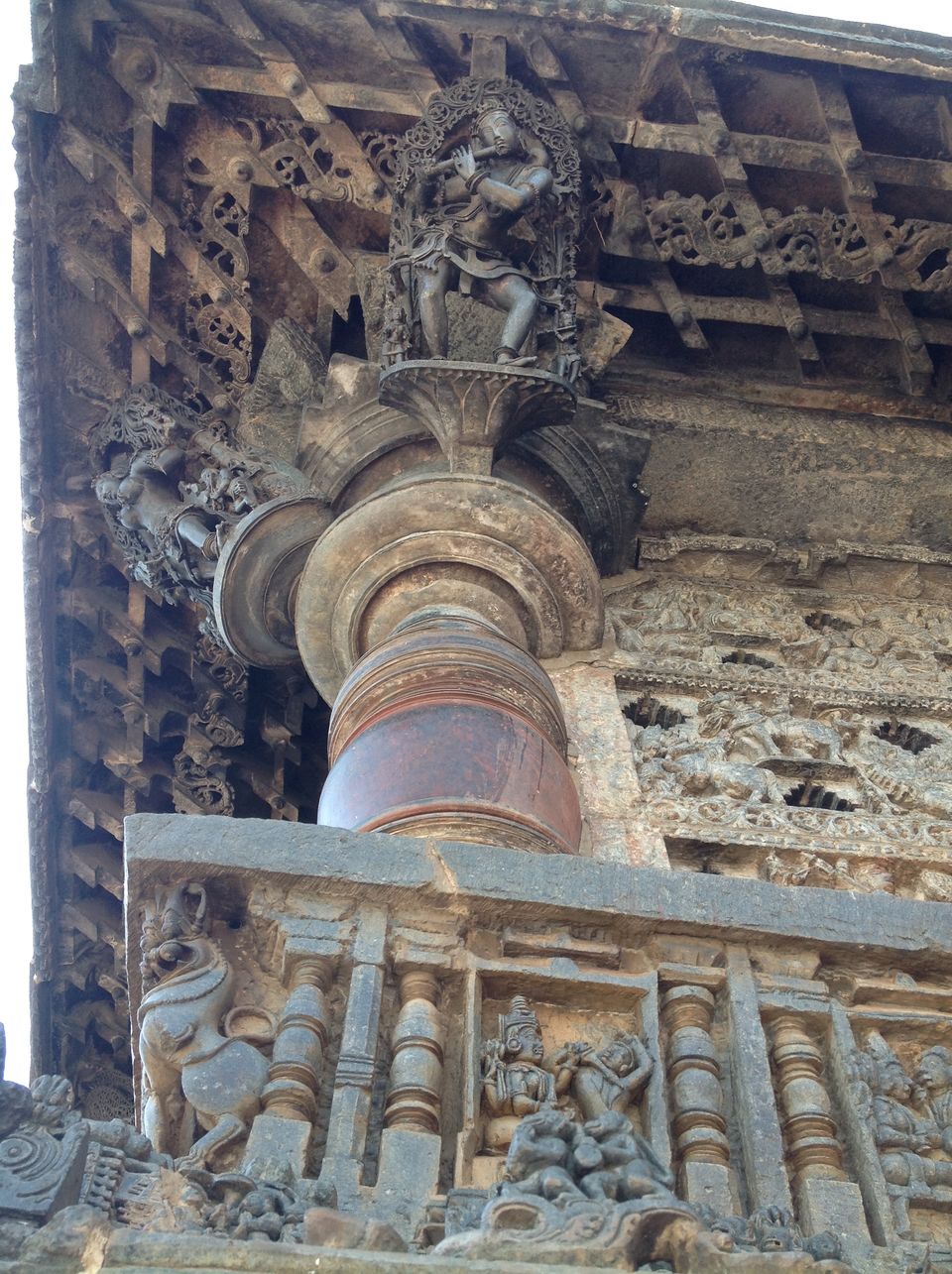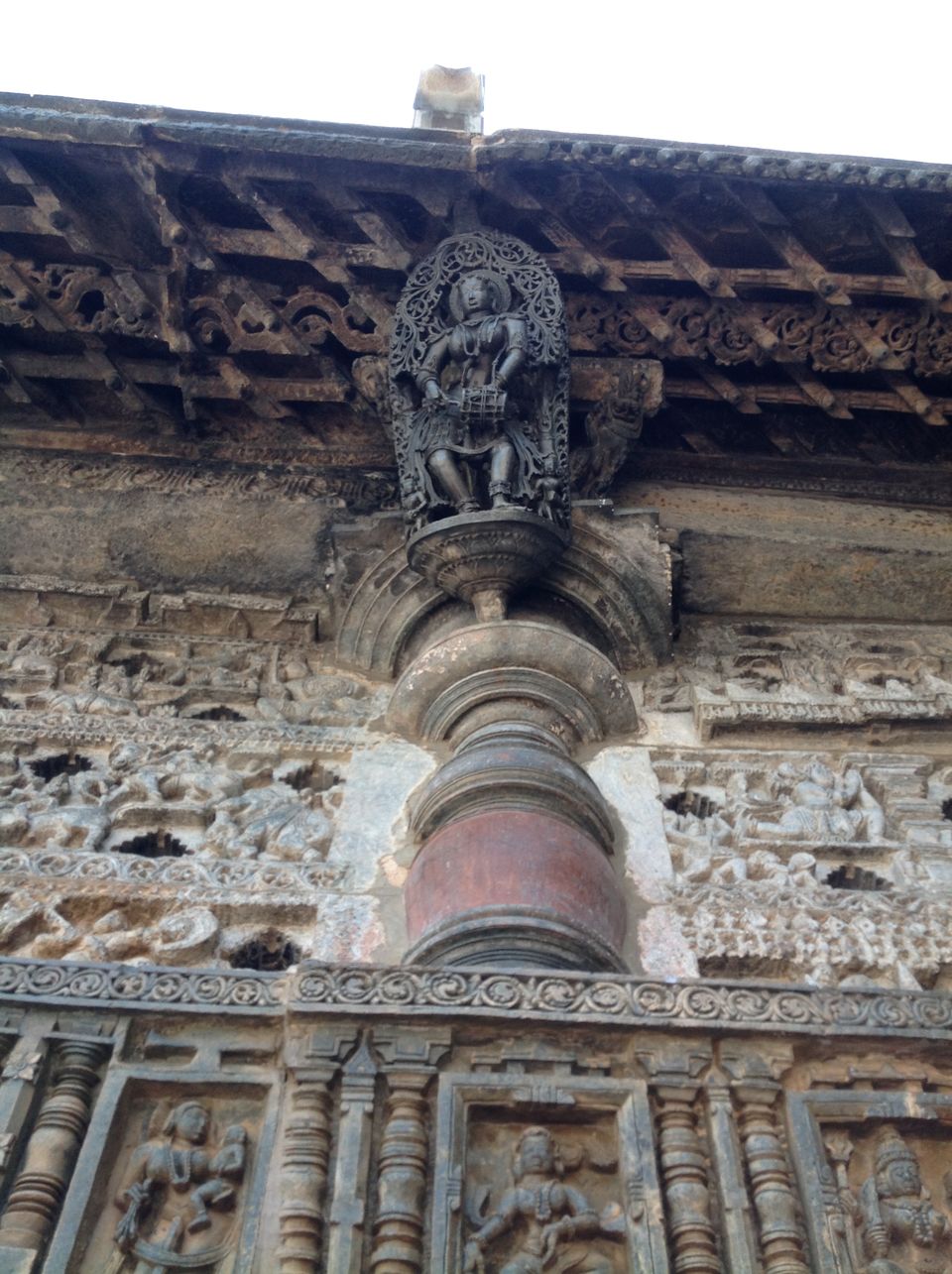 Basement of the temple was decorated with Elephants, Lions and Horses. Elephants for Strength, Lions for Courage and Horses for Speed. There are around 644 elephant statues at the base of the temple and all of them were in different postures and actions.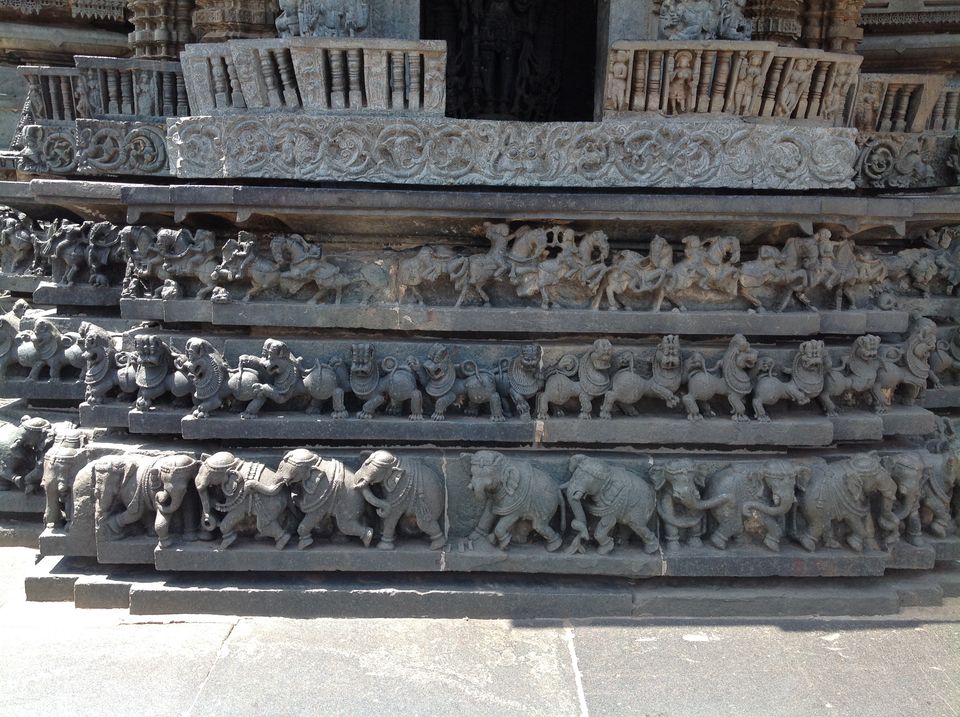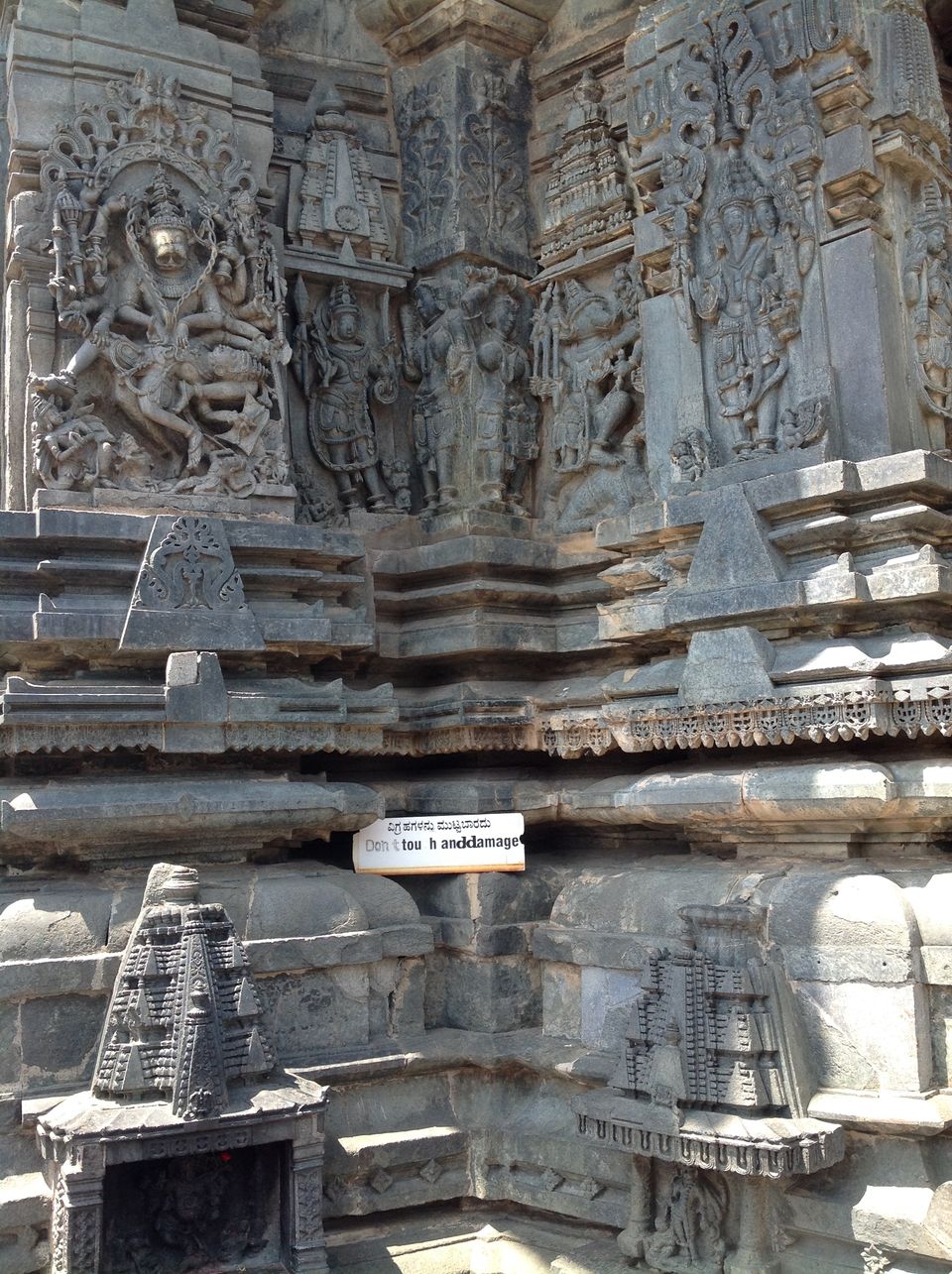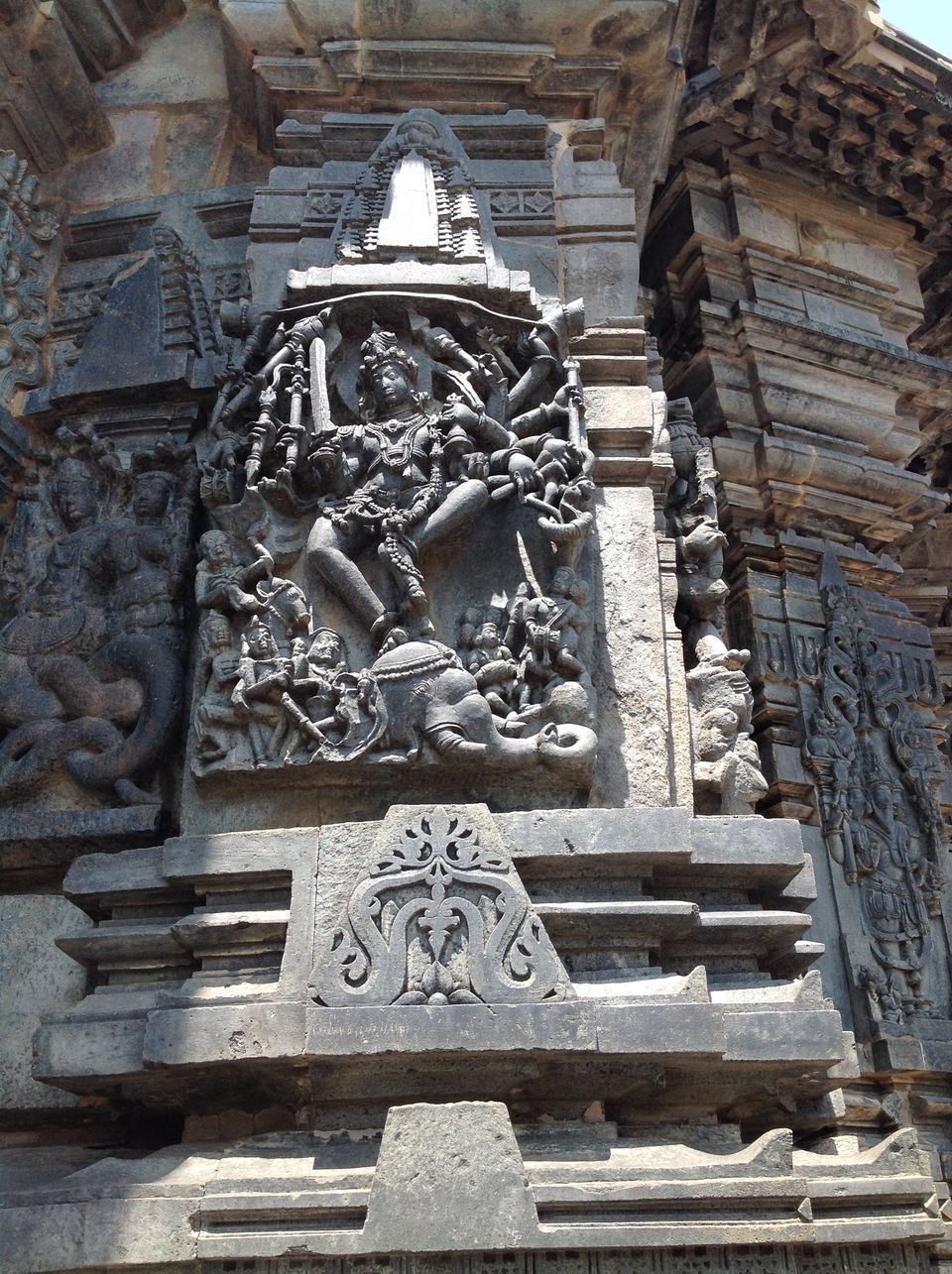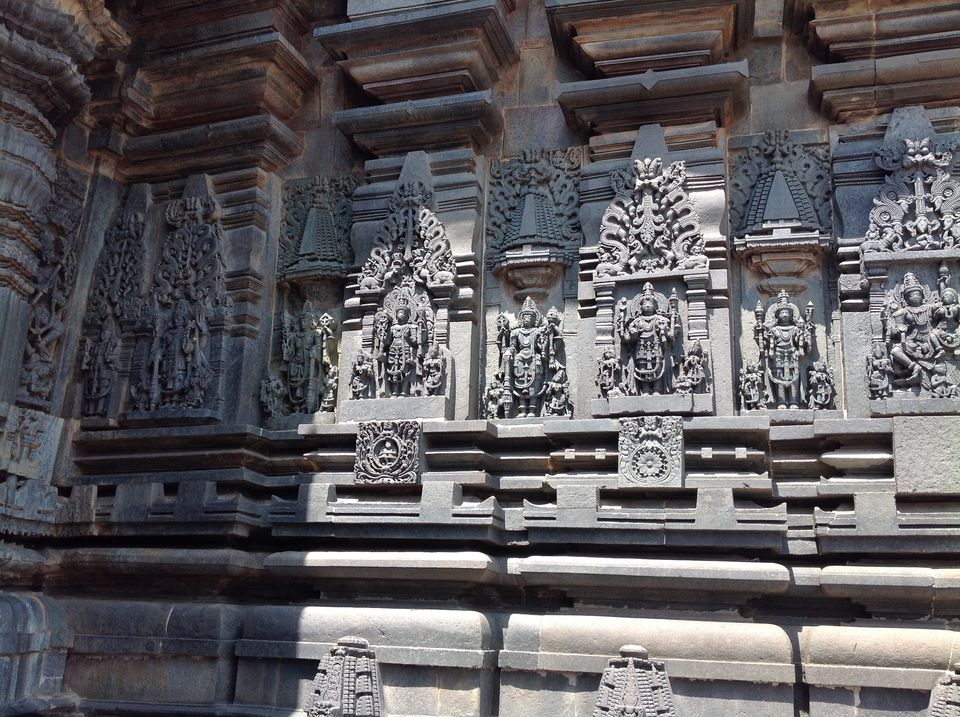 Later, we have resumed our journey towards Halebeedu which was around 25 KMs from Belur. Please plan to spend 2-3 hours in this temple complex, so that it would be easy to know about the history and reason behind the beautiful carvings on the temple walls.
Halebeedu: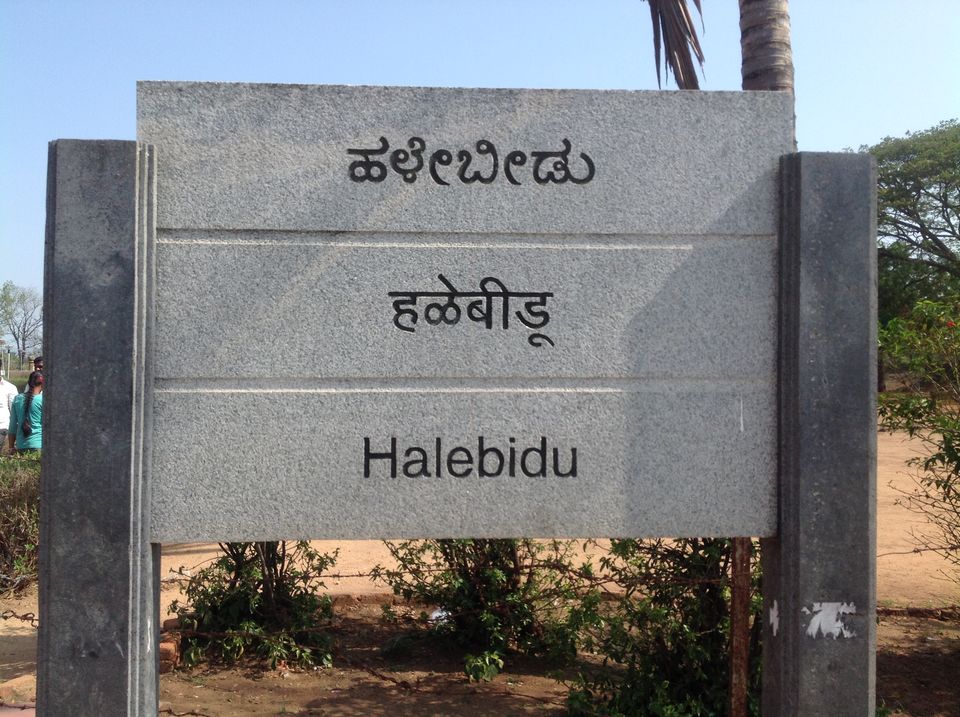 Capital of Hoysala kingdom and also referred as Dwarasamudra. The meaning of Halebeedu is "Ruined City" or "Destroyed City". This city was invaded two times by the kings of Muslim Dynasties. While travelling between Belur - Halebeedu, we can find beautiful landscapes on either sides of the highway.This city was famous of the temple of Hoysaleshwara and Kedareshwara temples. One temple was built by Vishnuvardhana and another was built by Shantala Devi. Both the temples were guarded by beautiful monolithic Nandi statues, vehicle of Lord Shiva. There are 108 pillars inside the temple, all the pillars are looks like same but if we can observe them, each and every pillar was different from other pillars when compared to patterns.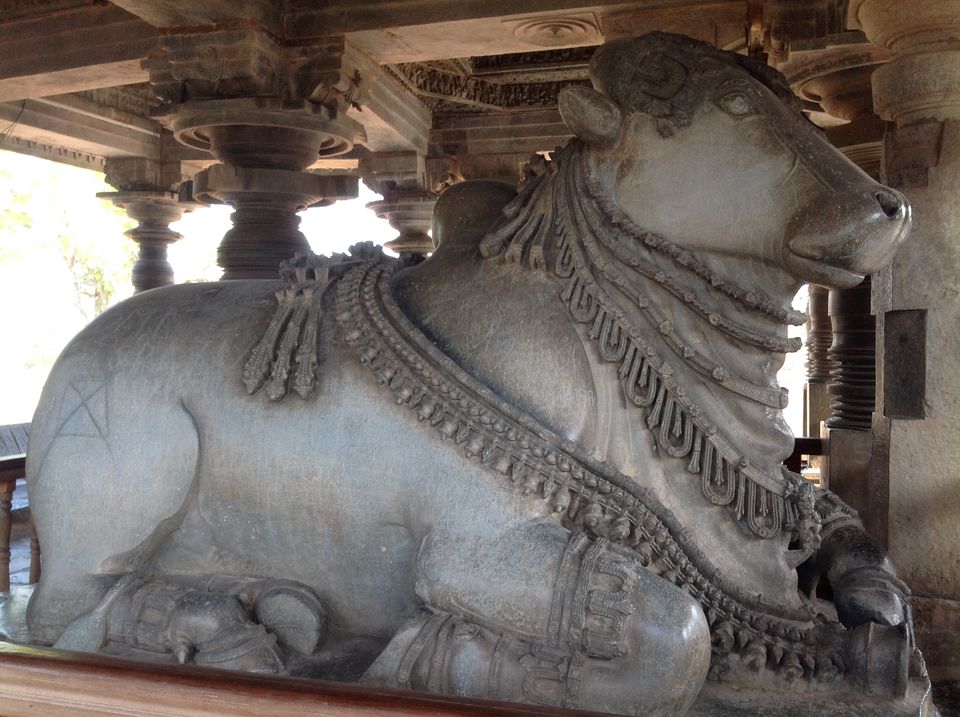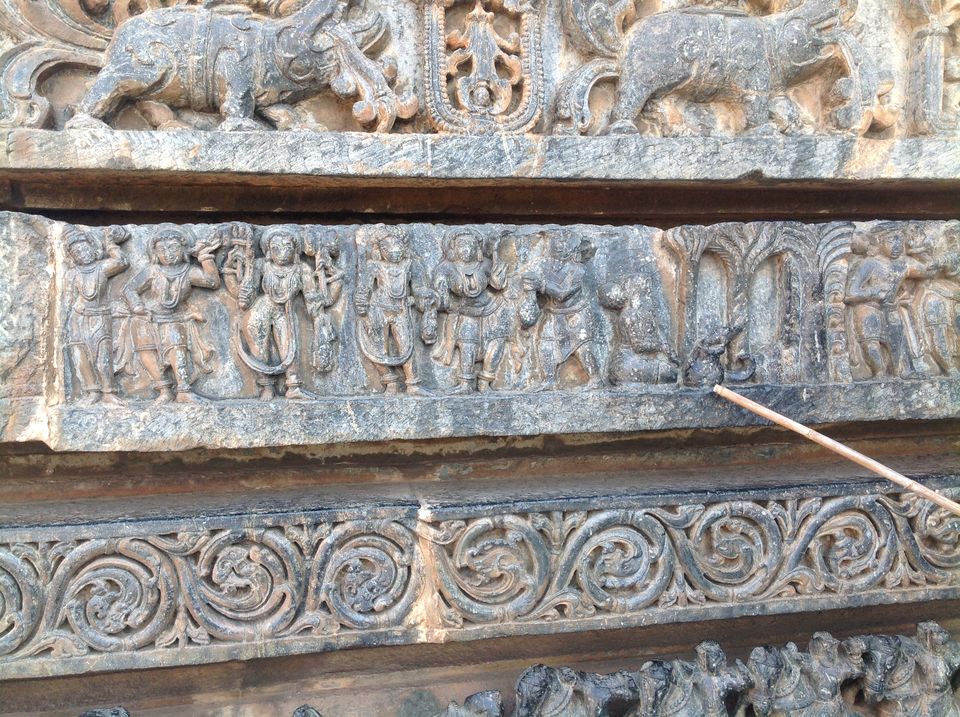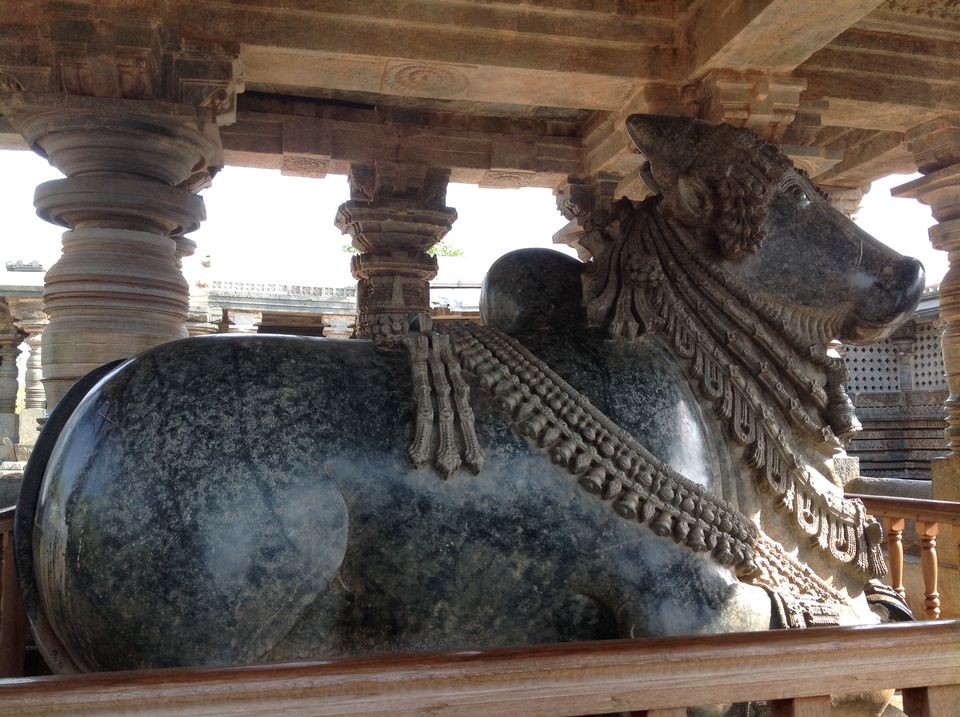 Most of the carvings on the temple walls depicts about the Hindu Gods, Brahma, Vishnu and Shiva. We can find historical events and characters of Mahabharata, poses of Indian women in different postures. Like ChennaKesava temple in Belur, this temple was built on the platform and the basement of the temple was ornate with Elephants, Lions and Horses. Here, we can find more than 1200 elephants which were carved in different postures.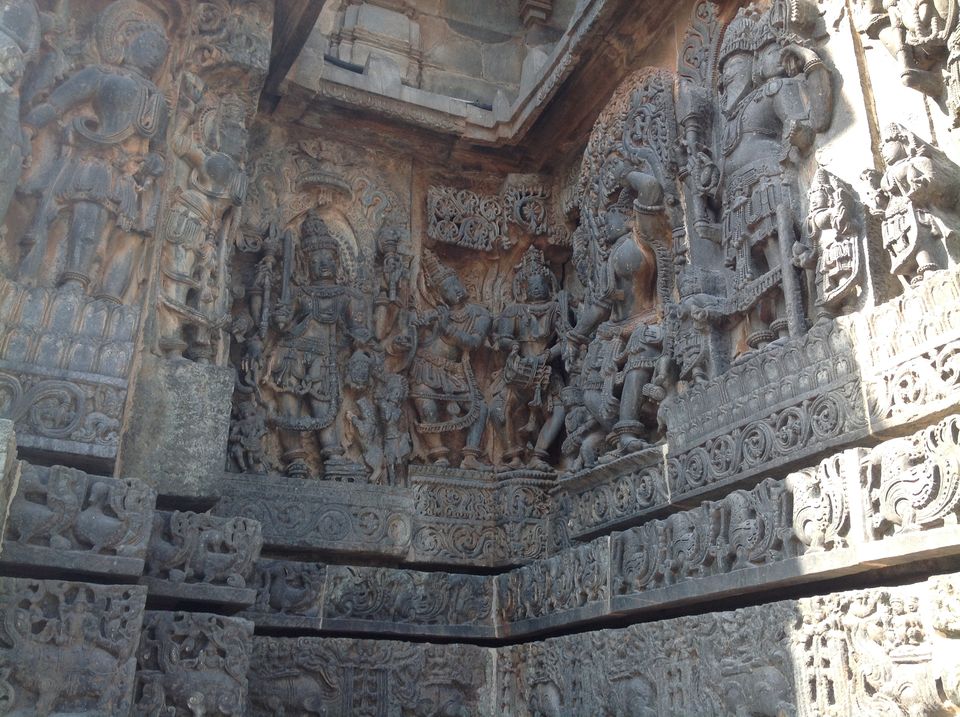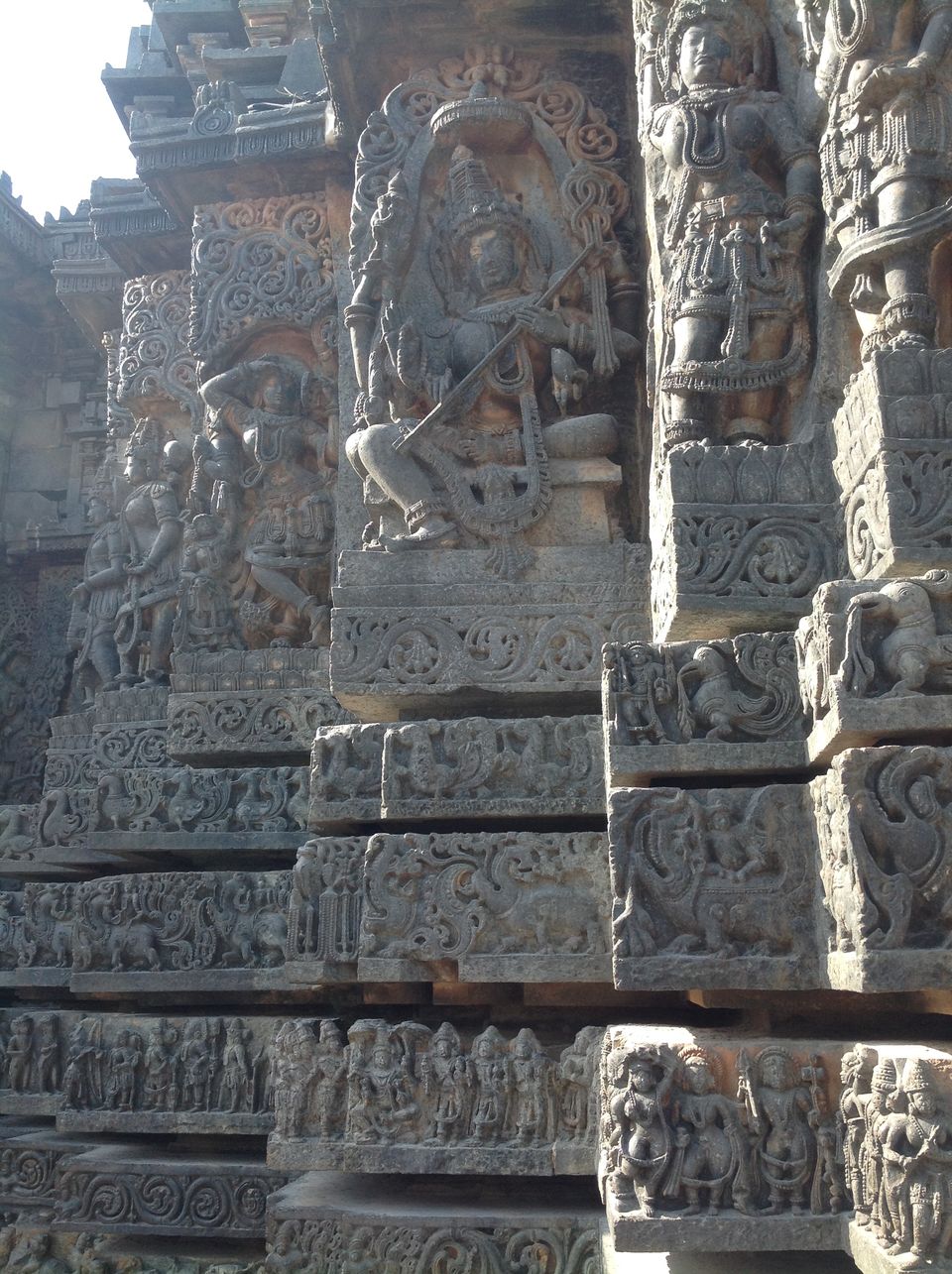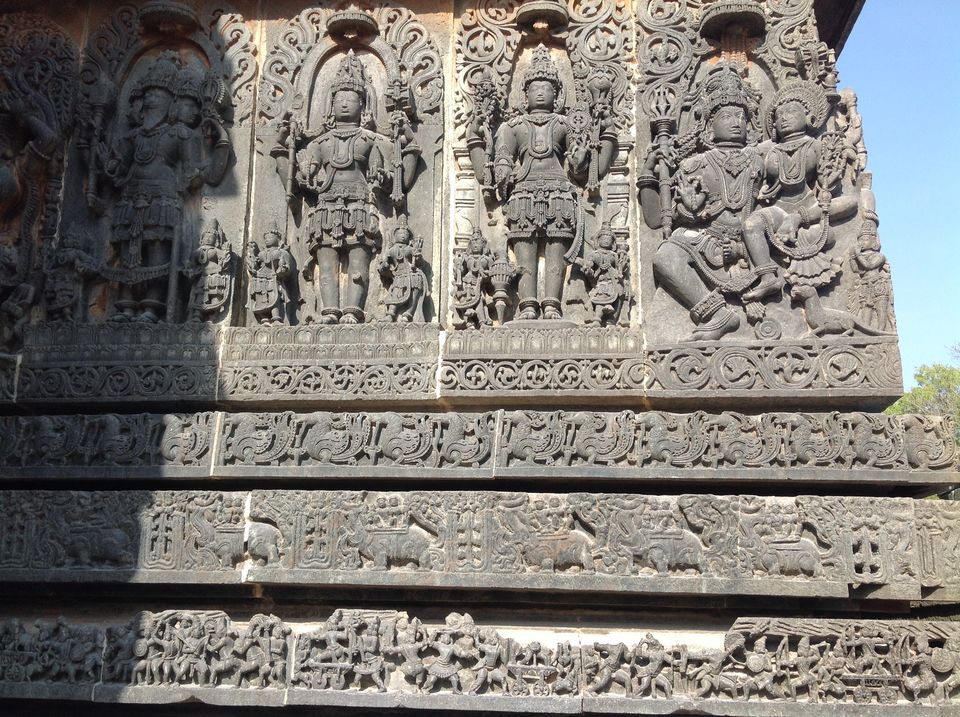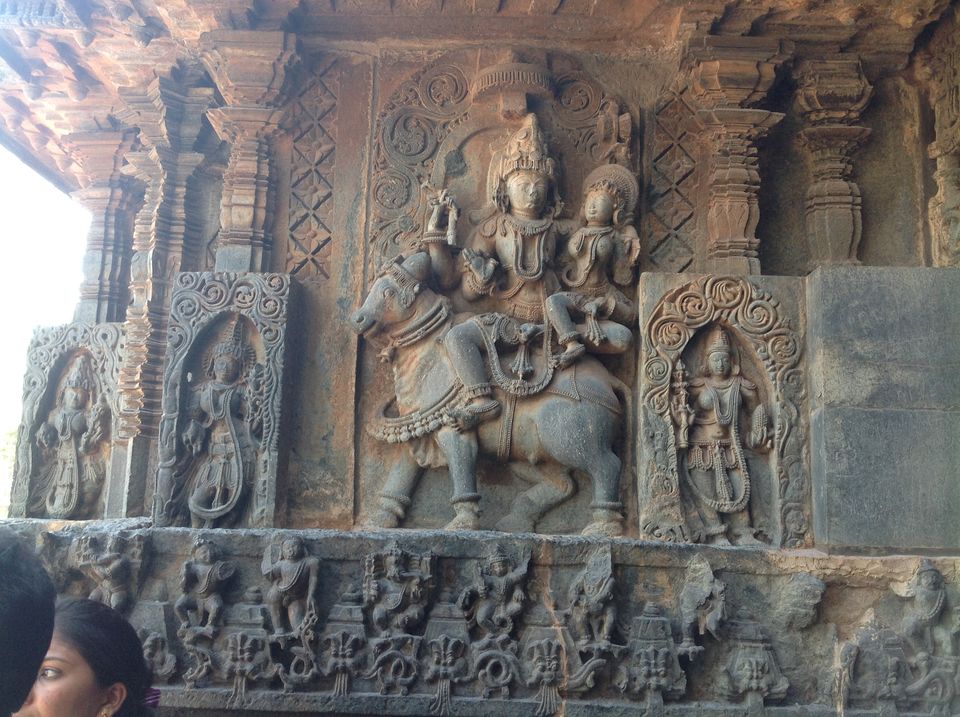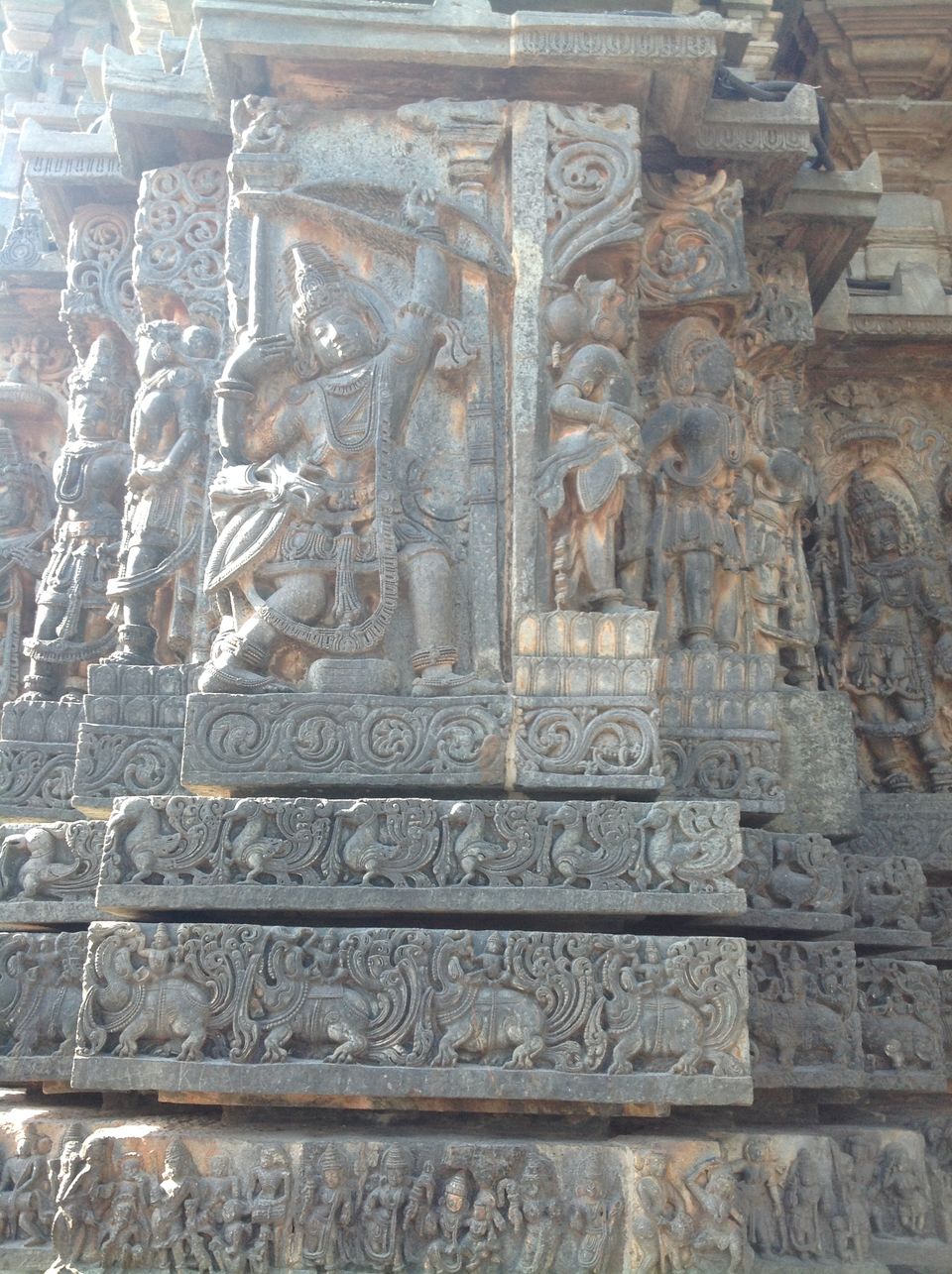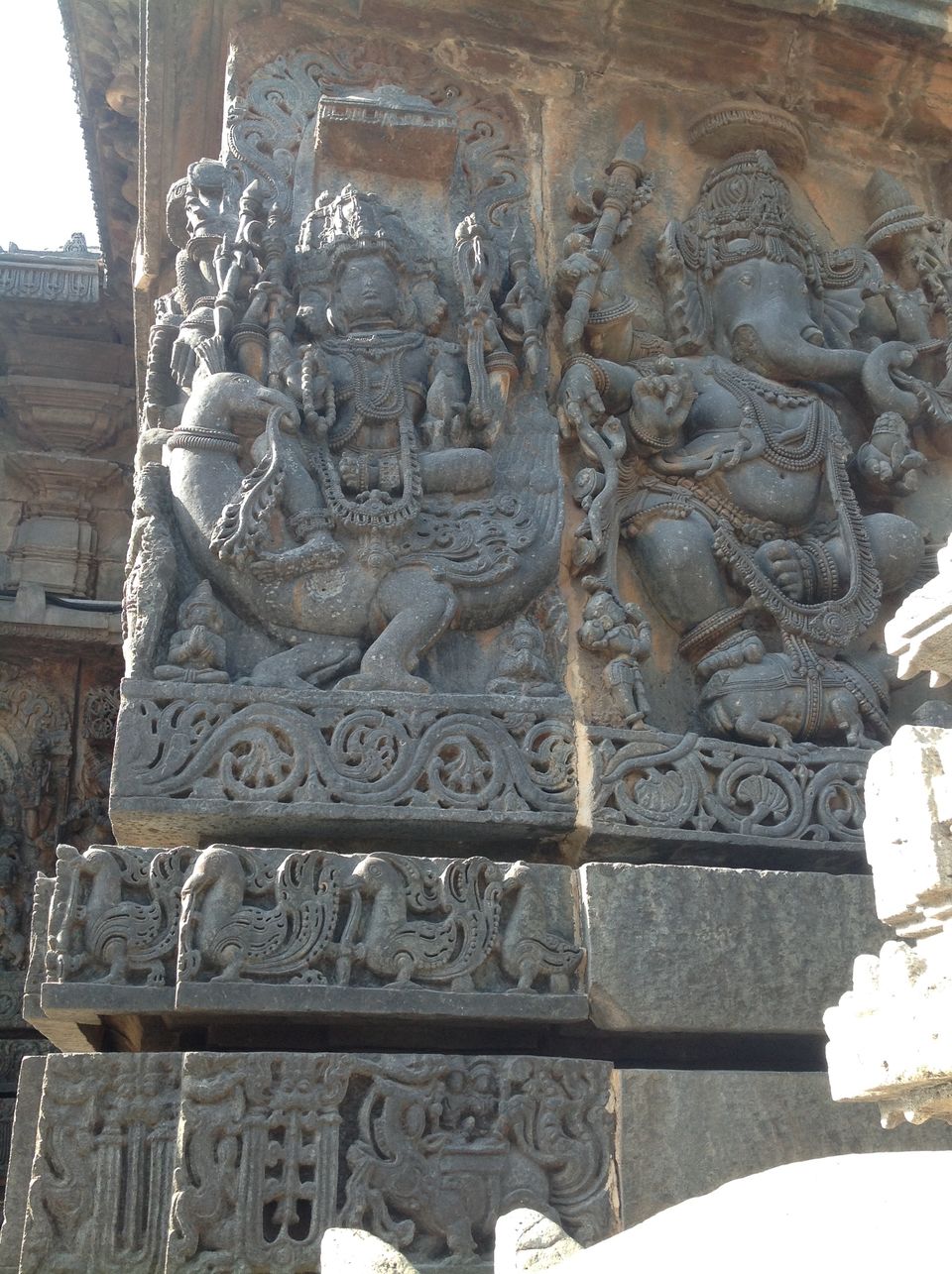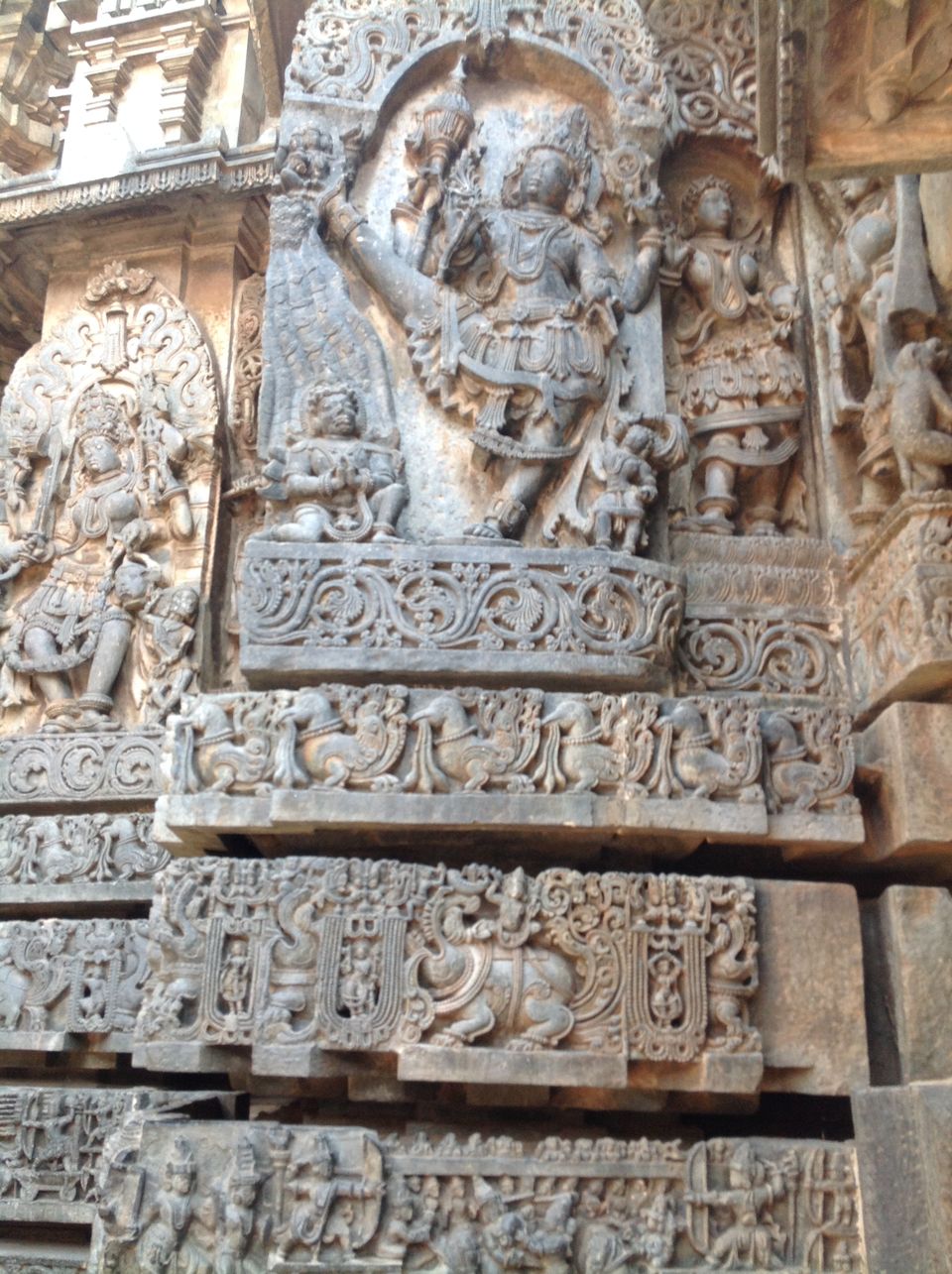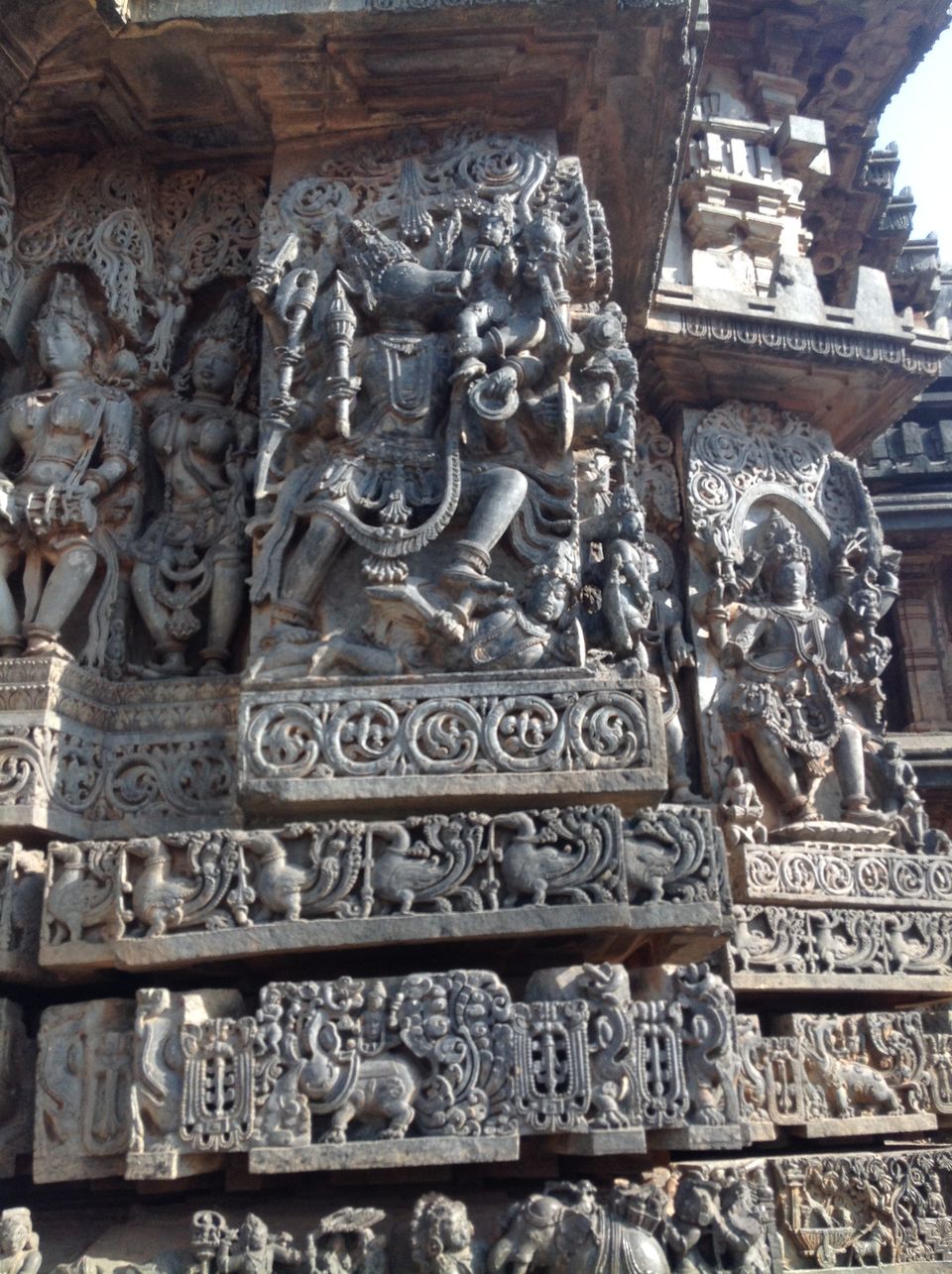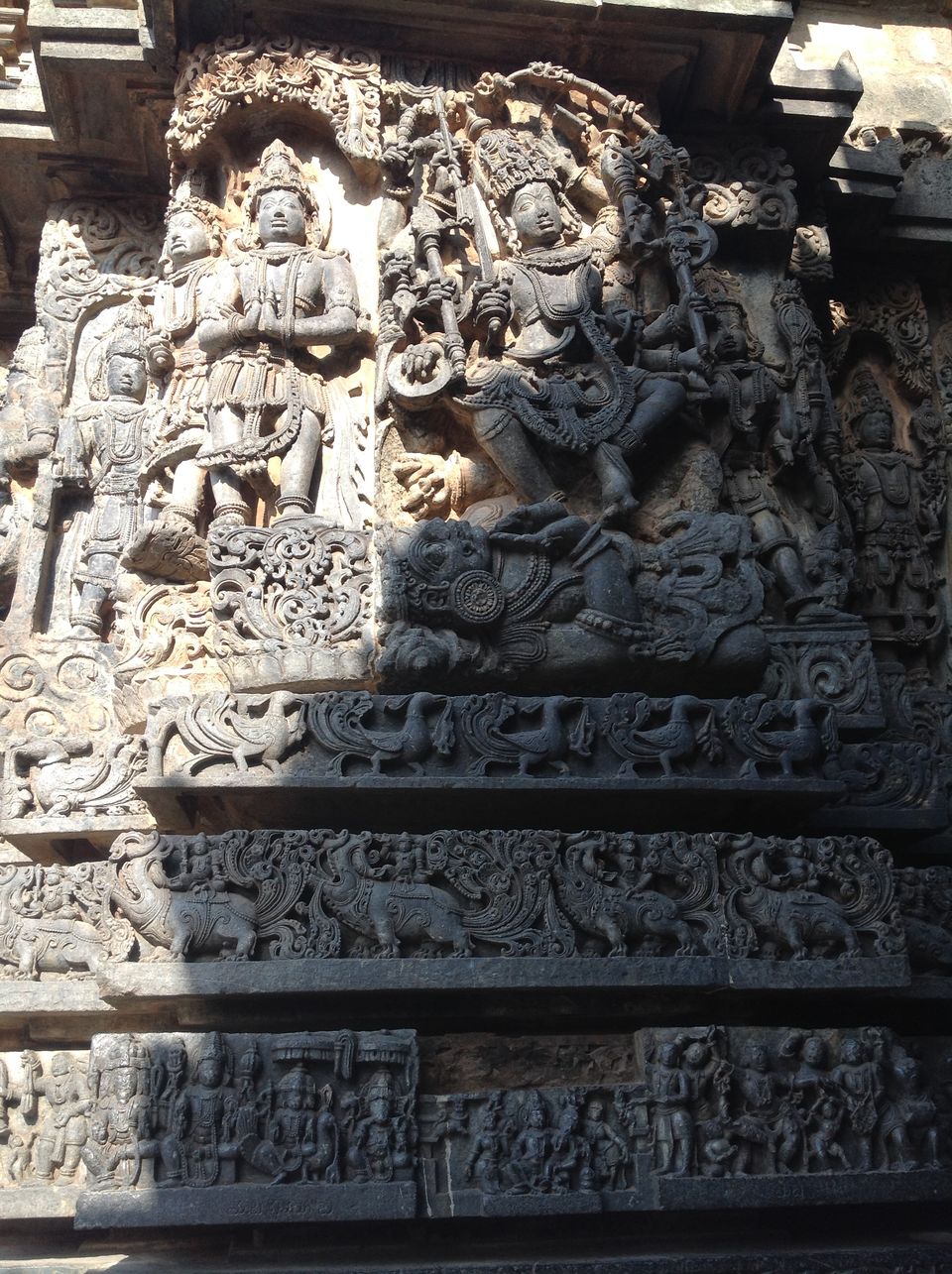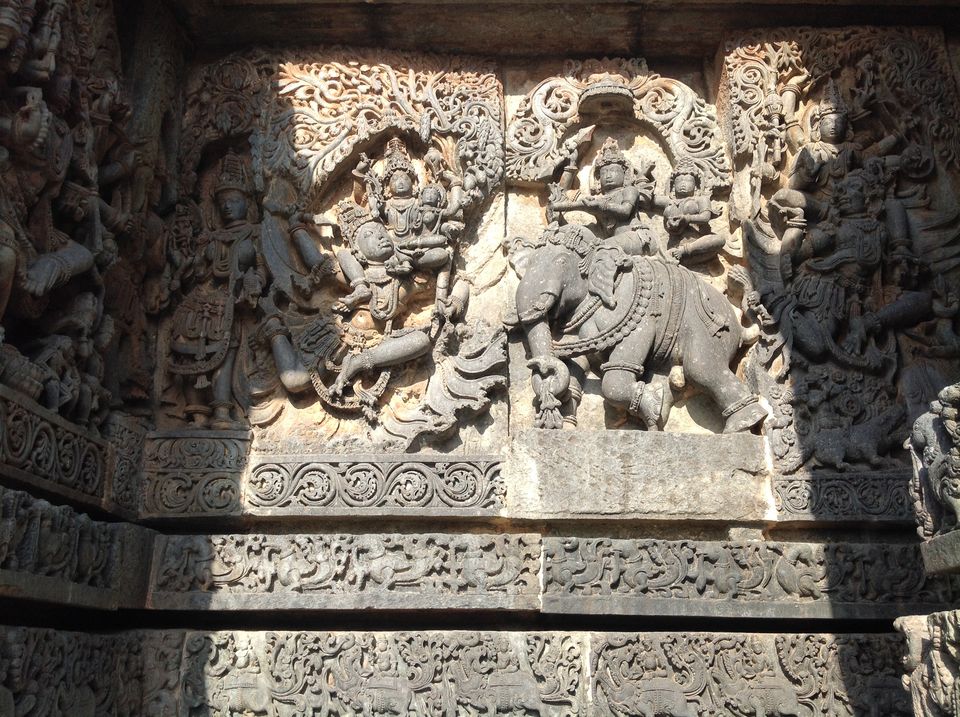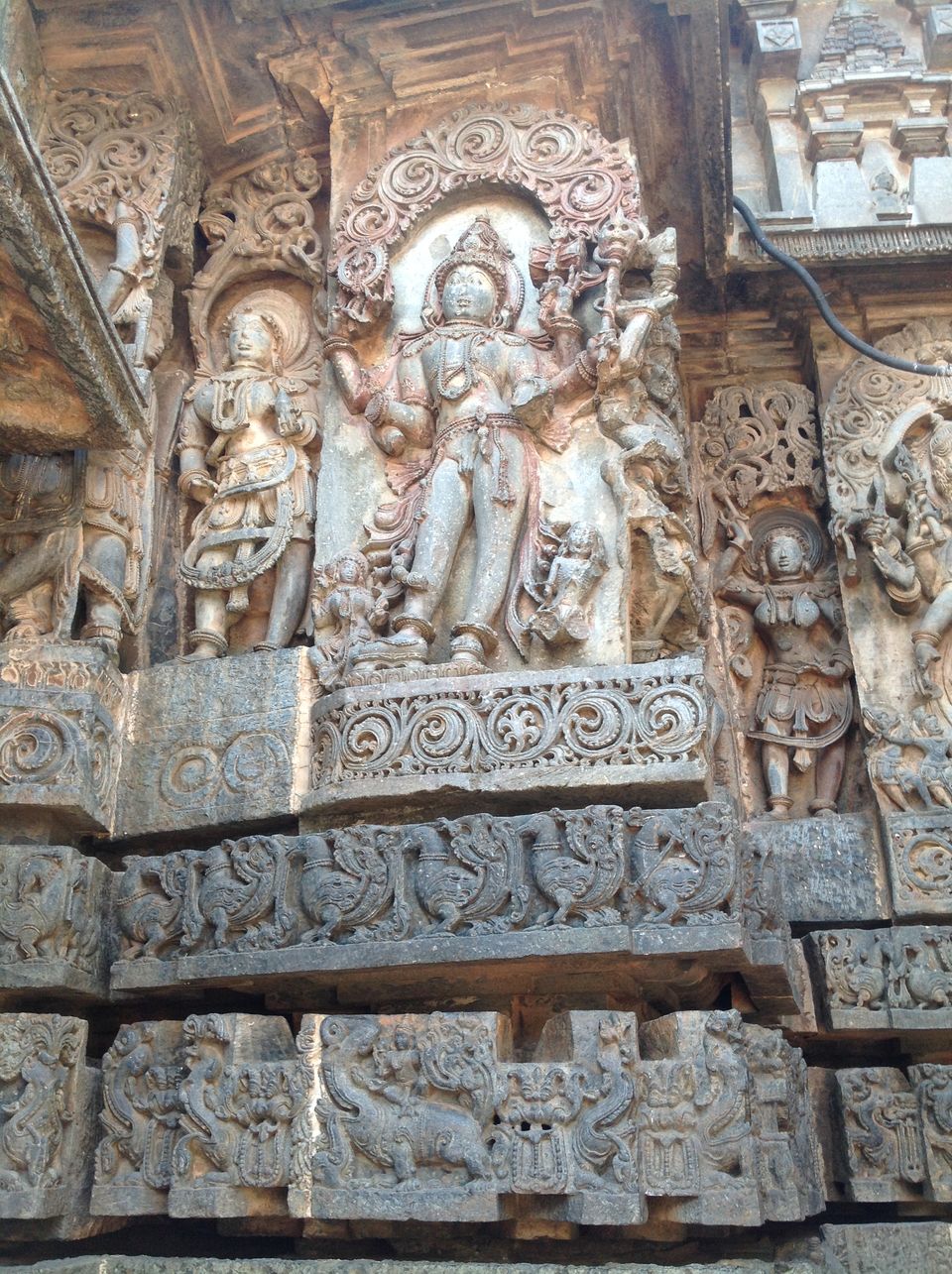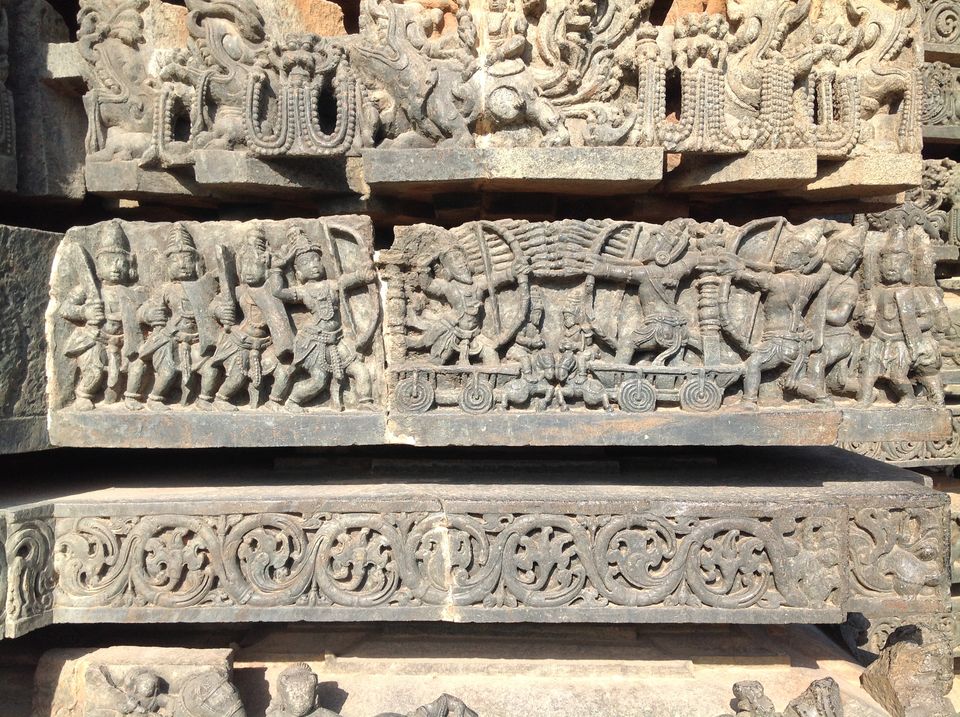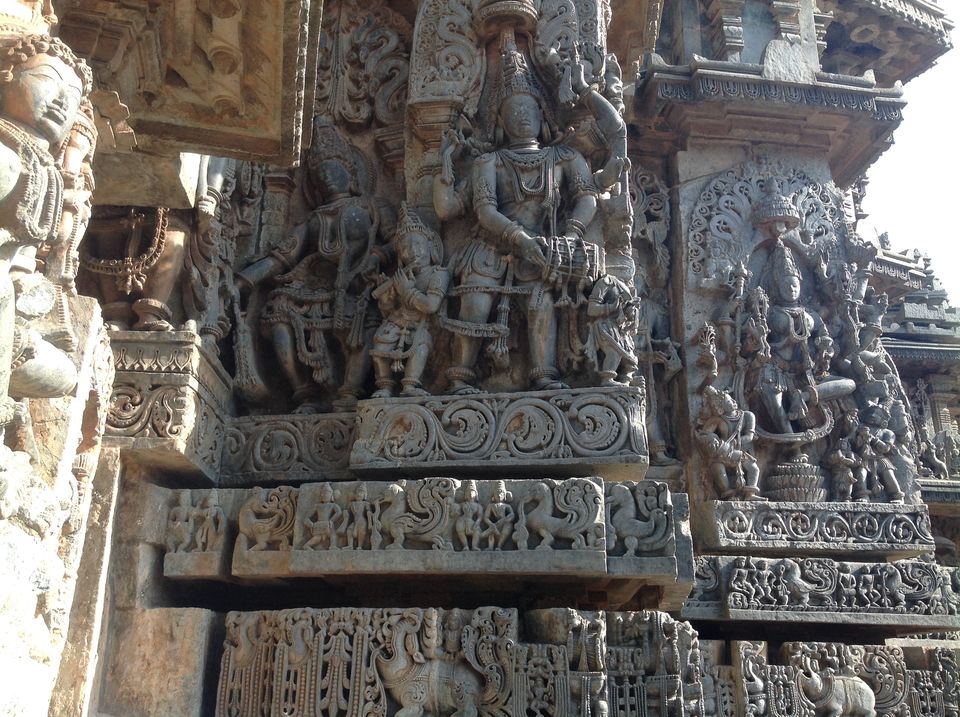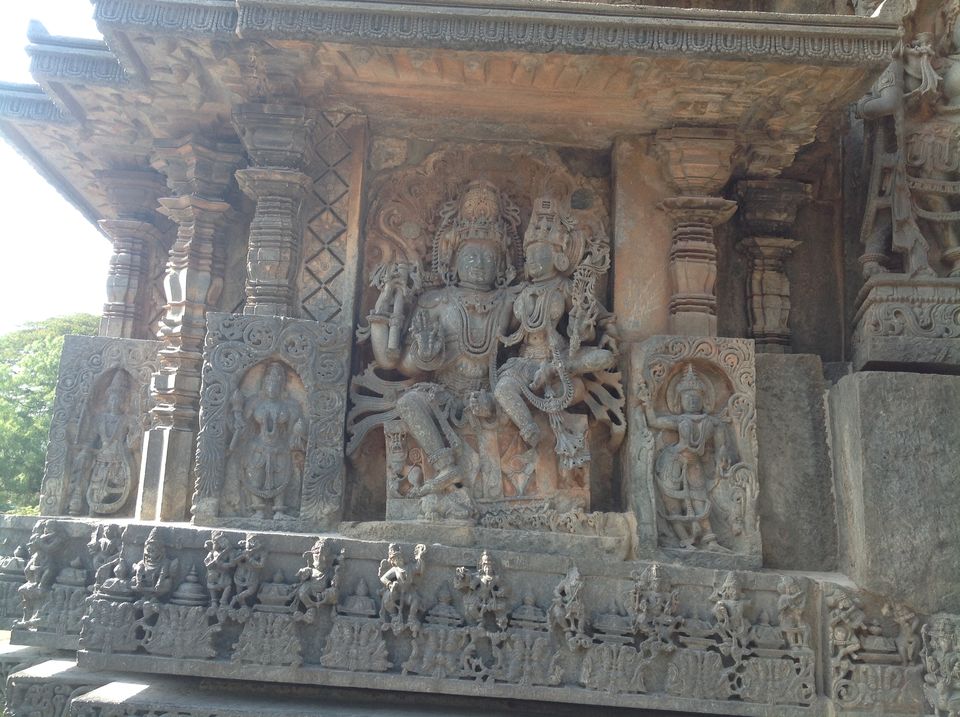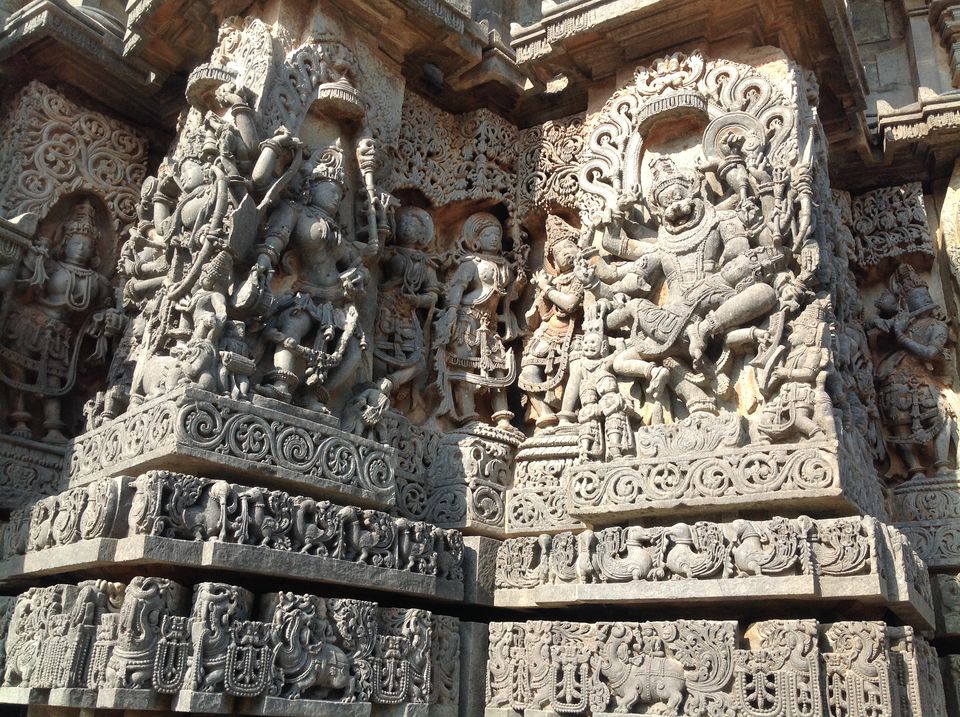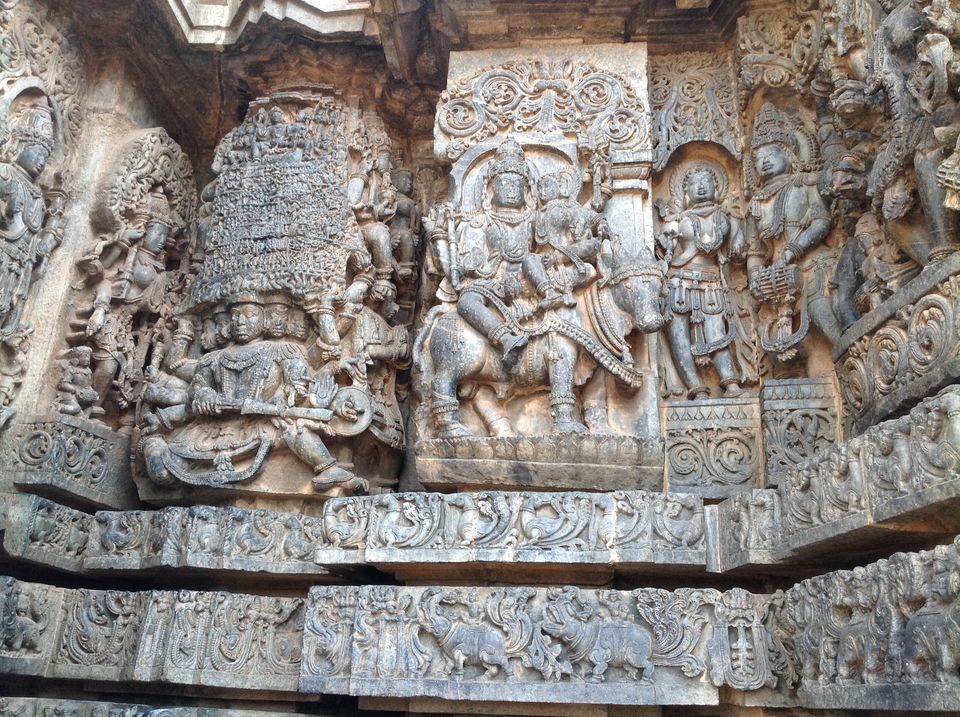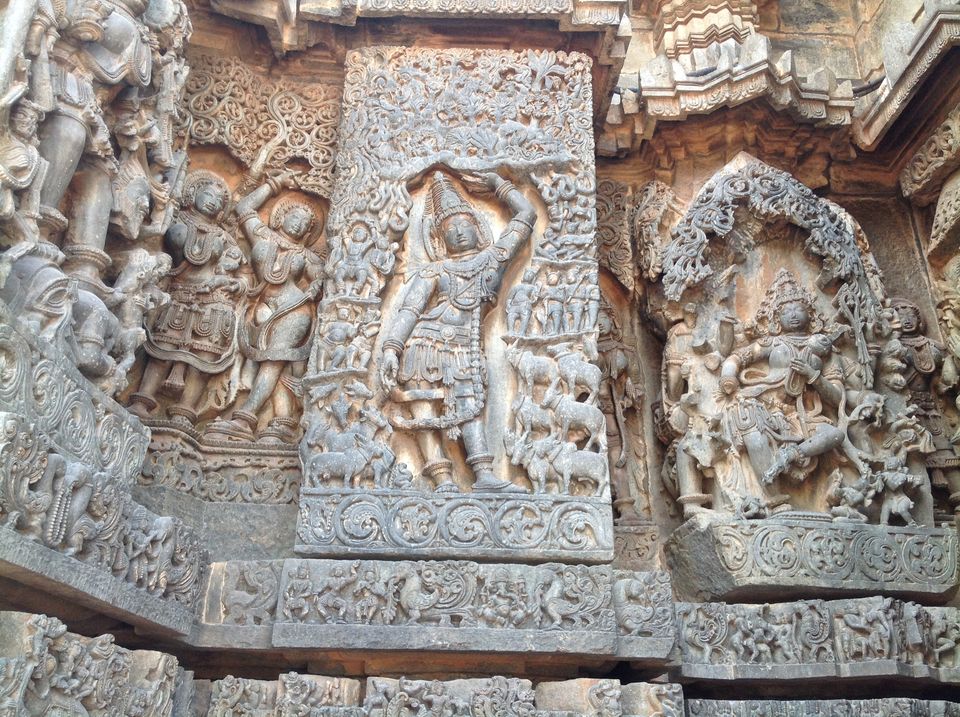 This temple complex was bigger than Belur temple complex. There are some more places near Hassan which was famous for the temples and couple of hill stations near to these sites. As we have planned for one day trip, we have returned back to Yeshwanthpur to catch our train which was scheduled at 23:40. Boarded into the train and reached Hyderabad by 11 AM.

Total Budget of this trip was 15,000 for five people.