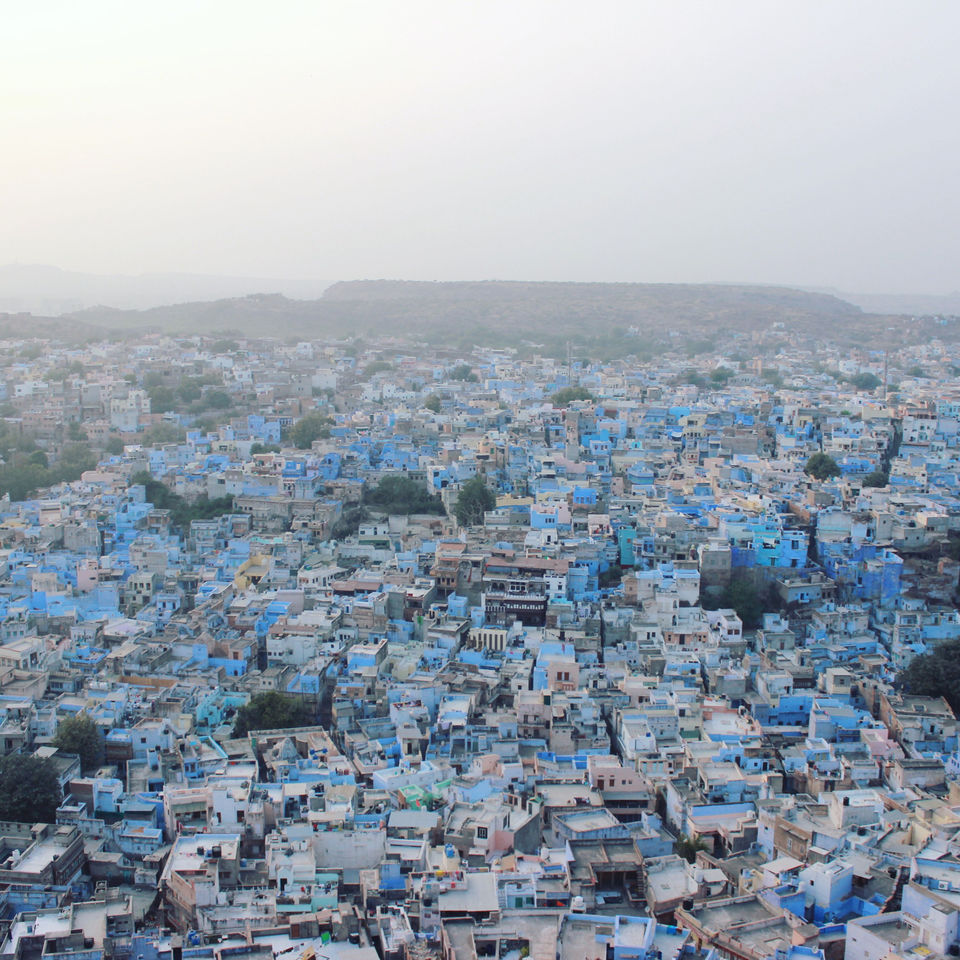 Being in an MNC it is very difficult to get a holiday. But traveling passion cannot be a slave to such petty things. So I planned to start my New Year weekend by visiting the Royal city of Rajasthan. JODHPUR.
Since I am a bag pack traveller, I like to travel cheap and far. Jodhpur is 950kms away from Mumbai. So I booked 'Ranakpur Express' from IRCTC for To and Fro journey. It cost me merely ₹445 for one side journey that too in a Sleeper Class. And if you are visiting a city like Jodhpur, you don't need to pre book your hotel, you will find lot of options in this Marwar City within the budget of ₹500.
During my college days I was like "Lets make a plan for a Holiday", but gradually it transformed to "I am going for a Holiday, are you coming?".
So likewise 3 friends were willing to explore this Royal City with me.
All tickets were booked from IRCTC.
Now came the 'Travelling Day'
It was a normal working day for me in Thane. But I had to reach Bandra Terminus as the train was scheduled to leave at 15.05. So I took a half day and booked Ola till Terminus.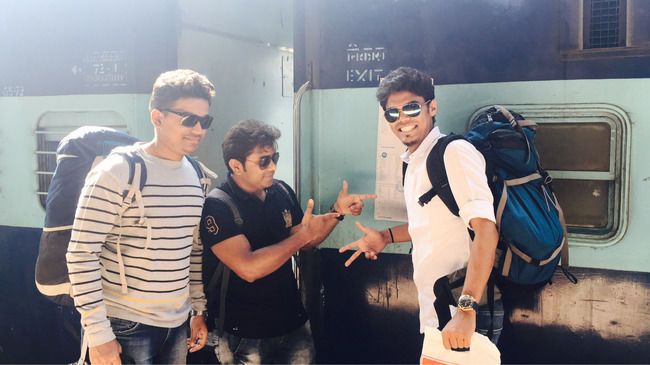 After negotiating with fellow passengers we managed to get a same compartment as we had different seat number and coaches.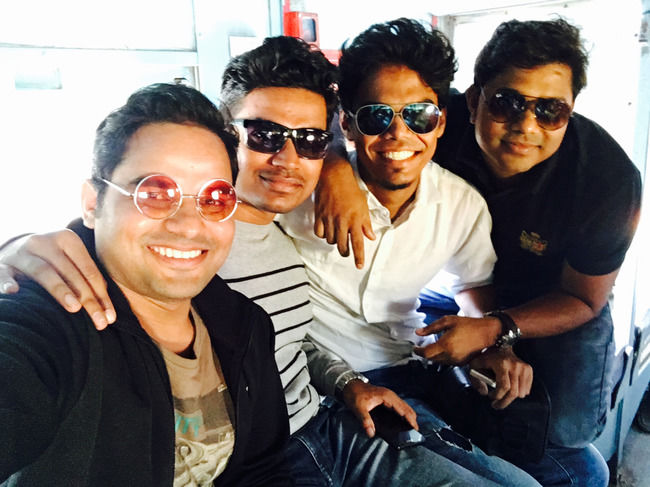 Since we didn't have a single window seat against our name we had to pass the time either by playing something or eating. The later one is always a winner for me.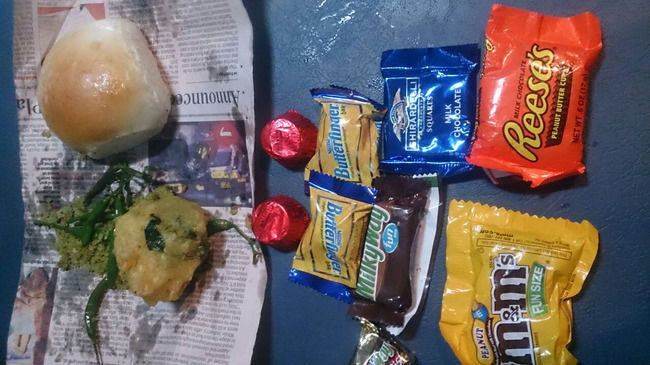 After 2 Bhel puris down, 10 chikus, 14 American chocolates and Indian Railways dinner, we were eagerly waiting for Abu Road Station to have the famous Rabdi. Station came at 0430am in Morning but that didn't stop us from having outstanding Rabdi.
After a chilling sleep we got up at Pali Marwar junction to grab some Samosa and Tea. Though it didn't satisfy the tastebuds, it surely satisfied our hunger.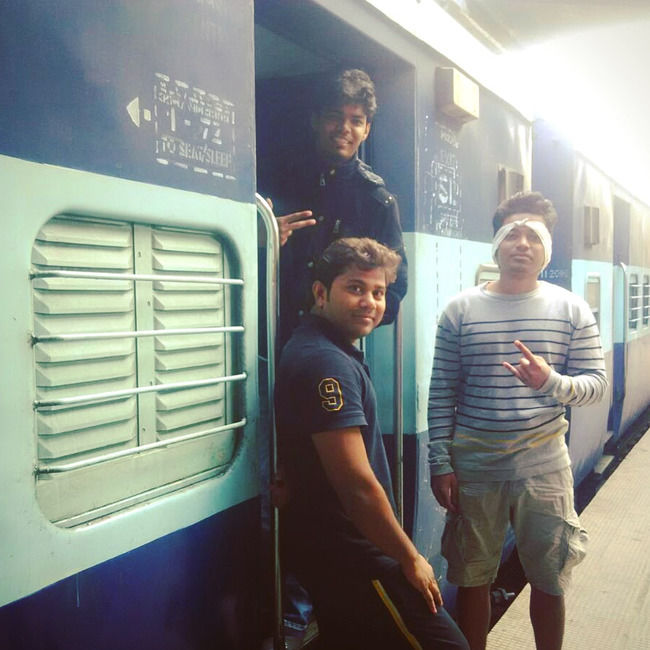 After 18 hrs journey we finally reached Jodhpur Junction. It was a lively station and Jodhpur traditional art work were everywhere on the station wall.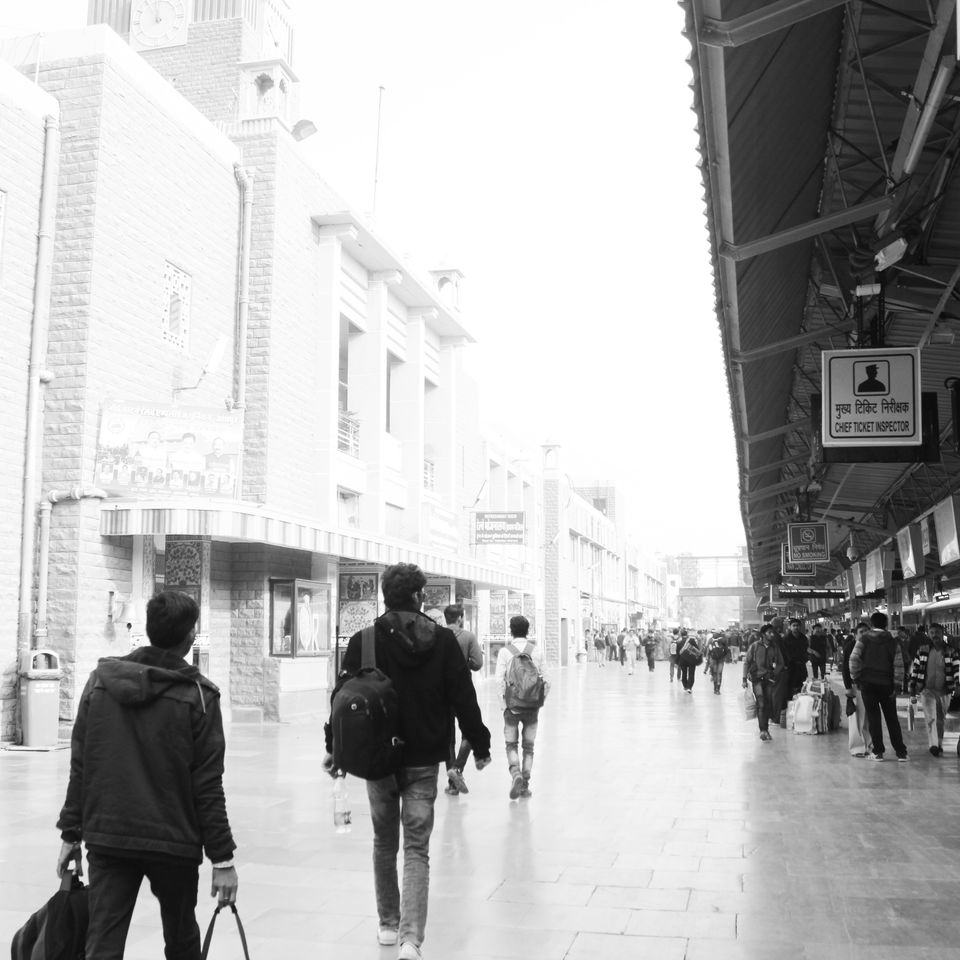 As soon as we stepped out of station atleast 10-15 auto drivers came with their lucrative offers of Hotels and City tour. And like always we rejected them all and started our 'Hotel Hunt' on foot.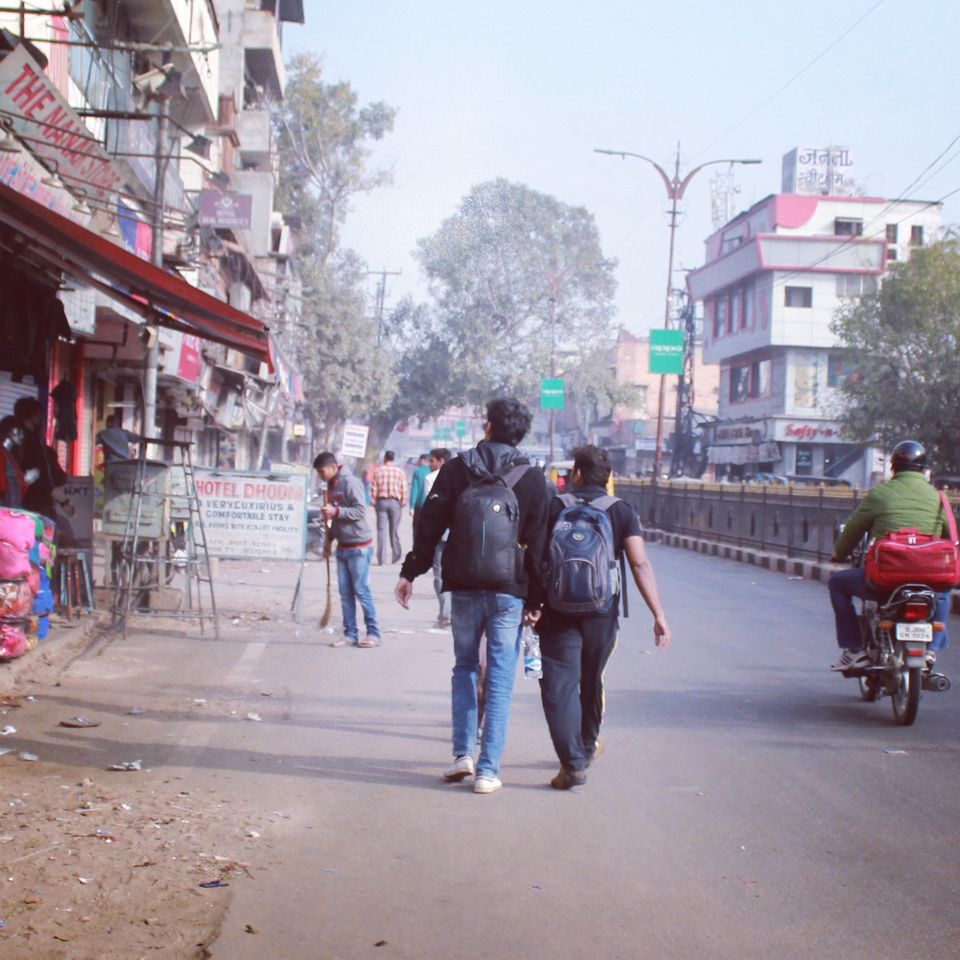 Finally we managed to get a Homestay kind of hotel with 2 large beds which could easily accommodate 4 people just for ₹1200.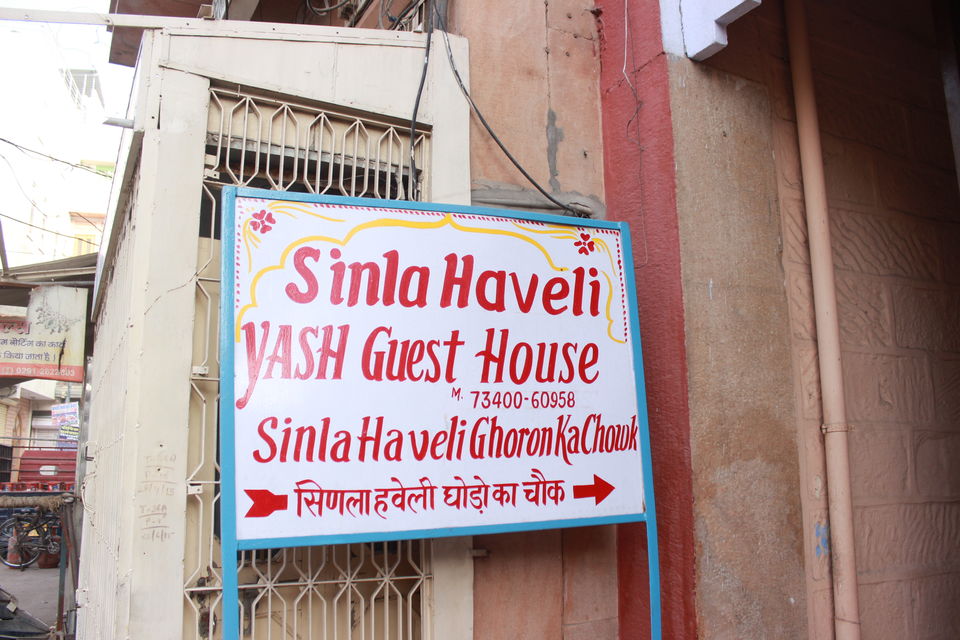 After getting ready for the day, we started our exploration on foot. We had our travel itenary ready and knew which places to visit along with timings. 'Jaswant Thada' was first on the list. After negotiating with many Auto driver who were initially saying ₹400 from 'Sojati Market' to 'Jaswant Thada' one managed to take us our destination in ₹100 which was a fair deal altogether. And likewise we reached 'Jaswant Thada'.
It's a beautiful temple like marble structure at a certain height from the city. Jodhpur city was covered with fog. We paid ₹15 per head to Indian Government and ₹50 extra for camera. Mehrangarh fort looks stunning from this point. Inside Jaswant Thada there is a picturesque story of Raja Jaswant Ji of Marwar. The great wall on the mountains can be easily seen from this point.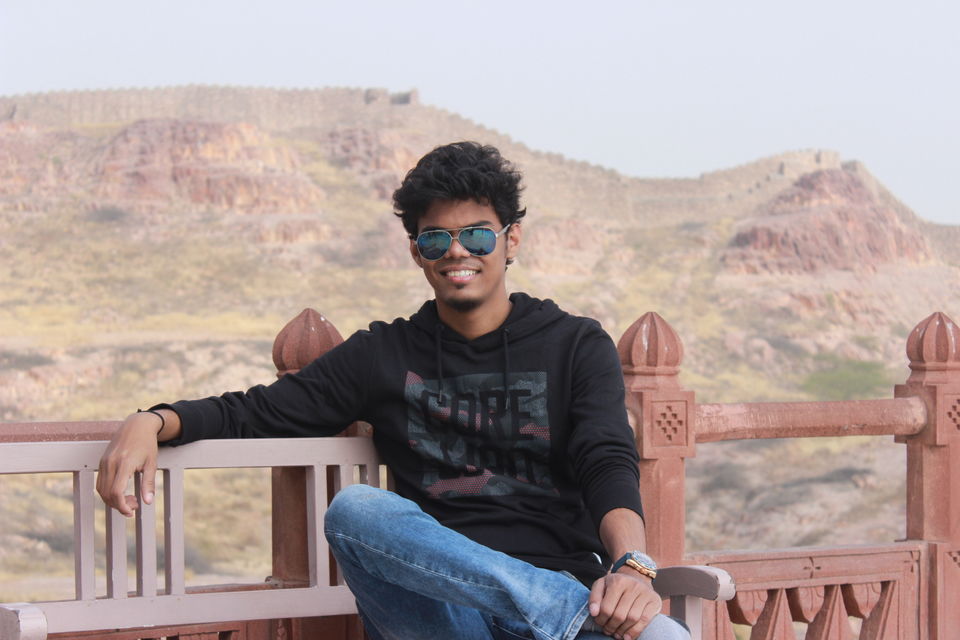 After admiring the beauty of this structure and clicking few pics, we headed to Rao Jodha Dessert Park which was next on our list.
It is located just 10 minutes away from Jaswant Thada. Entry fee was ₹100 per head !! So we thought that it might be something interesting. Some sort of adventure.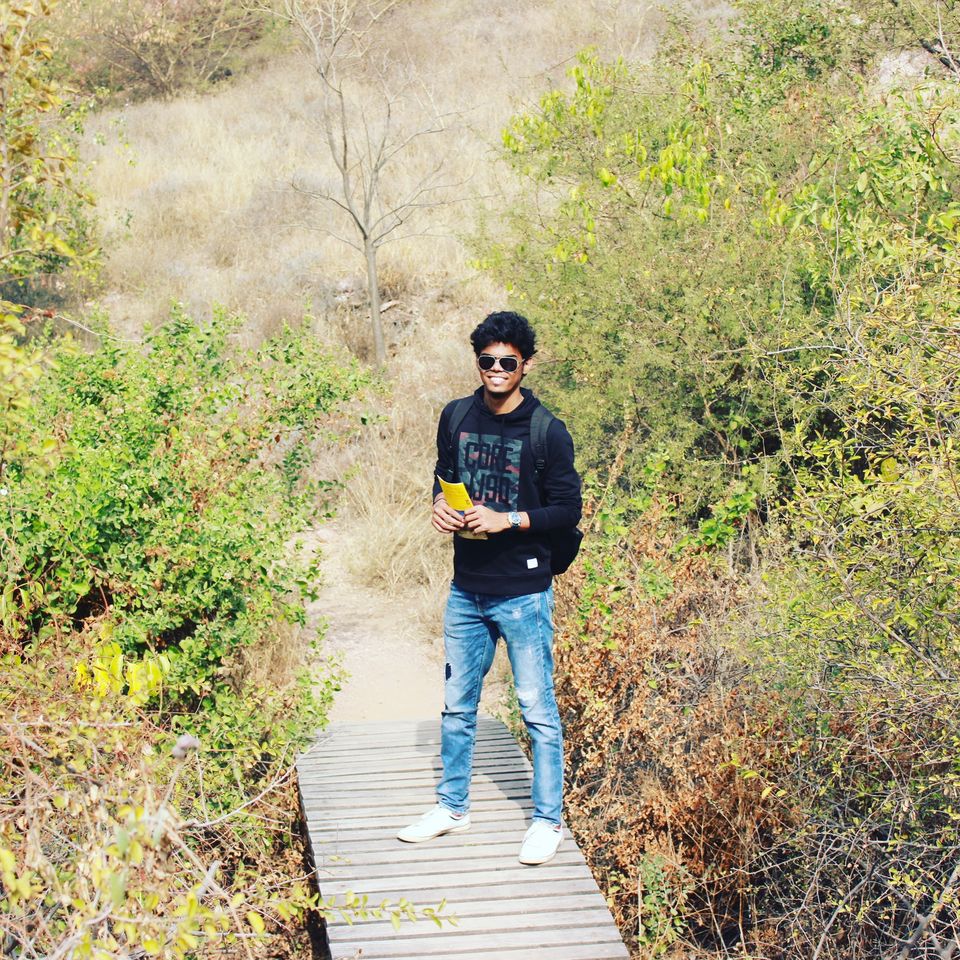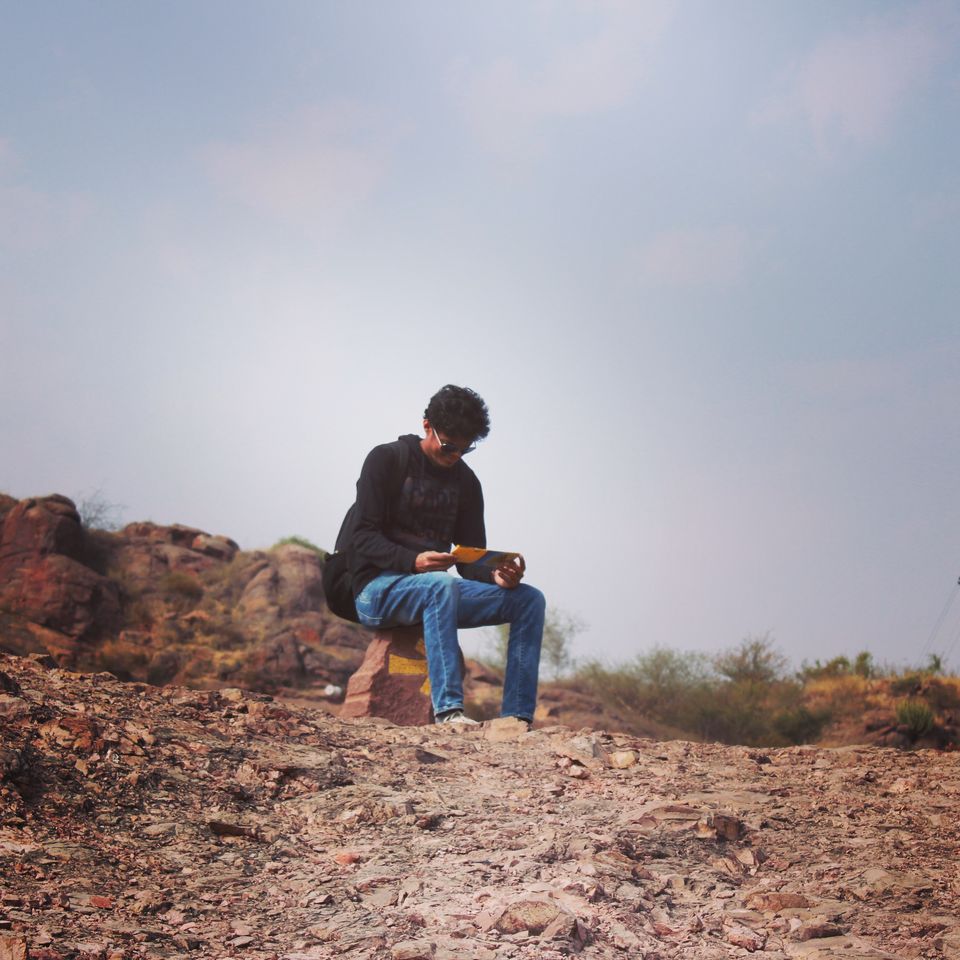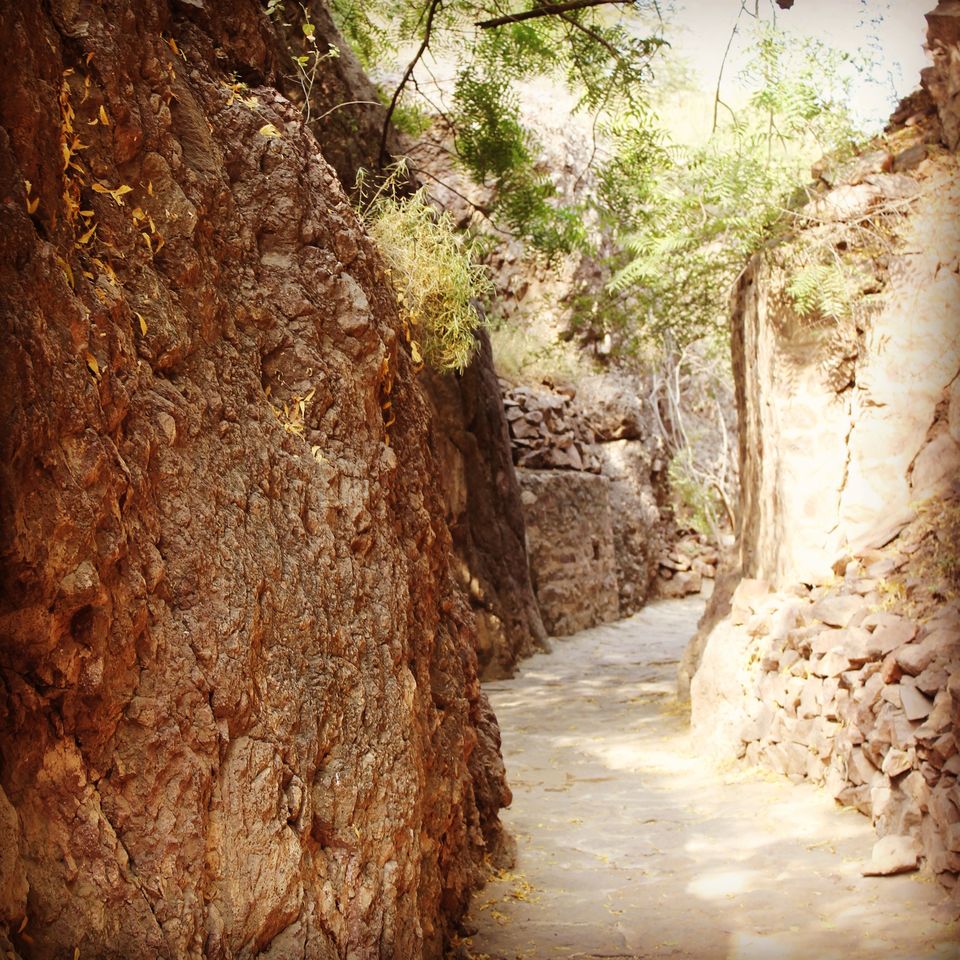 We were given a route map as well which looked intriguing. Also as far as I remember 'Batman: Dark Knight Rises' was shot here. So I was eager to find that spot.
But my excitement was short lived as the park that we thought was adventurous was ended in mere 30 minutes. What a waste of ₹100. Next in line was the Big One.
This fort was my prime reason to visit this Marwar City. Again after paying ₹100 per head (₹100 extra for camera) we got entry to this huge fort. By the time we were very hungry so grabbed a Grilled Cheese Tomato Sandwich for ₹120 from the cafe inside the fort. They were selling a 'Samosa' for ₹50, who does that?
After slightly satisfying our hunger we went on to explore this huge fort. The art work on the walls were outstanding and pictured the reason as to why Rajsthan is so Royal. After visiting museum and admiring the Blue city from top, we eagerly waited for sunset.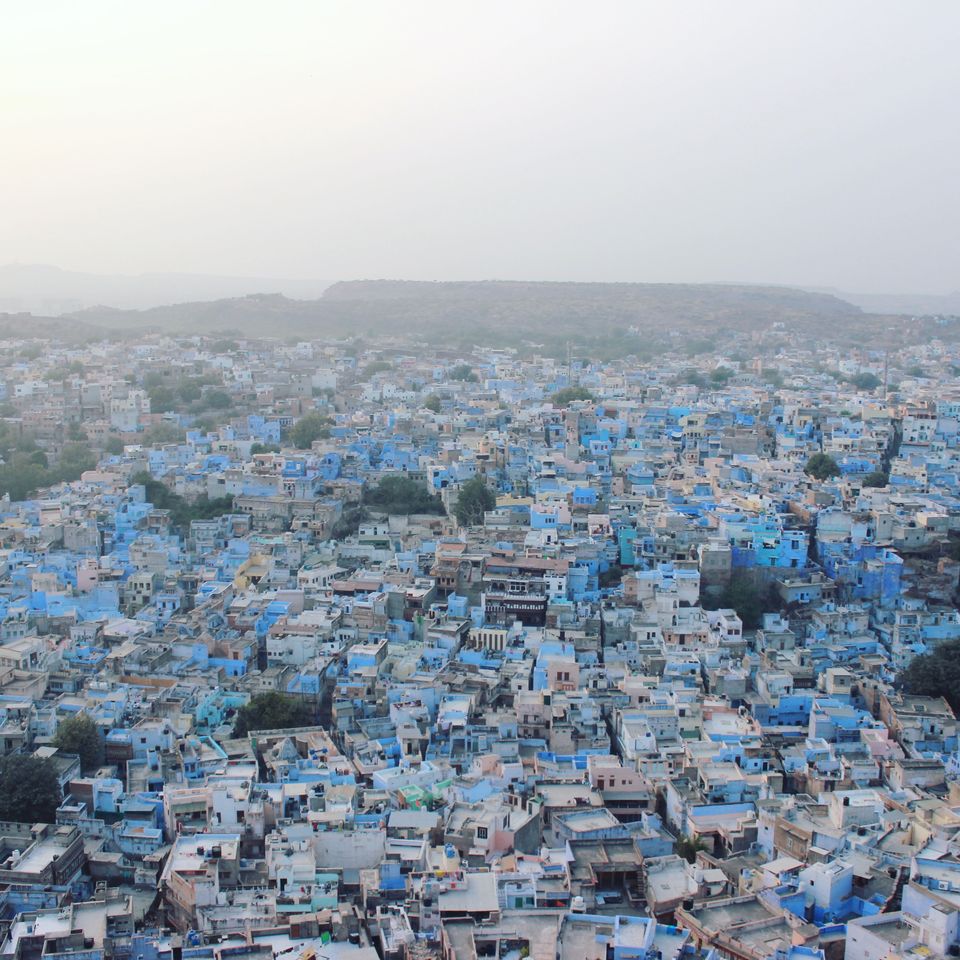 I had to see sunset from the fort as it was showcased in many Bollywood films. After waiting for 1 hour we finally experienced the beautiful sunset from the top most point of fort. It was Mesmerizing.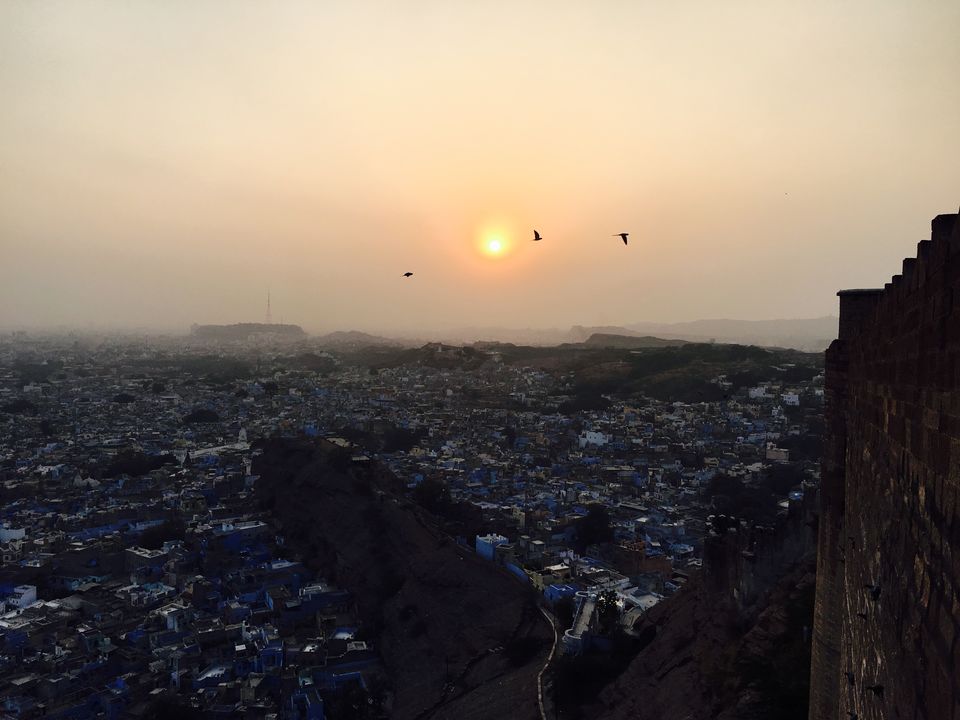 Next in the list was visiting the famous omlette shop. We reached this place from fort in ₹100 via auto. Since I had read many blogs on this small shop I was excited to taste this delicacy. This shop is featured in various German and France New Papers. Also recommended by 13 countries. He had variety from ₹20 to ₹100. I tried 2 types of omelette and it surely satisfied my taste buds.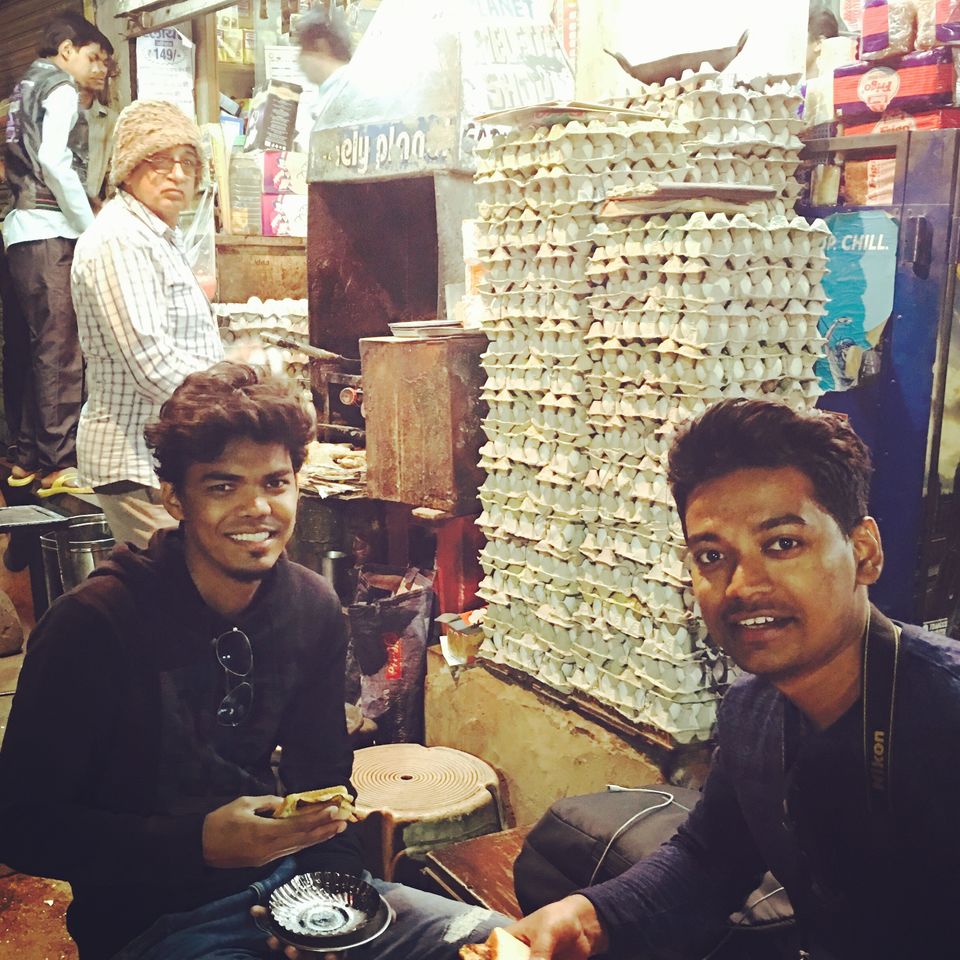 Later we started with shopping near Ghanta Ghar (Clock Tower). Also popularly known as Sardar Market. After searching few shops I finally managed to buy my mom a Jodhpuri Bangles for ₹150. Also we visited the mochi bazar which was right next to the clock tower and again bought her Mochi for ₹200.
This is a very famous restaurant here for Rajasthani Thali. It has overall 31 items in thali which will satisfy your hunger for two days. I tasted every item from the dish and it was amazing. Gajar Halwa was the winner out of all. I took it 4 times. Thali costed ₹286 excluding tax.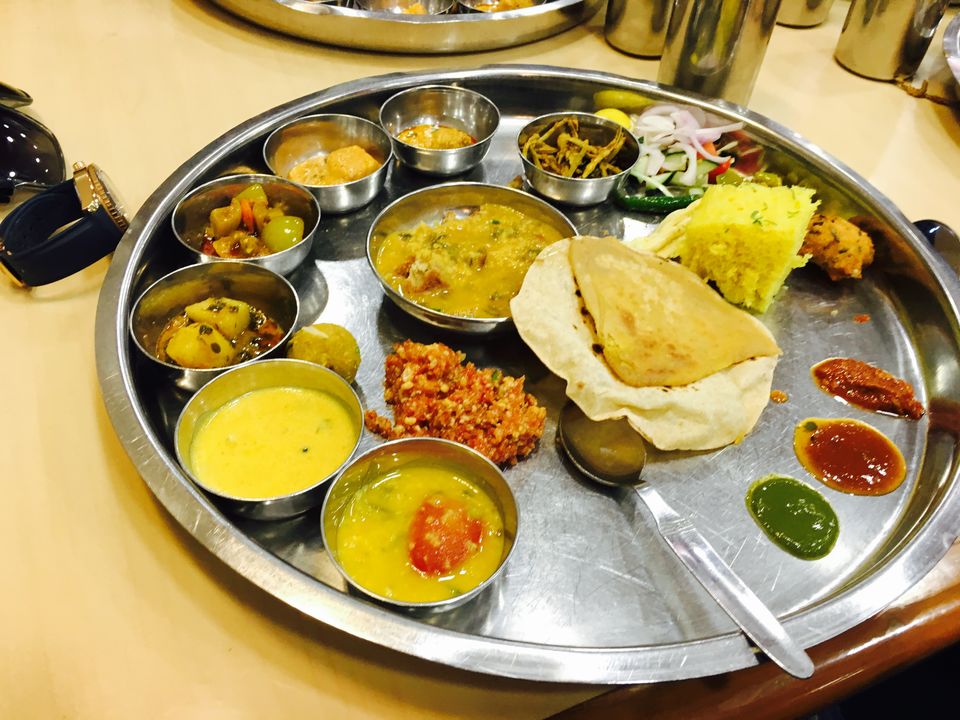 And the day finally ended
Our day started at 09.00 in morning. After checking out and bidding warm goodbye to our host we headed for main market in search for food. We landed in Shri Mishrilal Hotel near ghanta ghar. They were famous for there 'Makhiyani Lassi' and indeed it tasted great. After having some snacks we took auto for Umaid Bhavan Palace. ₹100 again.
No doubt it considered as India's best hotel. The artwork and finishing of each wall will put today's modern construction in question. The area is huge surrounded by gardens. One part of the palace is reserved for Museum and is open for public visits. Entry fee was mere ₹30 for 4 persons. Museum had some fine antiques which were visually appealing.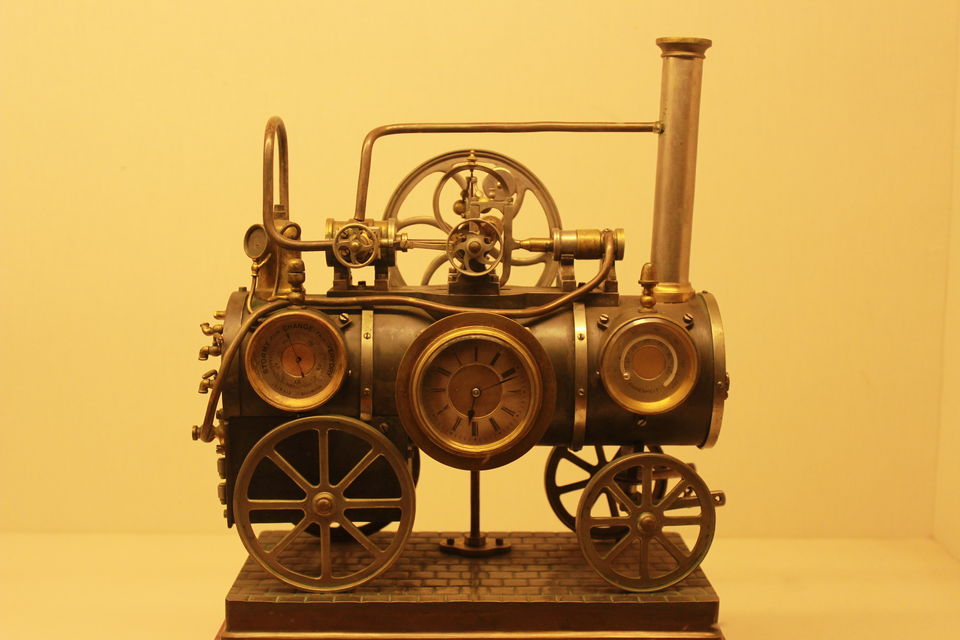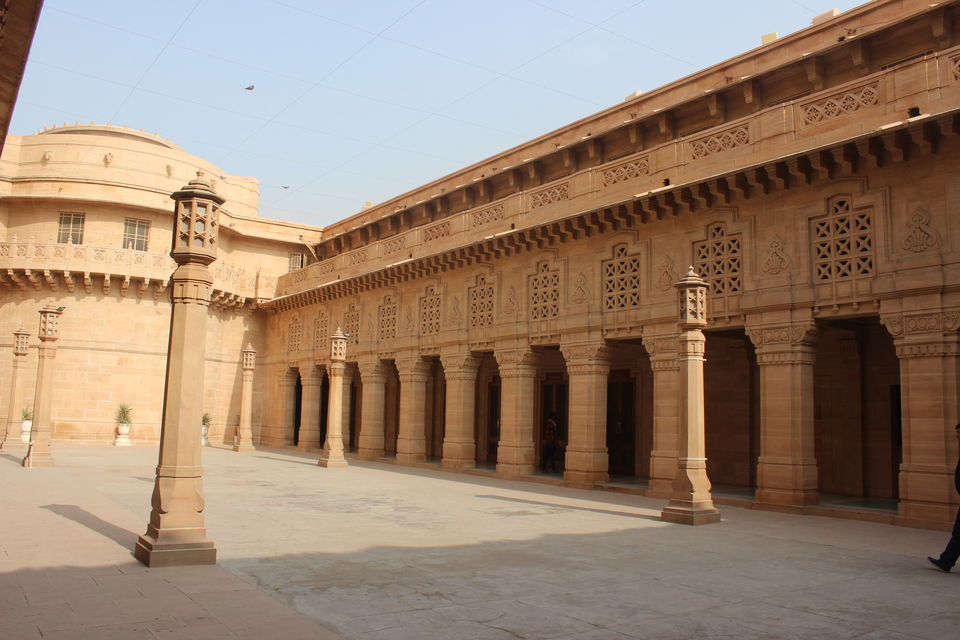 Vintage cars were also displayed in the palace. Cadillac was looking monsterous.
This was end to our palace run. We took auto for station which this time took ₹120.
Apparently trip advisor blogs said that it is very famous for 'Laal Maans', mutton cooked in rajsthani curry. But it wasn't that great. Also the restaurant was too expensive. They served 2 boiled eggs for ₹80. Heights.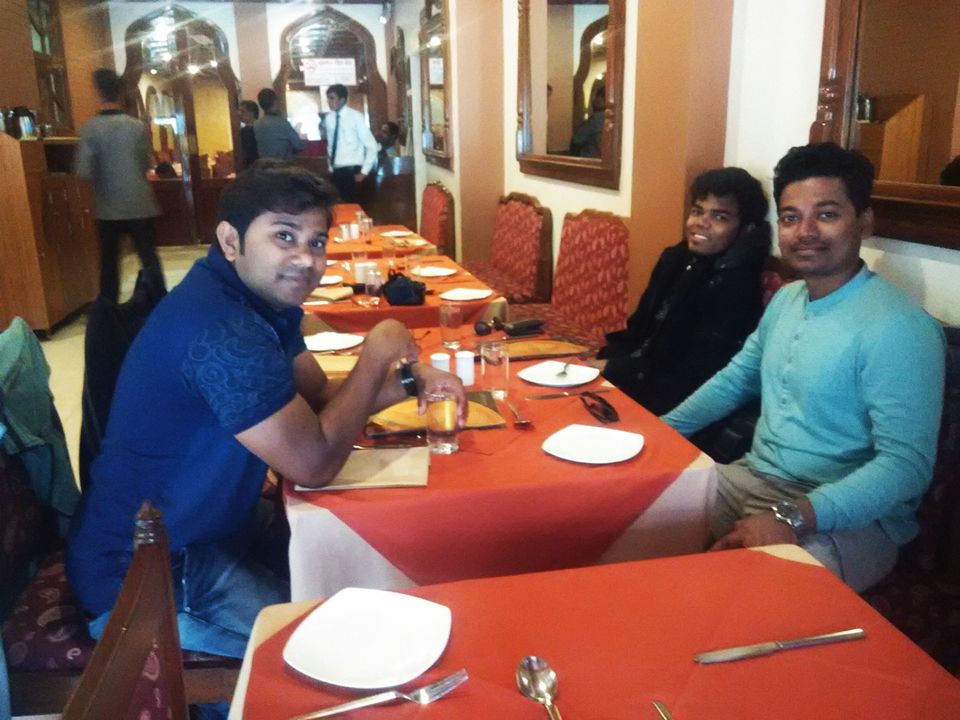 After lunch we headed for local markets just to see whether we had everything of Jodhpur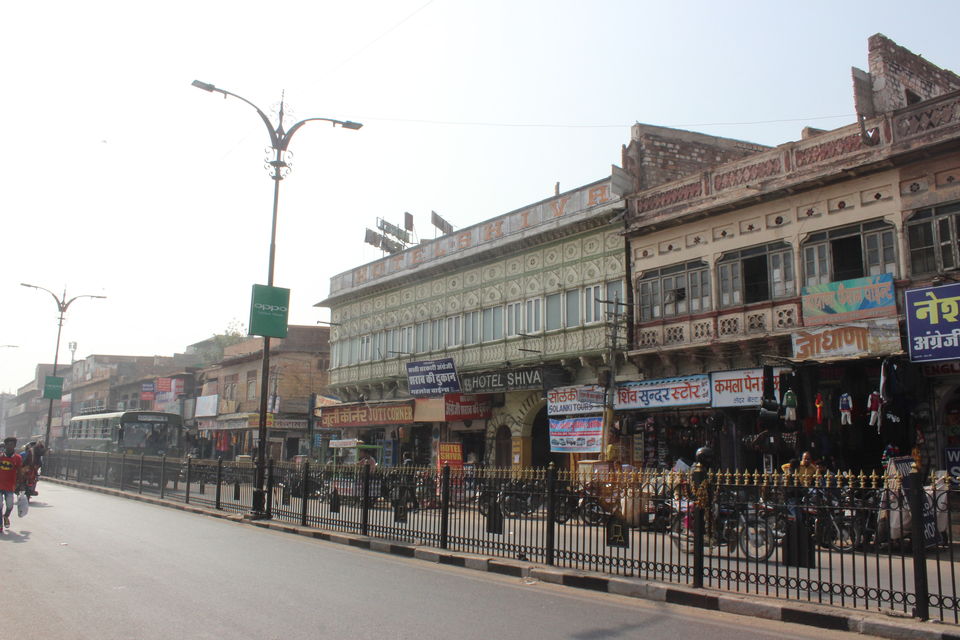 At last we headed station just to realise that train was running 15 mins late. As it is we were 30 mins before time so we passed our time by clicking some goodbye pics.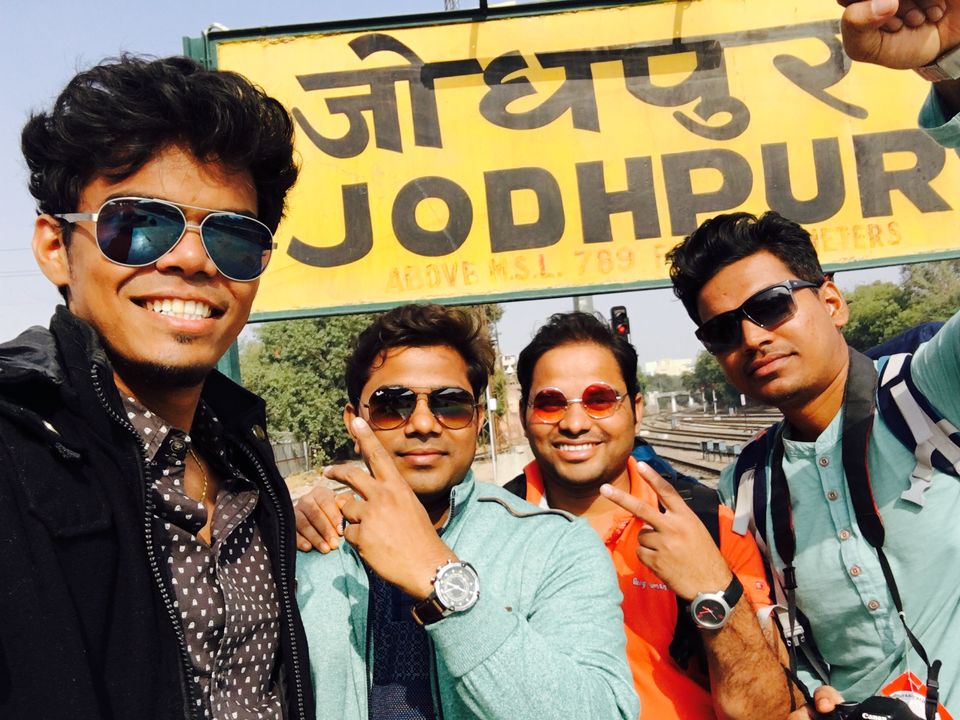 When our train was visible from station was the time when I realised that I forgot my Driving License in Hotel which they took it for security purpose. Now train was honking at one end and I was haunted by the thought that i forgot the thing I use the most in daily life. It was a troublesome situation. I called hotel and found that they have it and they assured that they will courier me the License. Relief.
Finally again we had world famous Abu Road Rabdi and omlette pav and had goodnight sleep.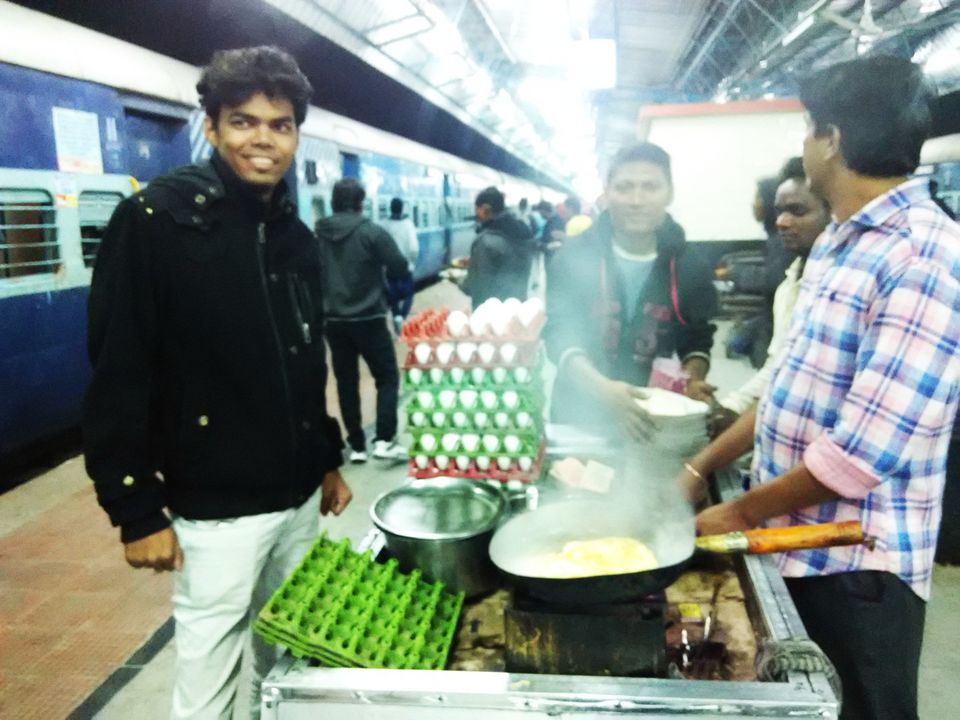 It was a great experience to explore a city in 29 hours. Entire trip costed me less than ₹3000.
For detailed story: 
http://www.thefreebird.net/travelblog/enjoy-jodhpur