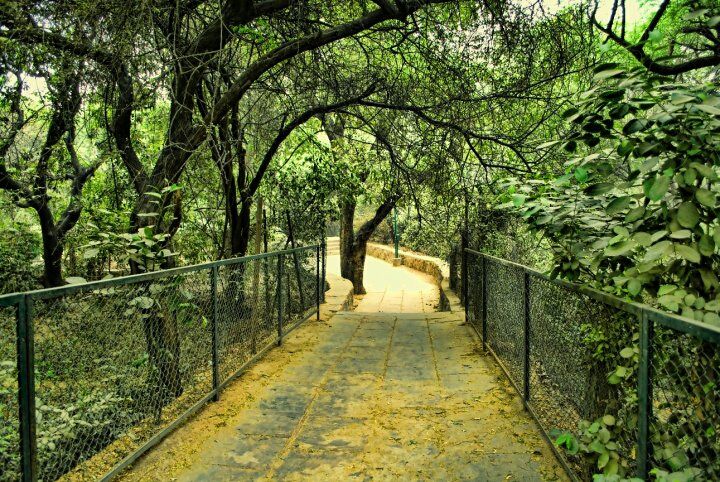 Hauz Khas Village is indeed one of the chicest places in Delhi. With a hodgepodge of food bon vivant eateries, rooftop bistros, art galleries and designer boutiques marking every nook and cranny, this quintessential place proposes a slice of something for everyone. There's so much to do, see and eat here.
Abutting to the Hauz Khas village, Deer park (DDA Park) bids a bit of serenity and pure fresh air in the midst of tainted city. What makes Deer Park exclusive is the presence of a herd of spotted deer roaming freely inside the park. The park is also home to cuddly and cute little rabbits. Also the park is an awesome place for bird-watching and you can find musters of peacocks. Beautiful lake has many swans and ducks. Every morning and evening, the park brims with health enthusiasts busy in different kind of workout viz. running on the tracks, brisk-walking, yoga and many more. The park with its maze like structure and numerous hidden and hush corners, is famous among couples as best place to romance.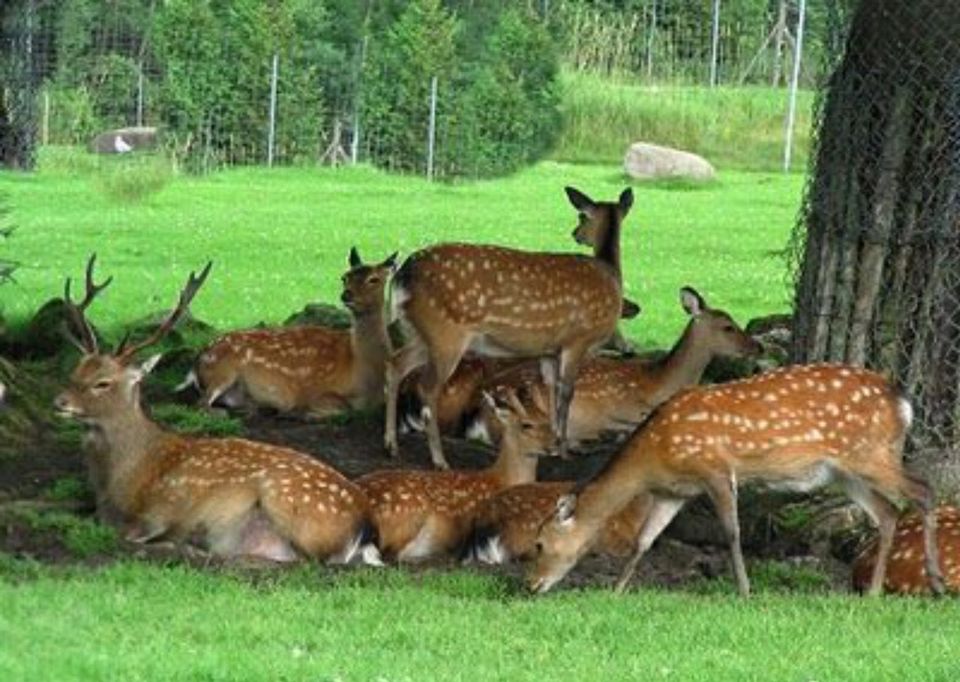 Apart from being hugely popular among nature lovers for pristine natural beauty; it's equally popular among heritage lovers for the historic monuments concealed behind thick vegetation. The entry to the massive park is through a complicated maze like trail which sometimes frustrates one as the confusing trail turns over unusually all through the park and tends to bring the person back to the same point time and again. It certainly makes it hard to locate the three historic old tombs within the complex but if look at the positive side it's the adventure of exploring these abandoned beautiful monuments through blanket of thick forest that inspires the connoisseurs to discover this hidden unusual alcove in the centre of the capital city.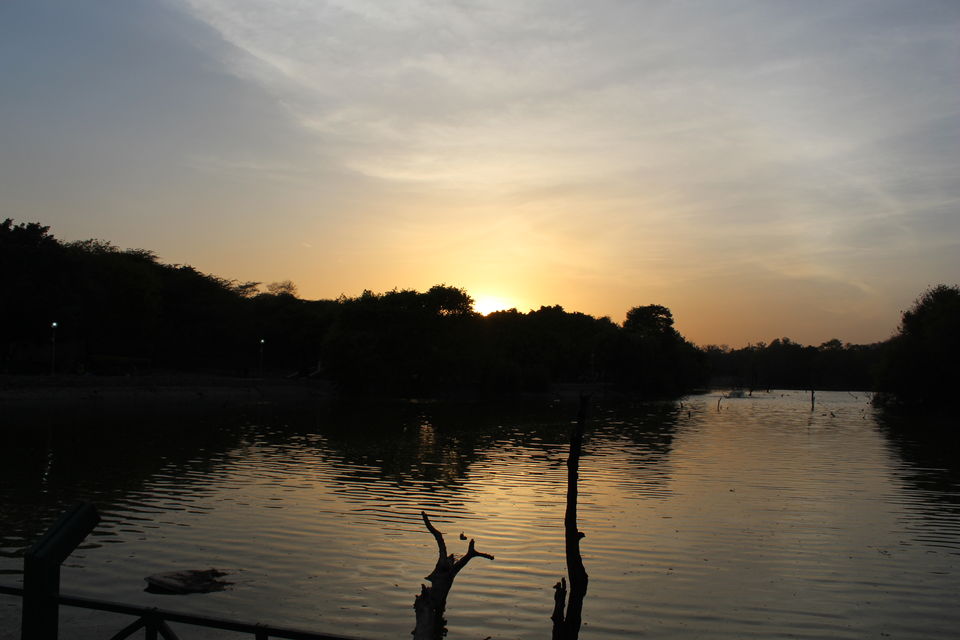 Of the three tombs within the park premises, the largest is Bagh-i-Alam ka Gumbad (Tomb within the garden of the world). It's an exquisitely carved tomb with elegant blue slab-work and charming decorative art in diverse shades on the interiors. There are three tombs inside, however its unknown who they belong to. Western side has a pretty ruined ashlar wall mosque (mehrab).
Bounded by a park on one side and Qibla (West wall of prayer for muslims) on the other side the Kali Gumti (Small Black Dome) rests on a low pedestal. The structure has arched entrances on three sides and Mihrab (Qibla with roof) on the west side. It's supposed to be a tomb but there's no grave inside. Couples have spoiled the walls with their names written all over the walls. These are what I call educated ignorants who don't even know that ASI monuments are protected heritage and they aren't allowed to spoil the precious legacy.
Kali Gumti's rough and organic beauty certainly attracts. Colorful swings and kids playing in the park and lush green meadows are gumti's constant company and adds charm to the little structure.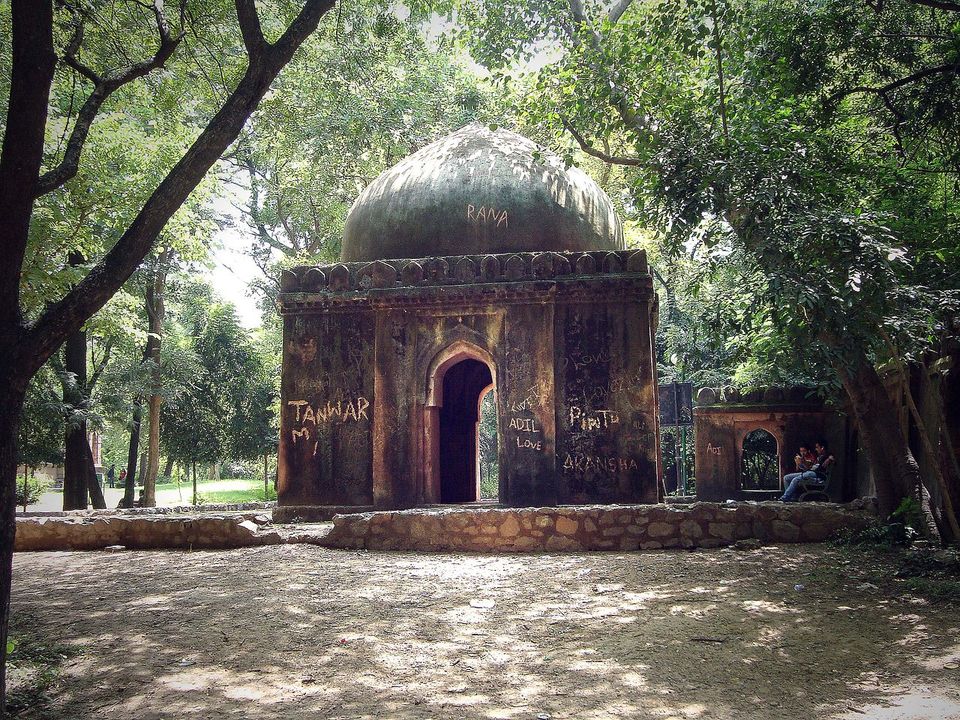 Tohfewala Gumbad looks beautiful in blackish red color nestling between the green meadows. It must have been beautiful red painted structure but has worn out with time. The structure has been neglected and note maintained properly. The tombs near the gumbad lay crumbling.  It's a plain structure devoid of any ornamentation.
Dating back to Tughlaq period, the simple and plain tomb emulates all the characteristics of Tughlaq era structures like lack of adornment and sloping walls. There are four graves inside with no evidence of identity of who's buried here. Wedge-carved projection upon the graves reveal that the tombs belong to the male members.
Tohfewala Gumbad is another example of how we neglect our inestimable heritage.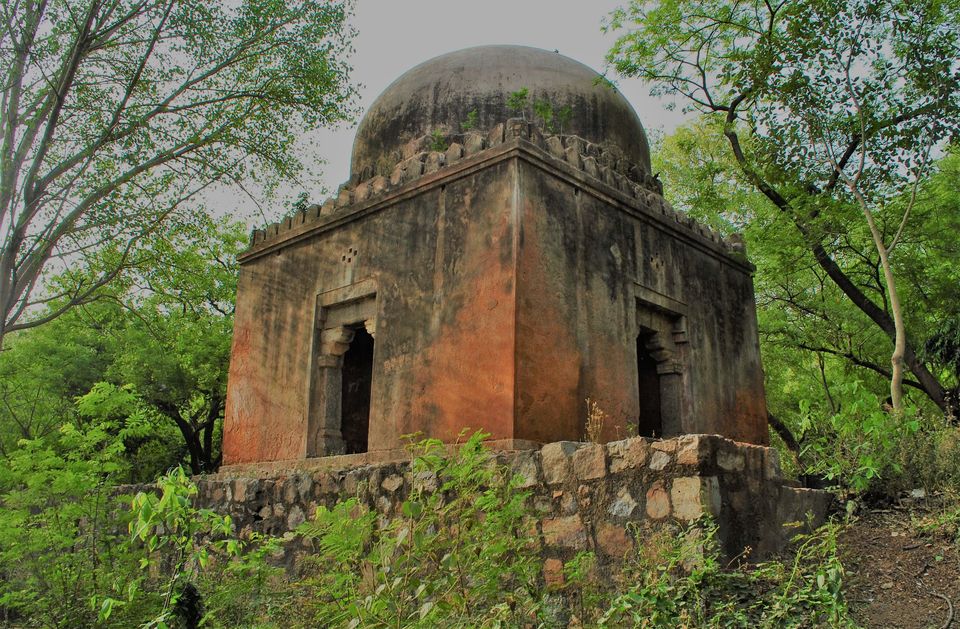 On a side-note, such a huge and lush green space with diverse flora and fauna in a cramped, polluted and dirty city like Delhi; is certainly a fortuitous delight for visitors!