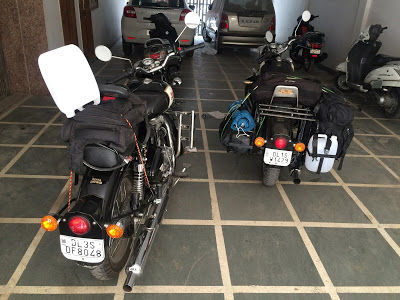 DELHI TO RAJPURA : ENGINE OIL ISSUES
It might sound cheesy but a short trip to a place as beautiful as Ladakh can make a huge impact on a person's life.
There are times in our life when we sit down, sip a cup of tea or coffee(whichever we like more), and look back at things we did or happened that brought a change in our perspective. Going to Ladakh was one of those things that i did which most definitely did affect the way I used to look at life. The beauty of the place is indescribable and so is the cruelty. Being from a metropolitan city, seeing all that nature, I didn't think existed, was something i would never be able to forget.
So how did it all happen !!
Well, the trip began with a motive, a motive to get our Soldier friend back home from the border. He was posted at the Siachen Glacier and our plan was to go to Ladakh and bring him back home. The talks started and a little research on the Internet gave us a road map. The initial plan was to take a flight to Leh and hire bikes from there to roam around for a few days while the Soldier comes back but, as I kept on researching about Ladakh I developed an affinity towards road-trip. Reading all those blogs and watching videos of people going to Ladakh on a bike used to give me the kind of high I always wanted. It didn't take much convincing to get my other friend on board with me for taking a road trip as he was already a 1000 times more excited about getting 10 consecutive days off work. So got to work and found all the information we could for making it back alive, be it roads, hotels, bikes, petrol pumps, food, medicine etc you name it and we studied the living shit out of that topic.That whole month of collecting information showed me a side of myself that I never knew of.
ADIOS Delhi!!
The day was here, we were all set to leave with our bikes packed to the rafters with all the supplies we needed and our bodies filled with more than enough adrenaline. We woke up at 5 AM as planned and got ready but, as soon as we got to the bikes hell broke loose, the engine oil was leaking from my friend's rented bike. It was a heartbreaking moment. All that planning seemed falling apart. But, I wasn't ready to let the leak mess with my trip so, I took my bike and started wandering around in search of a mechanic who could take a look and fix the leak. Could not find anybody though at that time of the day. Hence, we decided to come back and take a couple more hours of rest.
Woke back up at 10 AM and found a mechanic to get both our bikes inspected thoroughly as we did not want any troubles while riding, at least not on the first day. Our initial plan was to make it to Manali (531 kms) on our first day of the trip which could not happen as we lost over 6 hours of sunlight in the morning and we had decided to ride only till sunset every day. We at first thought about staying back that day and start the next morning but then the amateur traveler in me didn't wanna waste a day plus the adrenaline was still pumping so, we head out past noon.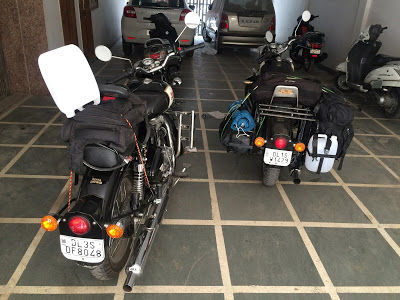 It was a hot summer day and we were wearing the worst clothes possible clothes. As the plan was to leave early in the morning we covered our whole body in a space suit and wore protective gear on top if it. Sweat was dripping down my body like Niagara Falls, not even kidding. our only option to cool ourselves was the air finding it's way into our clothes. Our first stop was Murthal, not to eat but to breathe. We decided to take a break every hour or so. The 10 liters plastic cans we were carrying for fuel was filled with water (body fuel) which saved us several times in those high temperatures. It was already 4 PM by the time we reached Ambala city and we didn't have a place to spend the night. We started considering Chandigarh but, that was out of our route.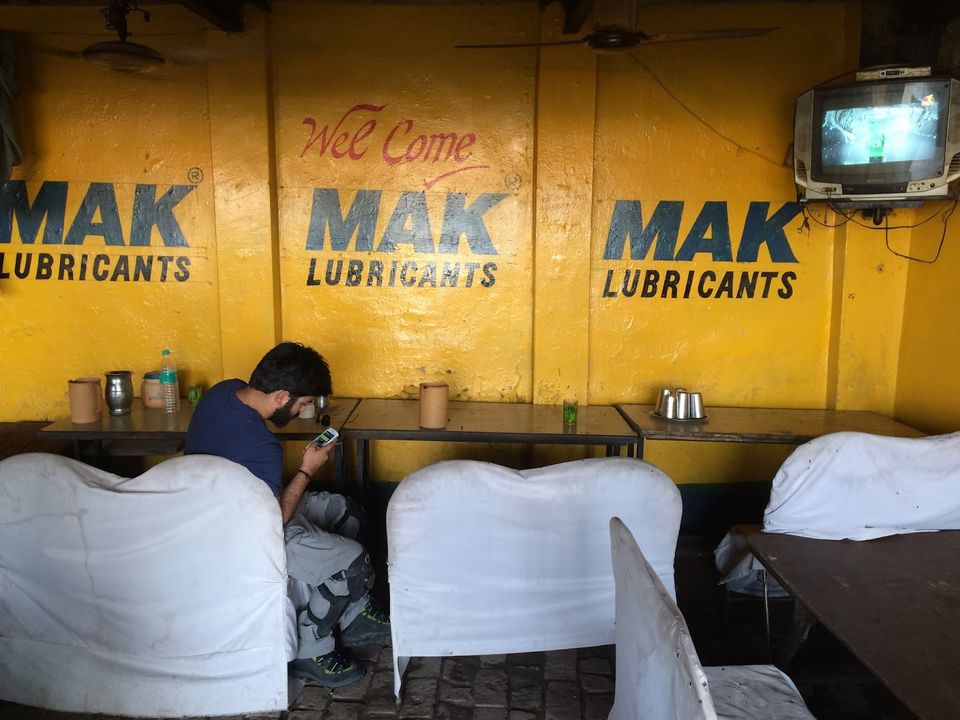 God gave my friend the idea of calling one of his relatives in Rajpura which was only 40 kms away from there and was on the same route we were supposed to take. After spending some time on the phone we had a place to rest our butts and spend the night. They welcomed us with open arms and a lot, a lot of food. Day 1 officially ended in Rajpura which was 240 kms away from source, not too bad after a delayed start.
It wasn't the kind of start we had planned for but it turned out to be a better one. Got free food and free stay.
The day taught me about doing what your heart tells you to do and the importance of carrying drinking water.
The days get more and more interesting as we move ahead, believe me...