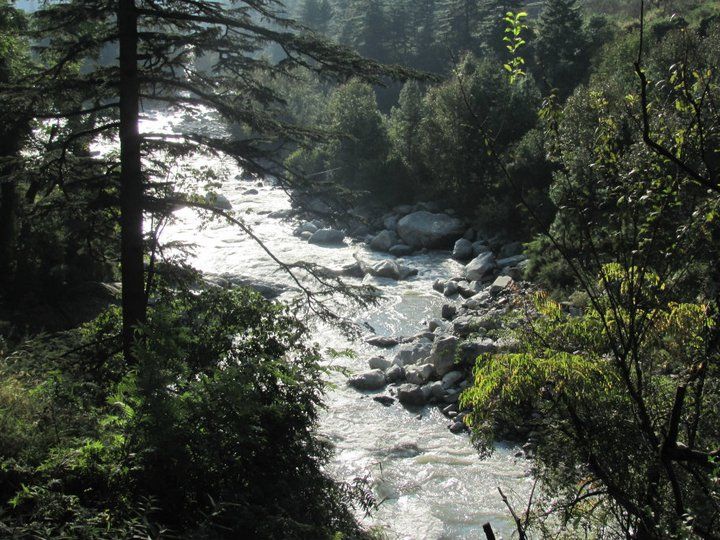 One of the most well hidden and well known (among the people who know what you get there) places in Himachal Pradesh, Kasol, is what they call a 'Stoners Paradise'. However, as it is with every place, commercialisation has hit pretty hard over the last few years.
Kasol is a small tourist village in Himachal Pradesh mostly inhabited by locals and Israelis- and the temp inhabitants- almost every college-going kid in the country. Situated in the Parvati Valley, as the name suggests, the river Parvati runs parallel to the entire village. Manikaran, the Gurudwara Shri Manikaran Sahib is 4 Kms beyond the village is often visited by families- yep, there's plenty a stares from the family members and they sure do judge you. Haha.
Getting there:
Bus – From Delhi getting to Kasol takes ~14 hours. Start from the ISBT Kashmere Gate- you can reach the ISBT via Delhi Metro, Auto, Bus or Cab from pretty much anywhere in Delhi. Once there, you have a range of ticket prices you can choose from-
Himachal Roadways – 560+: Buses ply every half an hour | Semi Delux – 850+: Buses ply every 2 hours | Delux – 1000+: Buses ply every 2 hours Volvo – 1400+: Buses ply till 4 p.m and after 9 p.m.
You can even book Volvos that are going to Manali, and get down at Bhunter on the way online- redbus.com is usually the preferred site.
Note: You have to de-board the bus at Bhunter as there are no direct buses from Delhi to Kasol. From Bhunter you can either take a local bus- that is a little bumpy but dirt cheap at ~50 Rs per ticket or a taxi- that could charge upto ~500 Rs.
You can also hire taxis from Delhi- cost- close to 11,000 to 12,000 INR- one way.
Staying There:
Accommodation is available at prices ranging from Rs 500 per night to Rs 3000 per night.
Food:
With plenty of restaurants and cafes, you won't get need to look around much to get a mean. Bhoj Cafe has (or at least it had) a decent breakfast with fresh cut veggies and a huge sandwich with a side of fries. The pizza and fries at Little Italy are a must try. But for a good meal I'd recommend Evergreen Cafe. The German Bakery is where I'd suggest you go when you crave something sweet or when the munchies kick in. You're in Kasol, if they run out of munchies, there'll be riots!
Go beyond the bridge, take a left and after a few minutes walk you will come across Maria Cafe, a sweet setting overlooking the valley and good food makes this places one of the best places to check in Kasol. Try the maggi there, yum!
The best time to visit would be during the month of May to October. Winters are usually quite as the locals and the tourists shift towards South India - Goa.
When in the mountains, trek! There's a few small ones that take you to villages near by and only take an hour or two. And then there's the longer ones that take days- the one to Kheerganga from Kasol and another famous one is the Malana Trek- but, these are usually done with Sherpas and a very planned holiday trip.
For me, the trip was always to just unwind and chill and get a few days away from the madness of the city.
A 2-3 day trip is ideal for place like Kasol and the my budget is usually between INR 4000-INR 5000. But then, if you want to spend, the budget can even go up INR 15,000 for just 3 days.
By the, in case you've got some pets and hate to leave them behind for this weekend trip- check out this great website that can help you find pet sitters and house sitters. 
*Photo Credits - Arjun Sehrawat*