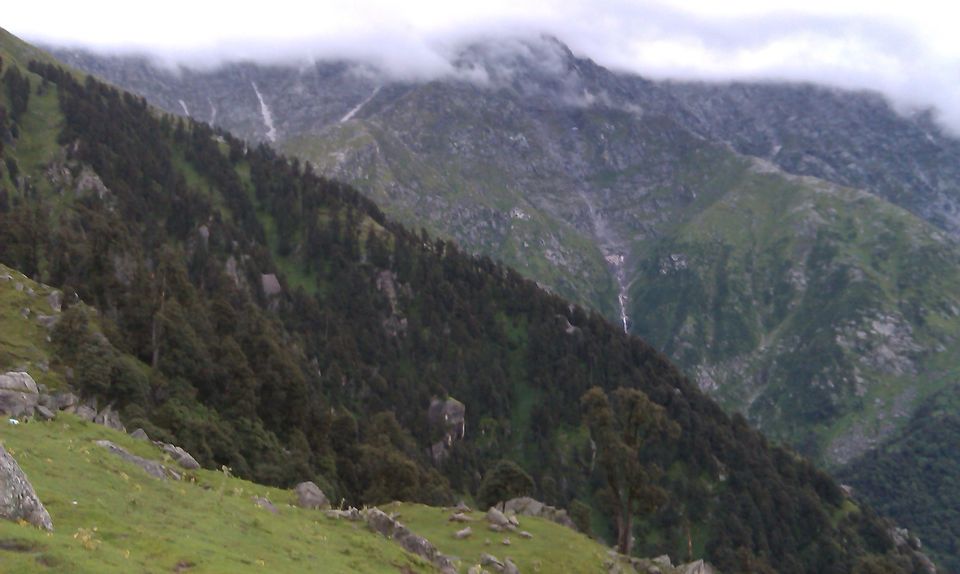 This was a solo trip for me. In a sense it taught me a lot.
I visited Mcleodganj towards the end of August and first week of September. It was raining at that time. I took overnight train from Ahmedabad to Delhi. From Delhi I had booked bus for Mcleodganj. There was other option of using train to reach Pathankot. From there one can take a bus or shared taxi to Mcleodganj. I took the AC volvo bus from Majnu Ka tilla. The ticket fare was Rs1100. The bus service was from Bedi Travels which are pretty good. On the way to Mcleodganj the bus will stop at Karnal Havelli for dinner. This is another experience in itself. The bus will take around 11 to 12 hours. It will drop you either at Dharamshala or Mcleodganj depending on your choice. In Mcleodgunj I stayed at a hotel. The room charges were Rs 700 but if you bargain it can be brought down to Rs 500. I took a room for Rs 600 with a mountain view. However, for a budget travelers there are cheap hotels and dormitories in Dharamkot. One day is enough to explore Mcleodganj and Dharamshala.
Next day I booked a guide for Rs 3000 to Triund. However, one can trek alone till Triund. The path to Triund can be easily figured out. I could have saved this amount. One advantage of taking a guide prior is that they will book a room for you at Triund in the Forest House. If you want to avoid the hassle is peak season it is better to book a guide. The amount Rs 3000 included the cost of staying at Triund. However there are other option of staying in tent in Triund.
The trek to Triund will take around 4-5 hrs depending on the fitness level of an individual. On the way one can find three shops where one can take rest and have some refreshments. But these shops being at a certain height charge high for their products. Items like maggi, biscuits, gatorade, tea, egg are available at these shops. I started my trek 9 am. As it was raining on that day, we reached at the top by 2:30pm. From Triund one can view the Dhauladhar ranges which are covered in snow during the winter. But when I went, due to monsoon season it was covered in clouds. Beyond Triund, the trek continues to Snowline, Inderhara pass and on to Chamba valley. I stayed overnight at Triund. And it was raining the whole night. But the weather cleared in the morning and I had some chance to see and appreciate the beauty of the Dhauladhar range.
The next day I got down from Triund. I started at around 11 am. It took me around two and half hours to reach Mcleodganj. From there I had booked my bus back to Delhi.