Who has not nurtured a desire to visit Switzerland? The joys of boating on Lake Zurich or hiking on its numerous picturesque trails are simply indescribable. There is much to captivate visitors here, from the lush green meadows to the magical mountain passes.
However, what if you could experience the same magic, the same excitement and the same thrill here in India itself? Our very own Kashmir, just an hour and 15 minutes away by flight from Delhi, bears a close resemblance to Switzerland with its green meadows, pristine lakes and mesmeric landscapes. Indeed, visiting it evokes a feeling of déjà vu! This blog tells you what makes Kashmir – the Switzerland like destination of India.
Lakes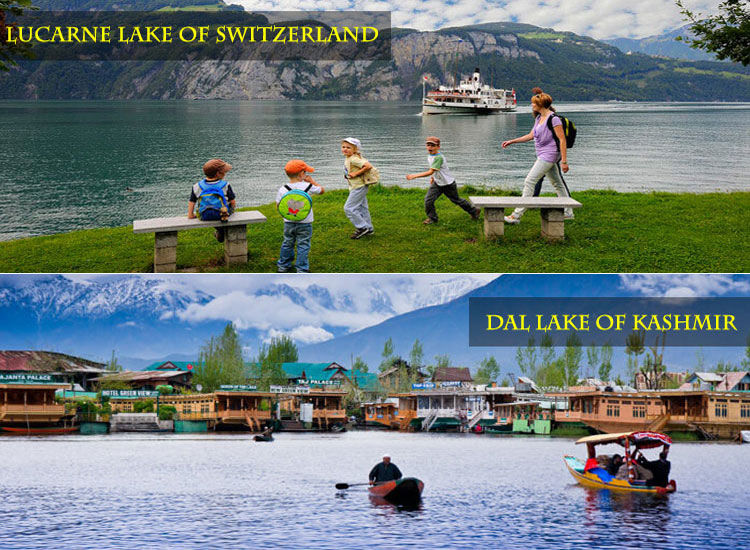 The magical lakes of Switzerland, from Lake Geneva to Lake Lucerne, never fail to cast their magical spell on visitors. However, visit the Dal Lake in Kashmir, or the Gangabal Lake, and you will be throw into a trance yet again. Taking a ride on a "shikara" or staying in a houseboat on the Dal Lake delivers memories worth cherishing. To witness a dream come to life, visit the Gadsar Lake. Surrounded by alpine flowers, the entire scenery wears an aura of surrealism here.
Meadows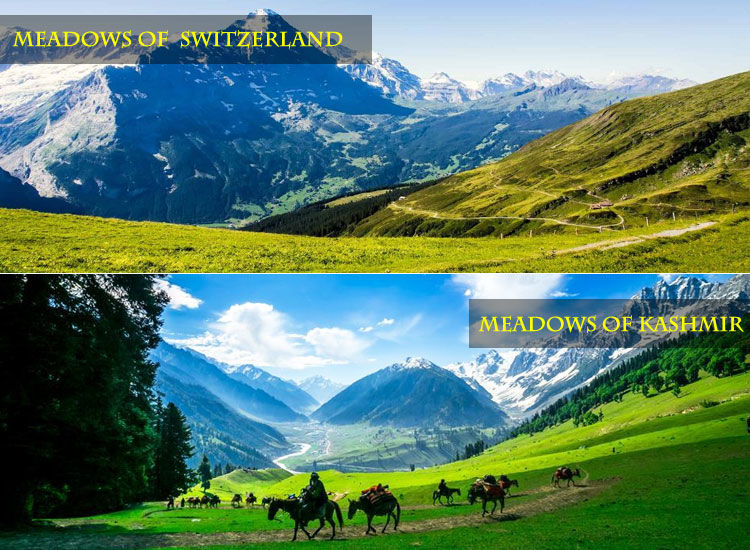 The meadows of Switzerland endear themselves to tourists and locals alike with their brightly colored landscape. Come June, and these stretches of green are carpeted by several varieties of alpine flowers. A similar sight awaits you at Yusmarg in Kashmir, just 1.15 hours away by flight from Delhi, the capital of India. The serenity and beauty of this place simply takes you in. A similar experience awaits you at Baisaran, located in Pahalgam. Its beauty is enchanted by the thickly wooded pine forests surrounding it.
Mountain Passes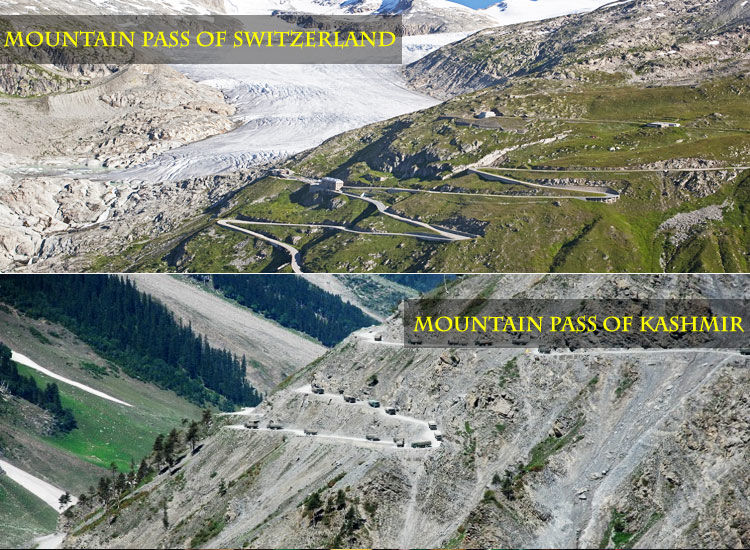 There is a sheer thrill in negotiating your way through zigzagged roads carved artistically in the mountains. While the Swiss experience their share of excitement through the Furka Pass, Gotthard Pass and Grimsel Pass, Indians can get their fair share of thrill by travelling through Zoji La Pass.

Naturally, mountain climbing too is a popular activity in both countries. In Kashmir, the most popular peaks like Arjuna and Flat Top are located in the Kishtwar region.
Valleys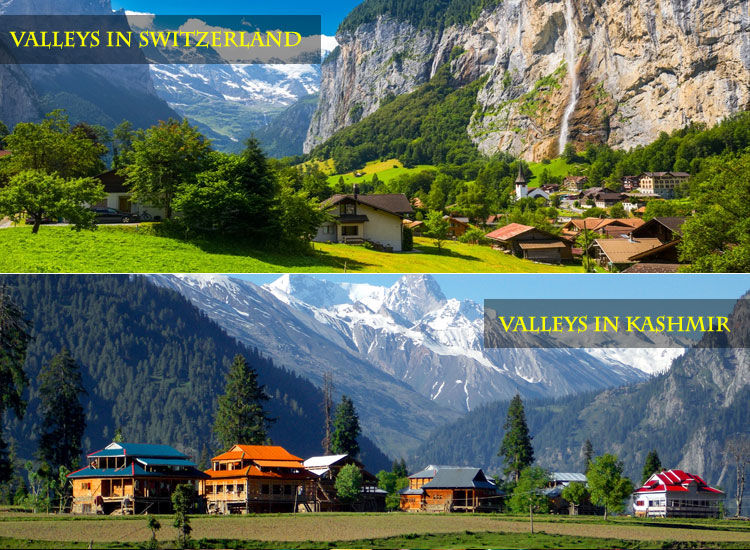 What do valleys offer that others don't? Wonderful waterfalls, colorful meadows and breathtaking views of the surroundings. Lauterbrunnen in Switzerland puts true the claim of there being a paradise on earth. Its magnificent landscape is bound to leave anyone spellbound. However, Arru valley and Betaab valley in Pahalgam, Kashmir works the same magic on visitors and travelers. What's more, all one has to do is catch a flight from Delhi, India's capital, which takes you to Kashmir in just 1 hour 15 minutes. The fabulous Nun Kum Mountain which overlooks this valley lends a surreal aura to the entire landscape.
Horse Riding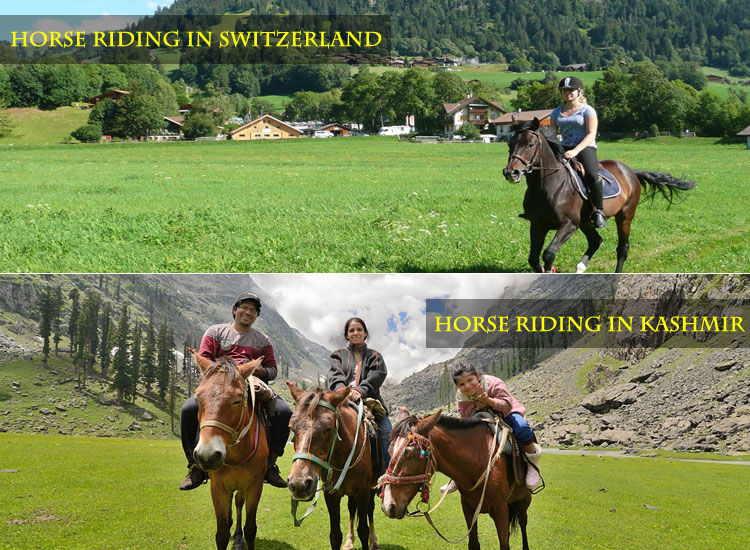 Horse riding is always fun in Switzerland. Exploring its snowy countryside, especially areas like Saignelégier, is best done through a horse ride. The other place where you can explore the mountain landscape and countryside is Klosters.
Two of the regions most popular for horse riding in Kashmir are Gulmarg and Pahalgam. Yusmarg also presents great opportunities for horse riding, as the entire region is scattered with great riding tracks.
Gondola Rides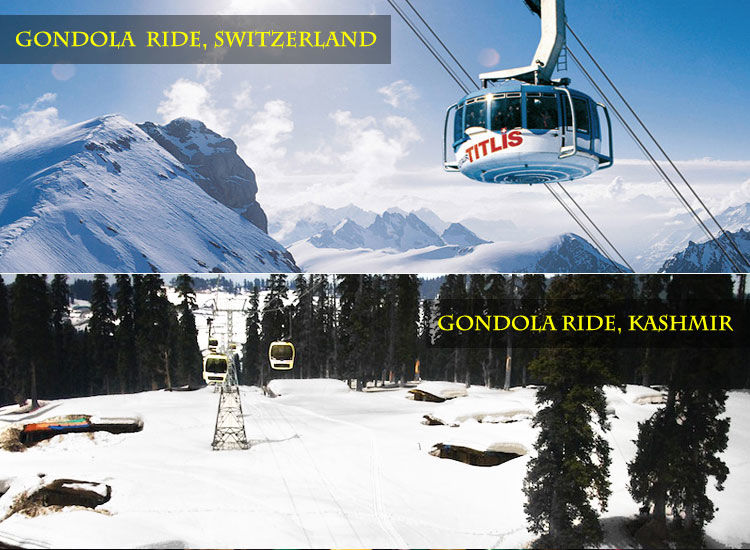 Gondola rides in Switzerland are extremely popular. In fact, some of the most spectacular views of the surrounding landscape can be had by taking a ride in one of these wonderful cable cars. While Titlis, the revolving cable car, offers amazing views of Mount Titlis, others like Corvatsch draw crowds for the extraordinary views they offer of the Upper Engadine Lakes.
In Kashmir, the best gondola ride is available at Gulmarg. The Gondola Cable Car Lift, offering a ski run of 3km, reaches the peak of Mount Apharwat at an elevation of 3,980m above sea level. The Gondola Lift operates in two phases. One can enjoy amazing views of the Pir Panjal Range, besides the Nanda Devi Mountain and LOC.
I hope this post has acquainted you with the striking similarities between Kashmir and Delhi. The question now is, why should you invest your time and money in travelling to Switzerland when you can get the same experience in Kashmir itself. Not only does it save you a great deal of time but also saves you a considerable amount of money as well. Don't wait any longer, book your holidays to Kashmir now and enjoy a Swiss-like vacation.