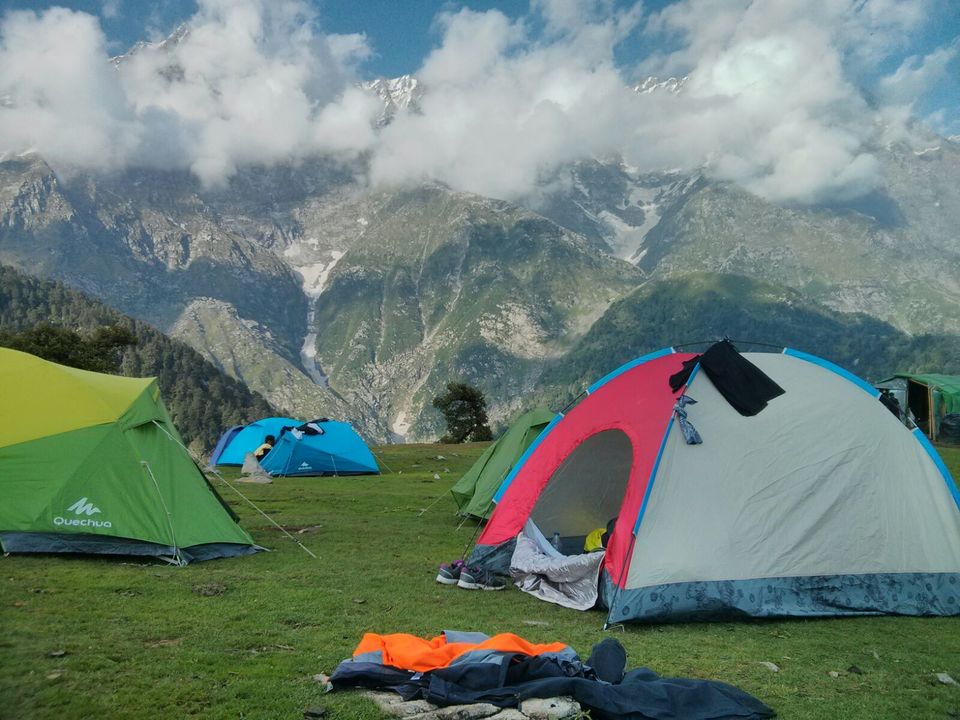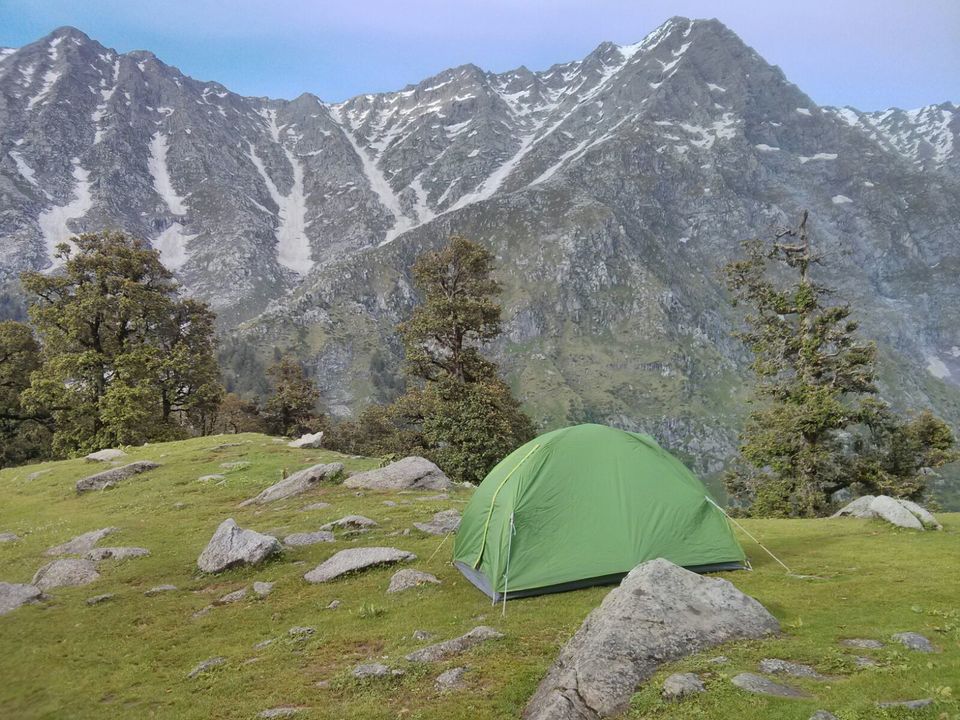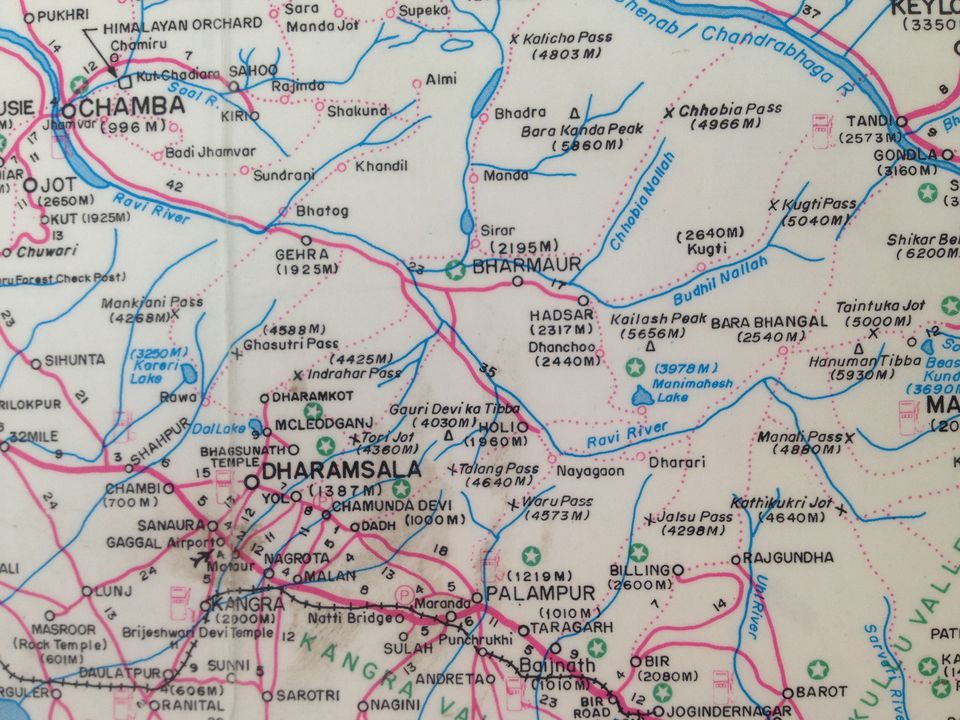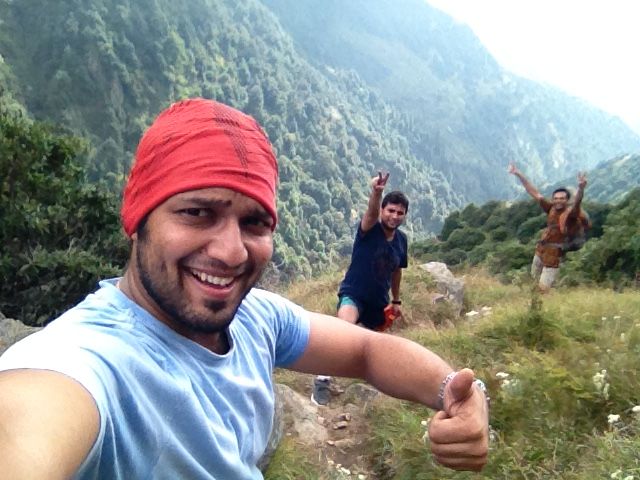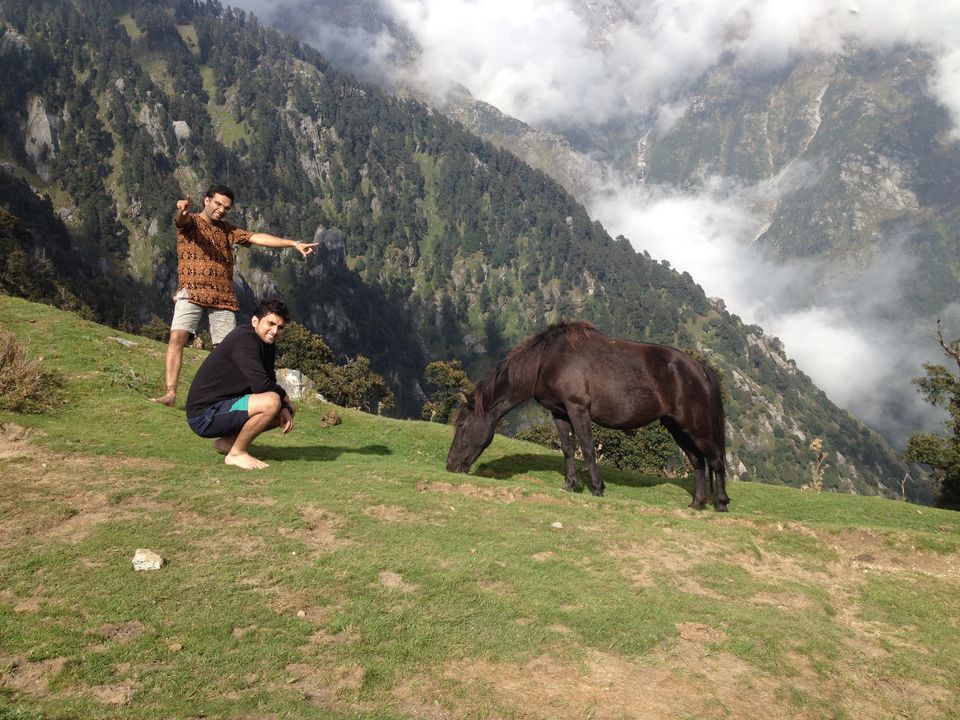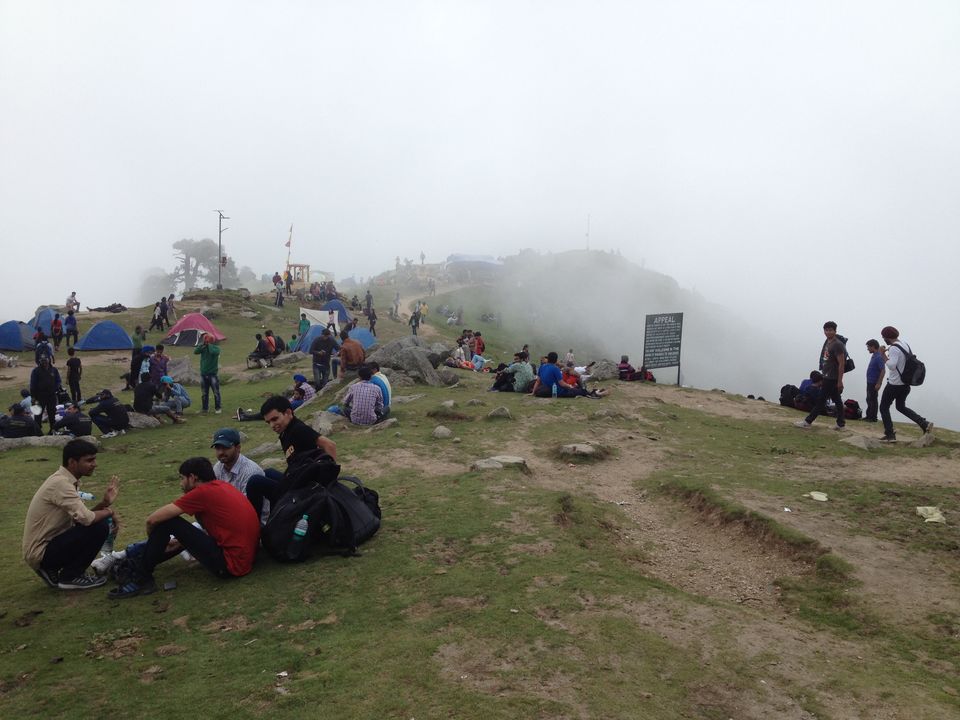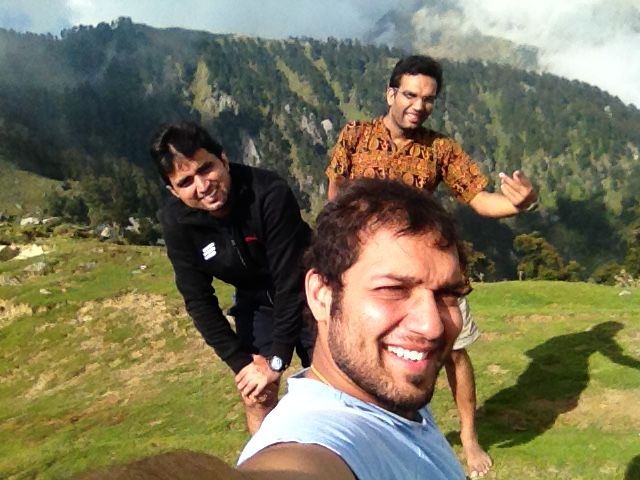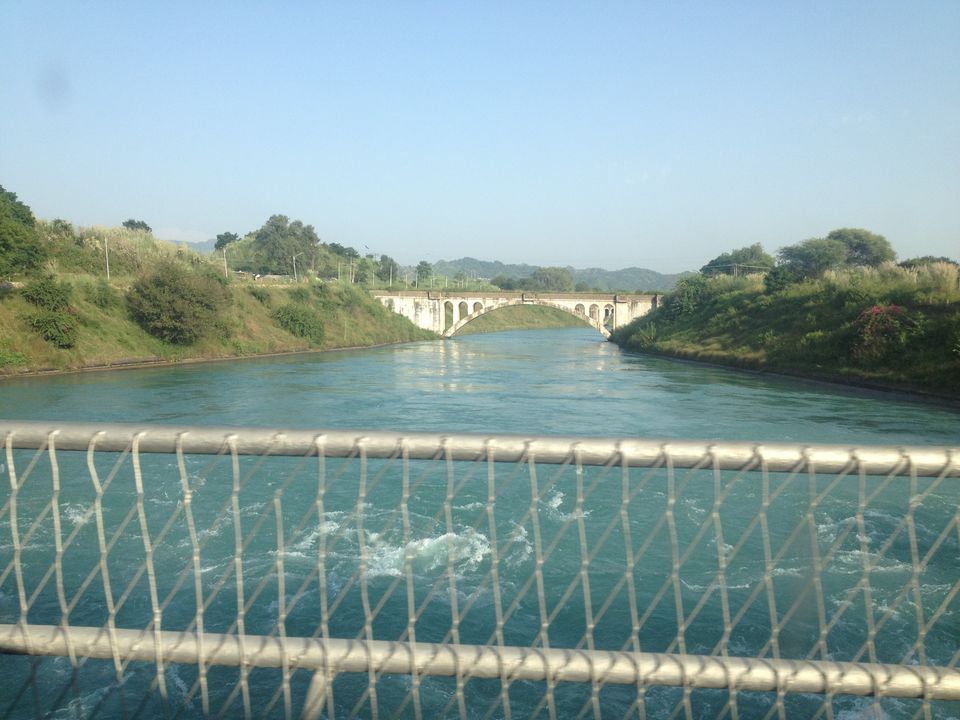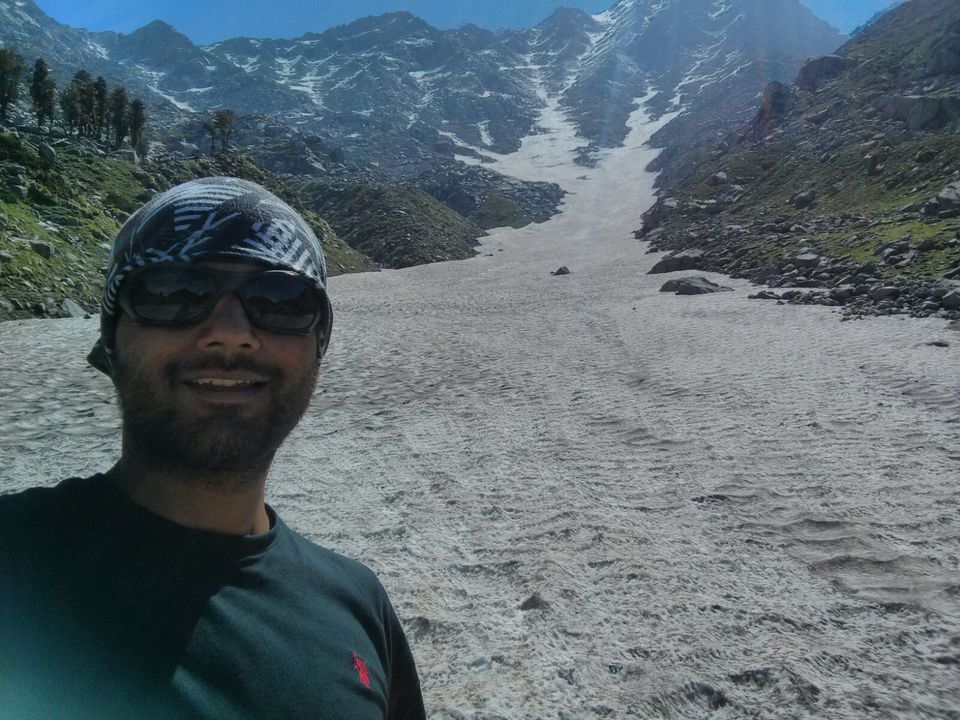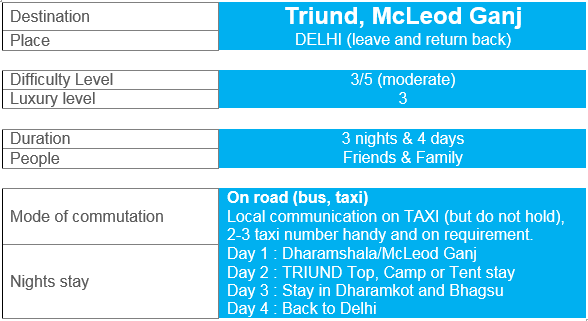 Audience : Weekenders - corporates and teenagers.
Height : 2827 mts (9200 ft)
Difficulty Level : Moderate (till Triund)
Best Season : April - Oct
For all the interested people out there, please find the summary of another adventurous trek&travel done by Team One Destination in Oct 1st week. The travel itinerary will all the required details and must dos are as below:
DAY 1 : Started from Delhi – 11 AM in the morning (Own Car) to Dharamshala.
You can take BUS from ISBT or Majnu Ka Tila (prior 1 day booking). Mostly private bus starts in the evening while Himanchal Pradesh tourism bus have regular fequency. Average travel time is 10 hours
(goibibo link for bus) Click here
You can take local taxi from Dharamshala bus stop to Hotel (assumed already booked).
One Destination recommendation - To stay in McLeod Ganj (12 Kms from Dharamshala). You can take local taxi from Dharamshala Bus stand to McLeod Ganj. Must Visit CAFÉ and FOOD – Food joints in McLeod Ganj lane – McLeod Cafe, Shiva Cafe
There are lots of hotel in McLeod Ganj and mostly availability is not an issue until there is an exceptional day – say, Cricket Match on weekends:). Late evening walk in McLeod Ganj food joints and restaurants/pubs will be an interesting option before coming back to Hotel.
DAY 2 : TRIUND Trek
Plan to go for a Viewpoint and observational deck on day 2 - best options TRIUND Trek and BHAGSU Waterfall
TRIUND Trek (13 KMS : moderate)  starts from Dharamkot which is 2 Kms from McLeod Ganj. If you are coming from Dharamshala, McLeod Ganj will come on the way to Dharamkot. Leave from hotel (Dharamshala) not later than 8:00 AM in order to plan a safe and sound trek. It is highly recommended to start your trek before 10 AM in the morning from Dharamkot.
It takes on average 4 hours to reach TRIUND top while taking stops in between. For 2 persons take 3-4 bottles of Water, Chocolates and energy bars, Fruits like oranges, Tent on rent (or pre-planned from dharamkot), Blankets, Woolens and arrange a stay. One Destination recommendation - Plan a night Stay in TRIUND. CAUTION : After 5 PM, cold winds are very common and expected. You will easily get food on top and MUST TRY is DAAL (yellow tadka) & CHAWAL – 120 INR per plate. Price difference is moderate and affordable but depends on the tourist numbers just fyref we got Red bull,(95 INR) for 140 INR. (prices as on Oct '15). Many people use clippers to pick plastic and later dump them in trash bins - they support GREEN TRIUND, GREEN India and it feels really good.
One Destination experts did that in less than 2 hours while finding some deadly shortcuts during the treks, but not recommended. Please take halts in between and avoid taking shortcuts. You can also plan your return on the same day if do not want to stay or it is not in the plan.
Day 3 : BHAGSU Waterfall and Dharamkot
Plan a day stay in Dharamkot while on the way back from TRIUND. Visit Trek & Dine Café, Moon light Café in Dharamkot. Places to visit – BHAGSU Waterfall. A night will definitely be a refresher while staying in Dharmkot and much relaxing after completing TRIUND Trek.
Also visit Tsuglagkhang Complex. The complex has the Dalai Lama's residence, Tibet Museum, Tsuglagkhang Temple, and Namgyal Gompa. Dalai Lama visits Dharamshala seasonally to give preaching and have meetings with the public as well. Tibet Museum gives a glimpse of the tibetan culture and their struggle so far. Namgyal Gompa is the monastery in the Tsuglagkhang Complex.
Get 2-3 local taxi waala's number handy while doing whole travel and it doesn't makes sense to hold a car. Local travel is fun but only taxis are available and no other private transport.
Day 4 : Back to Delhi    
Take an overnight Bus from Dharamshala to Delhi
Our travel experts for Dharamshala, McLeod Ganj, Bhagsu and Triund, feel free to contact in case of any related query :
Raja – 9975998870 (expert if wish to go above Triund… find more exotic places.. more adventure and Himalayan tour)
Prateek – 9582550799, Akhilesh – 9643896524 (weekenders, office trips, moderate difficulty, If going with family and friends for an adventure seeking experience)
Our details: