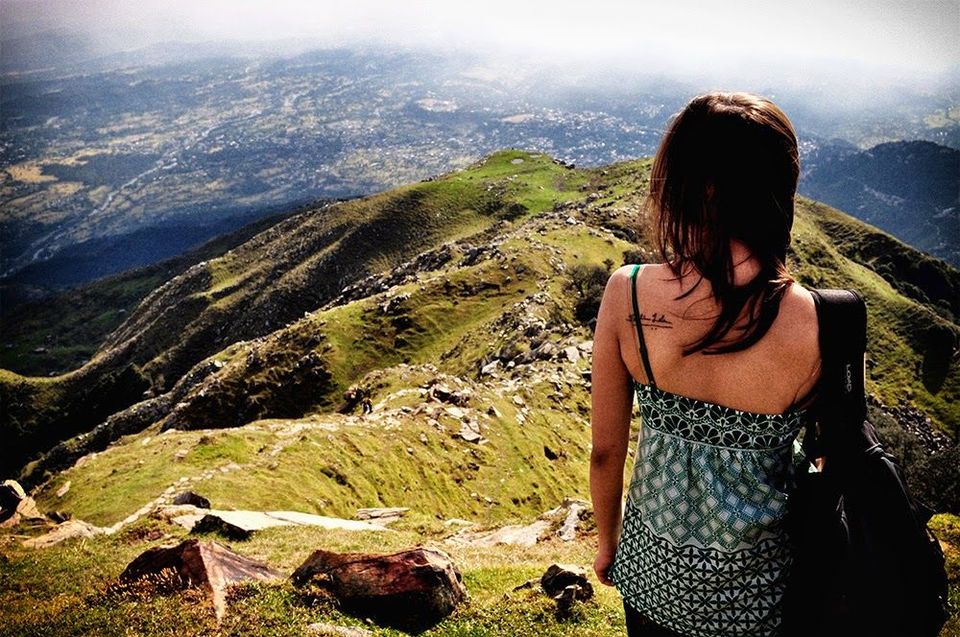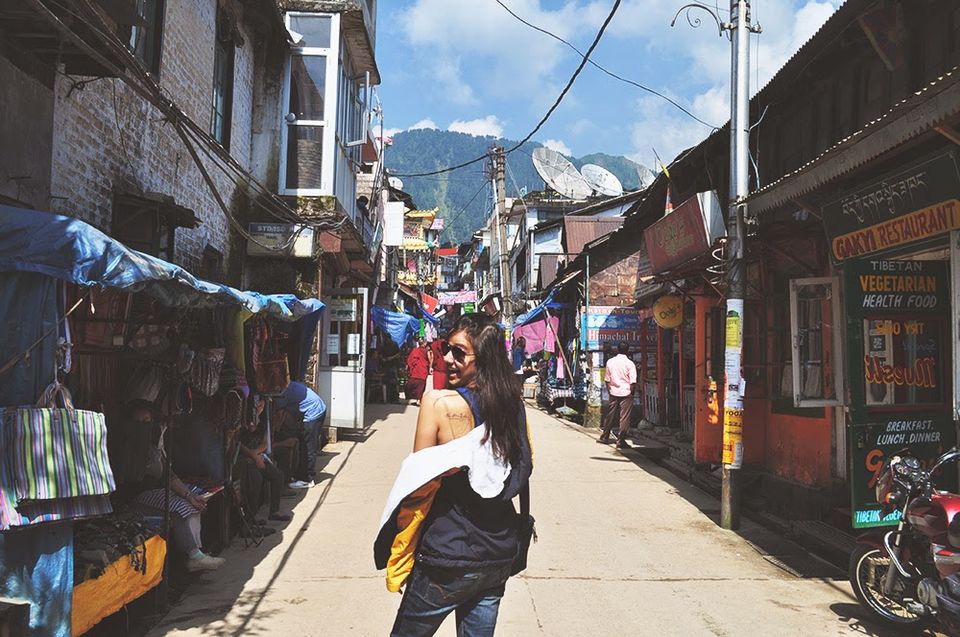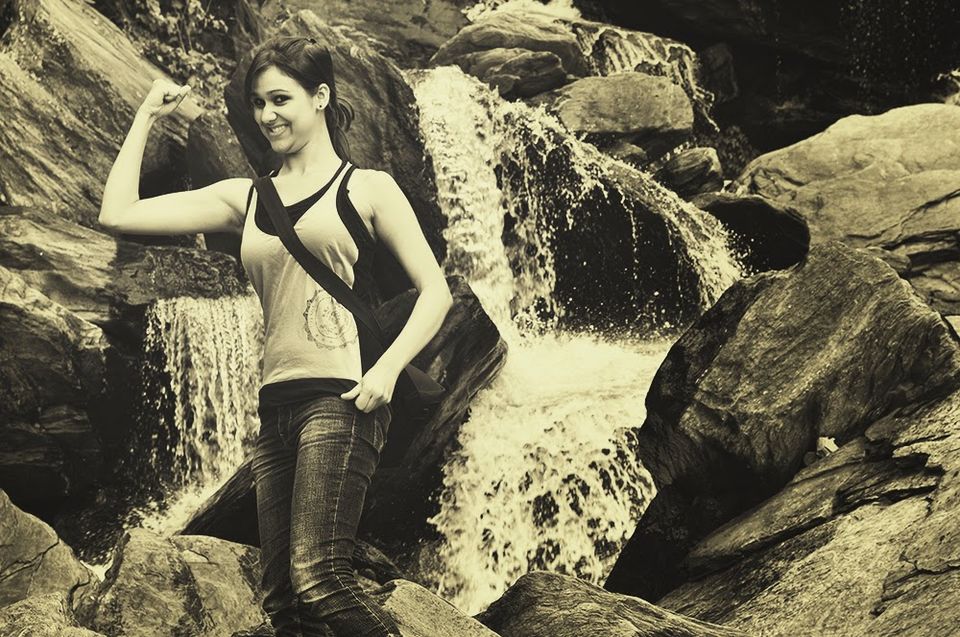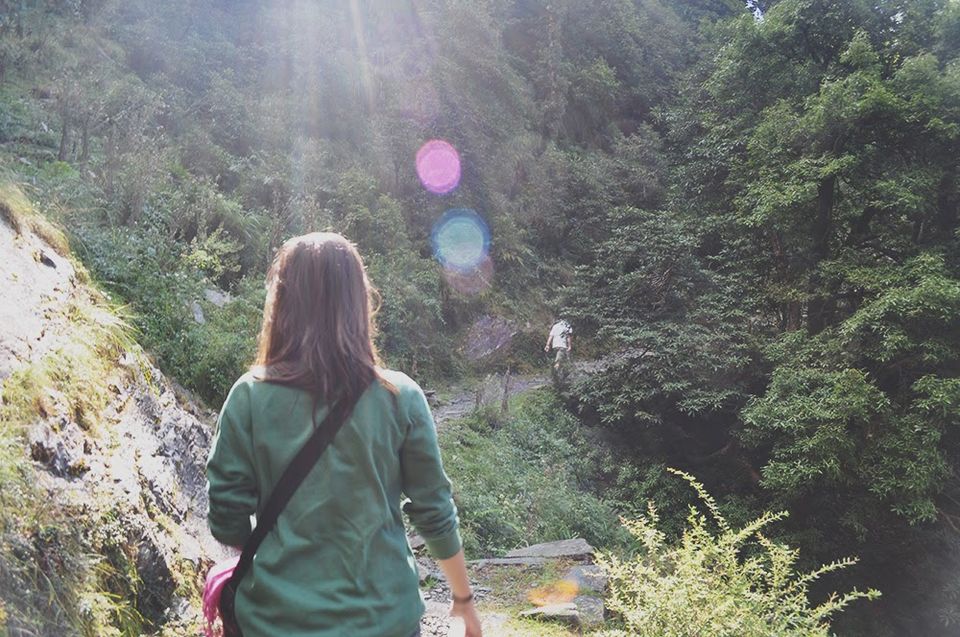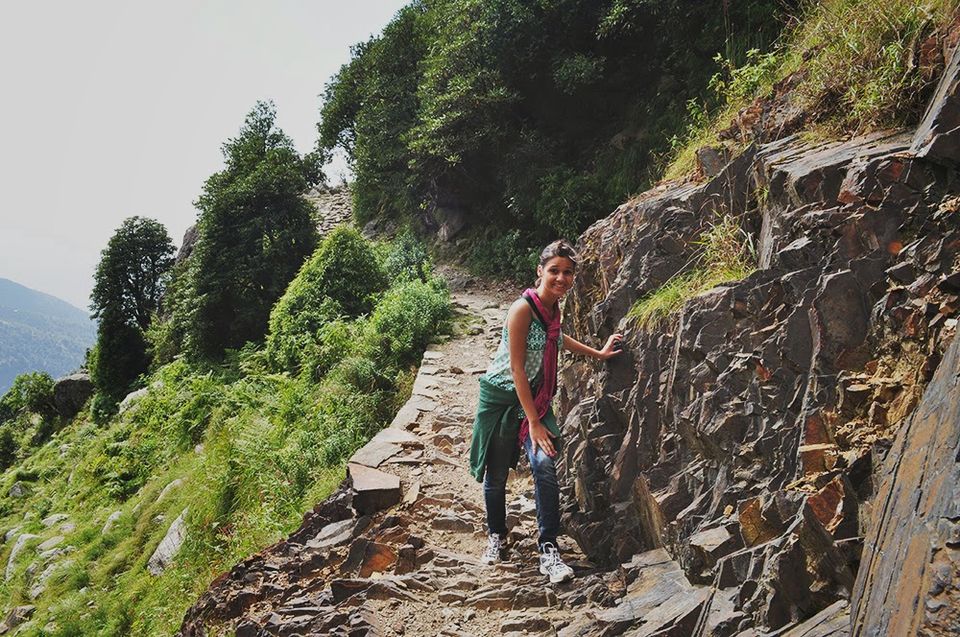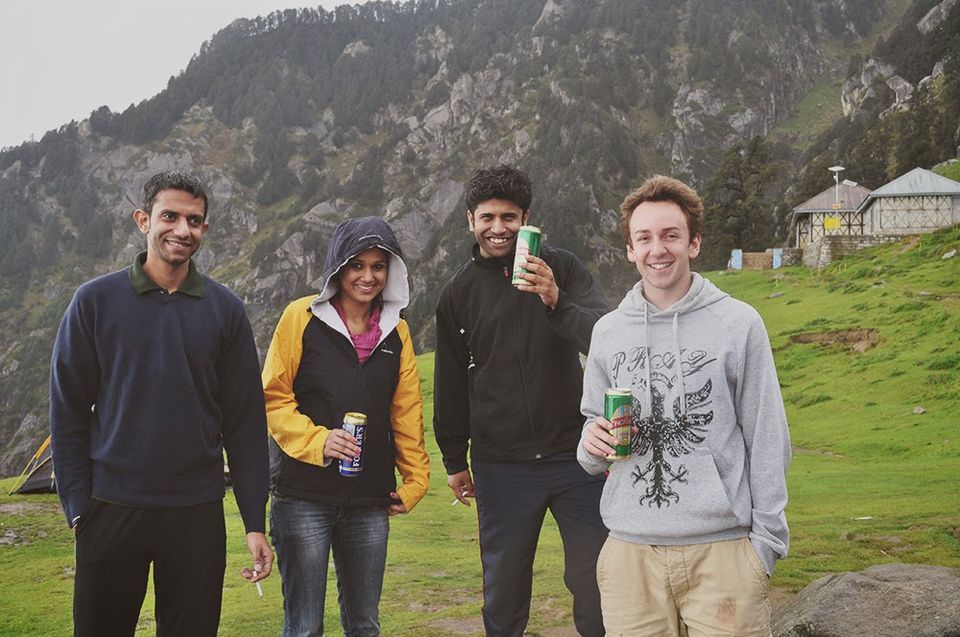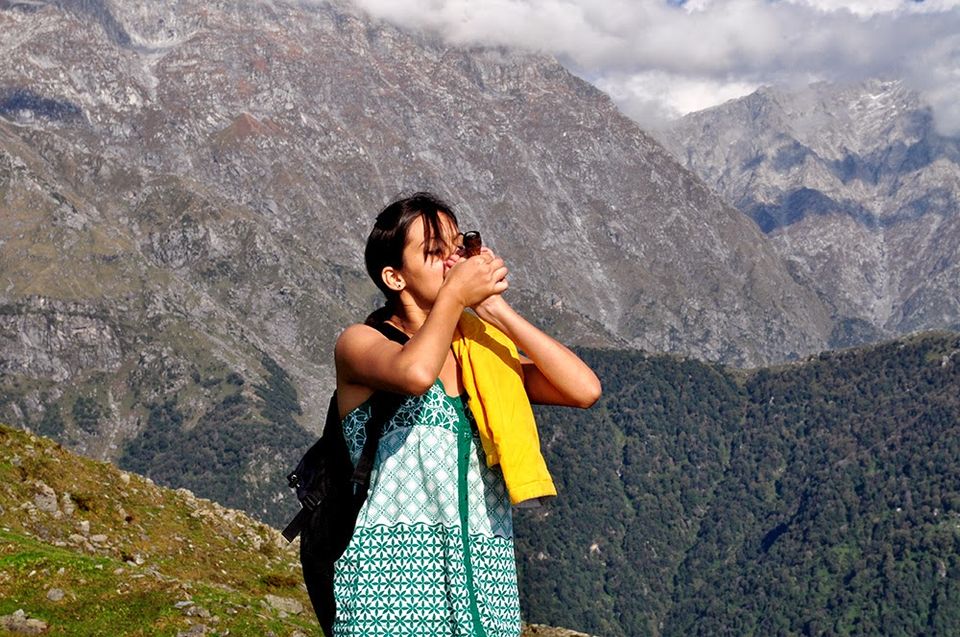 I had to see this place. So I planned to go with a group of close friends and my love but as fate would have it, Shikha and I were the only ones left to go. So without letting our morale down we planned the trip. There were a few glitches but in the end we were ready and raring to go.
We reached old Delhi railway station at about 7 am and our train was to leave at 8 am but as usual our train got delayed by 30 minutes at the station and this took a darker turn when it got delayed by 2 hours again due to some track related problems. We met a very nice Punjabi family in the train. They were loaded with two things: food and kids. I'd swear on anything that they were rowdy. Their father, a great and gentle sardarji, gave me some great tips about photography as he was a pro. At last when we arrived at Pathankot, we realized that the train had overshot its timings by a behemothic 4 hours. So as it turned out we missed our last bus to Dharamshala. Now we were left with no other choice but to take a taxi to Mcleodganj.
I approached the taxi stand at about 10:10 pm and there was only one driver waiting. He showed me the official rate list to Mcleodganj which stated that it was Rs1450 but somehow I managed to convince him to take us at a lesser rate of Rs 1300. He agreed but there was a rider: he was drunk…..but he said that he'd take us to another driver who'd then take us to Mcleodganj. Wait! That's not it, we had another problem to deal with: Shikha's parents. Now that's a different story altogether. We again made a brief halt to have our dinner. It was a dhaba and the guy served us pretty yummy food.
We reached Mcleodganj at around 1:45 am. We went directly to the place we had booked. The guy helped us with our luggage but the room was pathetic. It was damp, dirty and flooded with all kind of insects. Shikha was seriously annoyed especially with the condition of the toilet. I assured her that I'll search for a better place in the morning. I got up in the morning and left without brushing my teeth to search for a better room. Not very far away I found a great place with the most awesome views out the window and the best part was that I didn't have to bargain. The guy offered me at a lesser price than that of the place we had previously booked. When Shikha got a look of the room she was very excited and was, at last, at peace.
We freshened ourselves and headed off to the town. The town is beautiful although it was a bit cluttered. There were cafes every step along the way, scattered around the chowk. Monks give this place its real definition. They are everywhere; in the shops, on the roads, in the temples. But one will notice a very similar trait in their eyes: peace. When you look around, it's really a tiny Tibet out here.
We were in dire need of some great food so we entered Norling, a Tibetan restaurant, and ordered momos and flat noodles. The mutton momos were excellent and the best part of it was that it was pretty cheap and they didn't use monosodium glutamate (MSG), which we commonly refer to as ajinomoto. Shikha and I then headed out to Bhagsu, to see the waterfall. It was a good climb but it took us about 1 hour to reach there as climbing the stairs was a bit difficult. We noticed several Indian guys who were doing what they are very good at: staring girls and passing weird comments. We sat there for a while enjoying the clear green water. Shikha took her shoes off and enjoyed the chilling water then she took out a cigarette and smoked. She always does that when she is relaxed and pretty happy about the surroundings. Then we went down the waterfalls and clicked some photos while standing on the rocks. On that very instant I was wondering why I could see more Indians near holy sites rather than enjoying nature…….but Shikha's chirpiness took the thought away. We came back and visited some shops and then went out to have lunch in what was going to be my best rated restaurant in town. It was known as Lung-Ta. It's a small Japanese veg- restaurant located in Jogibara road. Although I'm a non-vegetarian, I'd cross my heart and say that this place had the best food in town. We had fried vegetables with salad and rice and it was pretty good. Then we ordered roasted tea which was again a delight for me.
Next day begins:
Presented Shikha with bed-tea and then the usual cleaning up, got ready for Dharamkot. It's a small village some 2.5 kms from Mcleodganj. I must tell you that you'll find peace for sure in this place. This place is so quiet that you'll feel walking on the fallen leaves will create a ruffle that will run through the mountains. Shikha and I walked through the village enjoying the unanxious nature. I wish I had a small chamber in that place. I'd really love that. We then had tea and lunch at a small café in the main chowk of Dharamkot and then went back to Mcleodganj. Still the frigid memory of the place kept me awake at night. I went outside of my room and had a look outside. It was quiet and it was calm. The only other sounds you'd hear would be of the wind and the water flowing through the valleys. I wish humanity leaves this place unharmed.
We were supposed to get up at 6am but due to some unavoidable circumstances we got up at 8 and hurriedly had breakfast and got our return tickets booked. We then took an auto to Dharamkot from where we were supposed to start our trek to Triund. We started off slowly. All along the way we couldn't see a single Indian face other than those of the guides. We had decided not to take a guide as before coming to Dharamshala I read that the trek to Triund is a defined and good road.
As we climbed up the path grew difficult and steep but the view and the adrenaline rush kept us going. I could have never imagined that Shikha had such immense energy so as to complete the trek. The view was so enthralling that I couldn't help myself but keep clicking photos every step along the way of the view below and the path ahead. When we reached the first of the two tea shops, we could see two Indian faces approaching us (the first and the last). As it turned out they were from Assam. Shikha was very happy as she loves people belonging to the north-eastern part of India. Bu before we could start any conversation we realised that we had more than half of the way to cover. So we head out again. Along the way we met various foreigners who had stayed overnight and assured us that when we reached the top, it will be worth all the while. I had bought a bottle of Gatorade at 150% of the price from the last tea shop, which I think is very reasonable considering that motor vehicles don't ply there. This bottle kept me going. On the other hand Shikha miraculously didn't require a single bit of it. She turned out to be an incredible hiker.
We took a halt on the second tea shop which we had reached after an amazing 2 hours of hiking, which is great considering the fact that Shikha was trekking for the first time. Shikha ordered a cup of tea while I amused myself with the camera. The clouds were playing their tricks, covering the path and then clearing it suddenly. There were shepherds minding their flocks and they were amazing. Those goats descended the mountains in no time. I was amazed to see their rate of descending. Shikha was talking to some British tourists about Triund. They told her that they stayed overnight and that it was hailing. They seemed very content with that place. We bade farewell to the couple and continued on our way up. We met a man with some mules which were carrying load. He said that mules are the lifeline of this place. They carry food, clothes and other supplies daily to the people staying at Triund and beyond.
At last after 3 hours of trekking we reached Triund. It was a lush green meadow with 2-3 shops to entertain the tourists. There was a small temple up above a hill. A few tents were scattered here and there and the rocky mountains were at a touching distance from us. It was really worth it.
It started to rain as the clouds enveloped the meadow. We took shelter at a tea shop. There to our surprise we met the Assamese guys and a German family. Shikha introduced me to them and as it turned out one of the two guys belonged to my hometown. One of them was a journalist. Shikha opened a can of beer and so did the guys.
We began chatting about places and he told us a very funny incident when he was in Spain. He said that after he arrived in Spain, he went out for a breakfast and is it turned out nobody there understood English. So he had to make signs that he wanted bread or a sandwich. The waiter watched him carefully for about 5 mins and went inside. As Raktim (the Assamese guy) was waiting for his breakfast the waiter came out and served him a glassful of beer and it happened day after day. So at last Raktim stopped telling him anything and enjoyed the beer for the rest of the days he stayed there.
The rain stopped and we took our cameras out to capture the beauty of the place but as I always realize, I saw that our eyes were the best camera that was ever built. We became friends with the German family. Christoph had brought his parents Franz and Rosemarie for a 14 day tour of india. He was an intern at PWC in Bombay. As we were about to descend, Christoph offered us to follow them as they were taking a different path down. We gladly followed them while the other guys took the normal route down. On our way back we saw more of the lush green meadows, eagles, lambs covered in a small enclosure made of stones, old man smoking marijuana, which we all tried two three puffs each. We could see all of Mcleodganj and Bhagsu from up there. The mountains seemed clearer now and we took some snaps. The guide that they had hired was pretty good with languages and directions. Although the route was longer, we enjoyed it thoroughly. We met shepherds along the way, a trekker who had been trekking from the last five days. He brought sheep from the Indrahar pass. He asked us for a cigarette and we gave him one. To return the favour he gave me a small piece of "charas", which is still in my wallet.
After crossing the Bhagsu waterfall, we had to wait at Siva café as it had started to rain heavily. We all had tea and magi at the café. It was beginning to grow dark when we left and Shikha had just hurt her leg while descending. So it was very painful for her to walk but we managed to reached Bhagsu auto-stand at about 6:30 pm. We took an auto from there to Mcleodganj chowk.
We offered Chris and his family to join us for dinner and they gladly did. On the way to Lung-ta Chris asked me if 4000 bucks were enough for a dinner. I was shell-shocked. I told him that in my entire life I hadn't spent 4000 bucks on a dinner and we laughed. We talked and joked at the dinner table then they offered us to go to a beer bar as they were not feeling themselves without a beer in their hand. Even on insisting that we pay for the entire dinner they were adamant to pay which at last they did.
We then went to a beer bar which was alive with Tibetan folk songs from the customers as well as the staff. The atmosphere was great. We then talked about the societies of both the countries and the education system. Things amazed both the parties. We enjoyed every minute with them. Then we realized that it was 12 in the night. We bade them farewell and exchanged mail ids. Shikha was in desperate need of attention. So I gave her feet a cold wash and then massaged them and she went of to sleep instantly.
Next day was shopping day as we were set to leave in the evening. Shikha really wanted to buy some souvenirs. So we set out. As we passed the shops in town we realized that we had had food from nearly every great café out there. So we head out to a new café for lunch. It was the Peace café. And again it had awesome food. One thing we realized that we didn't have the phone number of Chris, so when he comes to Delhi, we would not be able to contact him. Just as we were pondering over this, there they were, sipping on their coffee in a café in front of us. They were exhilarated when they met us. We sat there for some time and parted ways after exchanging phone numbers, promising them that I'll meet them the next day at Delhi.
We headed back to the rest house and packed our bags. As I got on the bus, I realized that I'll surely come back to this place as many times as possible. The calm and quiet of this place has genuinely enthralled me. The majestic mountains and the subtle cold, blows life into me. Shikha, who was more interested in the trip than the place, was also in love with this place, which we call the Tiny Tibet Of India. You should be here.
This trip was originally published on anything and everything.