New Lucky Restaurant is a humble restaurant in Ahmedabad that serves lip smacking food. It started off as a small cafe in the 1950s, and grew into a restaurant over the later years. What makes this place very interesting is that it is built on a graveyard.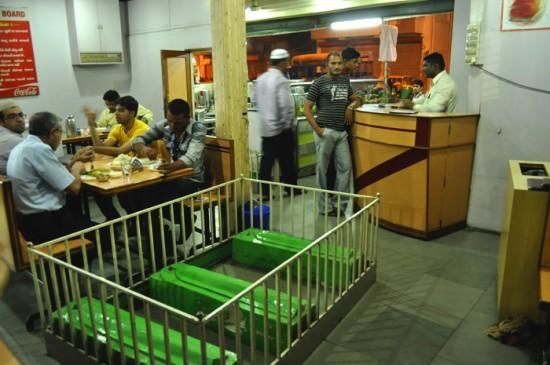 All the graves in this restaurant adorn bright shades of green. The owner of the restaurant, Mr. Krishnan Kutti knows little about the people who lie beneath his restaurant, but it is widely believed that the tombs belong to the followers of a 16th century Sufi Saint who is said to be buried in the same area. Mr. Kutti thinks that the graves bring him good luck.
The graves are cleaned every morning. Neither the customers nor the staff seem to be bothered by the graves here. The graves are randomly placed, but the staff easily navigate through the restaurant carrying several plates of food in one go. This place is visited by people from all walks of life.
The restaurant is not just built around the scattered coffins but also around a big tree. The New Lucky Restaurant is famous for its butter dosas, maska buns and chai. There is no denying that this little restaurant offers its customers a one-of-a-kind experience. How often does one dine with the dead!