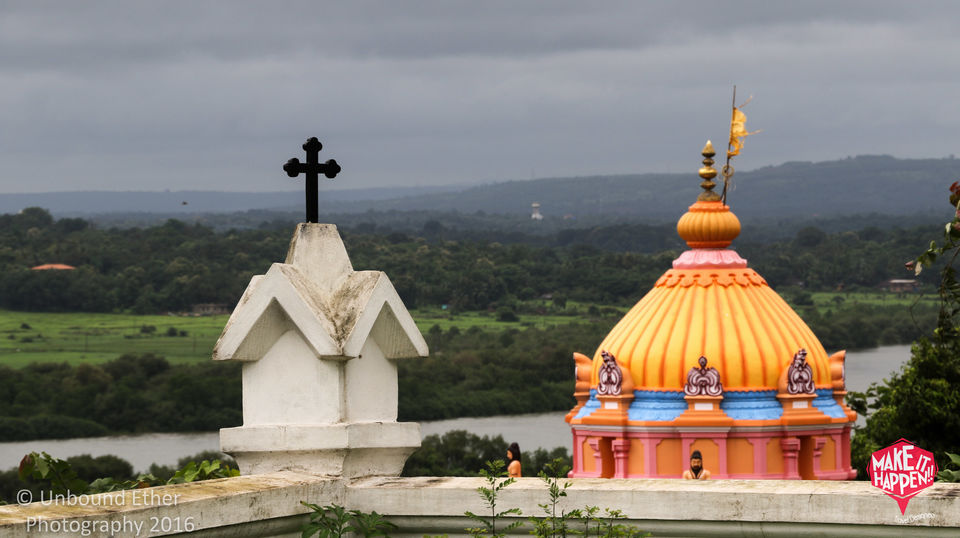 Catch a ferry and cross the Mandovi River to Divar Island - a gem of old world charm, paddy fields, ancient temples, pretty churches, hidden caves, small houses and winding roads. As you drive around Divar you'll also notice a rainbow of houses, painted brightly in reminiscence of the Portugese times.
Divar is the second largest island of the seven islands which are situated in the Mandovi River, the largest being Charao Island. The island is roughly 6km long by 3km wide and it is connected by four ferry services. Though the Konkan railway line actually runs across the island, the trains do not stop! With a modest population of only 5000 residents, its quaint charm will draw you right in, wishing the train would stop!
Our guided tour you get to visit some of the interesting places on the island and understand a little more of its historical, social and cultural heritage.
Highlights
- A guided tour by a friendly local guide
- Lunch served in a traditional Goan House
- Learn a few Goan recipes
- Visit one the finest Baroque churches in Goa
- Insight into traditional fishing methods that are still practices.
- Visit some of the ancient temple sites.
What to expect:
The tour begins by taking the ferry across from Ribander to Divar. Our guide and driver will greet you at the ferry point on the Divar side. From there we proceed by car to St Mathias Church built in the late 16th century. Near here is a hidden underground cave. Then we see the extraordinary Our Lady of Candelaria chapel built on the site of an old temple and a little ahead the ancient Saptakoteshwar temple tank.
From here we proceed to the Naroa ferry and see the wall of an old Fort and the holy bathing site of the Hindus called the Porne Tirth , where 3 rivers meet.
We head for lunch in a traditional Portuguese house stopping over at a local bakery to see how the local Pav is made. You will get to learn a few Goan recipes from our local chef
After lunch we visit the sluice gates to understand how the traditional Khazan system works.
We then proceed to the main hill where the Piedade Church is located. In the graveyard of the church is the cemetery chapel which shows remains of the Ganesh temple. We take you inside the Piedade Church which is one the finest Baroque Churches in Goa.
On the way back to the ferry we stop at the bird tree and have a spectacular view of the churches of Old Goa across the river.
Guide:
Romeo Pereira: A senior citizen who is a resident of Divar. He is a member of a local charitable society and Ex member of the local Panchayat. He spends his days after retirement translating Portuguese legal documents and doing social work. He will share his perspective on the rich cultural heritage of the island.