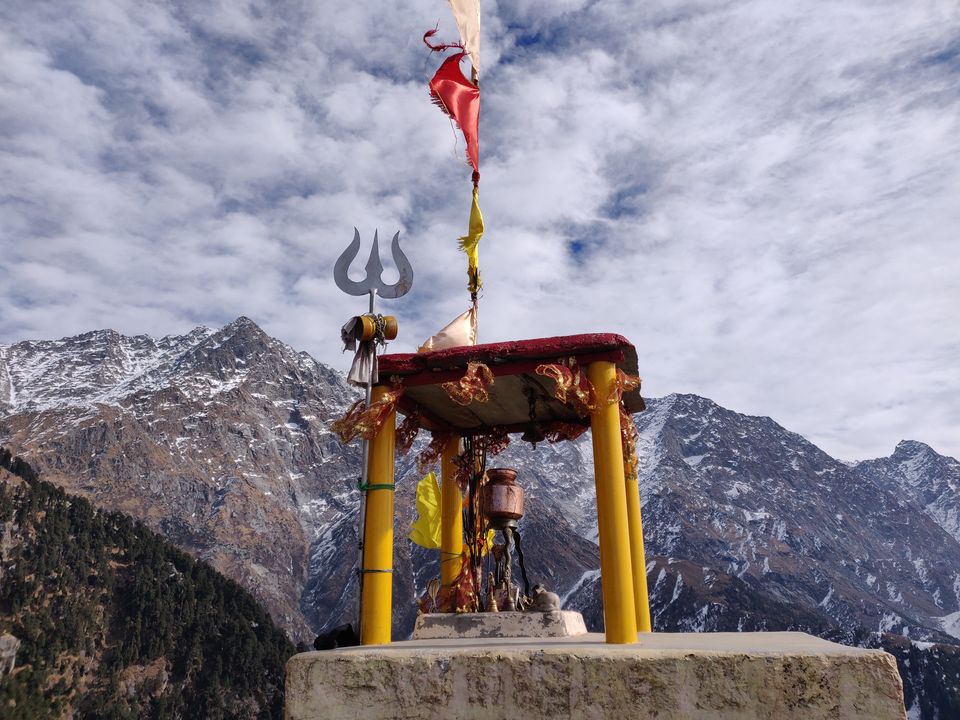 Continuing my #dreamcircuittrip I headed to Divine Dharamshala- the abode of His Holiness The Dalai Lama. I am on a budget travel tip so avoided luxuries and stayed, travelled in economical way.Below is my 1st travelogue- destination awesome Amritsar
https://www.tripoto.com/trip/amritsar-wagahbodergoldentemplejalianwallabagh-and-partitionmusuem-dreamcircuittrip-5c40e77625c3a
On 22nd afternoon 1PM boarded bus to Pathankot from Amritsar and reached there by 4.30 PM in a private Punjab transport carrier. Boarded HRTC bus from Pathankot to Dharamshala @5.30PM and reached the Dev Bhoomi- Divine Dharamshala by 9PM. Whole city looked deserted since it's winter and we are in mountains, people sleep early here(basic rule ) Temperature was +3℃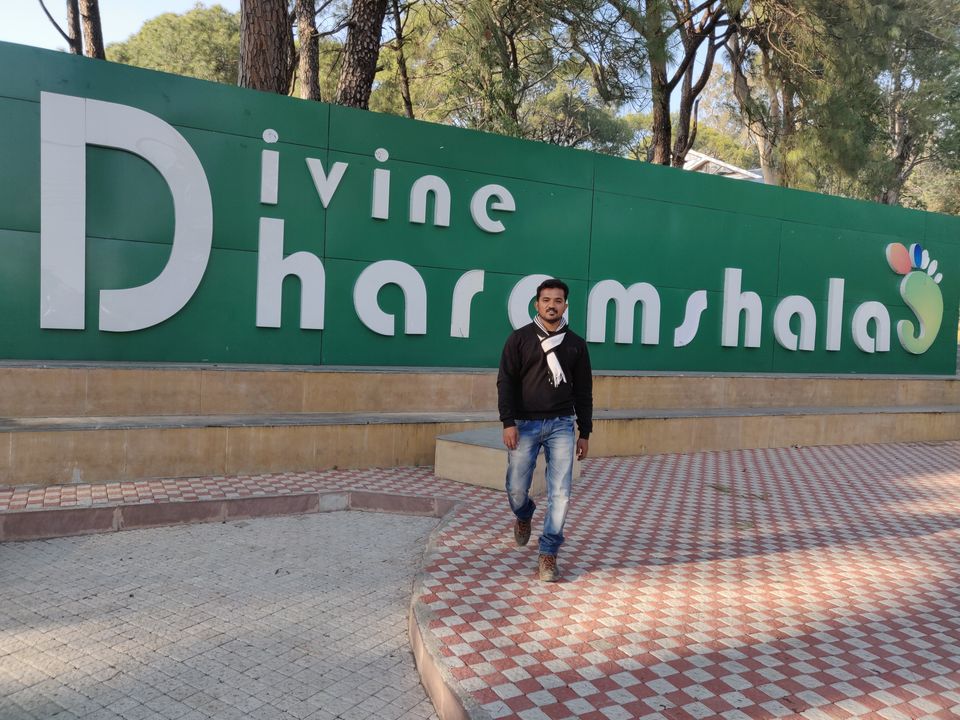 I had my reservation at "Tibet World" hostel through booking.com at McLeod Ganj and the staff were very helpful in guiding and helping with late check in. Reached McLeod Ganj by 9.30PM and started by foot to hostel. The first impression at main square was ' Am I at any pub city or at divinity centre?!!!" , Loud music, Posh Bars, late night parties is the developing culture at McLeod Ganj!!! Had Momo's as dinner from Street side vendor and didn't realize at that moment- "Momo's" would be my breakfast, lunch, dinner for next 2days :) reached the hostel by 10PM, checked-in and crashed to bed.
Tibet World
Tibet World is a hostel with great Himalayan views and its run for the cause of providing education to the Tibetan refugees; it's an NGO- so staying in this hostel will help the needy. Rooms are clean and the hostel is centrally located to H.H.Dalai Lama temple and the market, bus stand. Please do check this place for stay, if you are at McLeod Ganj.
About Tibet World: Source: https://www.tibetworld.org/
We are an NGO and Tibetan community centre, devoted to bringing people together to solve the urgent social and educational needs of Tibetan Refugees. By bringing together people from various countries we can help educate, build skills and house over 230 Tibetan students. We aspire to the goal of introducing Tibet to the world; and the world to Tibet!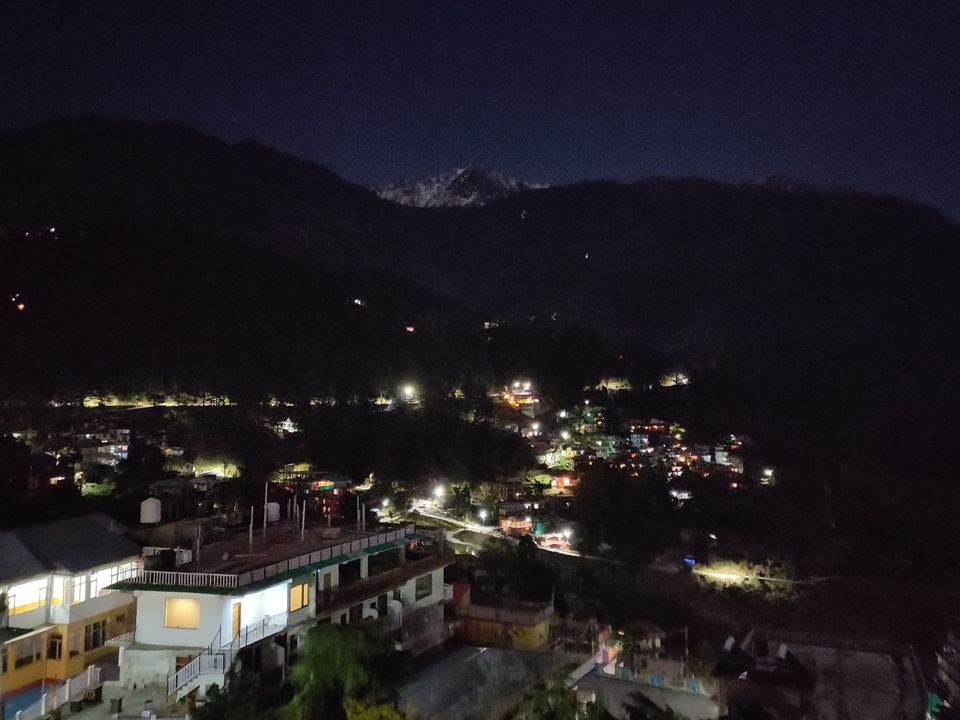 Next day 23rd morning woke up by 7 for this great view from my room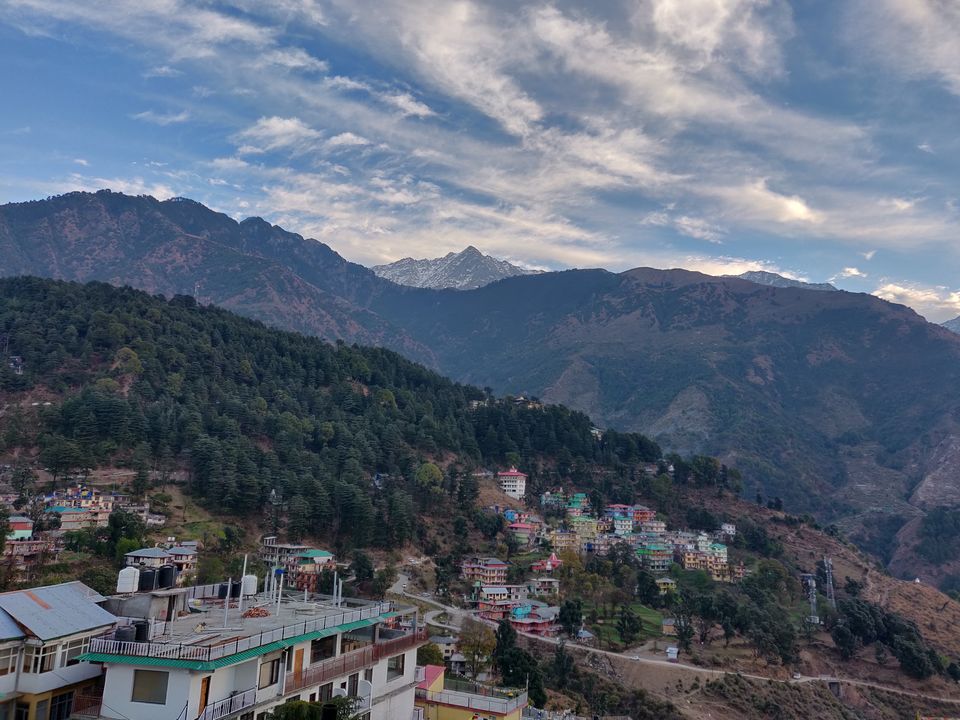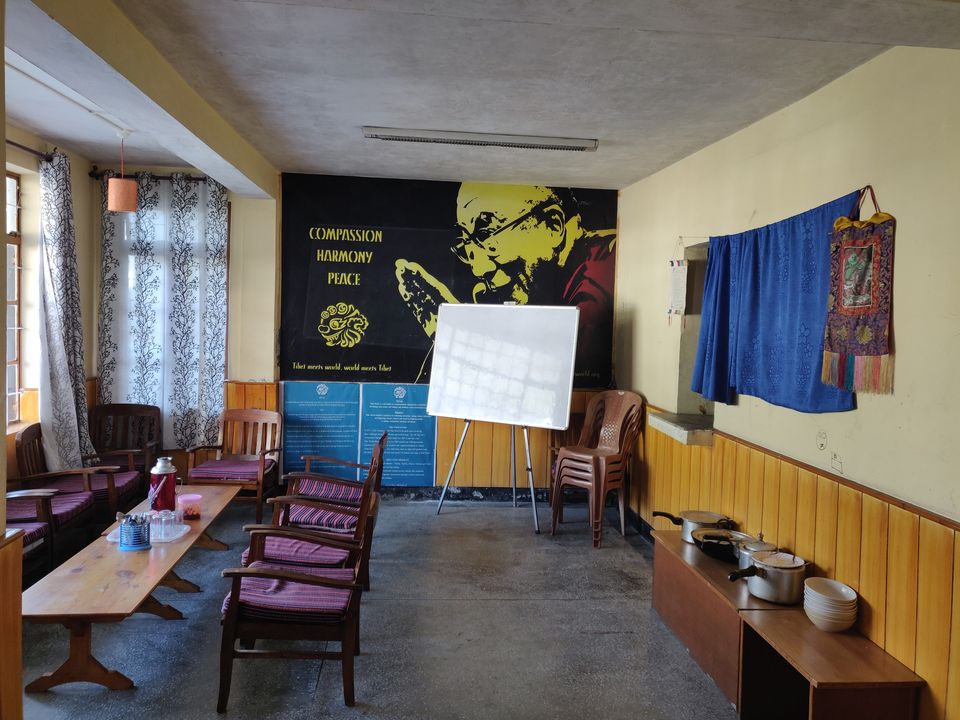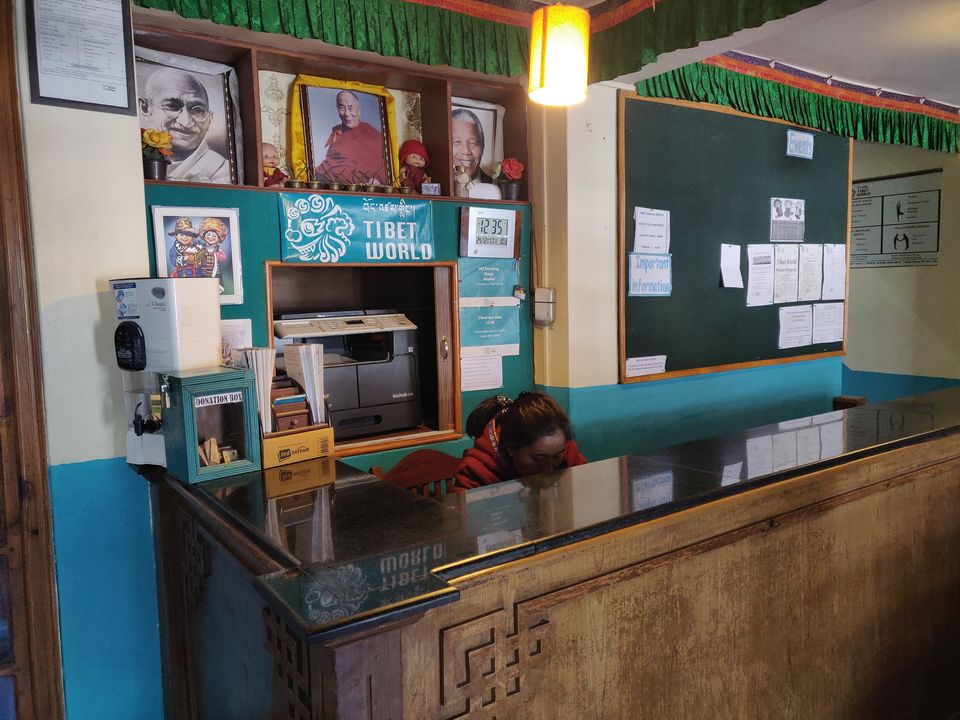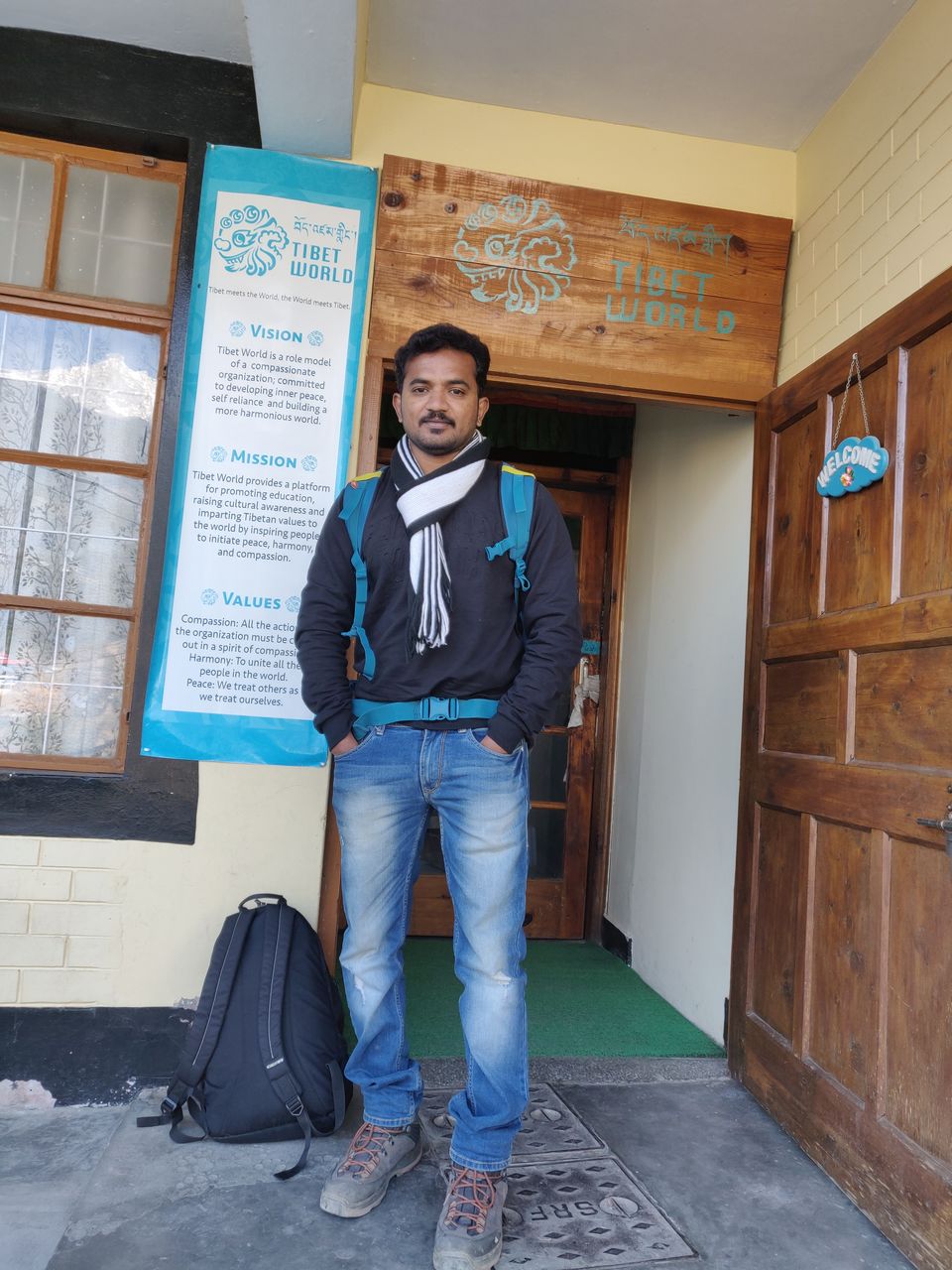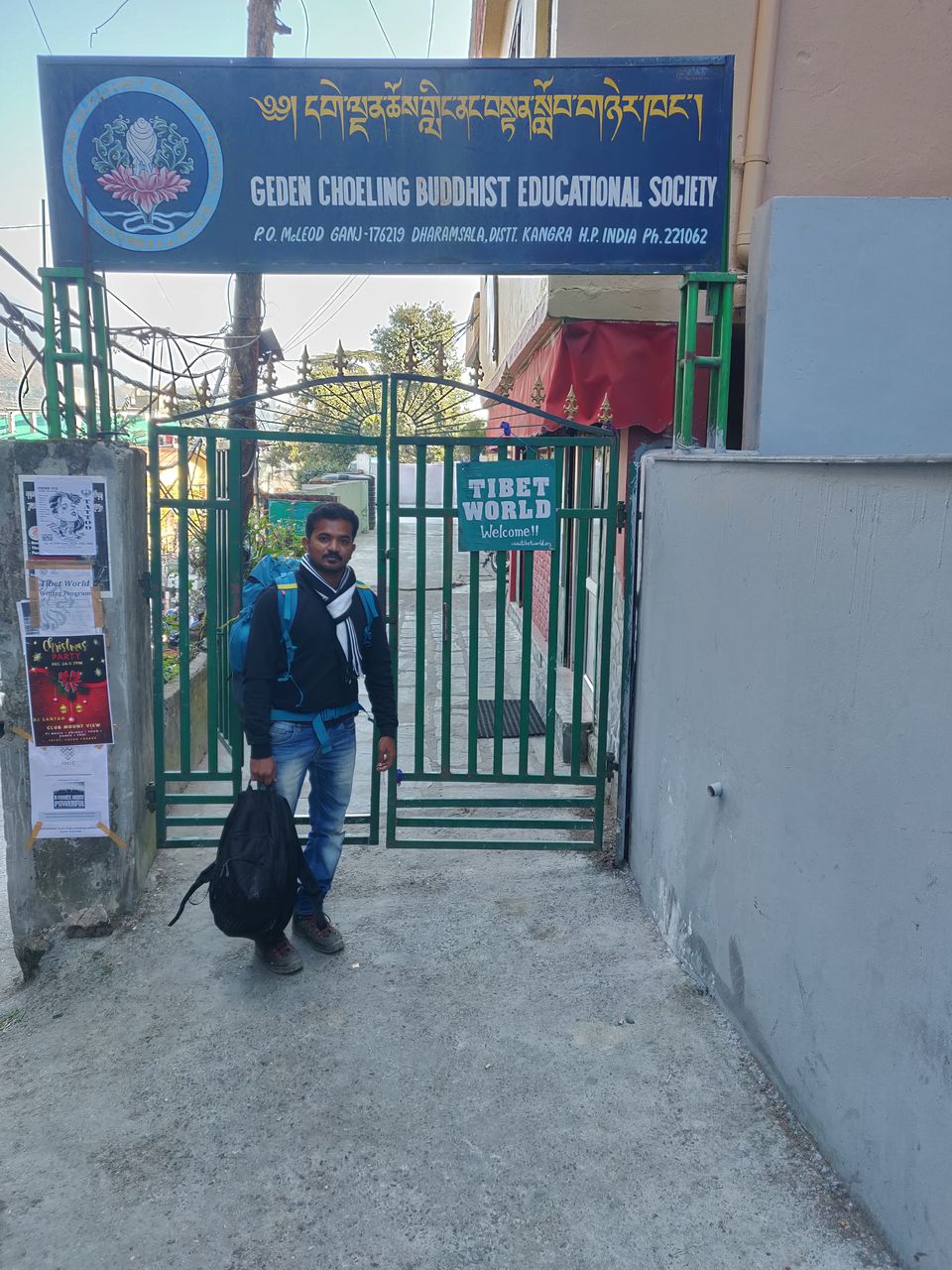 Triund Trek
By 8AM stepped out of hostel and headed to Triund trek by hiring at auto at main square, costed me ₹70 for a distance of approximately 3 km. This distance can also be covered by walk but I was preserving my energy for "Triund Hill Trek" and also recommend others to hire a vehicle till the trek trail start point, it helps to cover the actual hill trek distance in shorter time and also save your energy for the trek.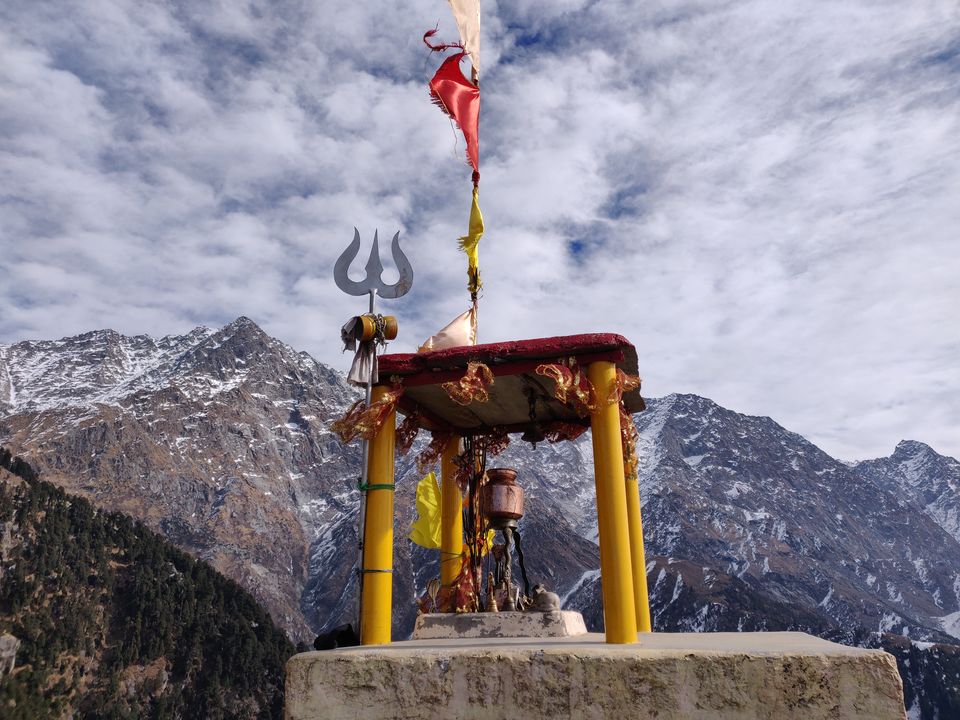 Trek trail starts from "Himalaya Tea Shop" Dharamkot, after taking a right turn post this shop on right side there are markings on the wall indicating the trail- pay attention here else you might end up taking the motorable road till Ghalu Devi temple which is lengthier compared to trek trail.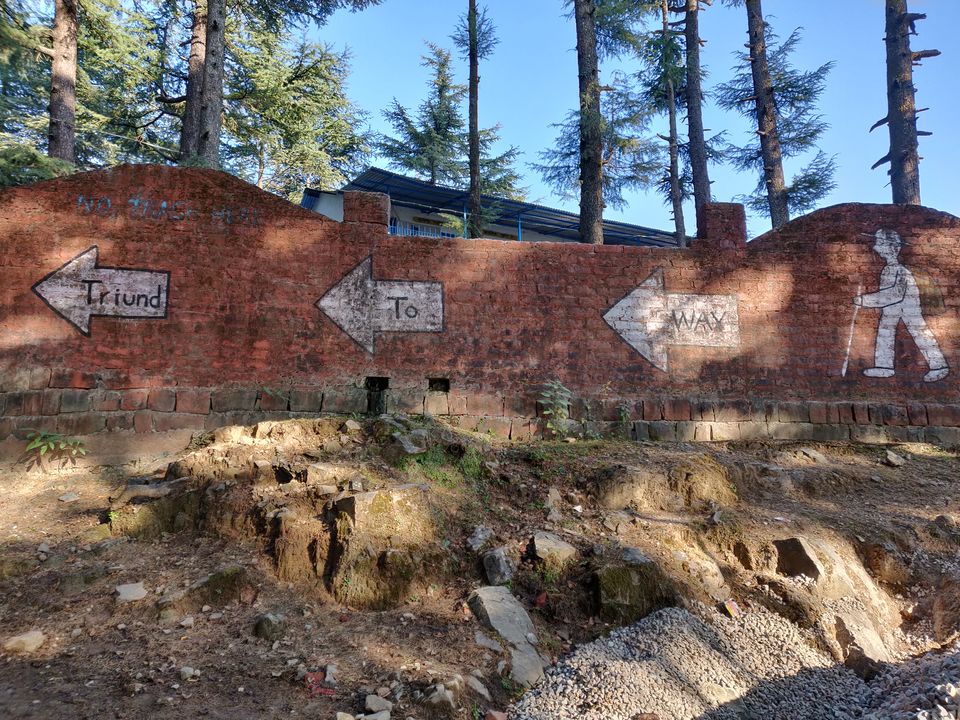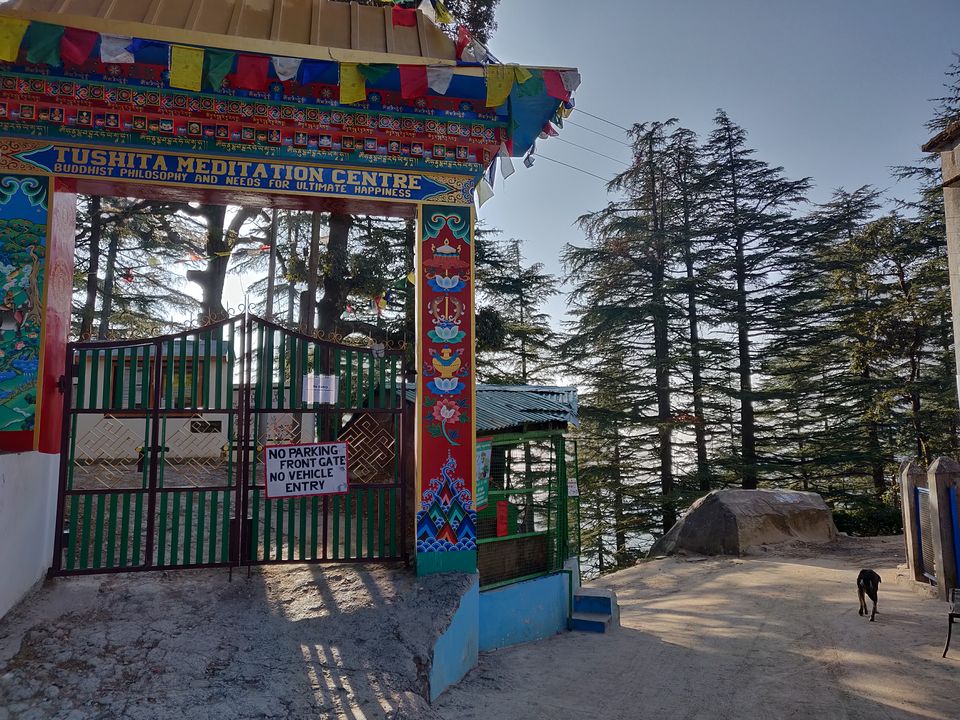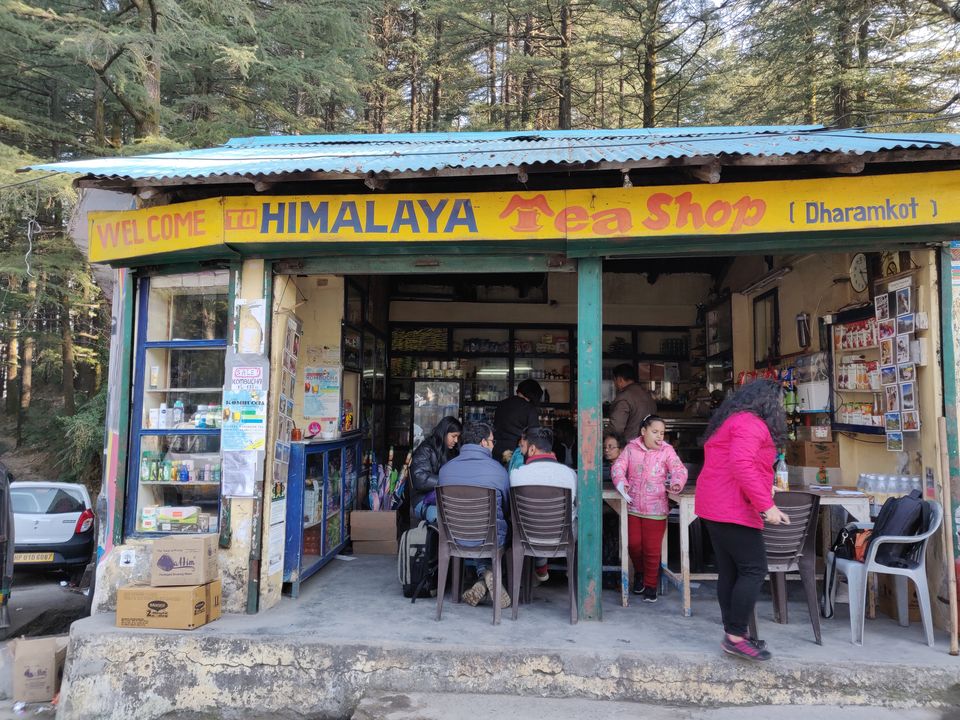 Initial trek trail is through lush green tall oak, deodar and rhododendron trees with steps carved out of rocks in the forest. As read in other blogs this Trek isn't either easy or difficult, it's an moderate trek due to Himalayan terrain, altitude, Oxygen levels and the trail. Trail is combination of steps, steep road, boulders and some idiotic people who play some shitty songs on portable loud speakers!!!!!!!!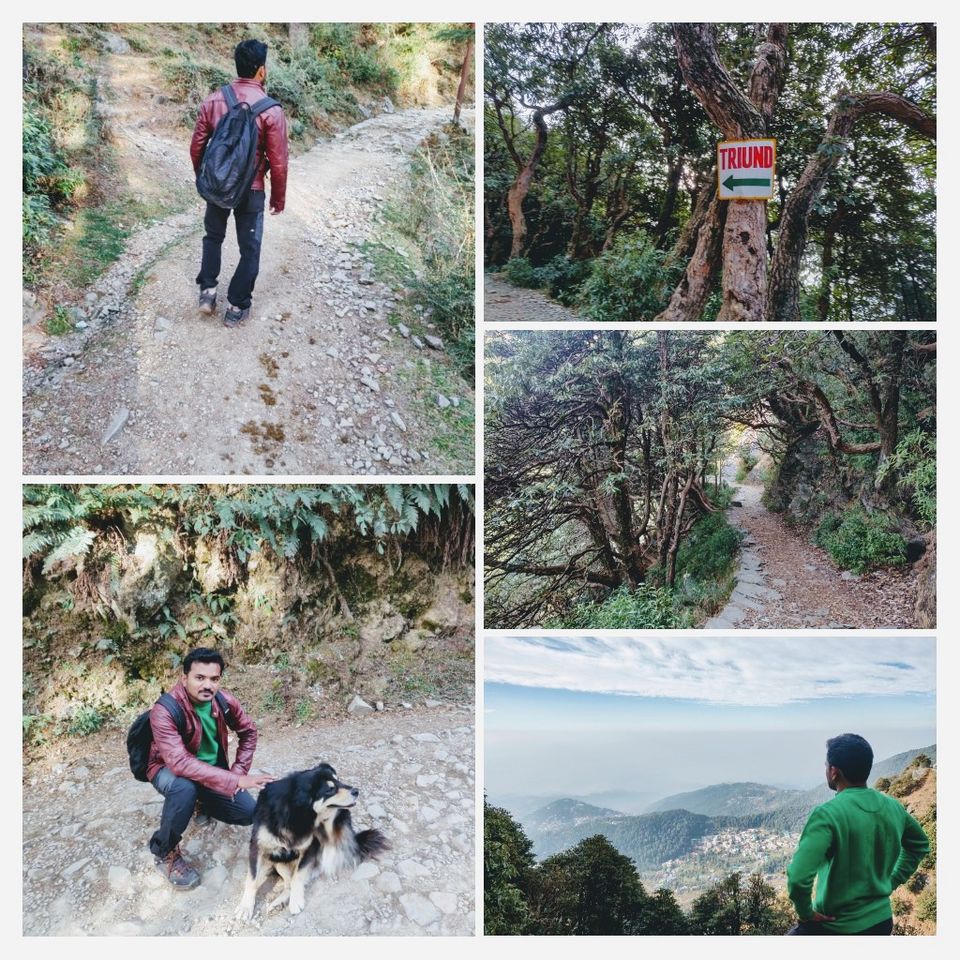 All through the trek the most annoying thing I felt was the loud music and yet times I had seen in a group each one of them were playing their own playlists on speakers. Bizarre isn't it!!! Everyone is a DJ here.
This trek is highly commercialised by the camping agencies, pre-booking is required to camp at the peak. There are many agencies at McLeod Ganj who offer camping, food at the hill peak so do contact them if you are interested to camp but my recommendation would be to avoid due to the heavy crowd, there is no point in camping if you don't have your personal space, peace of mind.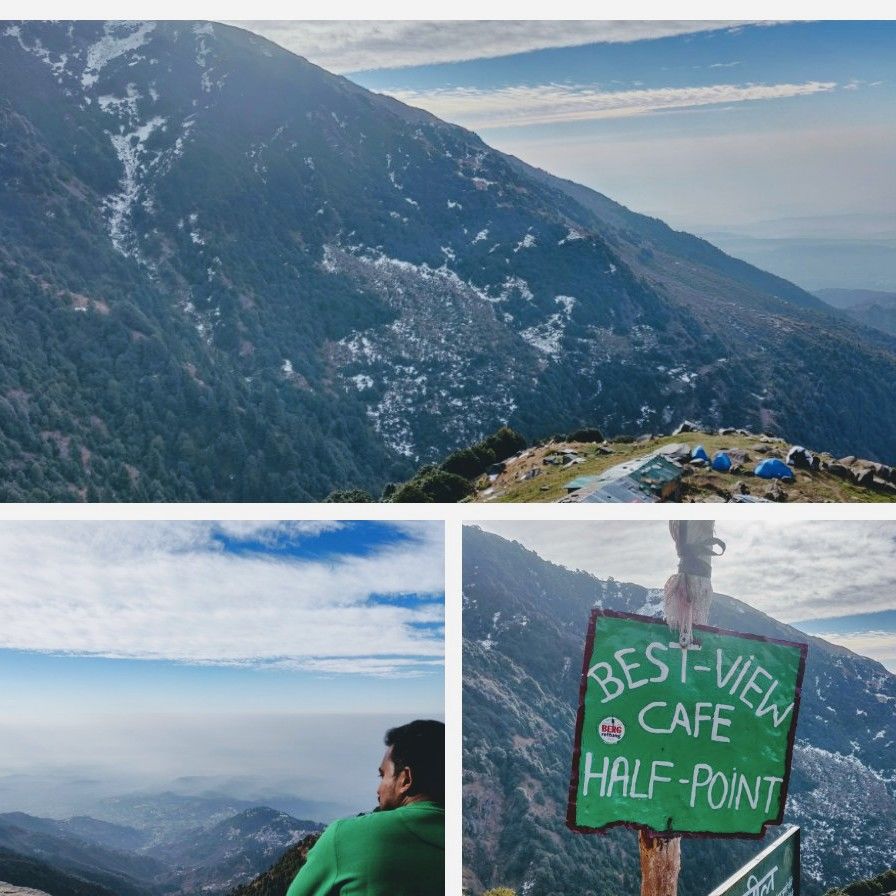 All through the trek trail there are shop vendors who offer Maggie, bread omelet, snacks and bottled water for extra price and the prices increase as you gain height towards the peak, can't argue much about the prices since even these shop vendors have to trek with these consumables, probably they may use mules.
This is the first view of the mountains from the peak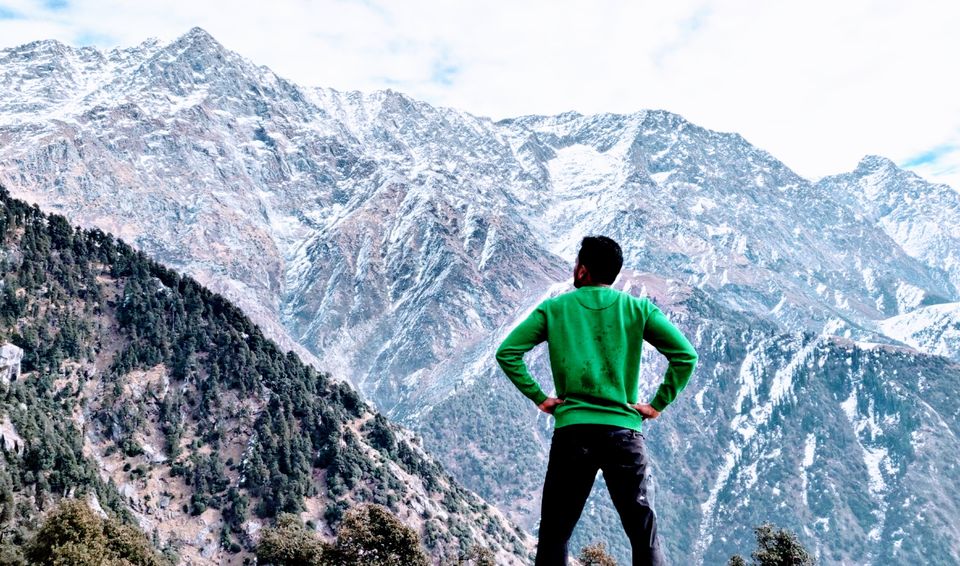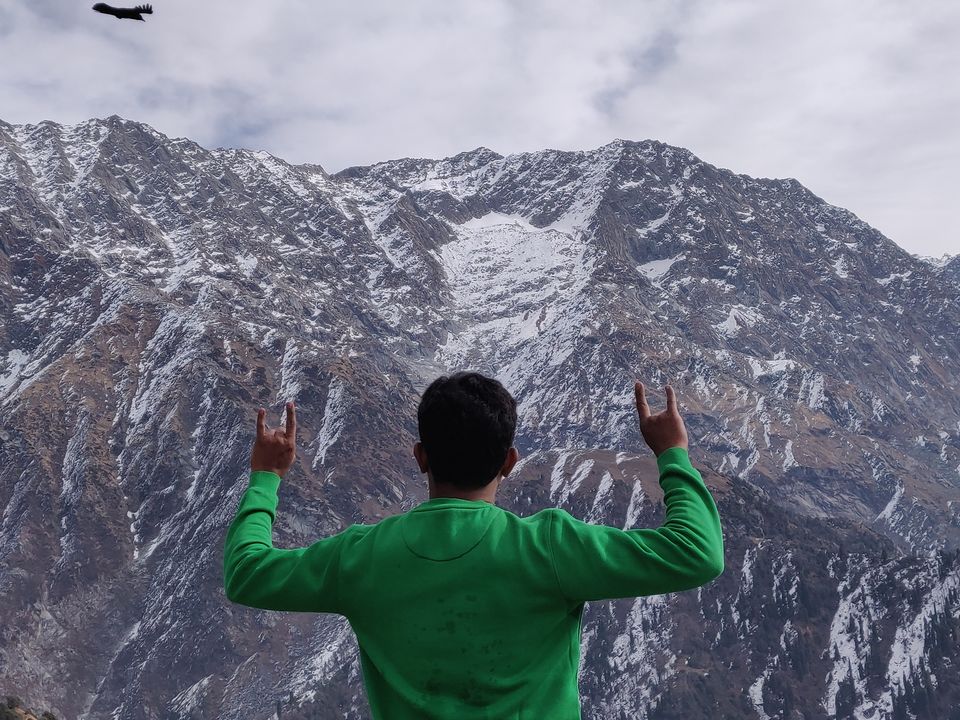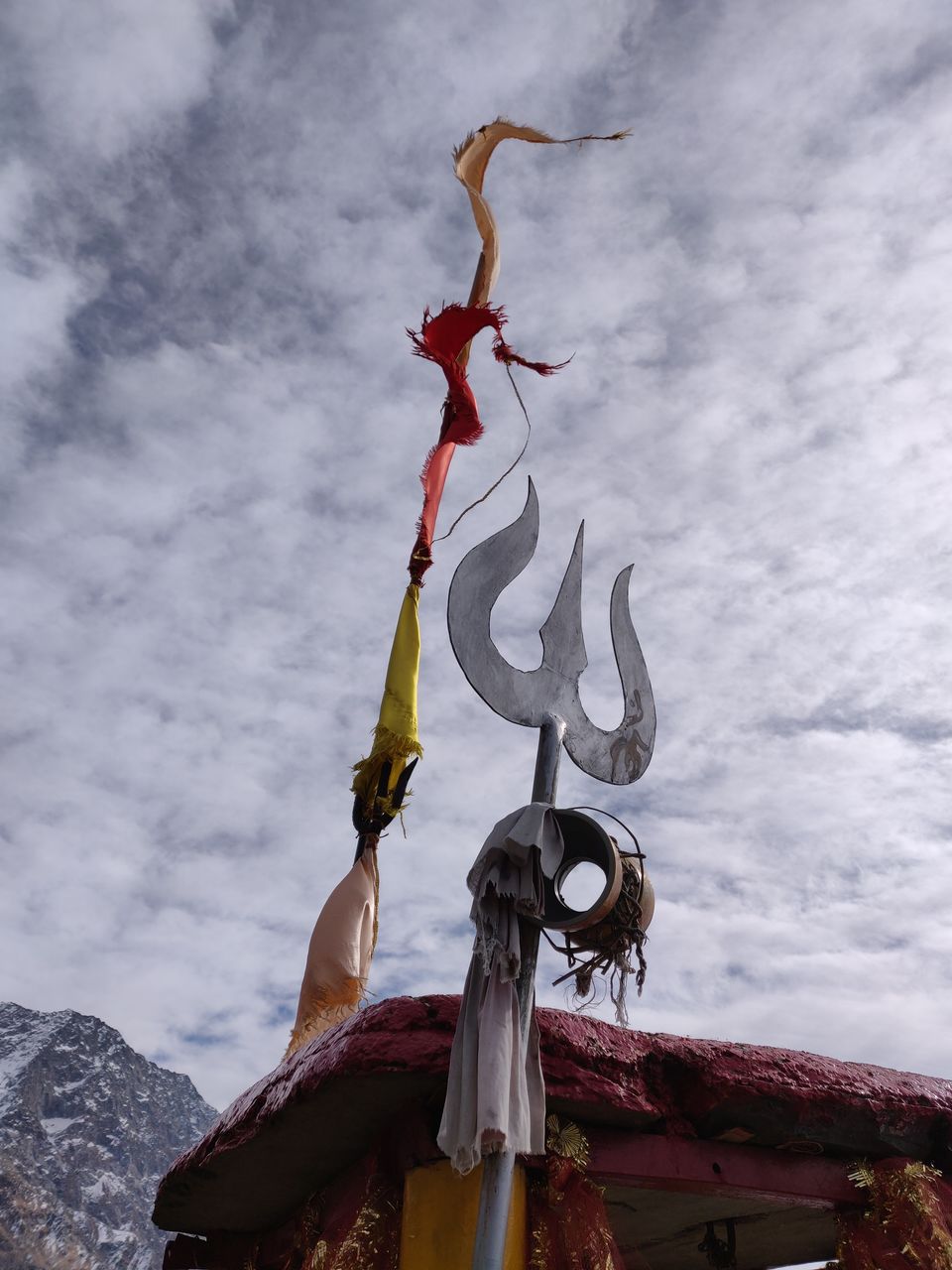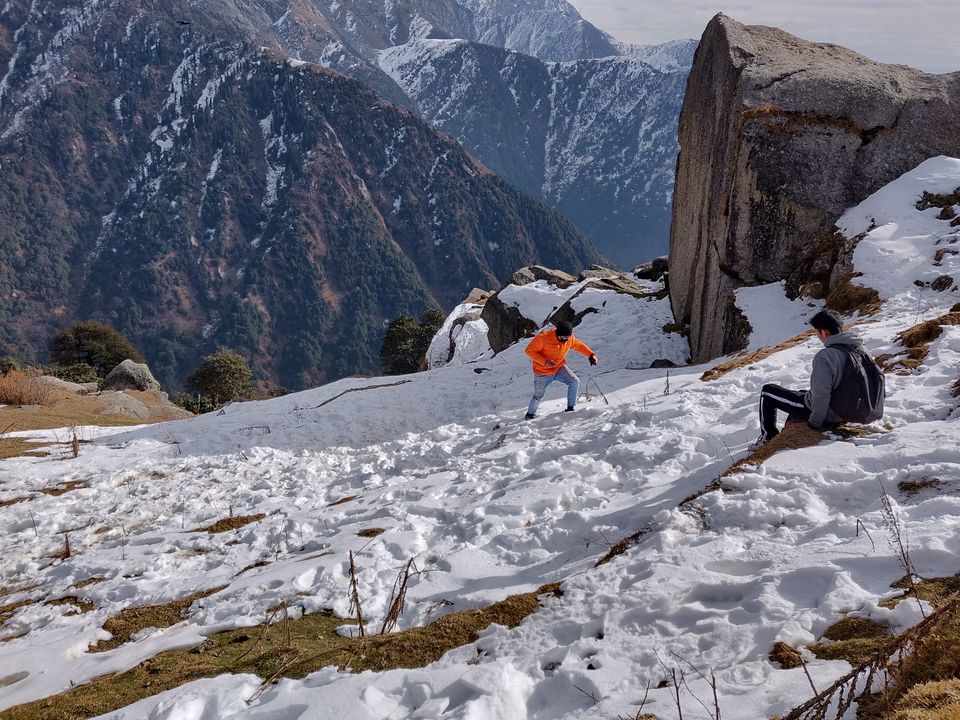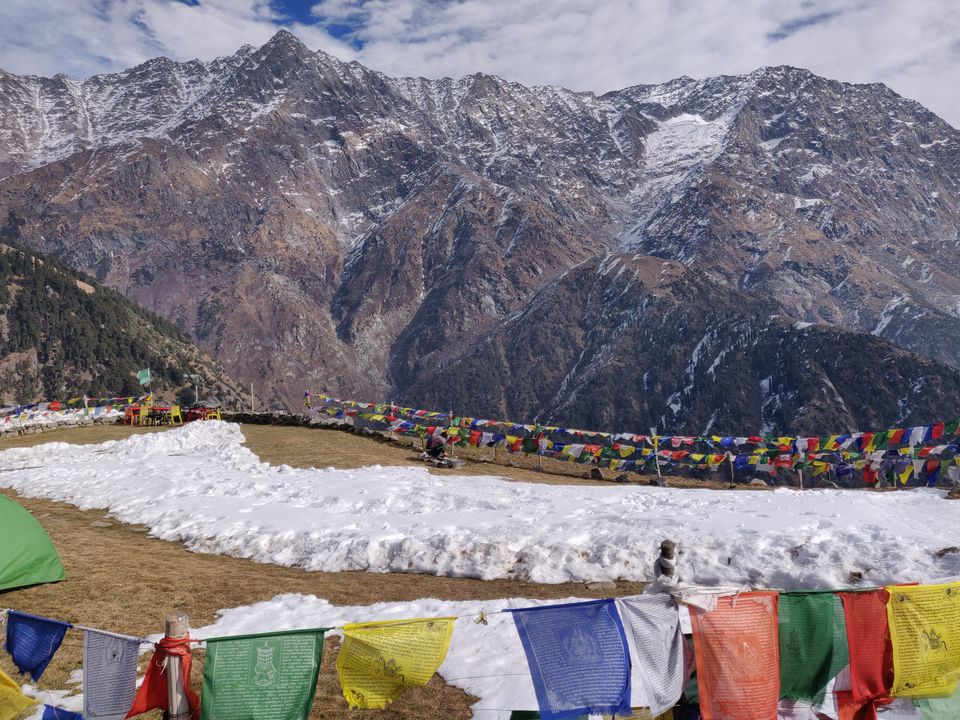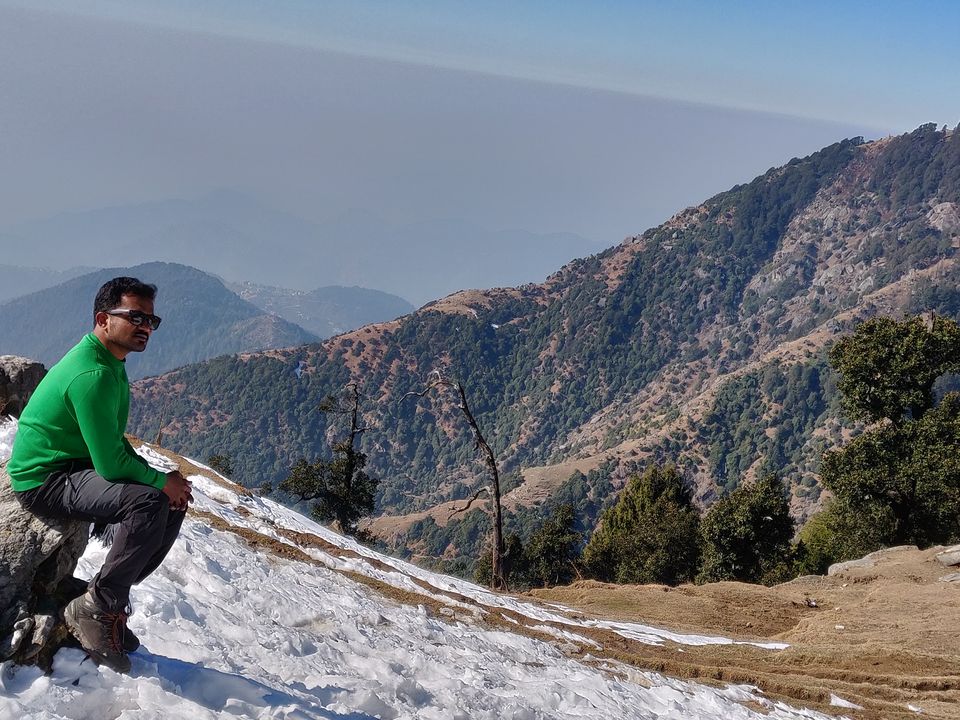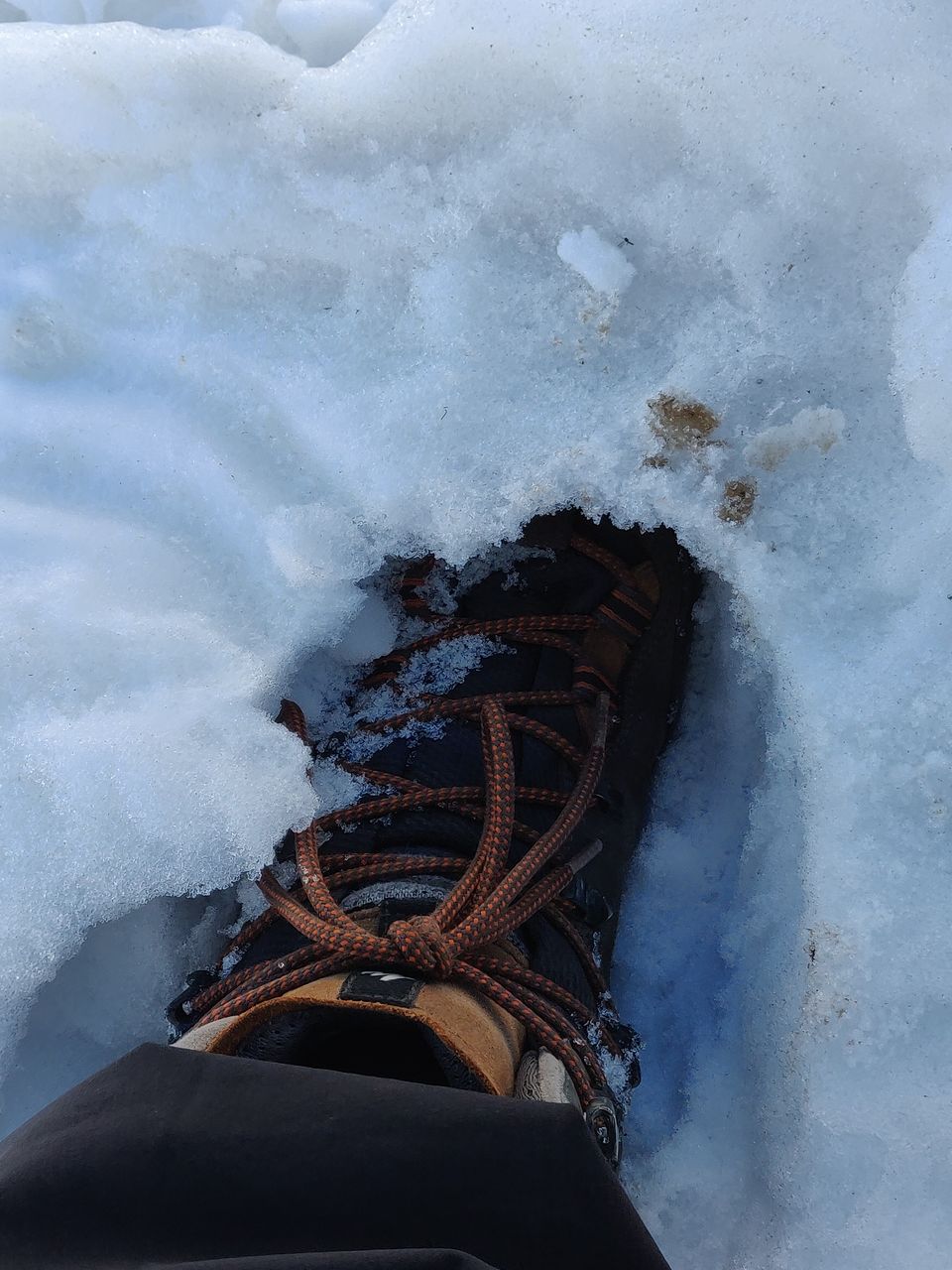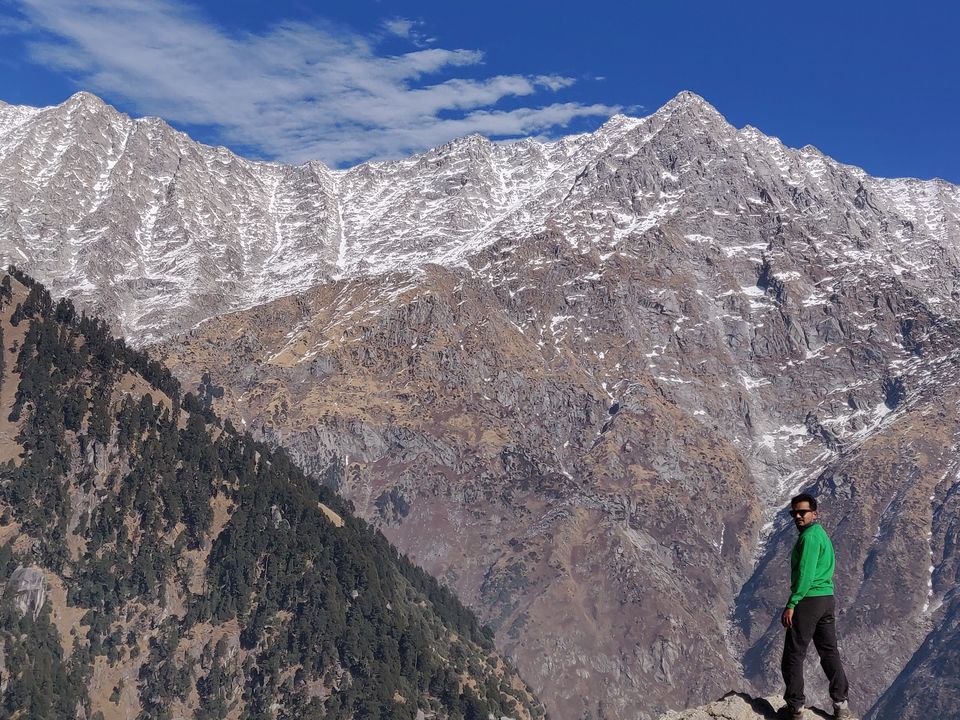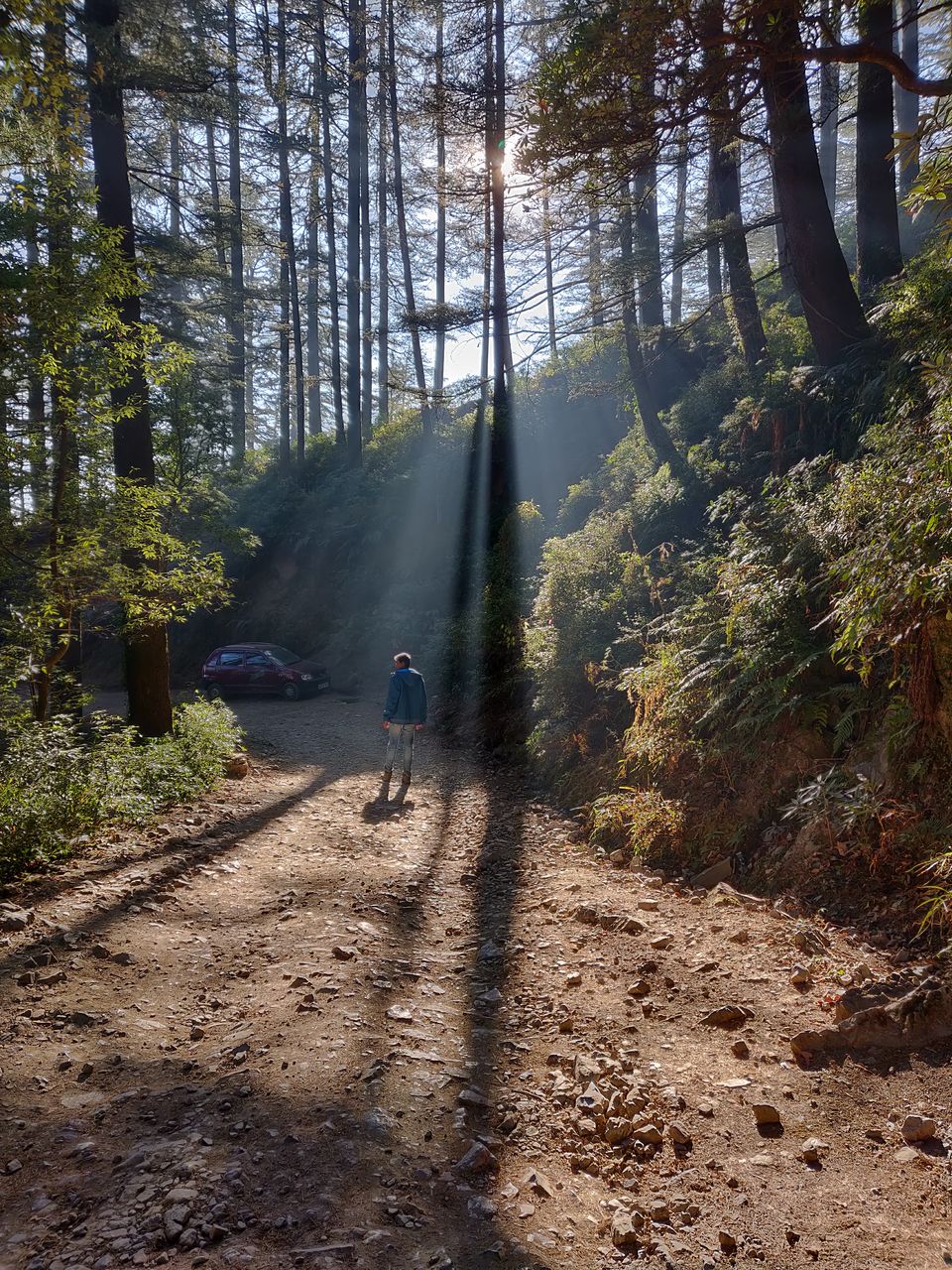 It took around 2.5hours to trek 7kms distance and another 1.5 to 2 hours to descend. If there was any snow on the trail then it would have been difficult but luckily there wasn't any snow or patches of it. But at the peak there was snow and spent around 1 hour enjoying nature and capturing mighty himalayas. Temperature at peak was 1°c
Tip: Starting the trek in the early hours has advantages like Witness sun rise, great views, can avoid scorching sun and most importantly the crowd. Trekking is not allowed towards the peak post 3PM unless until you have an camping reservation and your count is under the cutoff limit of camping capacity allowed by the authorities. Yes, there is a camping count limit issued by authorities but not sure if the rule is implemented stringently.
BhagsuNag
Post the trek completion at the same "Himalaya Tea Shop Dharamkot" tried to hire an auto to Bhagsunag Temple and withdrew the idea since the auto guy asked ₹150 for 2.5kms downhill distance. Just walk down the road and follow "Google maps the saviour" to reach Bhagsunag Temple an easy downhill trek, don't waste your money on hiring vehicles.
The street towards the temple has lot of shops both eatery and clothing. Had my darshan at the temple but I had to skip my visit to the famous Bhagsunag waterfalls due to pain in my knee which I had injured during my uphill trek to Triund.
Tip: be careful with the rocks you step on, they can cause an serious injury yet times.
Post my darshan headed to McLeod Ganj main market just for window shopping since I was already fully stuffed for my 16 days #dreamcircuittrip :)
Had steamed and fried momos on the way to the hostel which was my only meal at McLeod Ganj. Rested for the day with knee pain.
H.H the Dalai Lama Temple
On 24th morning headed to #hisholinessthedalailamatemple passing through the market and found temple was pretty simple without much decoration, entrance is free of charge. When I reached the temple, there wasn't any crowd and the monk there helped me with the entrance and exit points of the temple.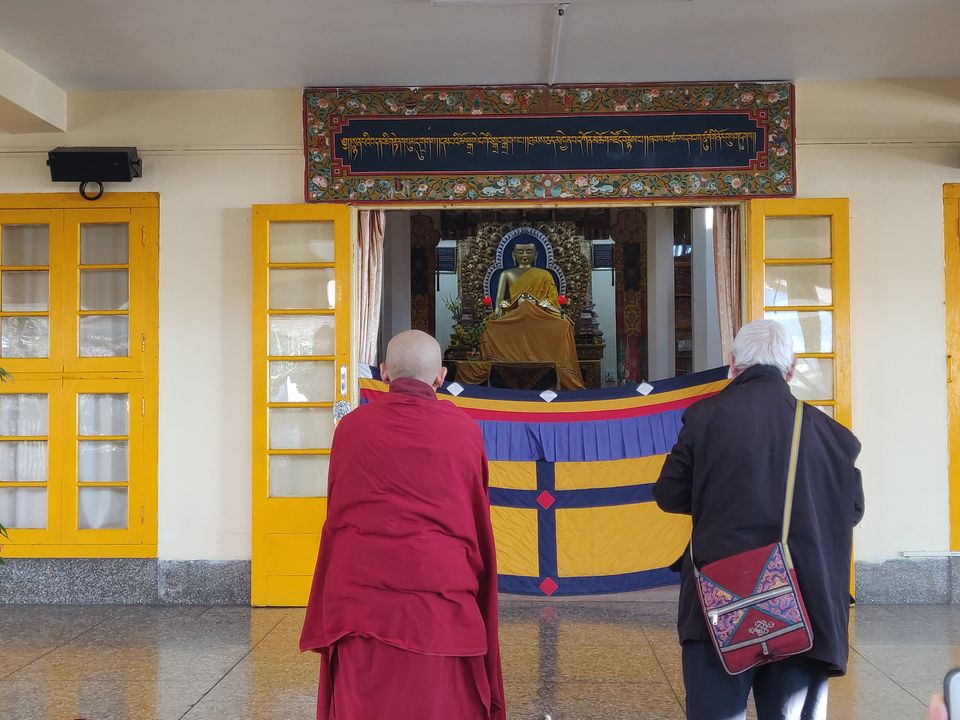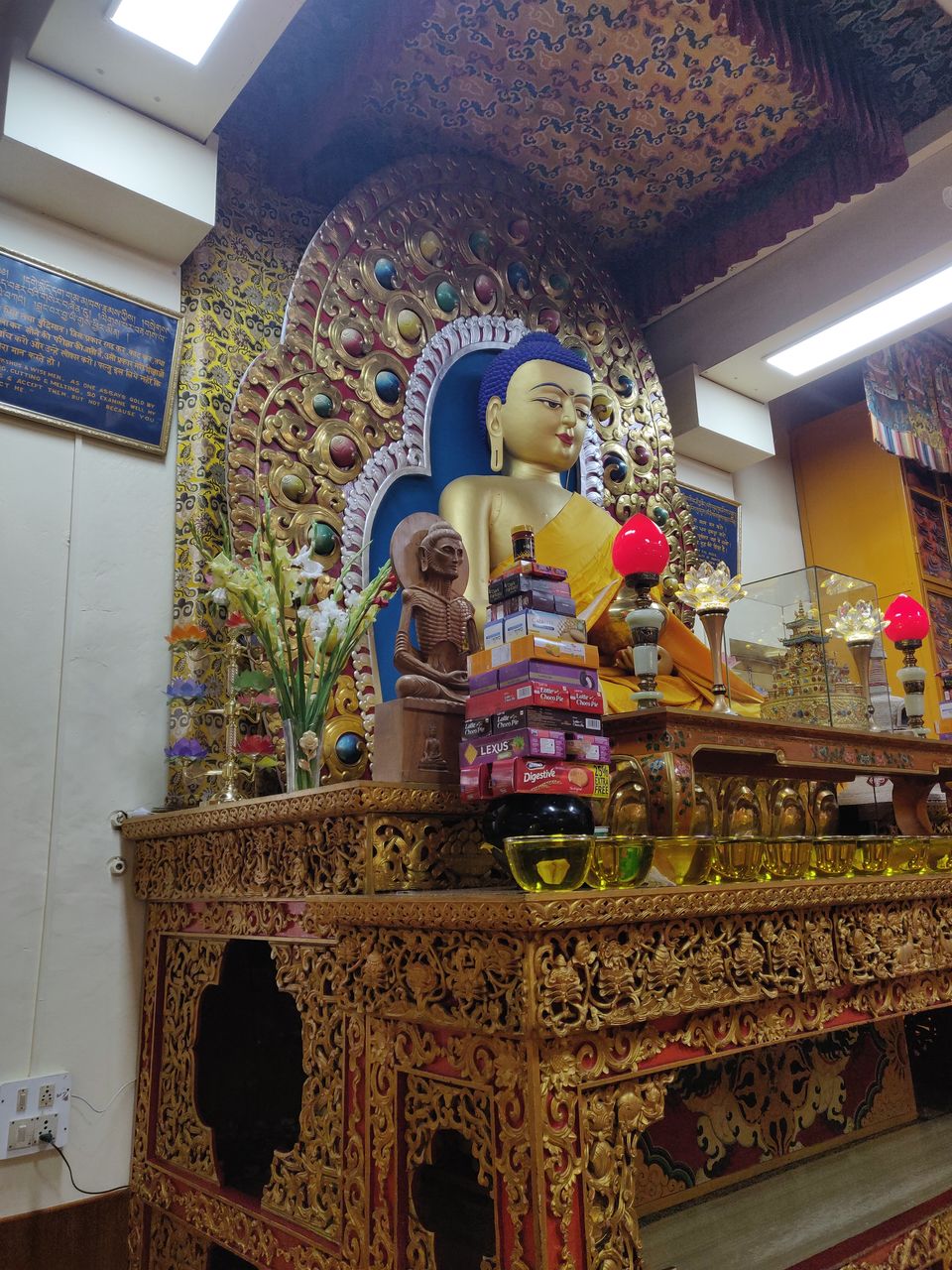 In the main temple #photography is prohibited and silence should be maintained but there was an tourist family ignoring both the rule's. Monks were offering their prayers and women were meditating in front of Tara Devi idol.
Next to the main temple there is main prayer wheel which should be turned in clockwise and the chanting mantra is "Om Mani Padme Hum"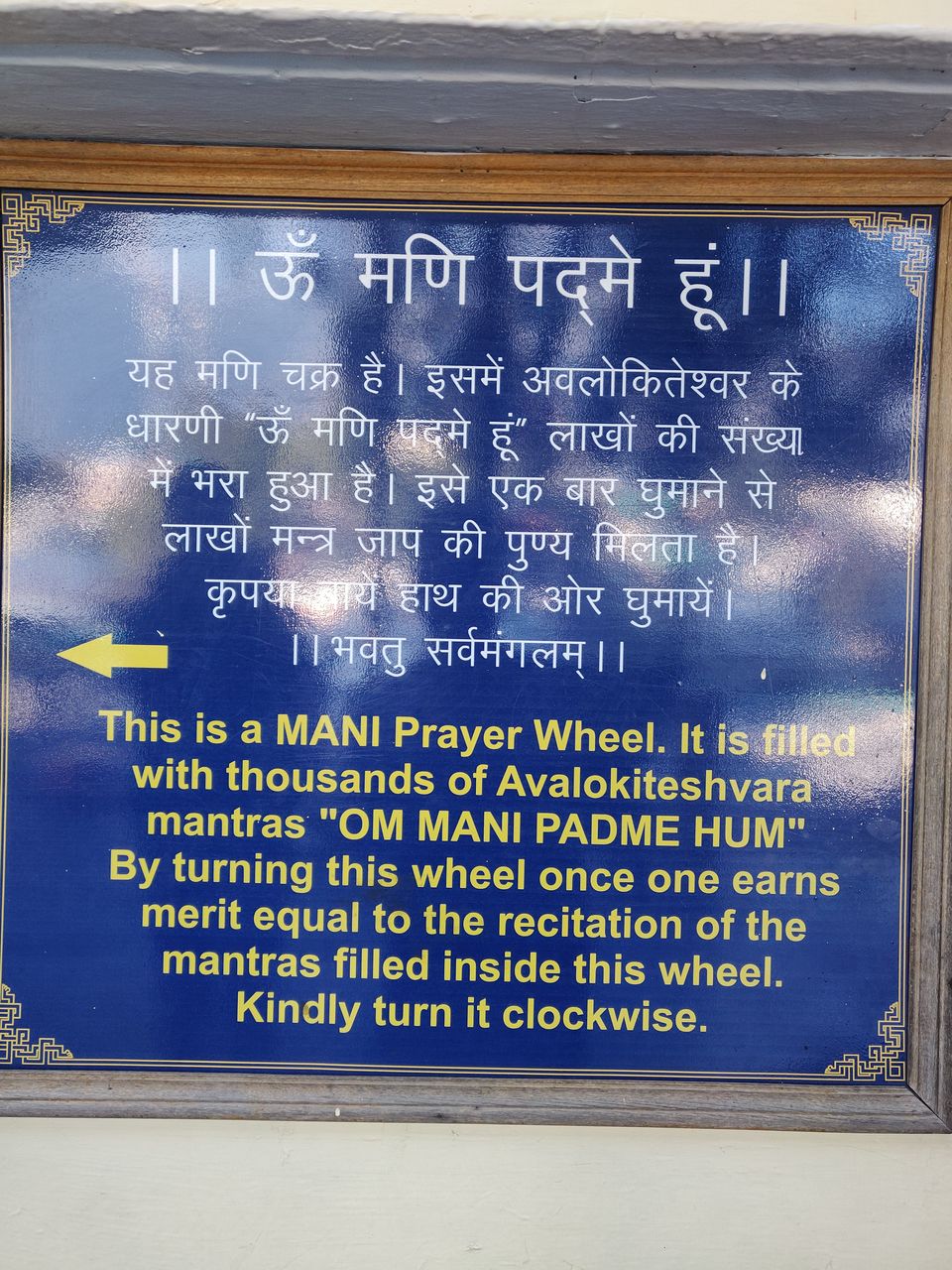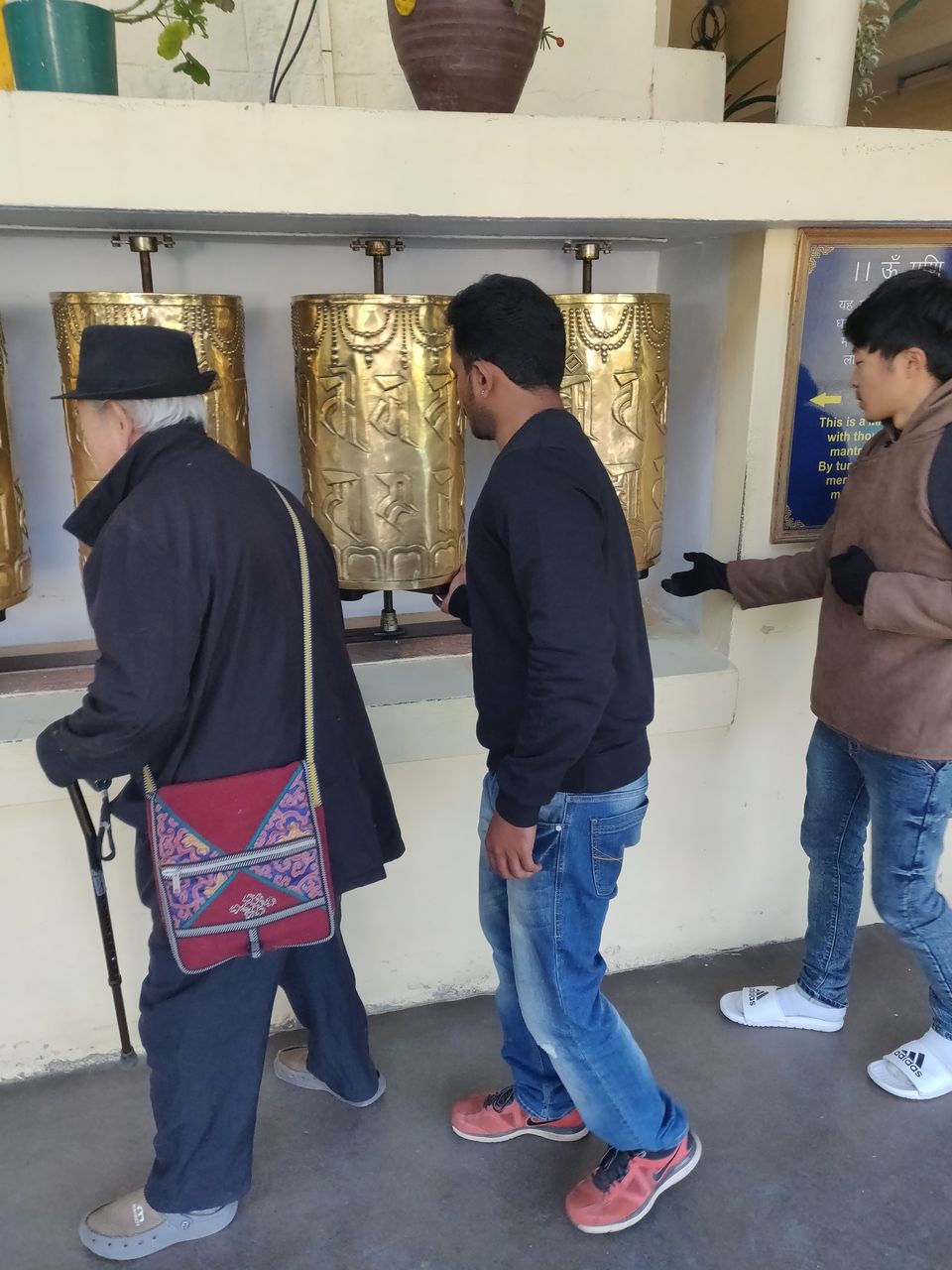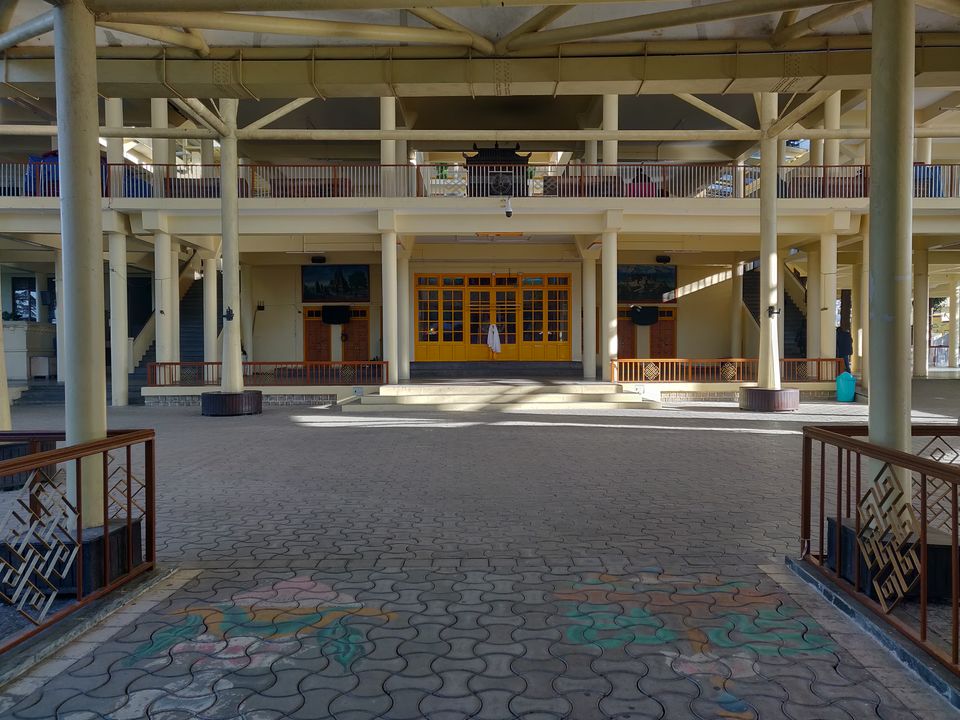 From the monks at the temple found out that His Holiness the Dalai Lama is at Varanasi for an cultural meeting. I was unlucky and disappointed that I didn't had chance to meet, attend his teachings and taking blessings from the Dalai Lama.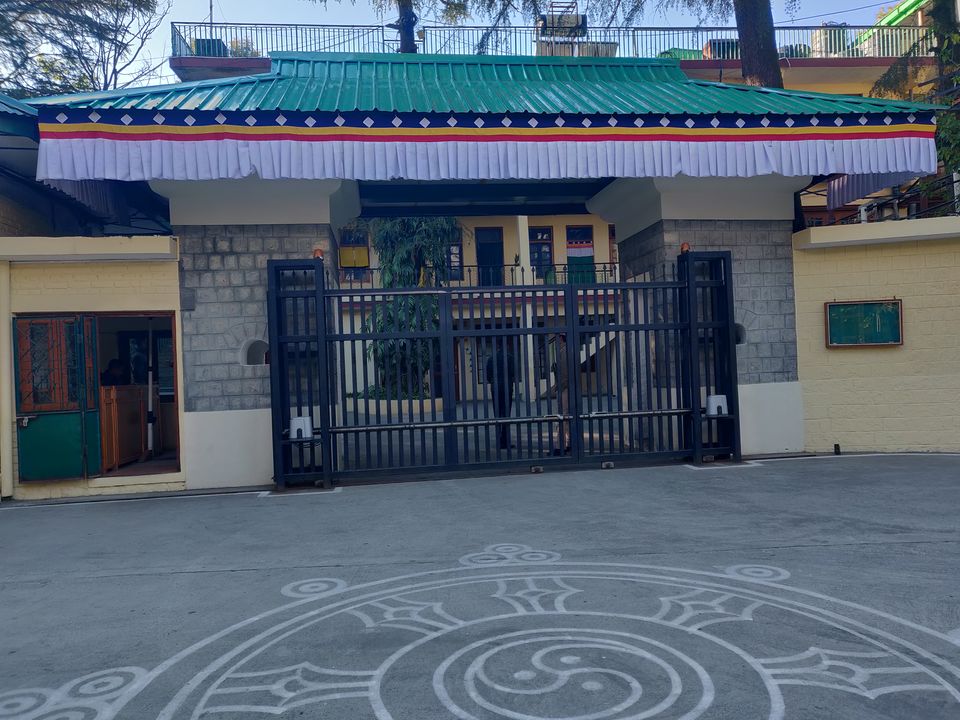 Post the disappointment headed to the tibetan museum, Tibet parliament in exile.
Tibet museum has the Tibet culture, their lifestyle, their fight with China, struggles with Chinese government, their exile to India and their life in India has been listed in detail.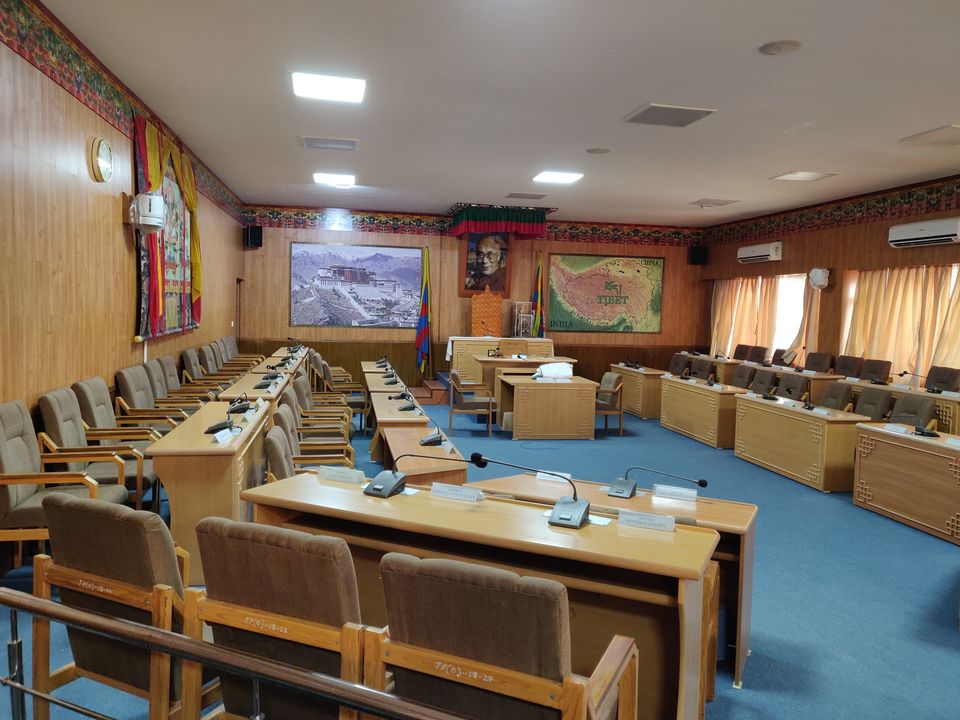 Tibet parliament in exile: This is an place to visit in McLeod Ganj to know about the tibetan exile government in India, their democratic ways of running their exile government, their settlements etc. By the way this is an guided tour by the staff at office for free, no fees charged.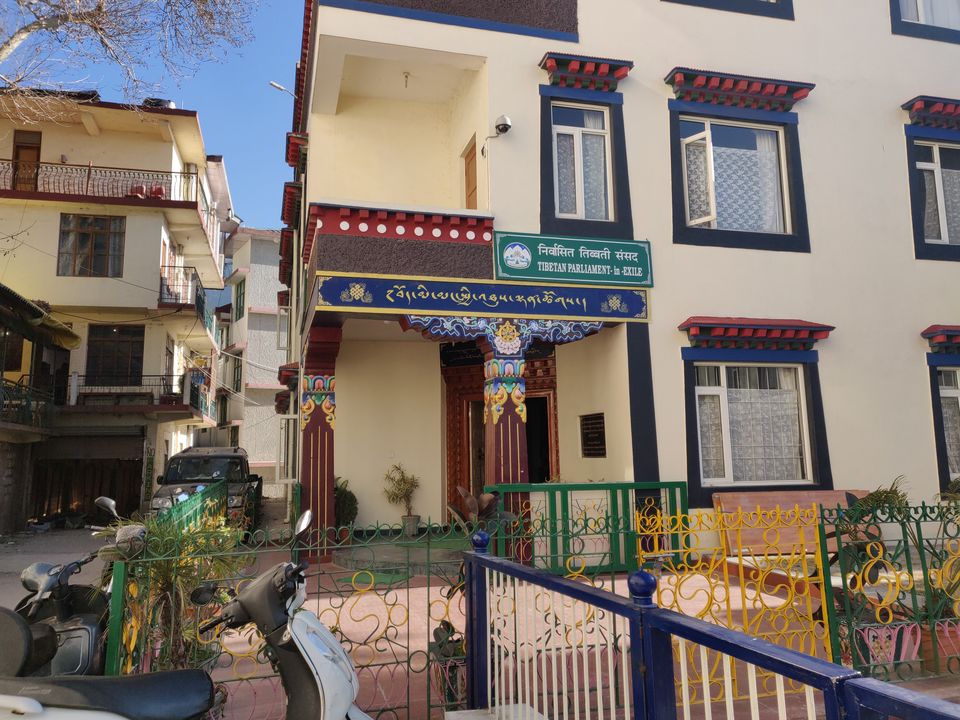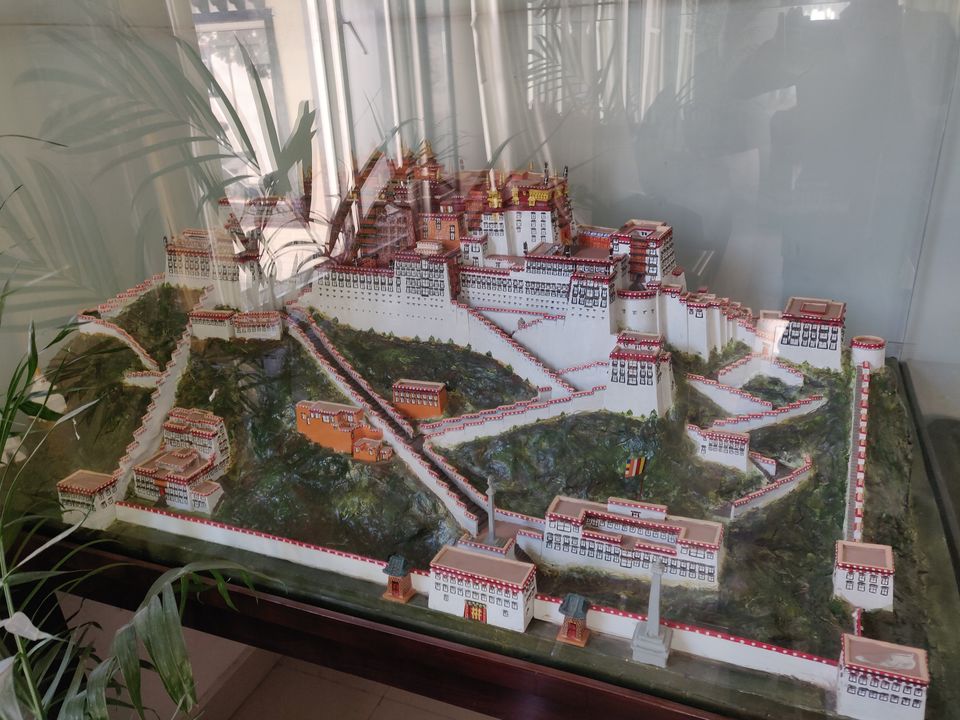 At 12PM checked-out from the #tibetworld hostel and headed to Dharamshala to visit #Warmemorial and beautiful #dharamshalacricketstadium.
My stay at #tibetworld costed me ₹800 per day for mountain view room with clean,comfort beds and hot water bath.
Took share taxi from McLeod Ganj to Dharamshala Bus stand for ₹20 and deposited my rucksack for ₹30 till evening at a shop in the bus stand premises.
Dharamshala Cricket Stadium
HPCA Cricket Stadium, located at the backdrop of the snow-clad mountains, is perched on the high slopes in the upper part of Kangra Valley. Head straight to this stadium and enjoy the cool salubrious air, stunning mountain scenery, serene ambiance and spellbinding views. Sitting at 1457 meters above sea level, the Himachal Pradesh Cricket Association Stadium is widely known as one of the most picturesque cricket stadiums in the world. Behold the stunning view of the mighty Dhauladhar mountain peaks in the backdrop, as you watch a wonderful cricket match. With the first appearance of international cricket here in 2013, the HPCA stadium has already established itself as a world-class cricket destination in a very short time. The abode of Dalai Lama has found its place in the cricketing world with this beautiful cricket stadium.
Ranji trophy match was in progress when I had visited.
One can just sit in the stands enjoy the match or the mountains view :P I preferred the later :D
Entry Ticket price is ₹20.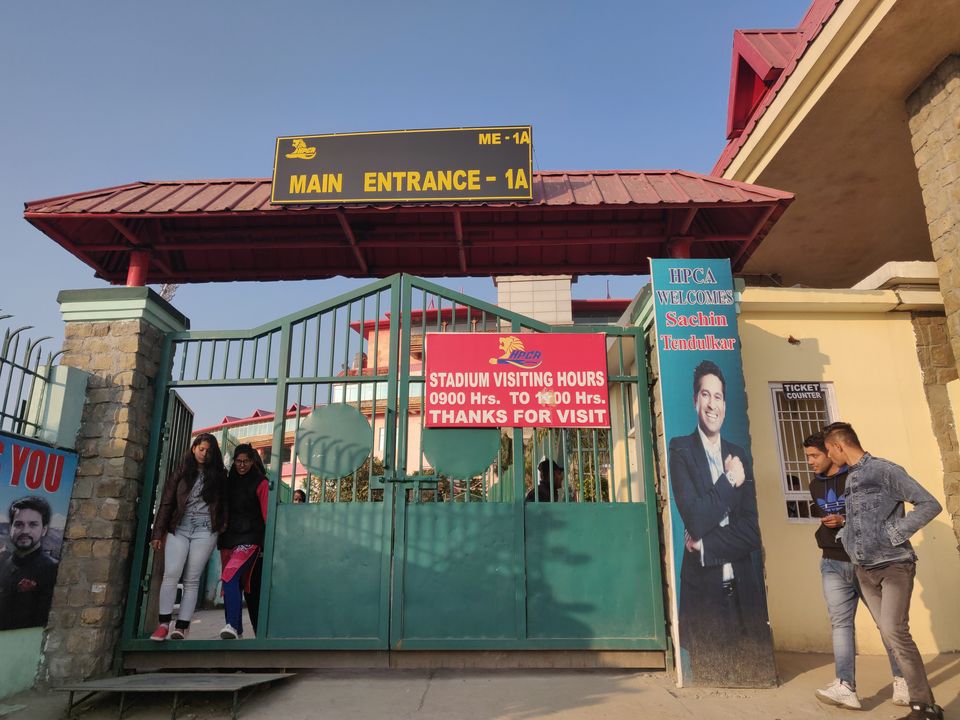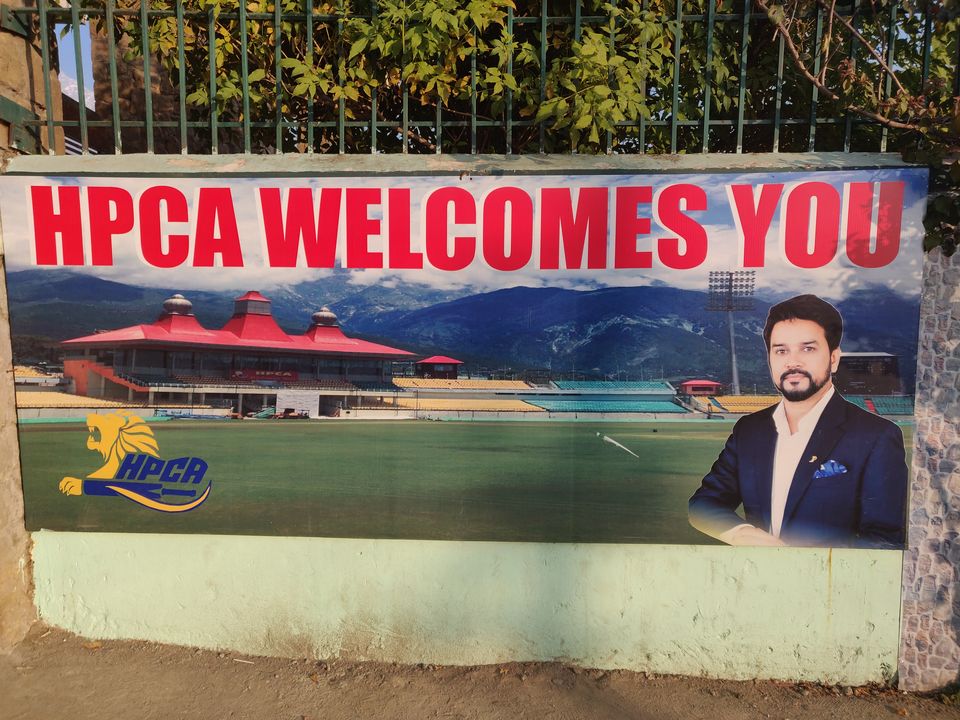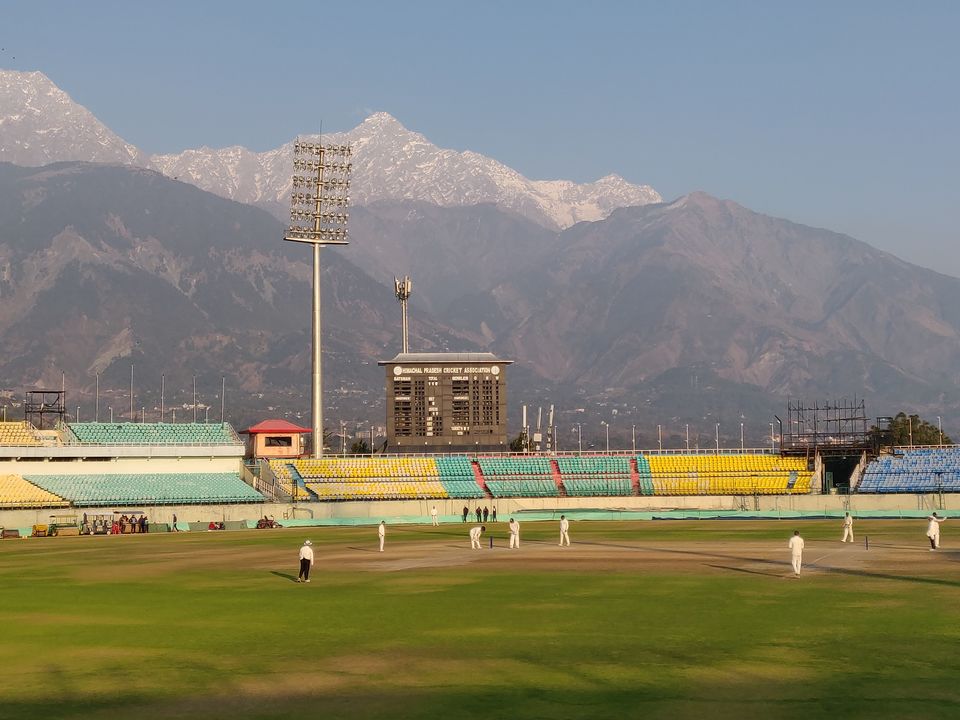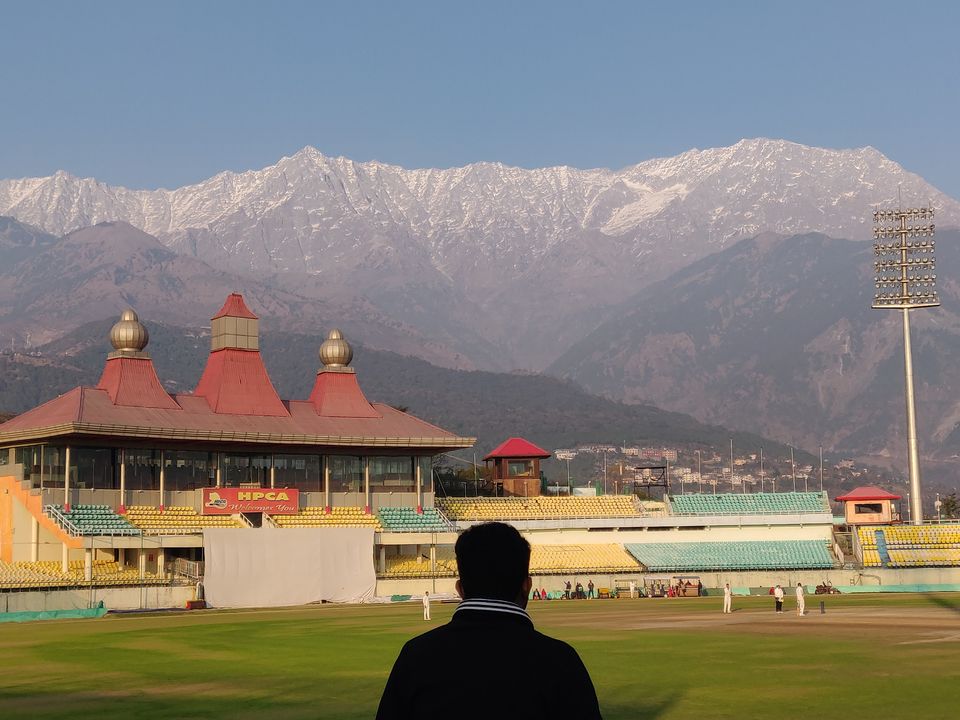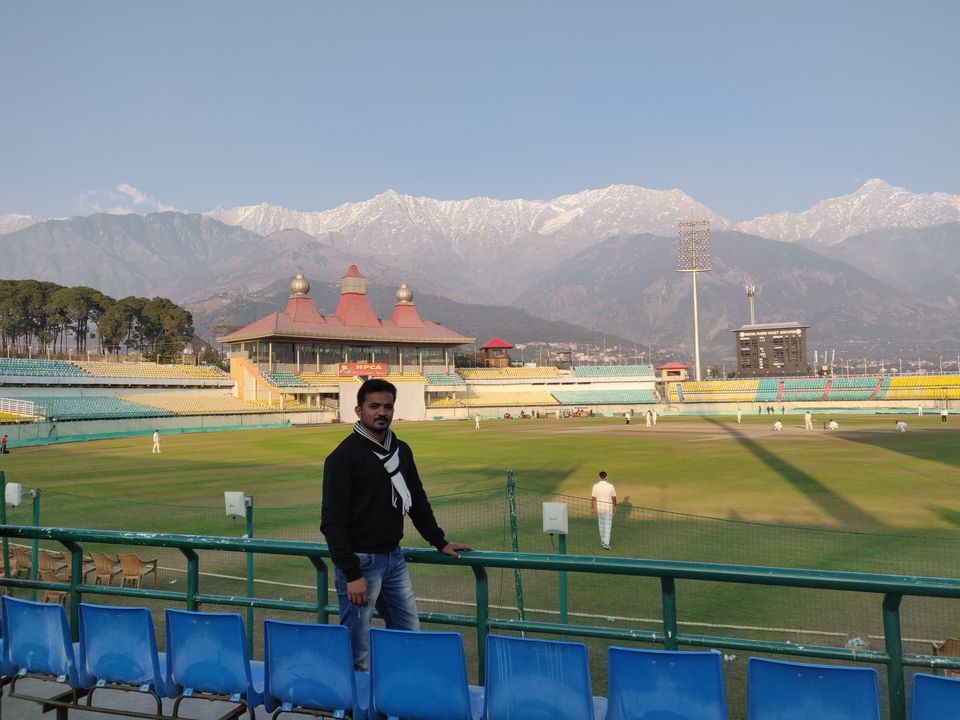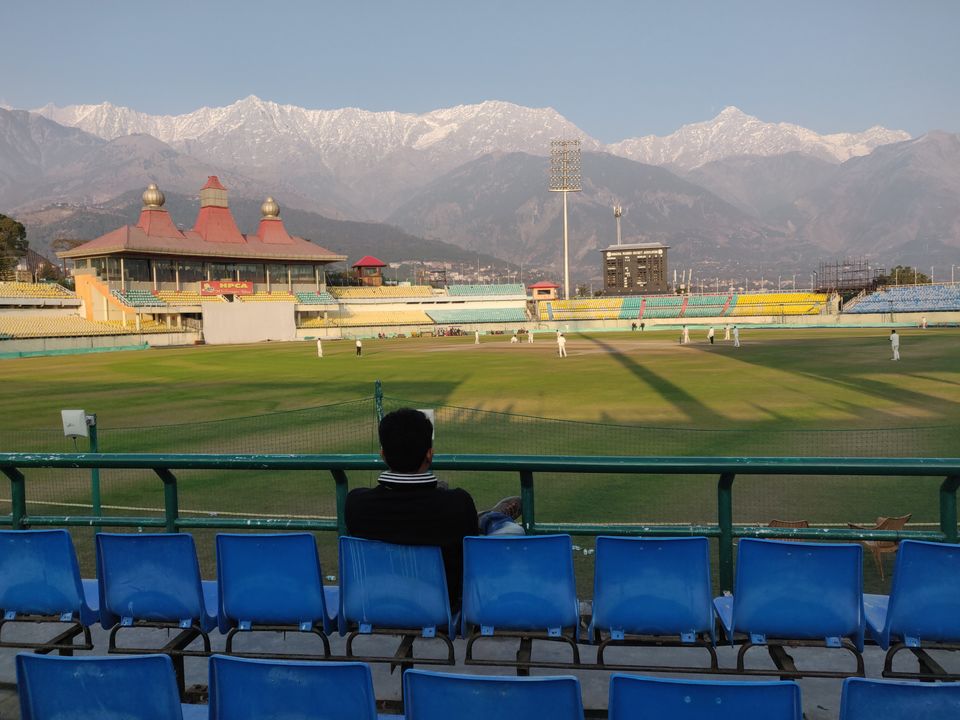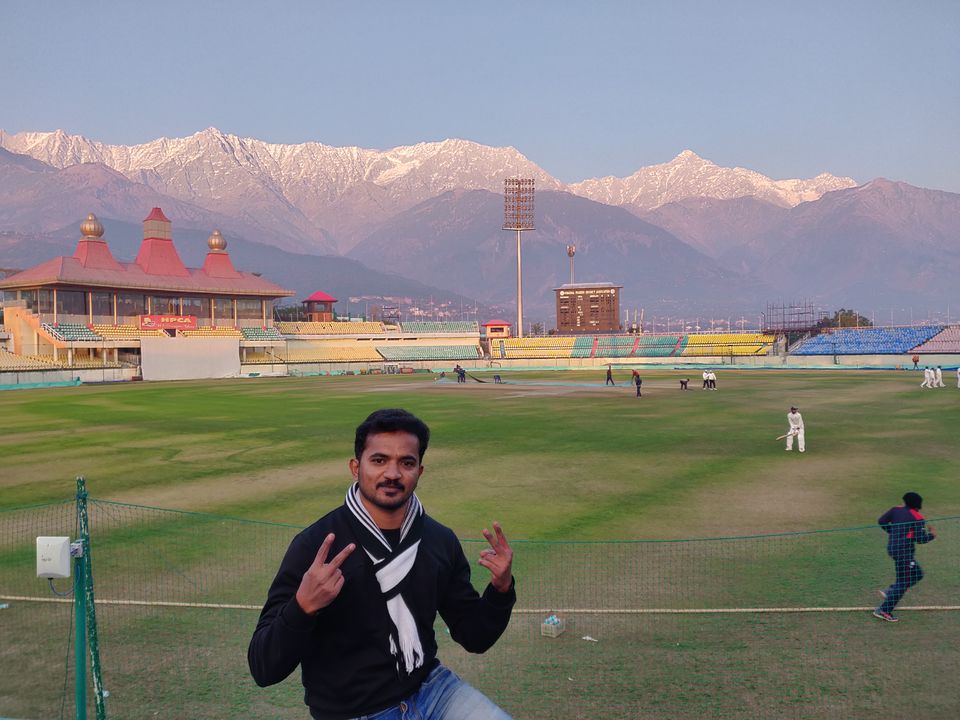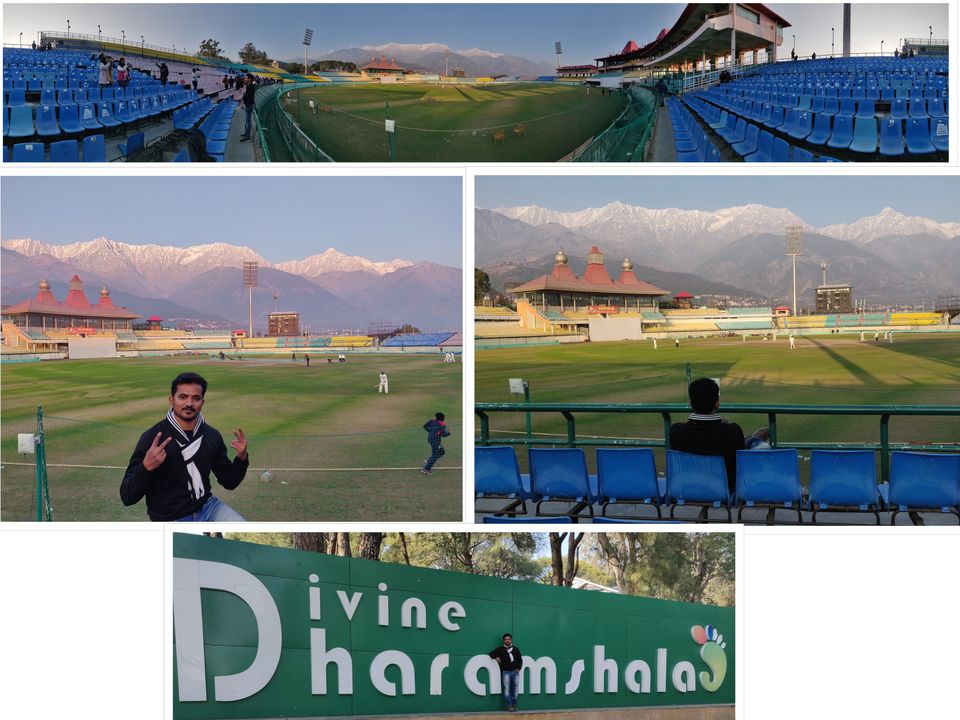 Spent a good amount of time in the stands just watching Himalayas not the match :P
War Memorial
Boarded a local bus to Dharamshala stadium for ₹10, war memorial is close by to the bus stop. My friend referred this place and I am thankful to her. Pay homage to the Martyr's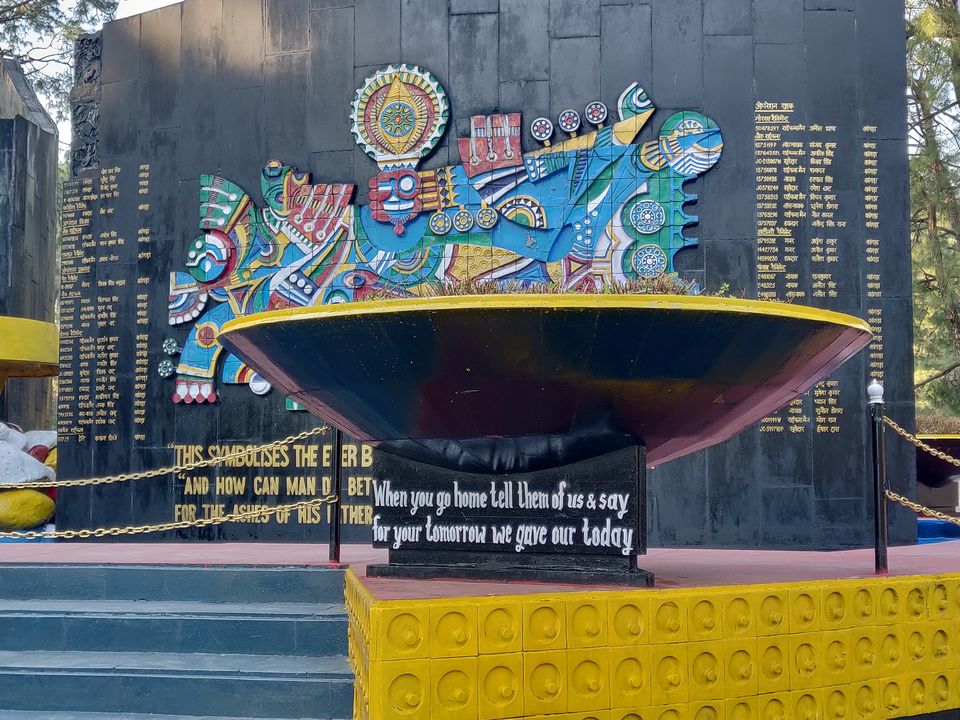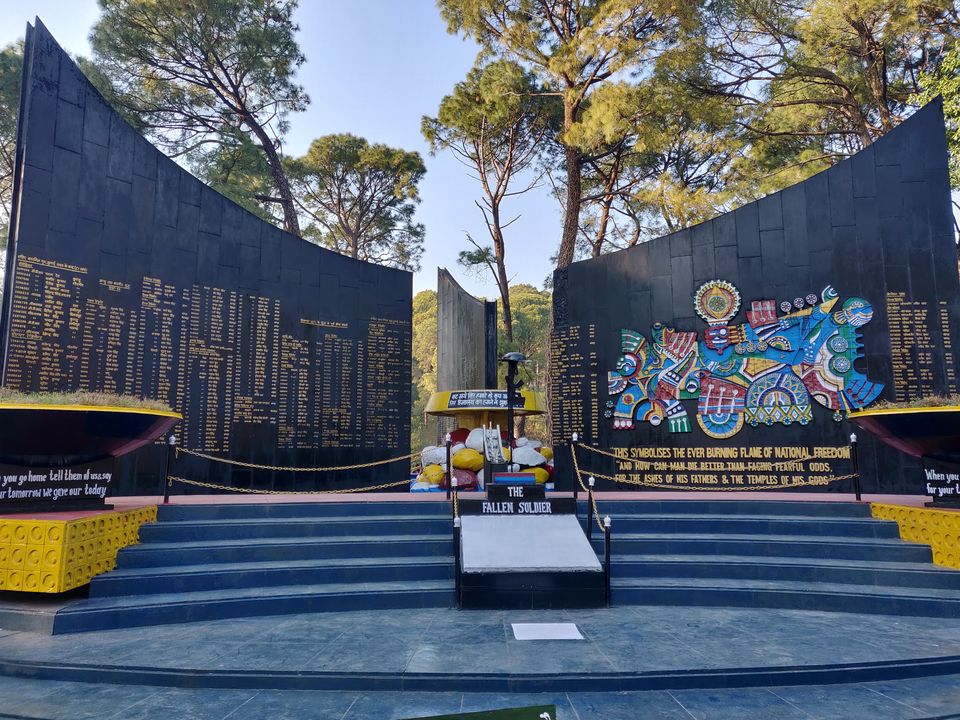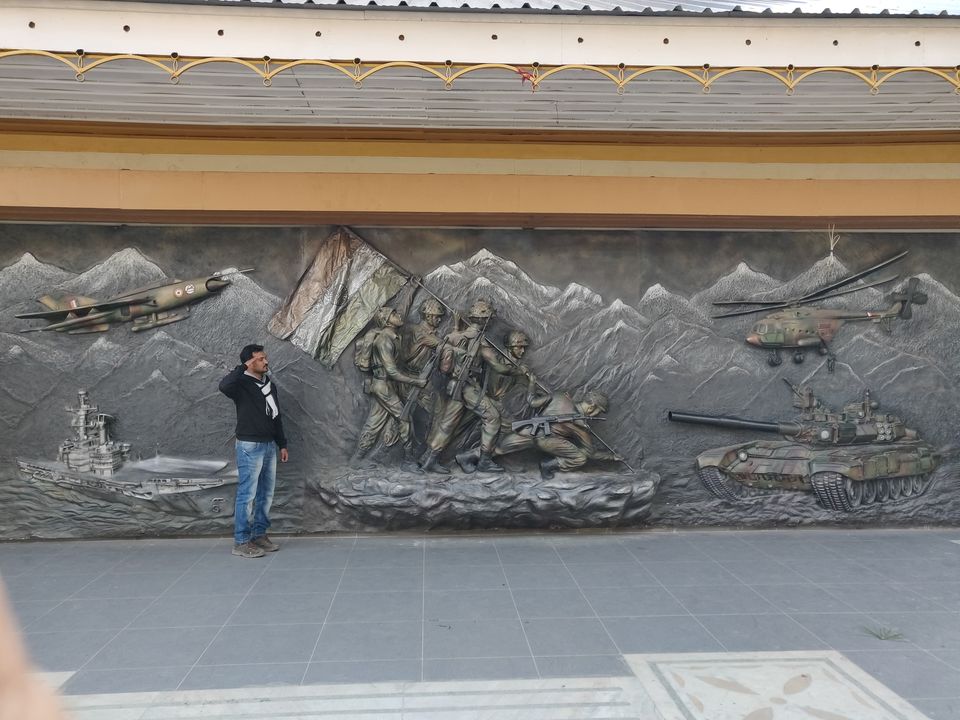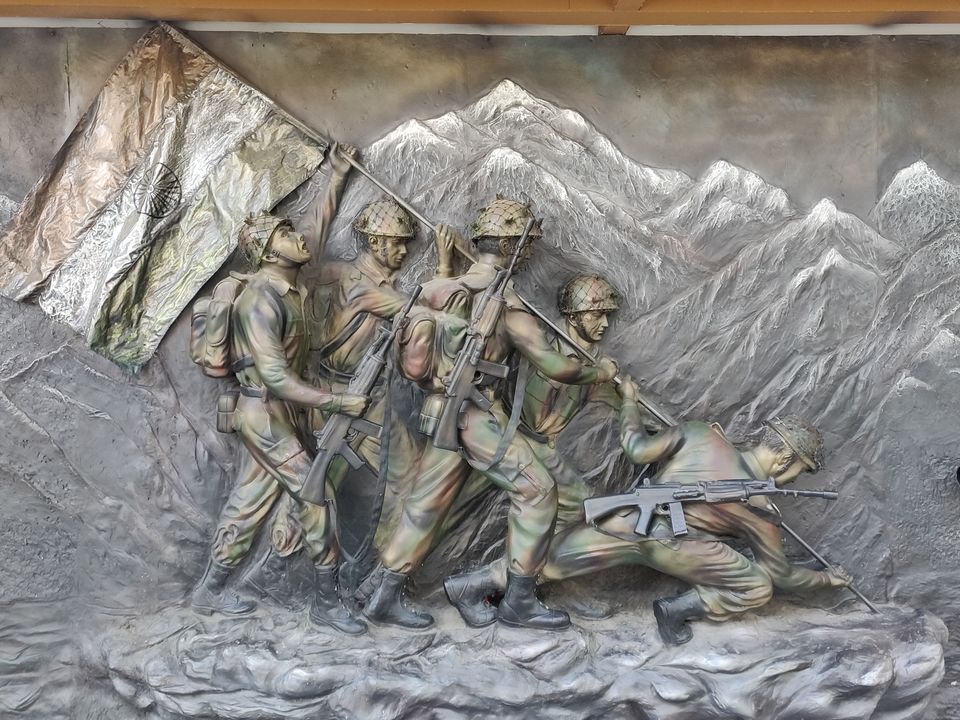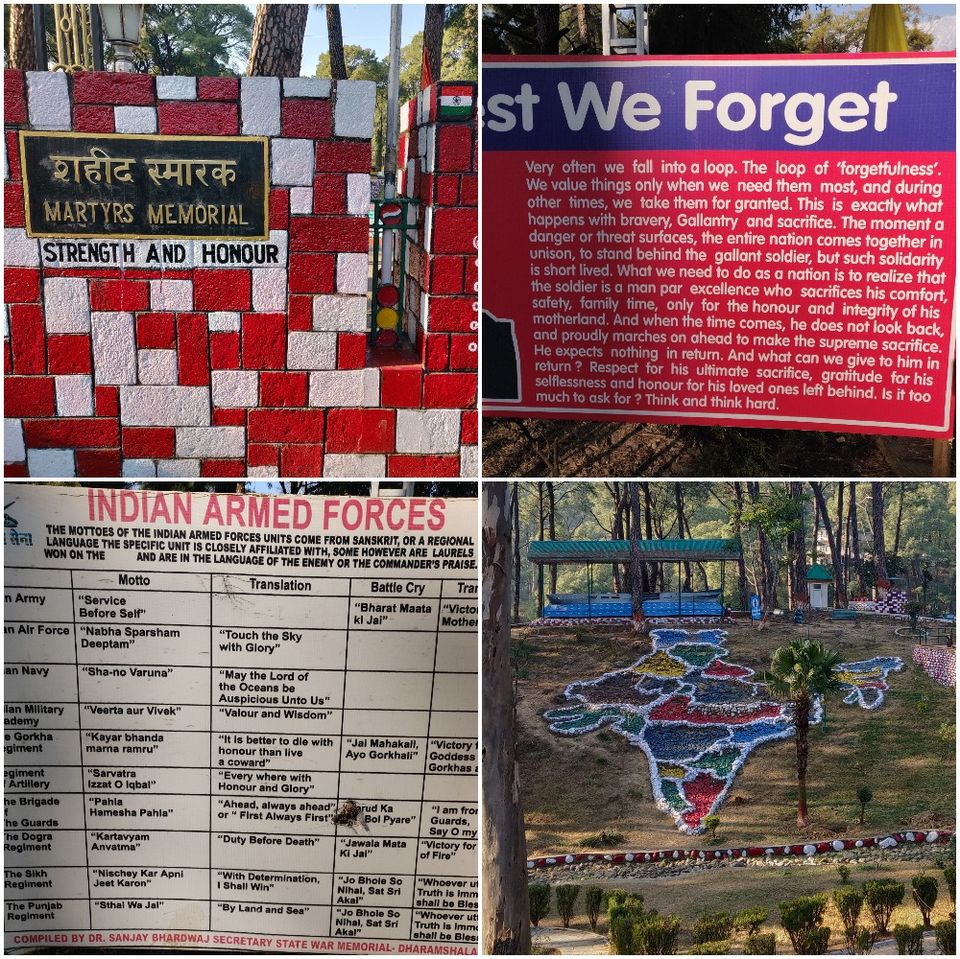 Spent a good amount of time in the stands and headed to Dharamshala bus stand and picked my bag to board bus to Reckong Peo @7PM, Yes I am visiting beautiful #SpitiValley in winter :D
A long crazy journey of 18 hours from Dharamshala to Reckong Peo via Shimla in an ordinary HRTC bus is the plan.
Total Expenses for 2days: ₹1810
Stay for 2days: Total ₹ 850 ( Per day its ₹800 and I had shared the room with co-traveller)
Travel by Bus from Amritsar to Mcleod Ganj: ₹230
Auto, Taxi Fare in Mcleod Ganj for 2 days:₹ 200
Fees/Entry Ticket at different places:₹ 60
Food for 2 days:₹ 500
Good bye "Divine Dharamshala", i continued my 16days #dreamcircuittrip to Spiti Valley.