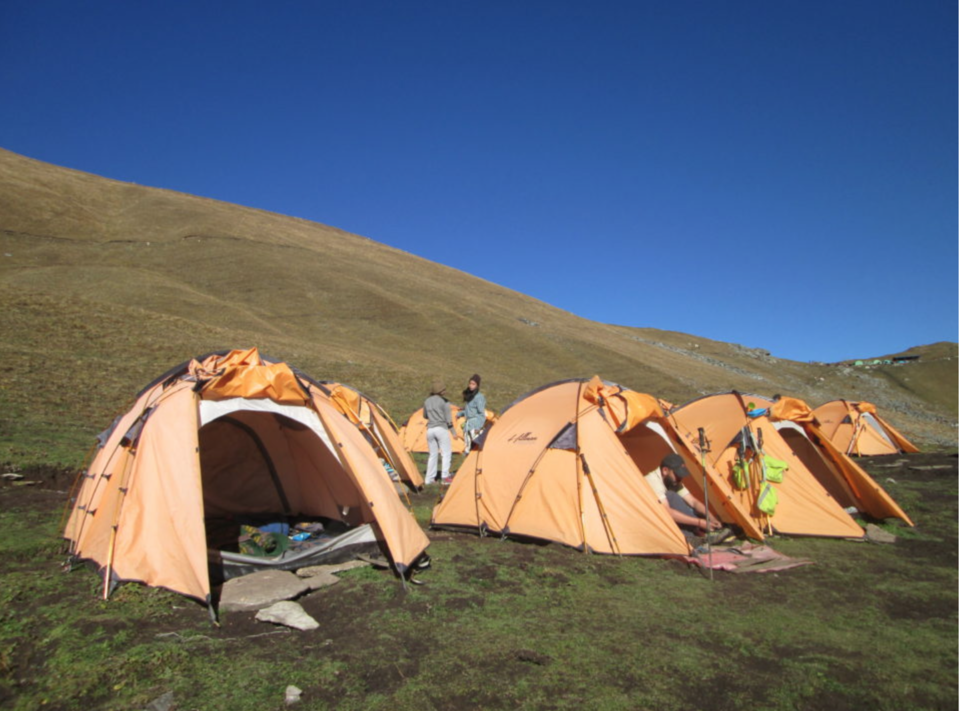 I decided to go for a solo trek after boards to explore the less explored and commercialized places that the country has to offer.
We all expect our college days to be very different from school days in terms of all the opportunity for exploration and the freedom we get. But in the paradigm of reality, things don't just change overnight, those late night permissions don't just come easy, let alone the trip post-board trip you were planning to Goa.
The transition from school to college may not be that radiant if you don't choose to explore, risk and expand your comfort zone. Goa was somehow never really in my realm of exploration, too mainstream, not juicy enough.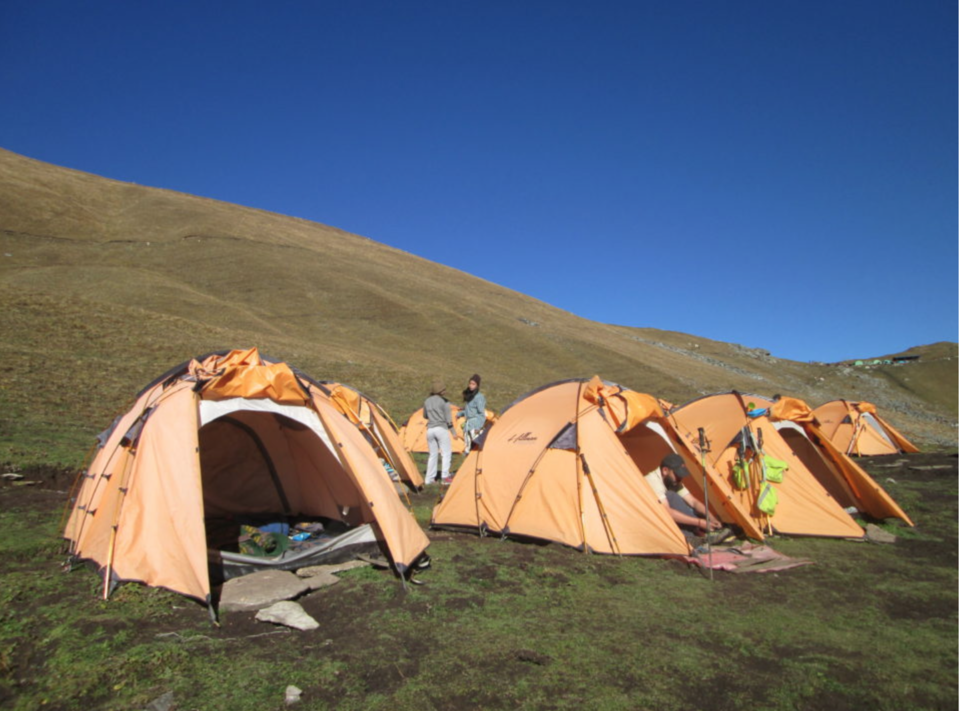 "Solo"- A word strong enough to evoke negative emotions from the parents of a 17-year-old.
(Caution: This word will almost never be taken seriously.Reality: It is the best thing that can ever happen to you. It does not mean travelling with friends and without parents, it means to actually travel "solo")
"Trekking"- A word which parents relate to climbing high altitude mountains that they think leads to death in almost all cases.
(Caution: Use words like mountain-walk Reality- It is actually more like a steep walk which is very safe)
[Disclaimer: Be ready for what feels like a lifetime to convince parents]
"How will you do it when you have never done this before?"
"Mountains are risky, you can fall off and die",
"Why don't you do something easy?"
These were some of the many retorts that they gave me. According to parents, solo treks mean most certainly death. You'd have rather asked them for permission to kill yourself.
"You are just in college; you can do this later in your life."
However, college students are exploring and pushing boundaries, it is hence important to travel solo once in your college life to enter new comfort zones and learn to adapt without any external help. I think that my solo trek was by far the best trip of my life.
Let me break it to you, sadly completely solo treks are not really possible
My first solo trek was to Roopkund in Uttarakhand which stands at 16,400 ft. It is important to note that completely solo treks are not possible because the way around mountains is tricky and you may get lost. Beginners may not be able to cook their own food on the mountain and set up their own tents.
"Solo" can be redefined as going with a group of strangers which includes a tour-guide, trek-leader, cook and a few fellow trekkers (strangers). This may sound easy, but it has enough challenges for a college student.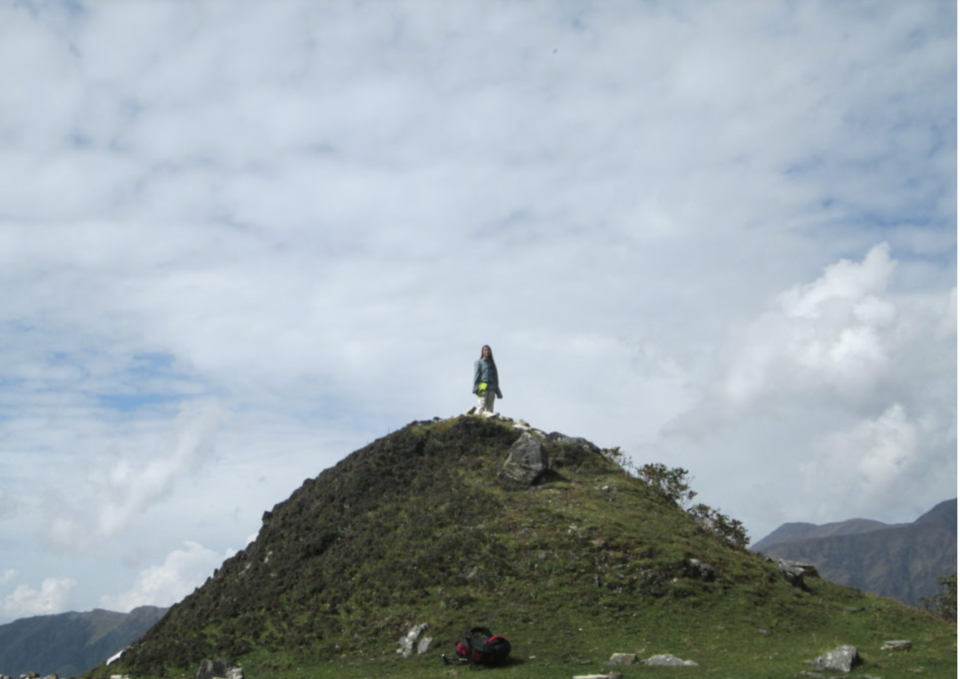 It is important to go with a trekking brand like IndiaHikes, Trek The Himalayas, Renauk etc. because they specialize in trekking and have professional trek leaders to ensure safety of beginners. An average trek costs between Rupees 10,000 to 14,000 depending on the difficulty of the trek and the commercialization in that area.
[Disclaimer: Trekking is an addiction… but it's better than other college addictions]
Somewhere between the rustles of wind, gently flowing streams, vast mountains standing by me shining their snow-capped peaks, natural flora and fauna looking wide, a blanket of stars warming me on a cold night, I found solace and tranquility.
My soul was the warmest when it was the coldest outside.
Refuting some excuses that you keep giving yourself as to why you can't travel solo and the answers to some of your doubts:
Excuse #1: Who will I speak to on the solo trek?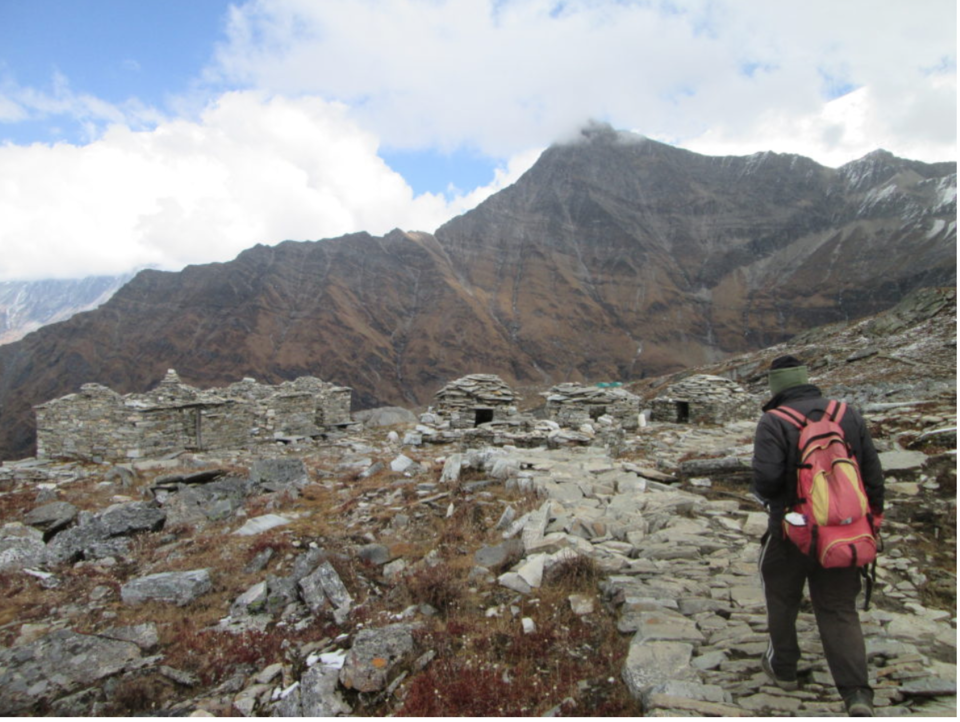 My trek consisted of people belonging to different age groups and they were all from different places. Interacting with them over a 7- day period taught me to deal with people who were different from me. I also interacted with children from the villages around our campsite and pondered on their simplicity.
College only exposed me to the academic part of life but travelling solo helped me to prepare for life outside college.
College is like a 'bubble', the trek was preparing me for the time when the needle of graduation would break the bubble.
I was never the person who made new friends soon, but somehow the mountains had bought us all closer. I think that tough situations bring people closer and show them in their true light, by either breaking them or making them come out stronger.
Excuse #2 How can I trust strangers around me and what if I get lost?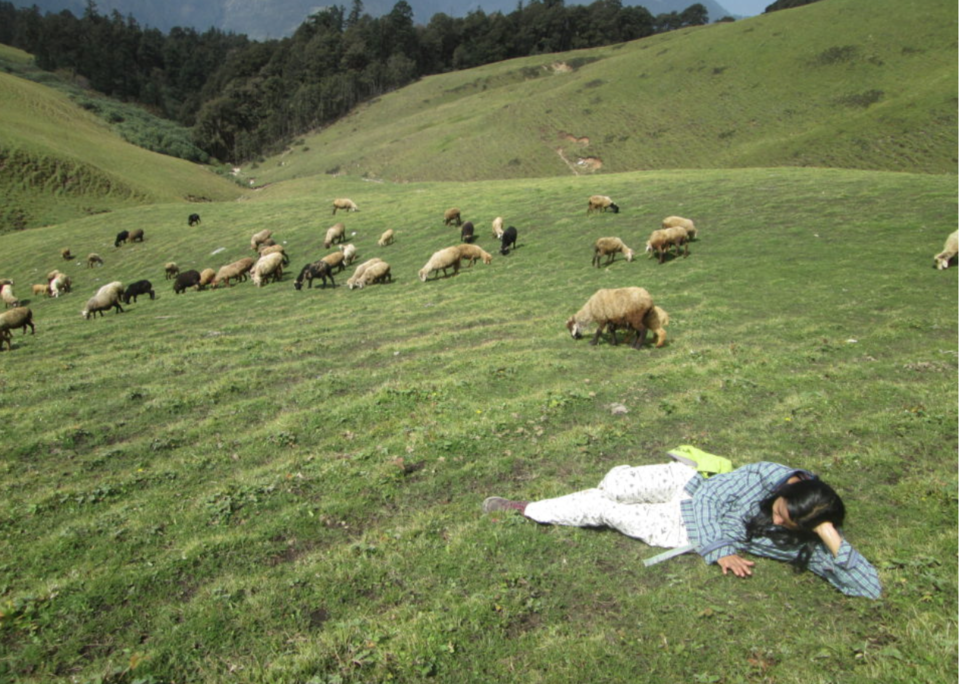 In a world where kidnappings and crime are really popular, we grow to not trust strangers around us.
Trusting people on the mountain is difficult because you think they might throw you off the cliff to save themselves.
The mountains showed me that not trusting people can be disastrous in situations. I trusted the tour guide who showed us the way, the strangers around me with my life as I walked around them.
I also learnt to trust myself a little more. Though I fell ill at high altitude, I trusted my body to not give up, I trusted the people around me to take care of me. The trek guide and trek leader continually take head count to ensure that no one is left out.
Excuse#3: I might just die alone because of lack of oxygen on high altitudes
The trek leaders descend you from high altitude easily in case of an emergency. There are risks of falling sick at high altitude as the atmospheric pressure is less so oxygen levels may be affected. AMS (Acute mountain sickness) is caused due to low oxygen levels in the body.
It is hence risky to drink on the mountain as you drinking reduces the capacity for oxygen intake. Thus, a trekking experience is a completely sober experience unlike a Goa trip with college students. Also, AMS can be prevented by consuming about 5 liters of water every-day. A course of Diamox would also help to oxygenate you but you would end up peeing more often.
Excuse#4: Why can't I just go to Goa instead and drink beer on the beach?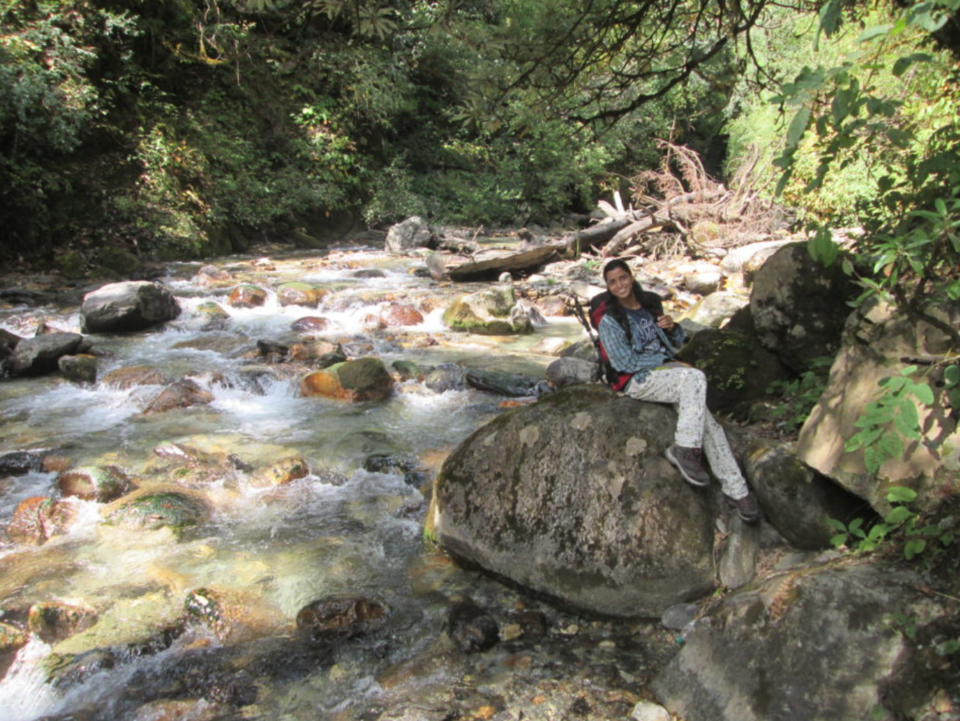 Mountains are not a journey upward; they are a journey inward.
I was always a South-Bombay person, considered to be a snob. I was a person who would rather stay in a five-star and spend time by the pool with my glass of cherry wine.
I never thought that I had it in me to challenge myself and to climb a mountain. As I climbed higher on the mountain, my confidence boosted and I felt like I was capable of doing things on my own without relying on my parents for their help.
I realized that happiness and tranquility could be found in steady streams flowing by trees and not taking a bath for over seven days.
Can you really be a Nomad traveler, work from where you want and still make good money? Shivya tells you how.
As I climbed upwards, I had explored a new person within me and the mountains had changed me more than I could imagine. I ended up taking a rock from the summit back with me to remind of the new person I had become. I learnt to take one step at a time.
The necessity to see small dreams before dauntingly seeing large ones had fallen upon me. If you want to go to Goa solo, you can, but I barely think that the experience would be the same. This was a far more important experience than going out with a bunch of college friends and having the same old conversations with them.
Excuse#5: What if I want to come back midway from my solo trek?
The beautiful snow-filled peaks and streams were a gift from the mountains. Playing in the snow with strangers and sharing food with them on the mountains was a luxury. The cold climate at night caused me to shut myself in the sleeping bag.
I kept telling myself "I shall die of suffocation but never the cold".
This just sounds like an exaggeration to me now. The view of the stars was the best thing ever and I could see the milky way line in the night sky. The trek had beautiful sun views and open-lands. The views were surprising and melodramatic. I never really wanted to go back.
Excuse#6: But solo treks are unromantic…?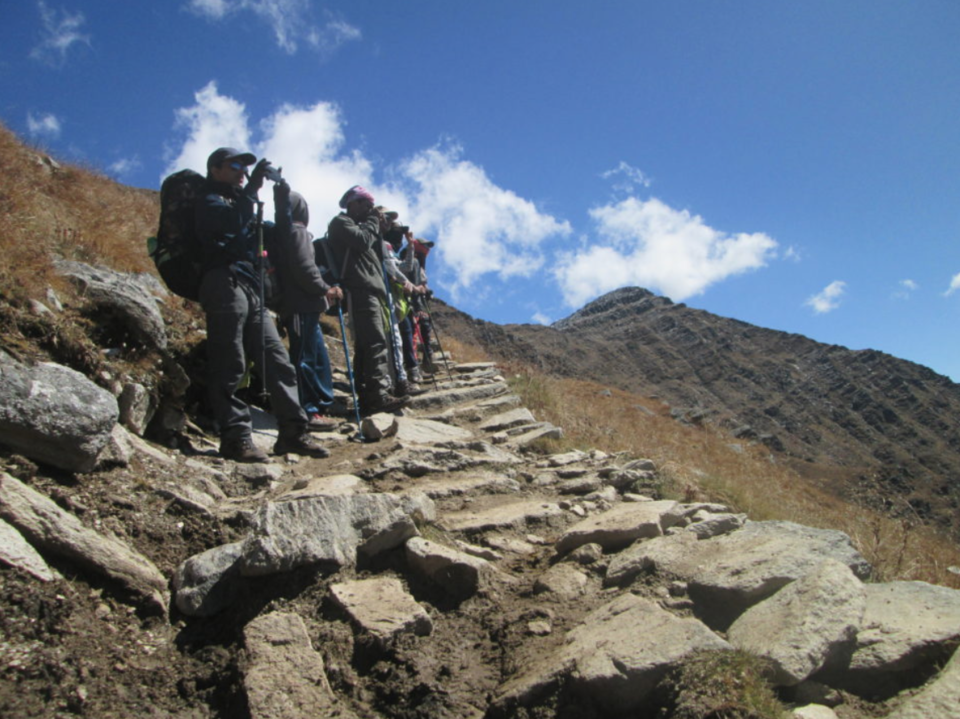 College students seek romance and hence the final excuse that I can think of you giving is that treks are not romantic. Yes, that is also an excuse.
I know a friend who went solo-trekking and met his soulmate on the trek. She was also travelling solo there and they spent time together on the mountain and spoke about the meaning of life.
They thought that they were strangers and they shared their secrets with each other, not expecting to meet each other again until destiny planned something else for them. The most unexpected love stories exist in the most unexpected situations.
What I learnt from my first solo trek
My second solo trek was to Sandakphu which is in West Bengal and stands at a height of 11,929 ft. It is the tallest mountain in West Bengal and it is on the border of India and Nepal.
The first trek played a major role in preparing me for the second trek. I found myself forgetting basic stuff on the first trek like gloves and torch, but I was the one helping others on my second trek.
I felt great to guide people about the latter part of the treks and about the daily routines. The first trek had made me more independent and it began to prepare me for the journey of life which in itself is like a solo trek.
Milestones are just a number; it's about how you feel when you go that far. The experience completes the journey, not just the sense of accomplishment.
You now have enough reasons to pack your rucksack, roll your clothes, plant your trekking pole and wear your head-torch. Are we set trekking yet?