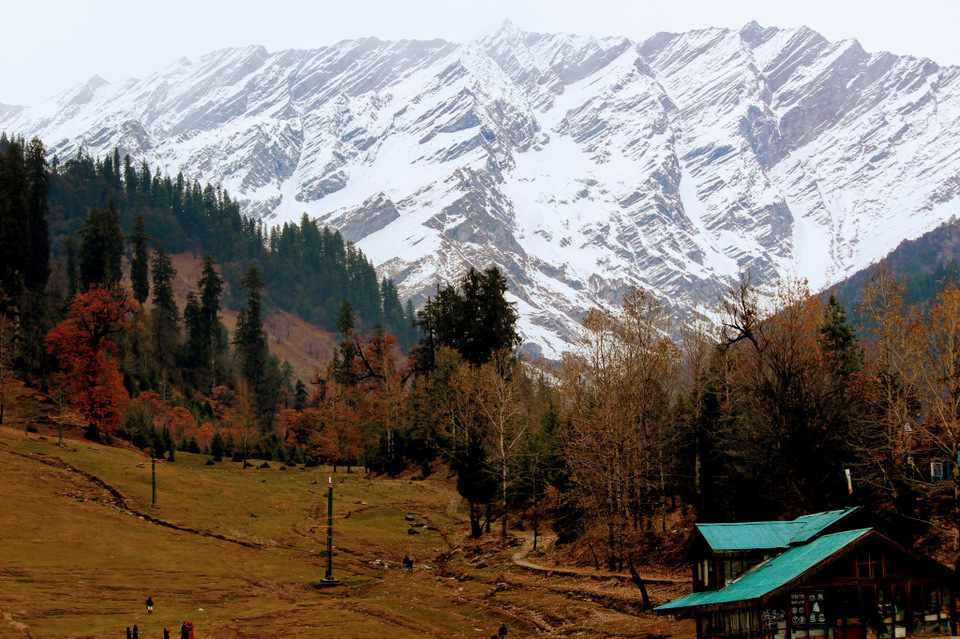 Manali - The autumn welcome's the winter !
Place travelled : Manali, Himachal Pradesh, India
Source of travel : Our own car (Ford EcoSport) Time taken to travel : 12-13 hours (Direct Delhi to Manali with about 2-3 stoppages) and vice-versa (took about the same amount of time) Number of nights/days : 4 nights/5 days
Travellers : A Couple (married and bored 😉 )
Season traveled : Autumn (November 2019)
Key places travelled/visited : Delhi - Manali - Manikaran Sahib - Gulaba - Manali Mall Road - Solang Valley - Hadimba Temple (all these but not in the same order)
Few suggestions for the things you MUST carry/prepare to keep with you while on road or otherwise : 1) A good GPS tracker in your phone or car - A road trip without a GPS is scary right?2) Good pair of Sunglasses (especially if you are driving).3) Water (you may choose to drink less while on the road, but staying hydrated is very important).4) Lot of munchies and eatables (this saves you the time to get down again and again and kind of helps in reducing your stoppages).5) Umbrella (You really do not want to get stuck in the mountain rains).6) Good wipes / Sanitisers / Tissues /Towels (always come in handy during the travels).7) Mints / Toffees / Chocolates (this is other than the eatables as they help tremendously if you have even the slightest mountain sickness).8) A good collection of your choice of music (the journey is long and music is a necessity I feel).9) A Cap (the sun tends to get a little stronger as you travel up the mountains and if this makes your eyes too small, the cap may just do the trick).10) Camera (you are not going to regret keeping your camera ready while you are travelling and you can thank me later for that).11) Medicines (always carry the basic medicines and the ones that you may have been prescribed for any condition and keep them handy as you really do not want to find yourself feeling sick in the middle of a road).12) Cushions to support your back and neck (may sound not so important but you have no idea how much comfort they can give you on a long journey like this. You'll be happy!)13) Get your Fastag loaded and/or keep some loose money as there are a lot of toll crossovers along the way. Keep it charged with enough money and save your self the hassle every time. While majority of the places have the fastag option available as a mandate now, you can still keep some currency notes and some loose change in or around your reach while you drive as few smaller tolls may not still have it and keeping the money ready just saves you a lot of effort. And please do not throw the receipts for the places where you pay manually, until you are back to your own city.14) Wear comfy clothes as the drive is long and you do not want to feel clinched on your waist with tight clothes and trouble yourself and your fellow travellers along the way. Tracks suits, pyjamas, shorts and tees - choose whatever but comfort always should win the race.15) Carry a trash bag to put all the trash you may have accumulated along the way of the eatables or tissues or any other stuff. Loitering around may not be a good idea am sure.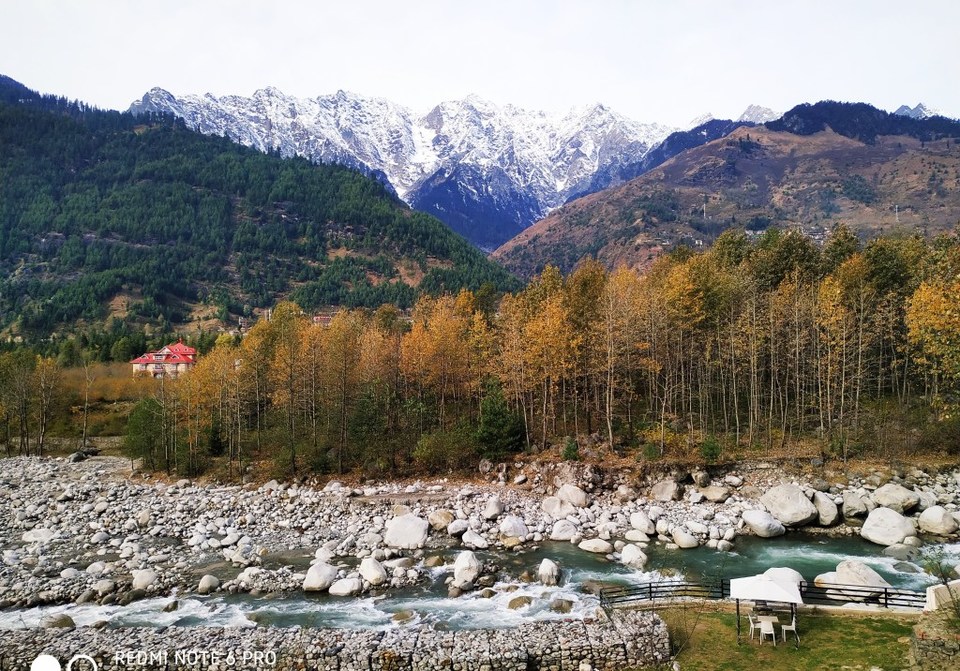 Alrighty ! Just before I share my story, I'd like to highlight that my blog is more about the little tips and tricks and places that we saw and experienced. There are a lot of good articles on the net talking about the places you must visit and the things you must do. Therefore, I am not going to blabber much on that. I wish to share my travelling experience with those to whom it may help. So here are a few takeaways from our little (not) story about the trip !
Manali has been on our (me and my husband's) travelling radar since eternity. We have been putting it off for a while as we usually ended up making more of the short 2-3 days trip instead, in an urge to travel and take a break at the nearby destinations often. And since my husband loves to travel by road and has a crazy knack (a good one though) to drive his own car to all the places, we thought Manali may just be perfect considering the weather and the road conditions (and it was our wedding anniversary!)
P.S. - This was our second trip to Manali, the first being back in 2014 and that time we went in a driver-driven car and not so well versed with the place and therefore, not much of it could come through as an experience worth talking about.
WEATHER AND CLOTHING - Talking about which reminds me, what can be a better season to travel to the hills than the Indian Autumn. I had a view in my mind of a beautiful landscape already, but what made it even more breathtaking and surpassed my imagination, were the ever so short lived views of the-summer-turning-to-autumn-turning-to-wintery-snow moments. Yes ! I witnessed it all ! The weather here was a charmer. Cold nights and cozy days made it more than perfect. And just before we left, we witnessed a snowfall in the higher mountains too, along with rain in main Manali, which made the weather colder than we anticipated. - It is always good to carry enough woollens and especially, good numberof socks, woollen caps, mufflers and that shouldn't be much of a concern if you have your own car already. You have no idea how much they save your life. - Medium to heavy woollens recommended if you travel anytime in or after November till March.- Wear clothes in layers. This saves you from becoming overly heavy with your own weight and the weight of the clothes you wear. A small but very effective tip. And layers have an advantage for keeping you warmer than you think. I mean it ! - Rain predictions or not, please carry an umbrella/ rain coat with you in your suitcase. Rains in the mountains are very unpredictable.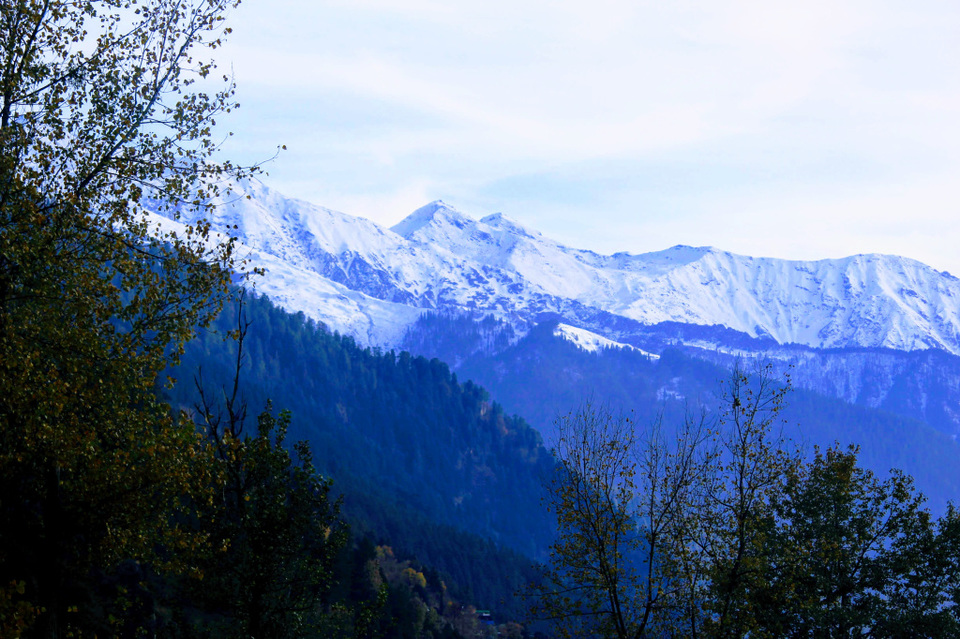 Waking up to this - pure delight !
ROAD CONDITIONS - So here is the deal, you travel there by road as that is the only way to get to Manali or the nearby off beat areas like Kasol, Triund, Parvati Valley, Rohatang etc. The nearest airport is in Kullu (Bhuntar Airport) which is some 45-50 odd kms from main Manali and well connected further by road. You can travel by your own car, hired cabs or buses that ply on this route.
Take my recommendation, travel by road is what I'd say. The roads of this drive (the highway) are worth all the effort and patience, be it your own personal drive or a car driven by a hired driver. This trip has a charm to be travelled by road. Experience it to believe it.- Stay safe and drive comfortably. Considering the long drive, understand that you'd anyway be not able to go anywhere on the day of your travel from Delhi to Manali (or even from any other place for that matter unless you live in the proximity of 6-7 hours drive). So even if you end up reaching late in the night, you are safer than stressing yourself out trying to save the day by reaching earlier. You anyway won't reach early.- Try and start as early as possible from the starting destination. Assuming you are leaving from Delhi, leaving as early as 5:00 am or max 5:30 am, should get you to Manali decently by around 8:00 pm - 9:00 pm (assuming that you have had stoppages for about 2-3 odd hours/ 3-4 stoppages). - Start early, drive easy, stop enough and reach well before midnight - you will be absolutely fine the next day to explore as much as you wish to. - While heading for the local sight seeing within Manali or the nearby places, if you are comfortable driving yourself, I'd suggest you do that. We had no anticipation of doing this as we ourselves thought we would hire a cab to check out the places there. But last minute decisions of driving there by ourselves (of course it was my husbands decision), we were amazed at the task we could accomplish. Its a win-win. The roads are really good in all of Manali. A few little patches are being worked upon here and there, however, nothing that should scare you. And the oh-so-beautiful landscapes - aah ! Thank me later for this again ! 😉- The drive may make you car look like an alien (for obvious reason of driving a long way). Refer to the picture below. There are several car wash centres in and around Manali and they charge you a decent amount and get the work done. You may want to get it cleaned or else the mud stains may just get more stubborn by the time you come back and get it washed.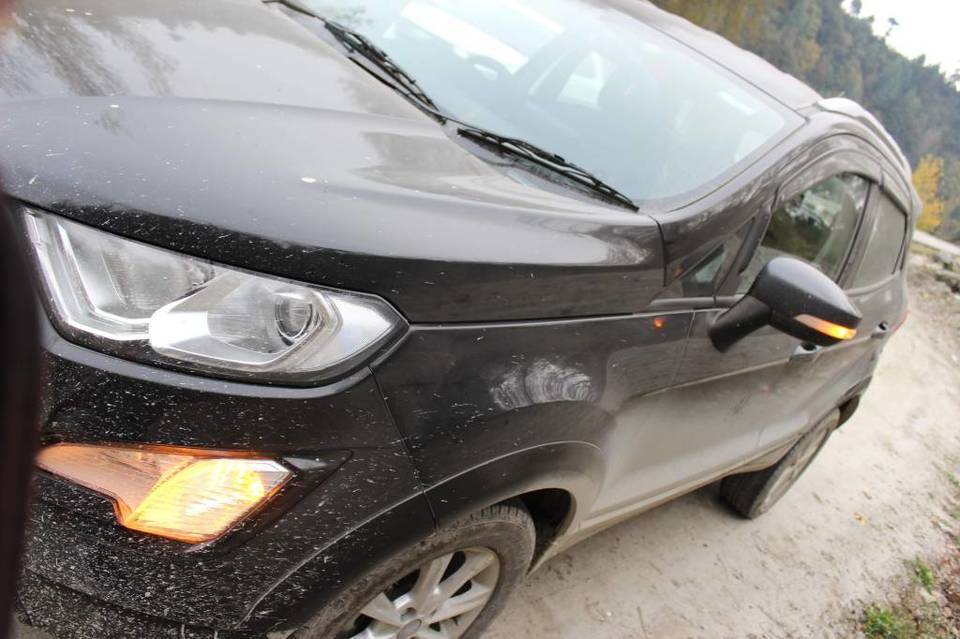 Our ride all through the drive !
PLACES TO VISIT - What places should you visit, I think is quite a personal choice. We had no agenda at all when we went there. Not just here, the usual idea that we follow is how we feel that day and what sort of activities we intend to do on that day. And this drives us our plan for the day. The places we visited were mostly touristy if you go by the famous points to visit. But we visited them merely because we had ample amount of time and a relaxed state of mind. No where to rush. Manali, however, has some varied options available based on the kind of places you wish to visit. And believe me when I say, none of it disappoints. You have the mainstream Manali that may offer you places like Rohtang Pass, Gulaba (when Rohtang is closed - which happened to be our case too), Manikaran Sahib, Manali market, Hidimba Temple etc. These are the places most of the visitors make sure to go as these are the most highlighted places and are the places that we visited too. As much hyped they may be, they are worth a visit if you are travelling for the first time. Every place has its own charm honestly.
However, if you are not the touristy kinds and are more inclined towards the rather lesser explored places, your calling is for the Parvati valley, Kasol, Tirthan, Triund etc. There are set of people who like to drive it all the way upto Rohtang, Leh, Spiti, Ladakh etc too, for it offers the best views that you could have craved for. As much as it may sound like your kind of place, I wish to point out that these too are gradually turning to be the crowded centres as a lot of population is there at almost all the time of the year. So I leave you to ponder over the choice you wish to make !- Don't kill yourself thinking about covering all the places in a jiffy. Even if you are hiring a local cab, stay informed about the places you wish to visit and do not entirely depend on what is being told to you by the money making agents. Talk to locals, ask for more information at your hotel reception, google - do whatever but make no haste. - Not all places may be what you expect them to be. So shortlist the places you wish to visit. Check them on the internet and read the reviews carefully. They definitely save you a lot of time and money and effort. - Places like Rohtang Pass, Gulaba, Manikaran Sahib etc. are a a complete day program individually. You may end spending a complete day if you choose to visit any one of them. So ensure that you are not fooled by the local cab drivers who insist that you would be able to cover along a few more places along with them. Keep a spare day if you wish to visit any of these places. - There are a lot of local shops before you head to Rohtang, that offer you the snow jumpsuits and make it sound that they are absolutely necessary for you to wear if you wish to jump in snow. They are NOT. You can very well survive in the snow even if you do not wear them. But again, that is a personal choice. I just wanted to highlight that they can be missed in case you feel you are not comfortable with them. They are actually very heavy and make you feel heavier on the already hard to walk snow.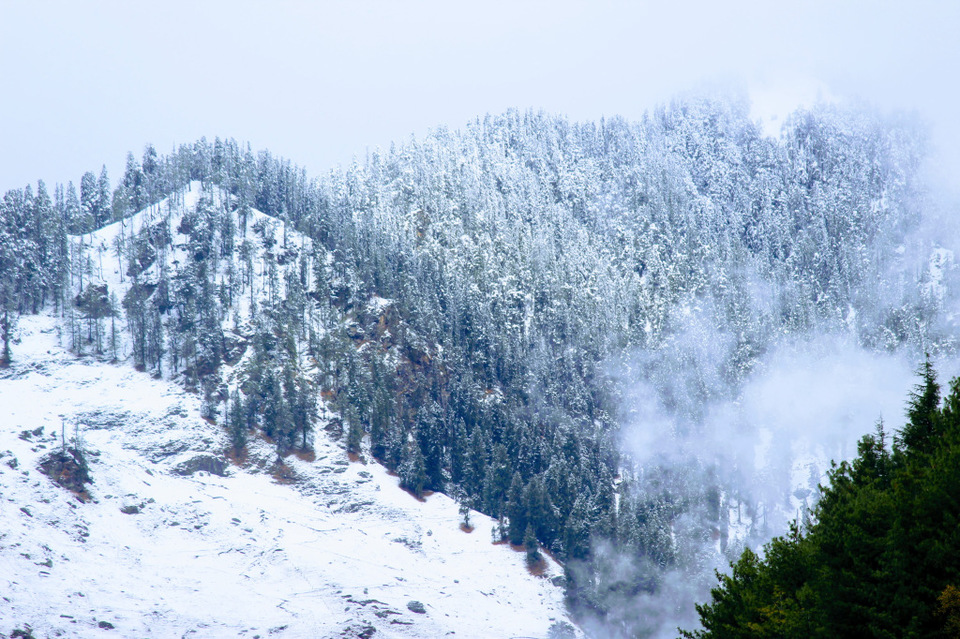 It snowed on the higher mountains during the last day of our stay !
PARKING OF CARS - While most of Manali has hotels that offer you parking of the cars during your stay, there may be still places where you need to ensure that the parking is permitted before you end up leaving your car unattended.- If you are in proximity of the Mall area of Manali, please call the hotel beforehand and check if they have enough parking facility available with them as the Mall Road area is a bit congested and the hotels in the vicinity are mostly old and may or may not have enough parking.- If you are outside of the Mall Road area and if you are travelling to the Mall Road to spend time there or visit Hidimba Temple area, then ideally prefer to take an auto if available. If you prefer to take your car, then ensure that you have enough safety gear to lock it well, while you park it in the areas designated for parking (which are very few).- Parking a car in the Mall Road area may be a little tricky as there are not many places designated for the same. People end up lining their cars by the road side and by the looks of it, it definitely does not looks very safe. There are one or two parking lots that charge you upto 100/- Rs for upto 4-5 hours. If you are lucky enough, you may find a spot for yourself there. But, I am pretty sure, if you are visiting there during the peak season time during summers, it may just not be the place to get you enough place to park a car. So brace yourself well and act smartly.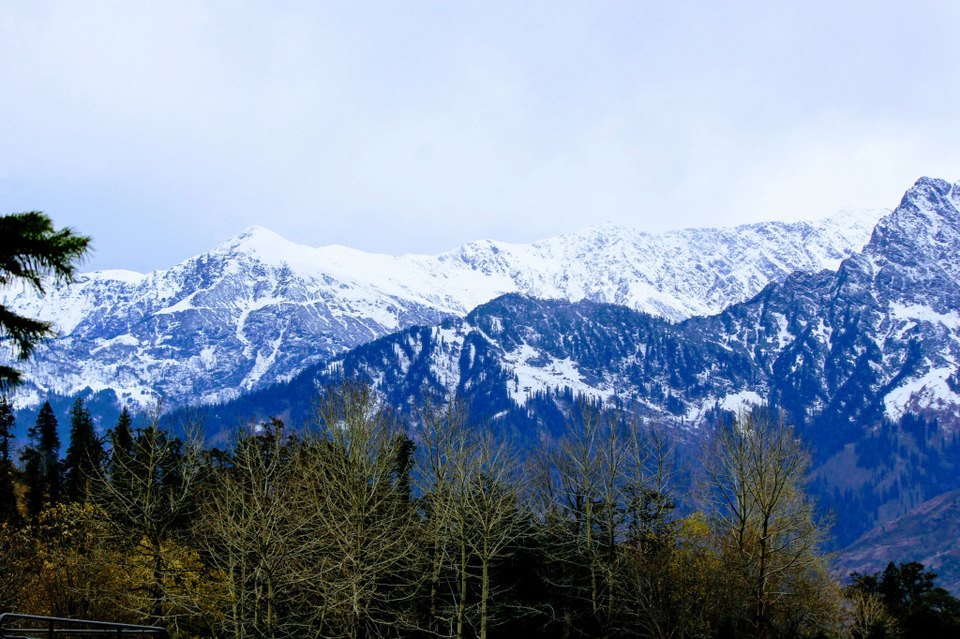 Picture postcard views all along !
A lot of people fear to drive upto Manali because of the long drive hours and no other means to travel other than road (especially who prefer to travel by air or trains). Well, though it is totally a personal opinion, I'd say, just once, give it a try. You will not regret. In fact on the contrary, you may just love the idea of travelling by road in the future.
As much as we love to travel and explore, we ensure that we act as responsible citizens and do not mess with the rules and regulations of the places we visit. Please obey the traffic rules, city rules or any other safety guidances that may have been put up for you by the law and order of the city/place that you travel to. Remember - India always first !
And with this I put my little list of do's and don'ts to an end. However, by all means, should you have any questions or queries regarding anything, please feel free to leave me a message here in the comments section and I shall be more than happy to help !
Also please do leave me your feedbacks, likes, dislikes or any other suggestions that you may have and I shall be excited to know how you feel about this article.
Happy Reading ! 🙂 ❤