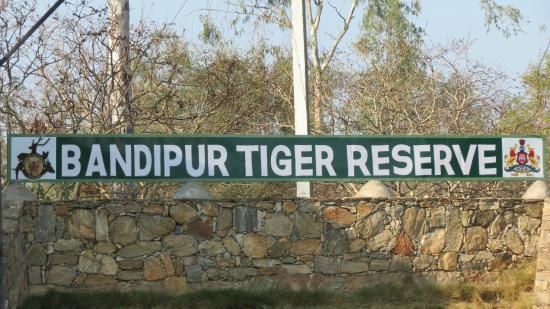 Masinagudi in Tamilnadu , Bandipur National Park at Karnataka and Mudumalai National Park shearing its boundaries with the states of Karnataka and Kerala are the most suited spots for a wildlife lover.
My nature love was definitely forcing me to drive 36 hairpin bends through Nilgiris towards chasing wildlife beautiful vegetation and quietude. We have been a group of almost 08 people and it was a random plan to explore some wildlife treasure.
It has been the most adventurous drive of my life, driving down the valleys wild crossing through sharp and steep hairpin bands and holding the excitement within.Exploring such roads with my Ford ECO Sport our first destination was Masinagudi located at foothills of the Nilgiris.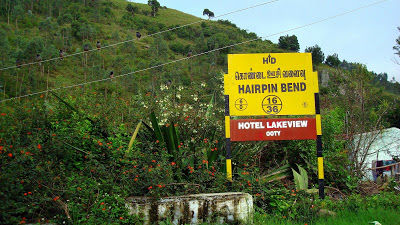 Masinagudi is a wonderful tourist place well known for its beauty. It's a border town that derives its name from the Goddess Masaniamma, was once the capital of the kingdom of Wayanad. It is believed that several communities migrated to the region in order to flee from Tippu Sultan's army. Wildlife Forest Lodges & Resorts in lush green surroundings attracts everyone to come and have a experience of its own kind. It is one of the most Wildlife Sanctuaries places in South India as proportion to other wildlife sanctuaries in the state.
Masinagudi travel guide is incomplete without a mention of the rich bio-diversity in the region. It is famous for its intensive forested lands, succulent green vegetation and unique wildlife. There are residing so many kinds of wild animals include Tigers, Wild Elephants, Grey Langurs, Flying Lizard, Sambar Deer, Wild Boar, Ungulates, Pythons, Reptiles, Spectacled Cobra, Red Giant Flying Squirrel etc. It has almost 55 species of mammal, 50 species of fishes, 227 species of birds, and 21 species of amphibian's and34 species of reptiles.
The Mudumalai National Park and Wildlife Sanctuary also a declared tiger reserve, lies on the northwestern side of the Nilgiri Hills (Blue Mountains), in Nilgiri District.About 150 kilometres away from Coimbatore city in Tamil Nadu. It shares its boundaries with the states of Karnataka and Kerala. The sanctuary is divided into five ranges – Masinagudi, Thepakadu, Mudumalai, Kargudi and Nellakota.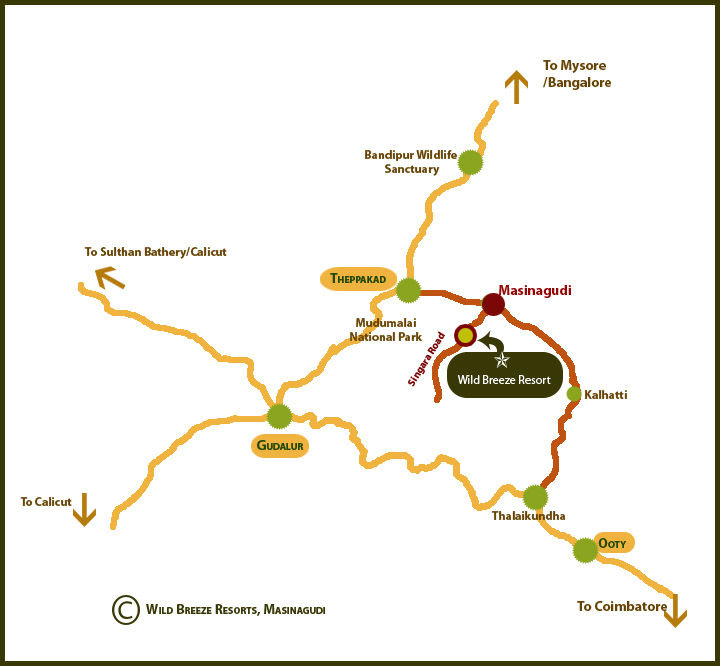 My car halted at a pre booked forest resort with an ultimate mountain facing view.After covering a distance of almost 110 Km from the Nilgiris , we had our lunch at the resort and proceeded for jungle safari . There are local jeeps available on hire for all the visitors . Infact no one can enter the jungle without a safari jeep. The driver was so well versed with the jungle routes and its geography he took us inside the intense forest and shown us quite a few of wild animals. It was a bad day for us that we couldnt see any Tiger there. Moreover it was not the appropriate season to visit that place. They mostly come out of there den in the month of Apr-Jul and that is the only season maximum visitors and wild life lovers come to see them. Its completely your luck too if you get to see them in off season.
Almost two hours safari ride in the winters in Nilgiries was an amazing experience for all of us. We returned back to our resort had a overnight halt enjoyed campfire with some live barbecue and the local food for dinner.
Next destination Bandipur. Morning we all fueled ourselves with south-Indian breakfast. It was a thrilling long distance to cover in the dense forest area almost a distance of around 4 Hrs .The roads are amazing and smooth and i must appreciate the effort of government of Karnataka to keep the forest reserve neat and like a natural habitat. After covering a distance of almost 140 km we reached Bandipur national park.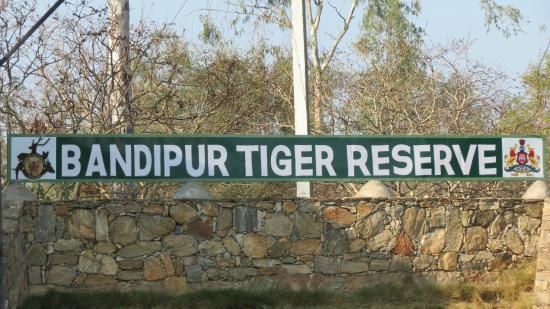 It is located at the western Ghat Mountains on the Mysore-Ooty highway in Karnataka it is spread out in an area of about 874.2 sq km , this reserve was brought under Project Tiger in 1973. This Landscape of Bandipur, Nagarahole, Mudumalai & Wayanad complex is home to single largest Asian Elephant population in the world and is part of the Mysore Elephant Reserve (MER).
Amoungst the greatest forest habitat of India, Bandipur creates the India's biggest biosphere reserve popularly known as the 'Nilgiri Biosphere Reserve'.It's a forested reserve in the southern Indian state of Karnataka, is known for its small population of tigers. it has been a private hunting ground of the Maharajas of Mysore. The park also shelters Indian elephants, spotted deer, bison, antelopes etc.
We had our lunch at the next resort booked at Bandipur and again went for safari. Life in the middle of the jungle seems so different and one can totally relate to it. Away from all the technical advancement aloof and abaft the natural habitat has its own charm. Almost 2 hours of safari and the day was well spent. There are many things to see inside a forest and the best was its own way of treating things.
For me it was a eyeopening journey of my life where I could understand that the cities we are staying in and the place where I was standing has no comparison. Chirping of birds , watching dears playing together and allowing an elephant to cross the road with his family was the best thing ever happen to me. everyone must spare time from their busy schedule and experience this delightful journey of a lifetime.
How to reach there: People coming from north ,Coimbatore is the closest airport and railway station. Option of Maysoor can also be explored. a Taxi or Zoomcar can also be hired for performing the rest of the journey.
Own car drive will add thrill and a different experience to your journey.
For stay many options are available but I would recommend all of you to stay in open area resorts and wildlife avenues where you can experience a different life. Campfire, a guitarist will definitely add much flair to it!!
Enjoy the local food preparations and try as many as you can ,as its the best way to understand people ,their choices and their habits. Click pictures and stay back with the memory of your life time.