As targeted, we were ready to launch at 6am this morning but not without enjoying the spread on the breakfast table which consisted of quite a few Gujrati delicacies in addition to Mango shake, dhokla, pakodas etc
The target for the day (590kms) was small and therefore we decided to take it easy and enjoy every bit of what remained in the Dream'e'Leh dream trip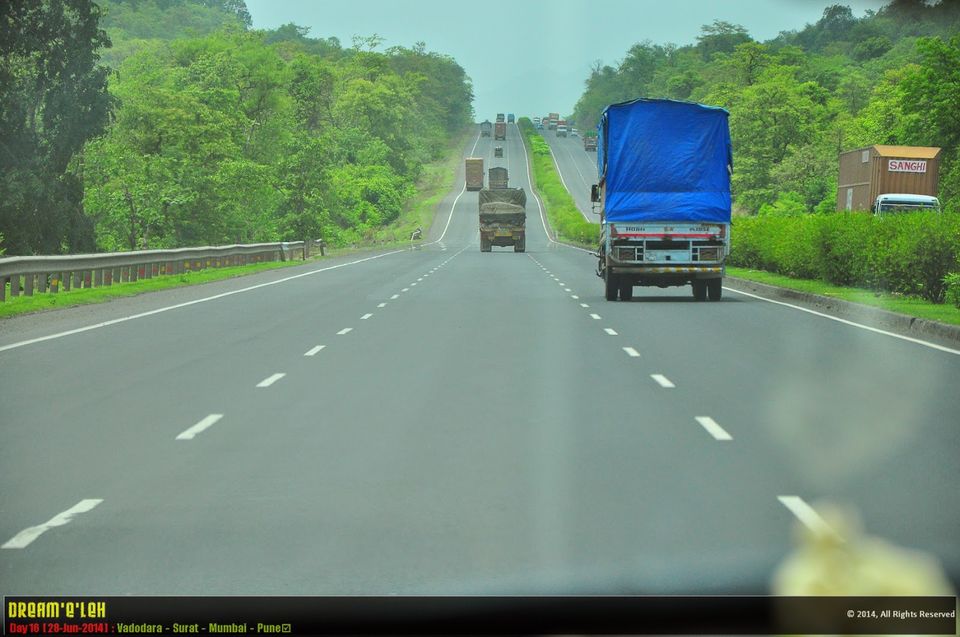 We smoothly drove through NH8 past the cities of Bharuch, Ankleshwar and Surat to touch Maharashtra border at around 11am with an expectation that we may be greeted by some rain showers however we had to be contended with some dark clouds only. But even those clouds made us feel at home.
We were nearing Ghodbunder (North Western end of Mumbai) at 12noon where we decided to halt for the last mid-day meal of the trip. Feasted on a pomfret fry along with some chicken dishes for lunch and several rounds of butter-milk.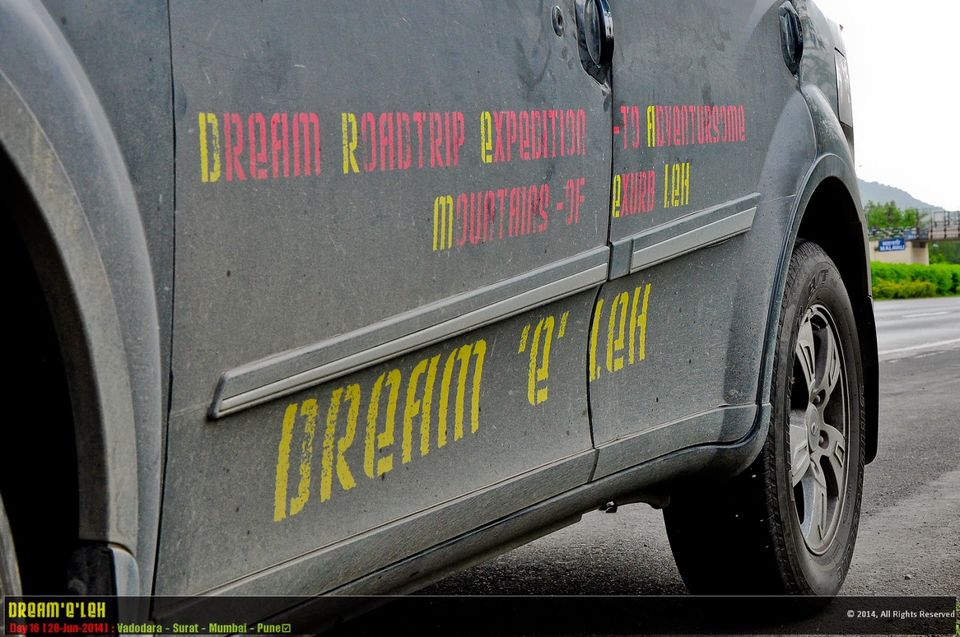 So far, Ashok had driven the car for a few kilometers, in Sonmarg which was a few hundred kilometers prior to the ultimate destination Leh.
And it was time again for him to drive as we approached our penultimate destination, on the return journey, Pune. Ashok did this honors on the Mumbai Expressway to get his contribution at the wheel counted, no matter how big or small - it mattered for us!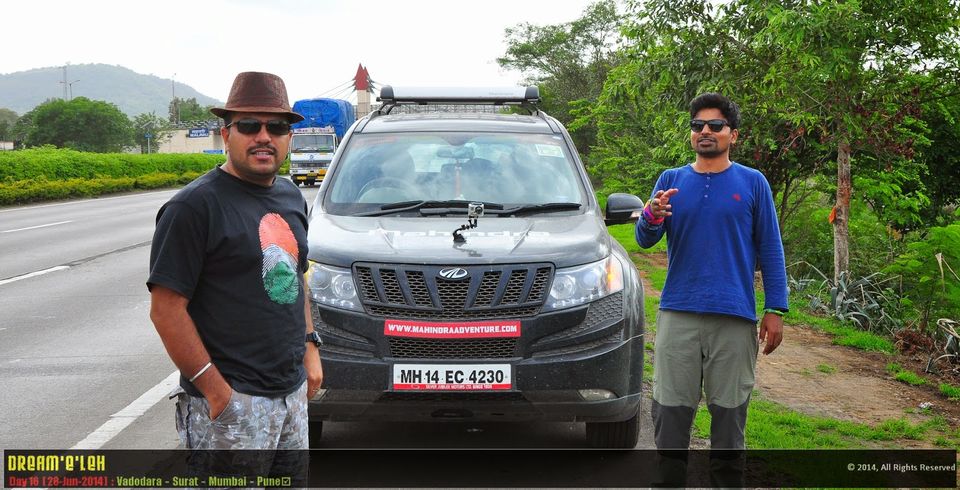 Time was 4pm when were back home at Amit's place. Dropped his luggage, picked our stuff and departed with just 2 souls sitting silently as it was ending just like that. Soon Ashok was gone too and it was just me - differentiating the state of mind when I started alone versus when I now return alone however was excited to take the memories back home and share with my folks who were eagerly waiting to see me back safe. For the first time in these 2 weeks, I felt tired, only in the last few minutes of journey as the 16 best days of my life were coming to an end.
Soon I got back to the parking, and as I switched the ignition off for the last time on this expedition, I went through a flash back of those 2 fantastic weeks and Thanked Almighty, my parents and my family for what I had earned/gained/possessed and brought back home - an unmatched experience, forever.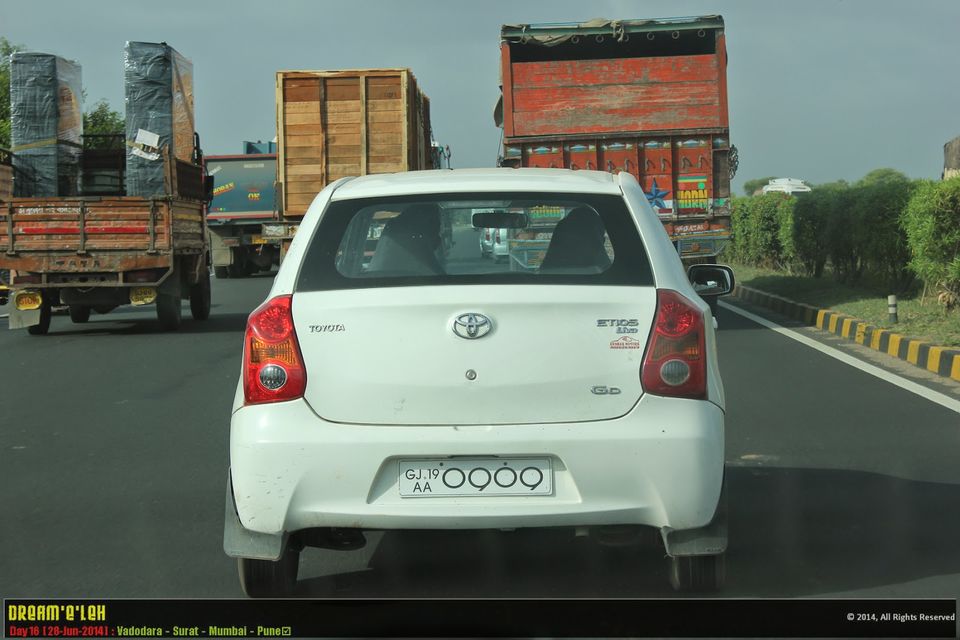 The last task of the day was to inform the safe return to all friends and folks who were regularly following our FB updates and virtually travelling with us all this while. And so I wrote...
<< Dream'e'Leh Final update ----- Finally HOME!
We are pleased to announce the completion of our 6169 km long dream roadtrip to Leh-ladakh "Dream'e'Leh". Thank you all for your blessings, guidances, inputs, suggestions, queries, love, suppport and even jealousy ( it is but natural ) - it is well recognised and appreciated and has brought a lot of difference and support to us during our expedition.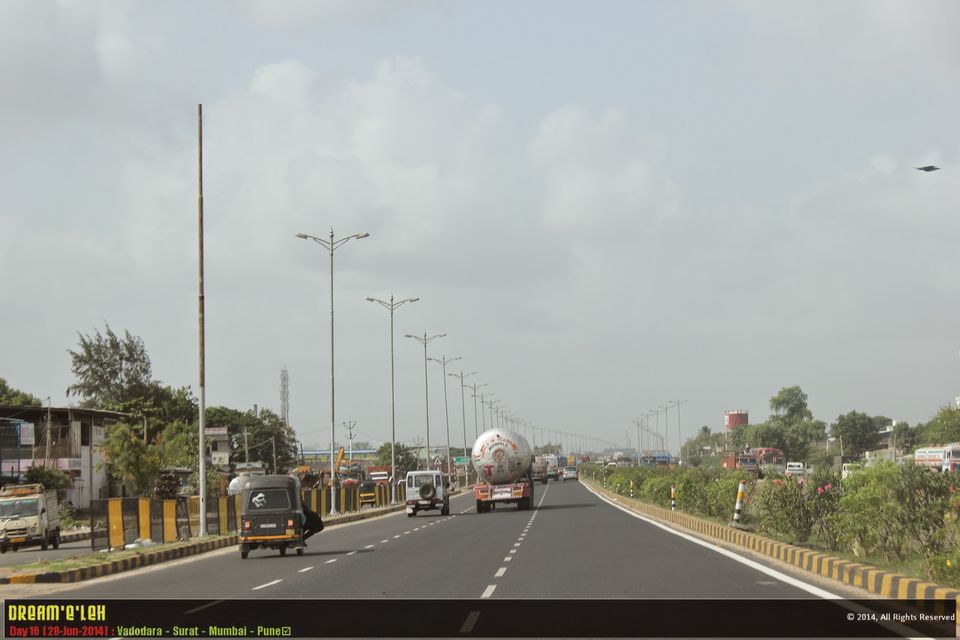 1. The last leg, the last refuel, the last mid-day meal, the final toll booth and the final song of the expedition...
2. The car cabin going quiet/silent as Amit and Ashok reach their homes
3. Finally home - Mission Accomplished!
4. Fond memories from 16 Best days of our lives !!!
And checkout the Facebook photo album here for some captures from the day.
This post was originally published on Deam-E-Leh.