DREAMOGRAPHY : Photography while fulfilling yours dreams
Feet in bags and shoes on shoulders
Our modern life is too busy and hectic that after few months anybody can suffer from a hypertension or laziness because there is no rest between our work shifts, so doing same work or even a different work makes our brain more tired. This affects our daily life issues like social interactions, personal life, sleeping habits, eating habits and ultimately our health. There is a solution and suggestion to this problem and it is that, being physically and mentally at your dream place and leaving work behind the walls of office rooms will rejuvenate every cell of your body and will help you to work properly and more efficiently. Been to mountains or some other vacation sites rejuvenates our mind and body is true but there is another image behind the scene that could be dangerous! For this I would like to share my life's experience with you and would take you five years back.
Since I was child, I had a dream to climb the mountains and hike through the forests. In 2010, when I was at University for my graduation studies, me and mine two batch mates Ishwer and Jashmeen prepared a plan of trekking at Dalhousie. We were amateur at that time. We just figured out that all we need is accommodation and vehicles and other things could buy from anywhere on the route. We got two bikes (of 125cc each) enough to scale that much height. We packed our bags with woollen clothes, some snacks and one stainless steel knife for safety purpose (given to me by Jugraj Rainkh).
In the morning we rode our bikes at 09:00 Hrs headed towards Jallandhar from Ludhiana, then we reached Hoshiarpur where we had our meals at 12:00 Hrs. When you are with your friends or the people whose frequency matches with your receiver, you will never realize time going. We again rode our bikes and reached Pathankot outskirts; there we stayed for an hour because from there we could see the mountain range.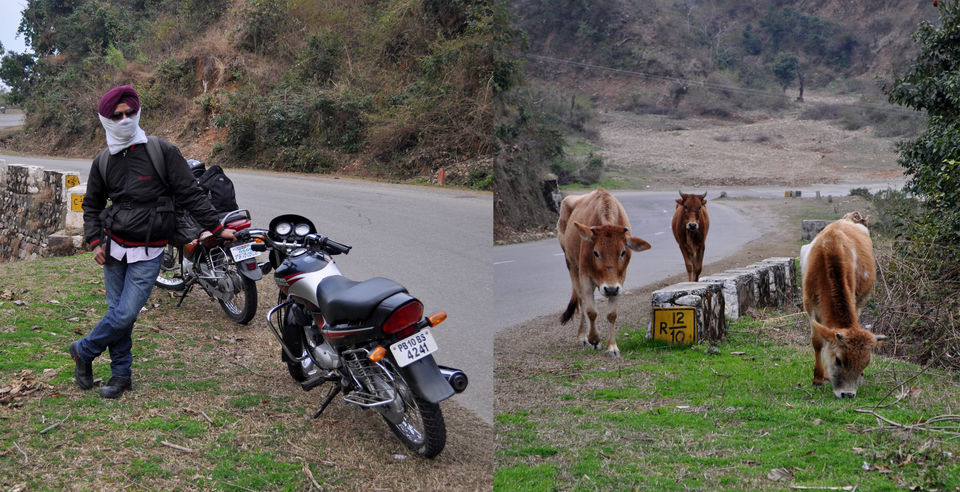 Halt at outskirts of Pathankot; Jashmeen (most demanded guy of his time) and beautiful cows
Then after 3 hours drive we reached Dalhousie (Dalhousie is a hill station of district Chamba of Indian state Himachal Pradesh and named after Lord Dalhousie during British era in India. It is located 251 km away from Ludhiana towards Pathankot in North direction) cantonment area. We stayed at NHPC guest house and the guest house was awesome. It was well equipped with hot geysers, hot air blowers, bath tubs, quilts, and blankets with well furnished wooden floors.
First night at NHPC guest house (Ishwar , Jashmeen and me)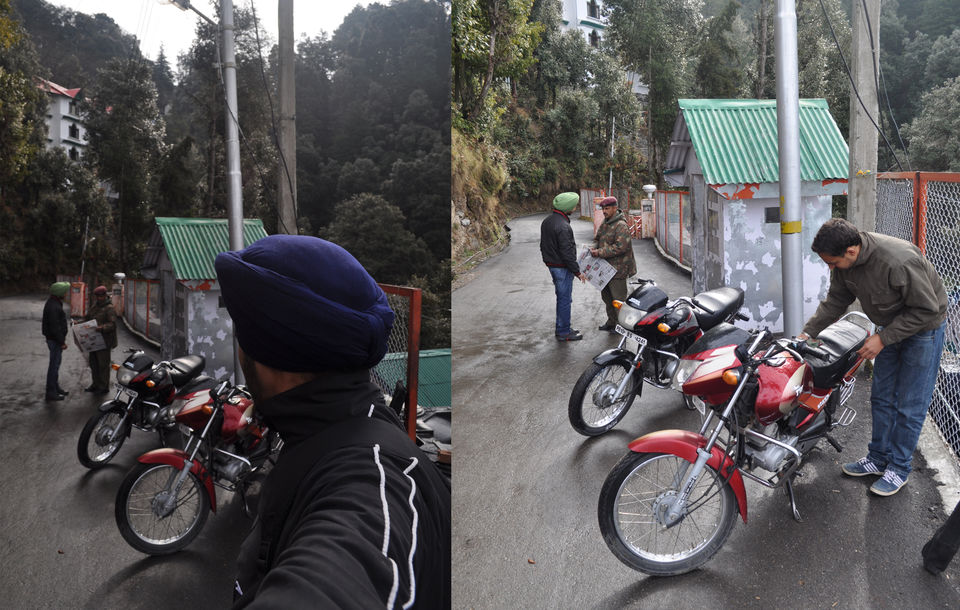 Selfie with Jashmeen and bikes (though he was involved in route discussion with guard) and Ishwar cleaning his bike (aap na nauhnde)
On day second we rode our bikes and reached Kalatop Sanctuary. We also met some guys of our age group (LPU students), one of them was Chirag Bansal and we discuss with each other about our trips.  Due to snowfall all the roads got partially blocked and we preferred to park the bikes at parking lot. There was a grocery shop (Bittu Sharma) near parking and opposite to temple (Indian goddess). We told Bittu that we will come in few hours and take care of our bikes. We decided to take a walk to reach Khajjiar. Khajjiar was about 26 kilometres from that point and none of us knew this fact. If you are seeing the snow first time then you may be astonished by its structure and its tangibility. Same thought incepted within our minds and we three just got mesmerized by snow. We also made a snowman and of Punjabi style.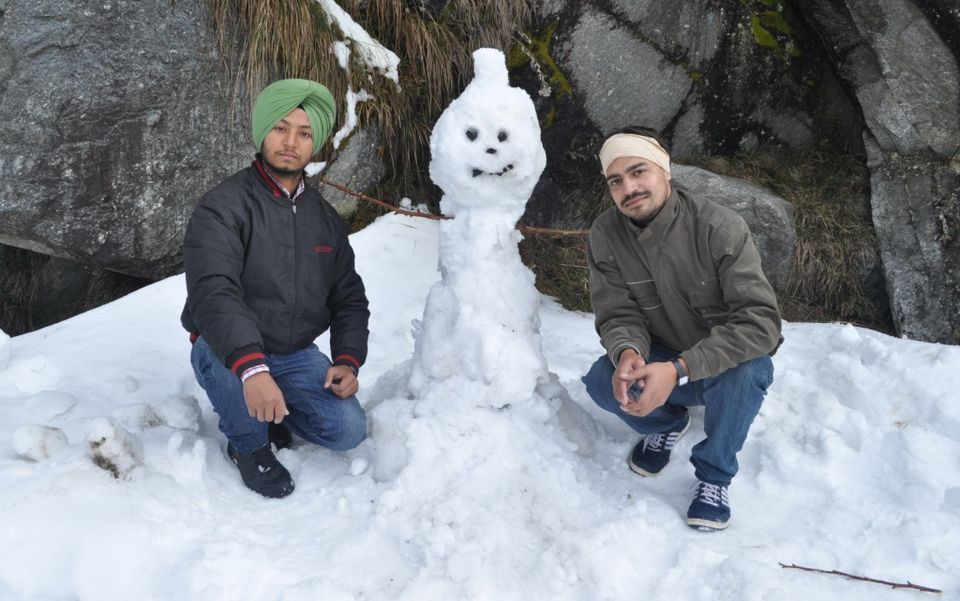 First Punjabi snowman ever made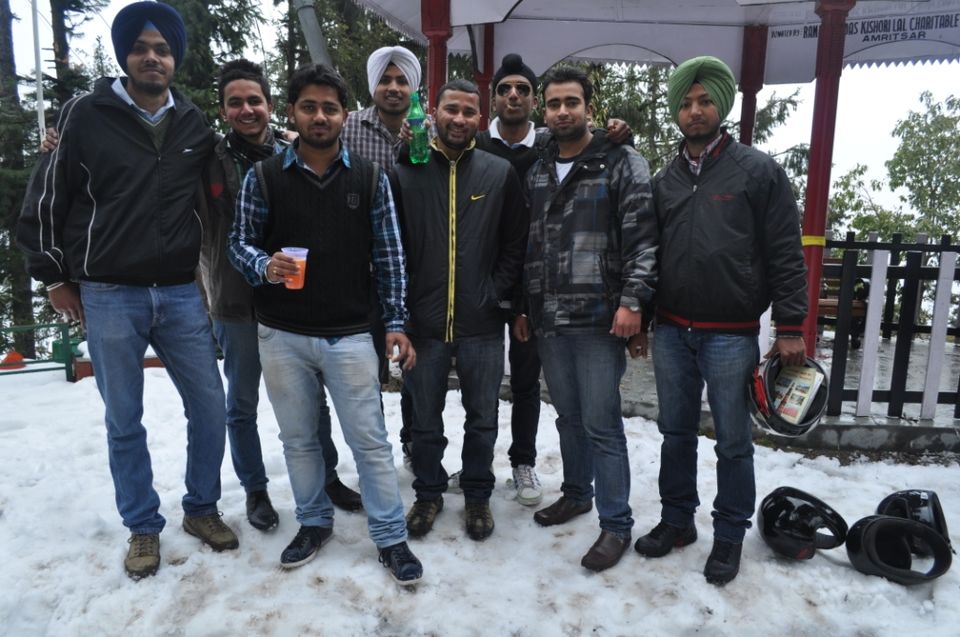 LPU students group (me and Jashmeen ; on the sides)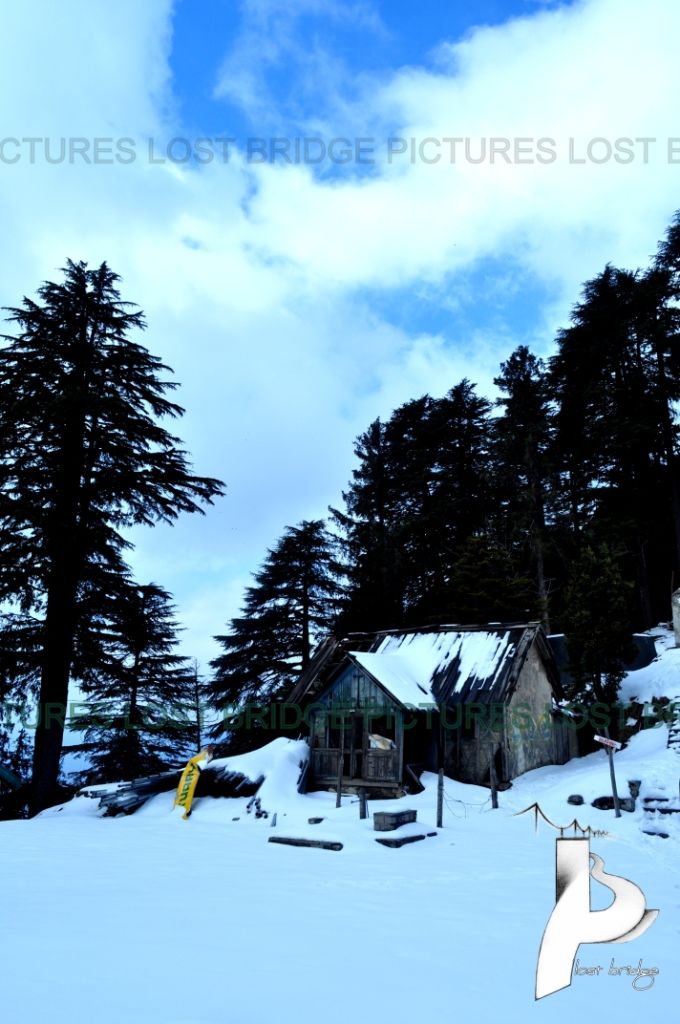 Vista view near bifurcated road
After 1.5 kilometres of walk we reached at a bifurcated road of which one part was going to Khajjiar and second one was going to forest guest house. We opted second one, though we didn't even know that this was not going to Khajjiar. Then we walked through the snow laden path for 4.5 kilometres.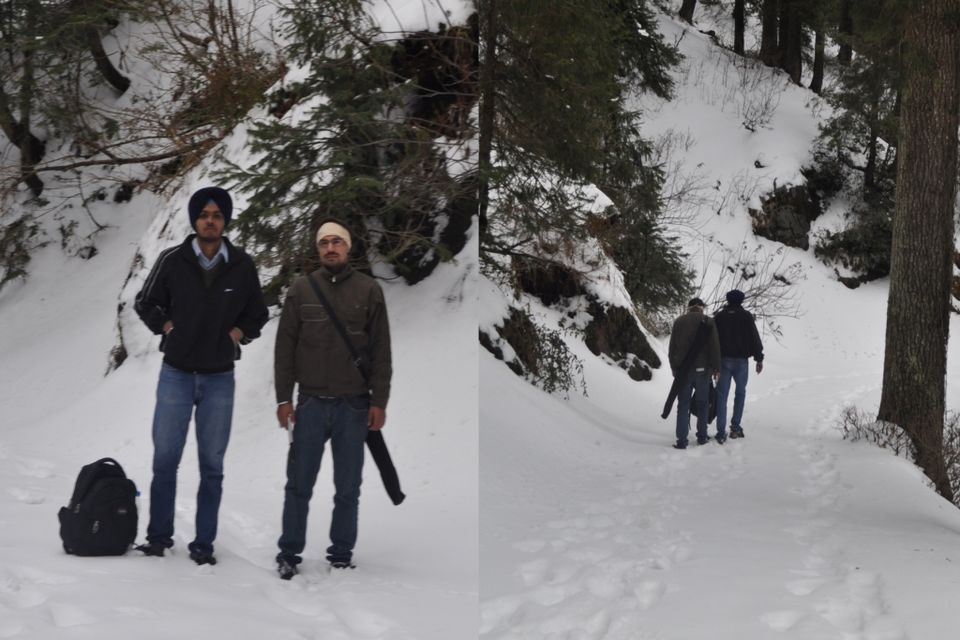 Snow laden paths (me and Ishwar)
We didn't even notice that the path has no foot prints of human over snow. We kept moving at that time until we reached the guest house. Guest house was locked due to offseason. We stayed there for 20 minutes. Our shoes not weather proof (snow proof) especially mine. My pair of shoes was totally wet and I was not able to move my legs due to frost bite. I was sitting on floor of guest house from where I was watching a sunset. Sun was going down at high speed than other days. I could listen to frenzy conversations of my friends as they were searching for useful things. At 5O' clock we decided to leave this place and reach near our bikes. I wore bags instead of shoes because they were wet and not enough to warmth my feet. At 7O' clock we reached near the parking lot.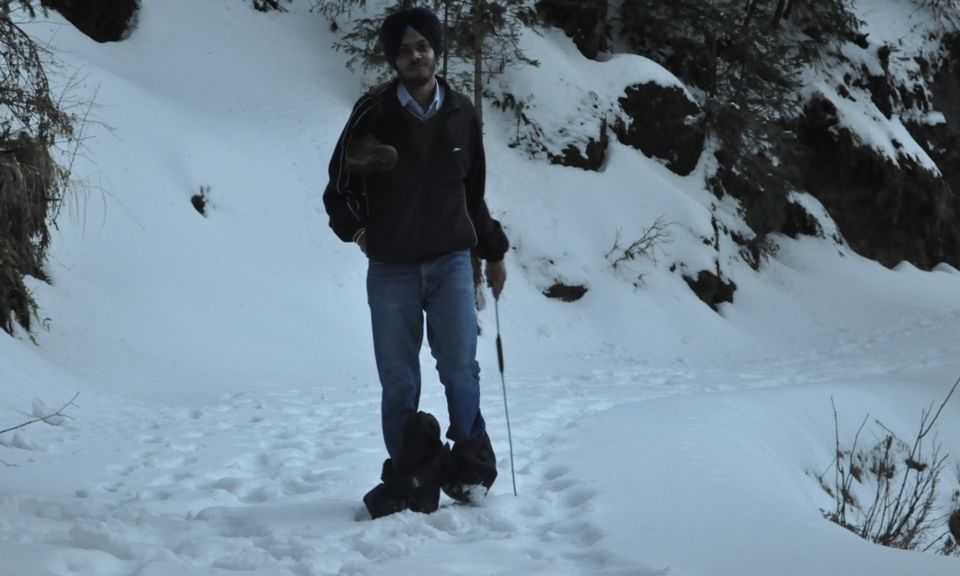 Feet in bags and shoes on shoulders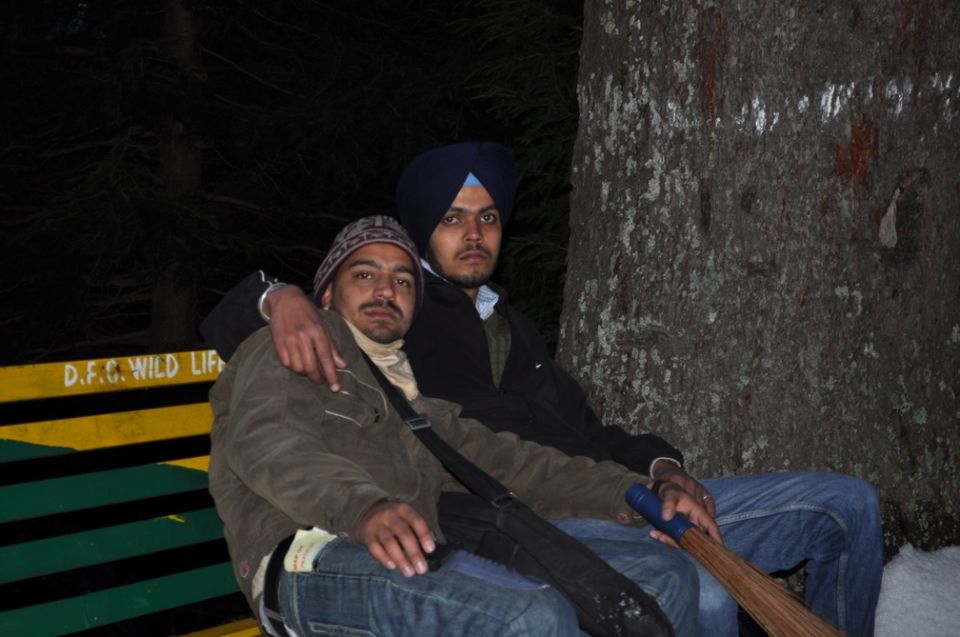 Leaning on Forest Department bench (as we were totally exhausted)
There was single guy other than us (BITTU) present there. He told us that we three are luckiest people as the area from where we are coming is packed with leopards and bears. According to him we were alive only because of Devi's blessings (mata ne bacha lia bhai ji). This was really a horrible and happiest moment for us that how we survived. This was not an end of our journey, this was the beginning.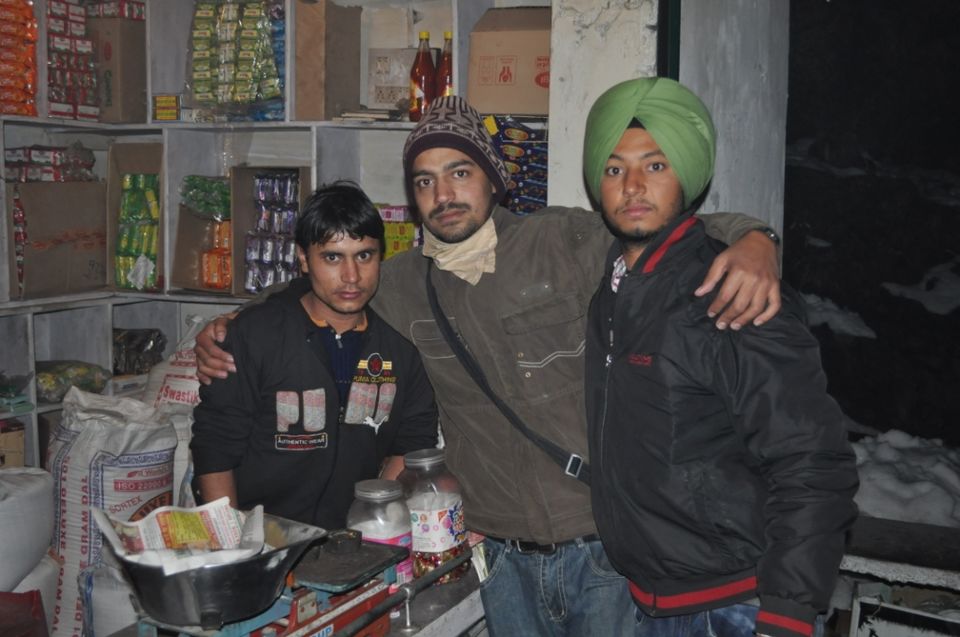 Here is a guy (BITTU SHARMA) who was in charge of our bikes and didn't close his shop until we reach there. Thanks to him from our hearts.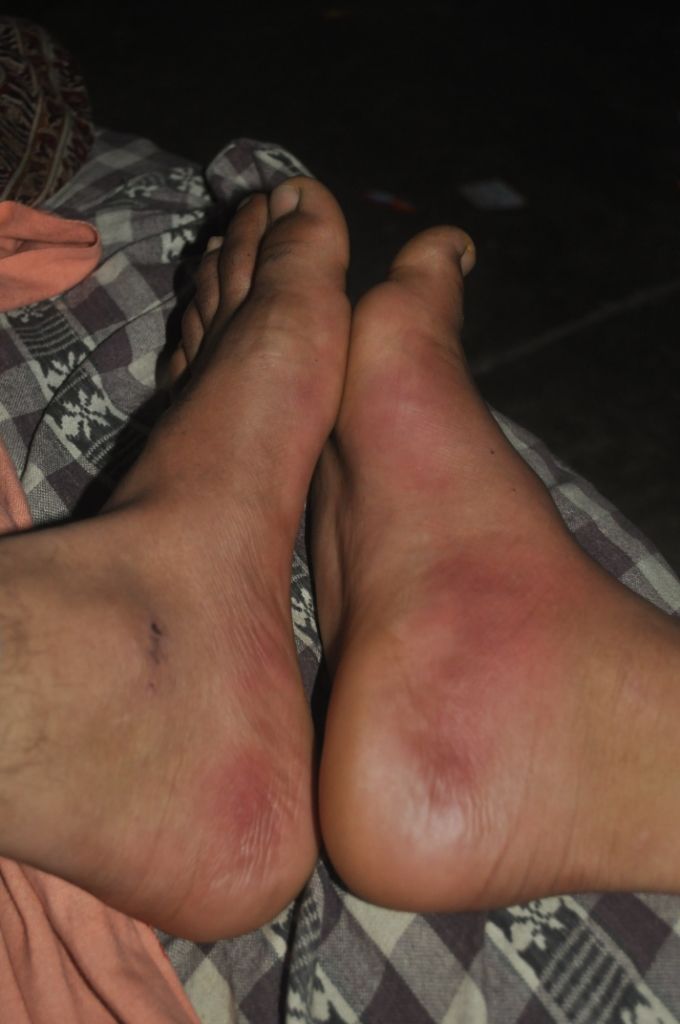 My feet after frost bite in Namaste pose and thanks to God and all deities.
I would like to share a suggestion with you that always prepare an unbeatable plan for your trips because GOD is everywhere but not with everyone (probably we were luckiest). Hope for the best and stay positive.
Yardan Dive YDN
© Yardan Dive.  All rights reserved
Pic courtesy – Ishwar Singh, Jashmeen Sidhu, YDN