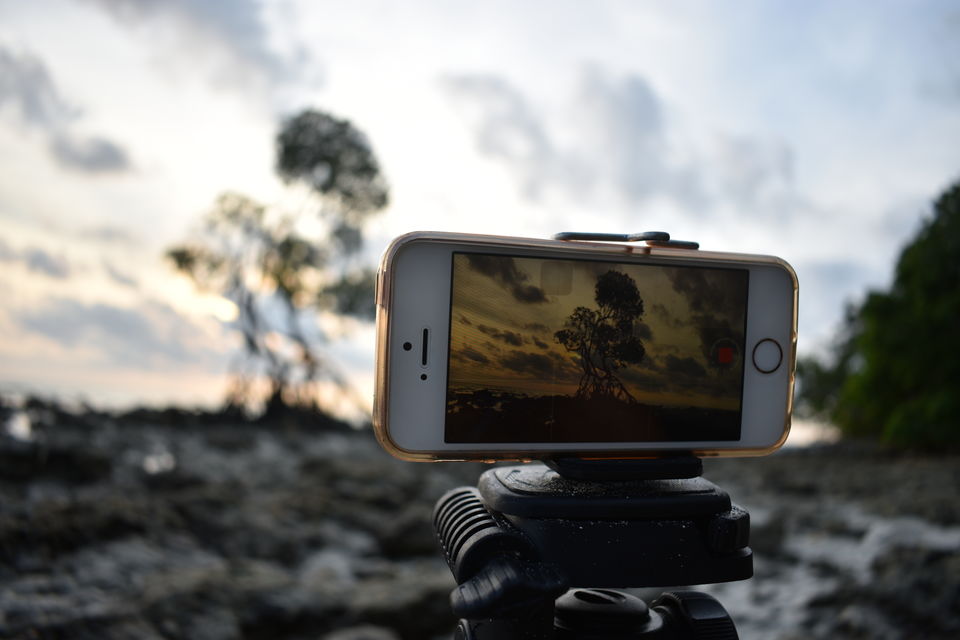 First of all, i would suggest to go through my video to see the beautiful frames captured during the whole journey,
youtube - https://youtu.be/UMJIhc3rX_0
Instagram - https://www.instagram.com/p/BfKm5b9FWOM/?taken-by=tara.sharma
Two way flight costed us approx 20000 Rs from Kolkata to Port Blair. Initially we had planned to cover havelock and Neil islands in this 5Day-4Night which eventually turned into Havelock island trip.
So here we(my wife and i) started our journey from Kolkata @6 a.m. on 23 of jan 2018 towards Port Blair, Andaman&Nicobar islands. Reached port blair @8:30 a.m. We had our ferry time @1 p.m from the private Jetty of port blair. Jetty is the place where one can board a ferry and visit different islands of Andaman. This jetty is 25-30 mins away(Rs 10/head) from port blair airport on a bus. If you are rich enough, hire an auto which will cost you around Rs100. We reached Havelock @3:30 p.m. Found the cheapest resort @1000/day near the kalapatthar beach. The care taker guy here named Ankit is very friendly and helpful. You need to walk around 3-4 min to visit the beach nearby(please see video below) from here. After taking relaxing bath, we had our dinner @7 p.m. and rested for the day. Somehow, i am not able to upload the card of that resort but below are the mobile numbers,
mob 1 - 9474204586
mob 2 - 9531965070
Note - You can ask Ankit for extra tubes for chilling around the beach.
Next day, we started @5 a.m. in the morning and departed to Radhanagar beach which took around 35 minute from the resort. And i had the most beautiful beach experience of my life. See below some of the shots taken to understand me better. Shots from the first half of the day which started with
This beach has,
...Beauty
...Hidden places under dense tree to chill
...Stay options
...Food options(idli, rice, samosa, panipuri)
Had some rice/dal/sabji lunch nearby after a round of panipuri which faded away the hot feel. Spent a full day here chilling, roaming around. Played with my newly bought DSLR. So here are some shots of the evening time which is quite as beautiful as the morning time.
Had dinner and retired for the day.
Next morning, we started towards kalapatthar beach @4:30 a.m. which is very near to our resort. On a vacation to beaches, you should never miss sunrise/sunset time. I started my activa and headed towards the beach. The road to the main beach lies beside the sea only. So you one can not guess in the dark listening to waves which is the main beach and which are the side ones. Finally we stopped near the only opened outlet. The guy there informed that it is the main beach only. As a reward of reaching early, we got
Also we got many angles after sunrise,
So we did something similar to radhanagar beach and spent full day at this beach only. Not much things are available here, like food options and places to chill. So we had some maggi noddles as breakfast. Then we decided to leave the main beach @11 a.m. and explore the hidden places in between i.e. the beach area that falls between our resort and main beach. And we got quite a lot things over there, like...
So we ended our day like we end a dream to wake up as my post caption says that in Andaman, days seems like a dream and night is the end.
We started late today as we had travelled a lot the previous days. Also instead of directly going to the third famous beach of havelock i.e. elephant beach, we started exploring some leftover parts of kalapatthar beach. So we started, i guess 7 a.m. in the morning. It was a partial cloudy day. So we got this beautiful time lapse where you can see the crabs running here&there.
Also we tried our hands with some more shots like..
And we proceeded towards elephant beach for experiencing snorkling. You can hire a snorkling kit from 3 number market itself. 3 no market falls just at the mid point of Kalapthar beach, radhanagar beach, and havelock jetty making it a triangle. Also you can hire the kit from the local guide roaming around at elephant beach. There are several options to do there like scuba, sea walk, snorkling having different budgets. Among these, snorkling is the cheapest one to do so, like it costs 1500/- to us with photos,videos for two person which can further be bargained.
And it was worth doing. The corals were so clear and live. Though we wanted to but we did not spend much time here and came back to our resort early that day. Due to the water sports availability, this beach is too crowdy which does not suits us. We then went to the barefoot scuba restaurant for dinner which is near the Havelock jetty. This restaurant is quite famous here in havelock. Retired for the day
Next day, we started we had our ferry @11 a.m. So we could not make it to any specific distant beach and rather explored the beach just beside our resort. The morning view there was so soothing. On top of that, Ankit provided us two cycles @10rs/hour which made the morning for us. Cycling in andaman.
Also we got this hanging tyre tied on a tree
And finally back to reality after a long 5 day of calmness, coolness, chilling at this heaven named Andaman.