Dudhsagar Falls is four-tired waterfalls in Goa-Karnataka border on Mandovi river. The view of the falls is magnanimous and must be on your bucket-list. Legally the access to the falls is allowed only after monsoon i.e, from October 1st .You can rent a jeep on sharing basis or bike to reach the falls.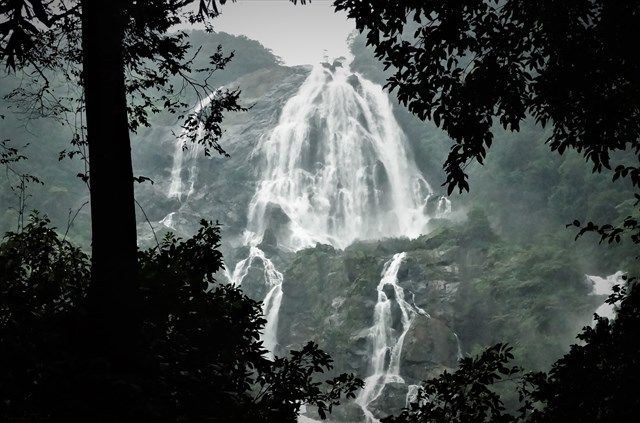 During monsoons bike rides are available but make sure it is not prohibited during the time of your visit. Most of the tourists don't mind visiting the falls by taking this risk. Bike ride is probably one of the most exiting and dangerous way to reach the falls. One can even reach the falls by either trekking on the railway track or getting down from train when train briefly slows down near Dudhsagar falls which is again prohibited. Make sure you wear life jacket at all times to avoid any mishaps while playing with water.
To reach this falls, drive down through beautiful roads to reach Kulem, park your vehicle there and find the counter where you can buy ticket of Bike/Jeep. It is around Rs.750/- for a bike ride and Rs. 2400 for a jeep ride of 6 people. The prices are for both going to the falls entrance and drop back to Kulem. However, the Pilots (Bike riders) are happy to guide you and take through the forest for additional tip of 300-400 Rs per person. Make sure you negotiate the same before you being the journey.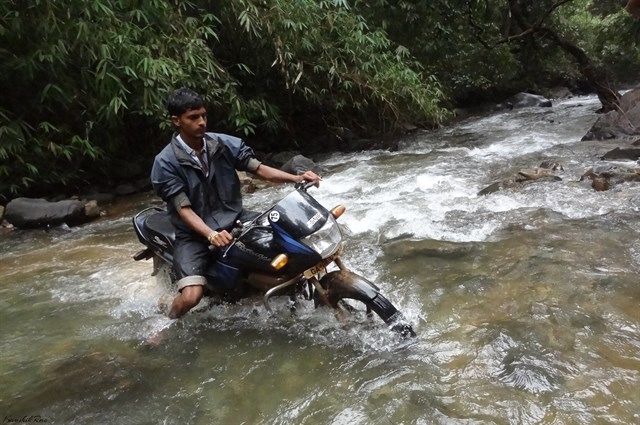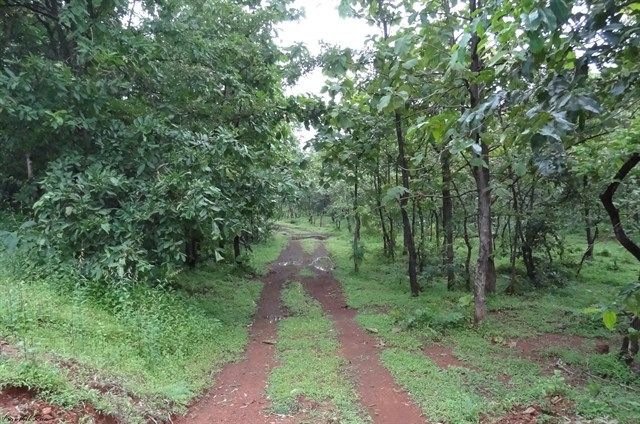 From Entrance there are two spots which you can visit, one being the bottom of the falls and other is trekking towards railway track through dense forest to reach Dudhsagar falls railway station. Both the spots are amazing however it is very dangerous near Dudhsagar railway station as water flows at high velocity. For reaching both the spots one need to walk through forest and cross several water streams which makes the travel adventurous. The falls is hardly 8 KMs from Bhagwan Mahaveer Wildlife Sanctuary and the forest area is dangerous so make sure you are back before it gets dark.
We purchased tickets for Motorcycle ride who then provided us life jacket and instructed us to wear it through the trip. After securing the life jacket, we proceeded our journey towards the falls. The ride took around 30 Minutes one way and was the most memorable ride of our life. These expert pilots ride along side railway tracks on the rocks, through narrow walk ways where only one bike can go. At one point we need to lift the bike and cross the railway track and it is when we enter the forest area with mud roads similar to off-roading track with several water streams which lead us to the mesmerizing Dudhsagar waterfall view point where the vehicles will need to be parked.
Once we reach this view point, the pilots will guide either to top of falls or at bottom as per our requirement. Visiting bottom portion is easier than trekking to the top. We need to walk for 10-15 minutes to reach to bottom of falls. If not we can take the trek through the forest to reach the track. Once we reach the track we need to head towards Dudhsagar railway station it is where the falls is located an it takes around 1 Hour to reach.
There is absolutely no means of drinking water, washroom or mobile connectivity once you leave Kulem. So make sure you carry enough water, food and answer to natures call before leaving Kulem. Carry extra pair of clothes and wear proper sandals which shouldn't get damaged when you walk in water. Also make sure you don't carry any valuables with you as the cars will need to be parked near railway station/road side in open.
Easiest way to reach Dudhsagar falls is to go through Goa Tourism Development Corporation website. They generally organize tours from Calangute/Miramar from October to May for approximately Rs 2000.