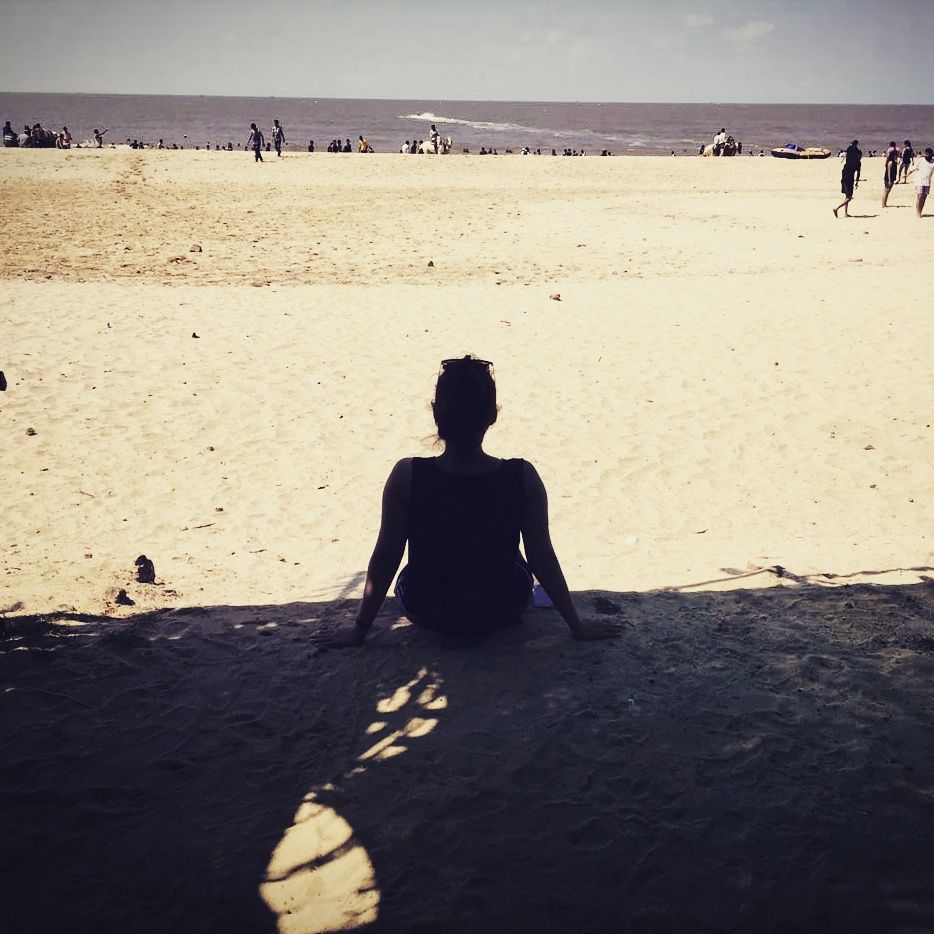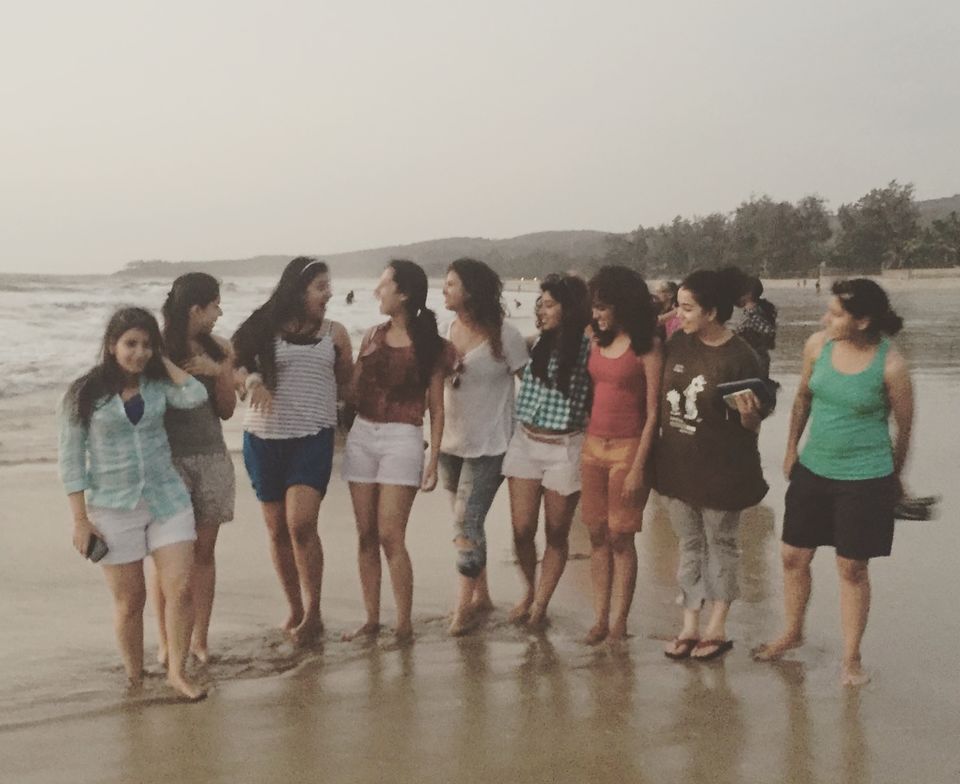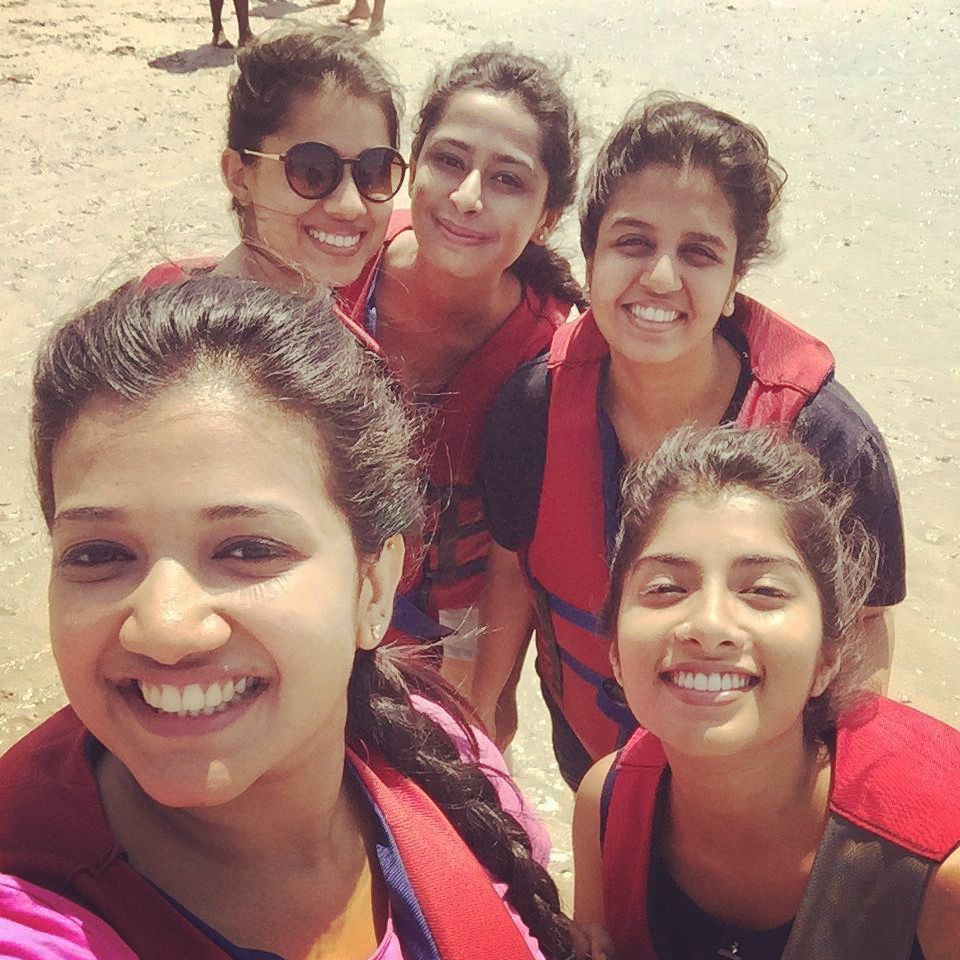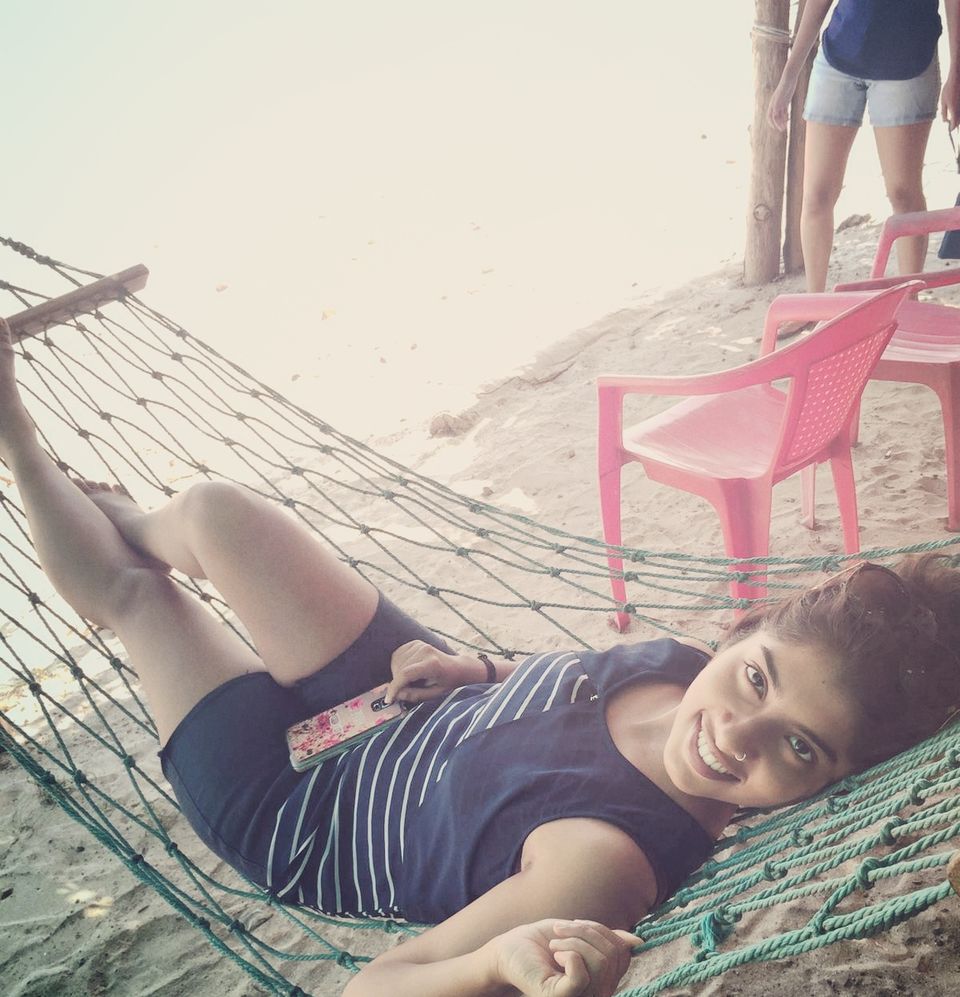 Aren't spontaneous trips the best? Having it girls only is a cherry on top. So a tempo of 9 MBA's in the making took off on a Saturday noon , much enthused for the next 24 hours. Our first halt was at Paradise Cafe in Mulshi to tame our hungry tummies. Much to our surprise, this cafe offered us more than just solace to our ravenous tummies. The cafe is set amidst the vast Mulshi lake and the sprawling sturdy ghats, a truly soulful view. The prices are a little on the higher side and the quantity is just about okay, but the food is extremely delicious ( especially the Sarson da saag and Lassi). Make sure you have the huge tumbler lassi ( Rs. 200)  for Punjabi dhaba feels. Post the sumptuous lunch we set off to Kashid driving past the picturesque lake and mountains. Before checking into our hotel, we decided to catch the sunset on Kashid beach.
So, i have been to quite a few beaches around the world, but this beach was beyond breath taking. Firstly, I'm a sucker for white sand beaches and Kashid beach is a never ending stretch of glistening white sand. Secondly, Kashid beach isn't as crowded and dirty as other beaches in India. It was sparsely populated with some water sport enthusiasts enjoying their escapade , a few shacks on the shore ,stretches of glittering sand and huge choppy waves that kiss your feet eventually. As we hoped, we did get to watch the horizon enshroud the sun and the shimmering white sand changing into a pinkish red shade. Content, we then made our way out of the moonlit beach to our home- stay called Aakansha. Sadly, i wouldn't recommend this place to anyone as we had a not-so-delightful experience. The house is newly painted and the walls are still damp thus its extremely dusty and reeks musty. The bathroom is badly equipped and the mattress/sheets were soiled. It is extremely hot inside the apartment, but once you step out into the balcony the sea breeze flutters by. They offered home made Maharashtrian thali for dinner ( not complementary)  which was delectable but yet again the spread was minimal ( Thalis have a decent spread of 5-6 dishes, they gave just 2 ). The sole good part about this home-stay is the fact that they allow unlimited number of people in the house for the same rate. So, it works out cheap if your a huge gang and don't really plan on staying indoors for long. All in all, i personally wouldn't suggest this place, but if you have a tight budget ( Rs.3,300 for stay) this should suit your pocket just fine.
 Next day morning, we managed to stagger out of bed and land ourselves on the beach by 10. Usually, its scorching hot by this time of the day but at Kashid the sun does not pierce into your skin, it gently smothers your skin and the constant cool breeze is godsend! The weather makes you want to lie down on the hammocks by the shore and stare into just nothing, which is precisely what we did. I mean, when you have sculpted horses with their perfectly flowing mane galloping around , a bunch of youngsters attempting beach volleyball, tankers and fishing boats scattered by the horizon, the clouds making funny shapes in the aqua blue sky you just don't know where to look! I bet my eyes were going bonkers trying to soak all that in.
So, why is it that i ask you all to dump Goa and flock away to Kashid? Yes , Goa is where Indians have their ultimate beach rendezvous , but off late Goa has become extremely commercialized and expensive. Kashid beach is way more cleaner than beaches in Goa, which is overly populated and looses the entire "serenity" element of beaches . Yes, we have our share of raunchy jockey underwear-ed uncles ogling away to glory  in Kashid too but, Kashid outweighs Goa hands down!( beach experience wise solely). Goa has a string of shacks by the shore and that adds to the clutter, but here the are a few shacks by the beach which serve tiny nibbles which one can gorge on while lazying on the hammock. These nibbles are pocket friendly too as opposed to the shacks in Goa that rip your pocket apart.  This beach too offers water sports like jet skiing, parasailing ,banana boat riding and bumpy riding at a much cheaper price. We haggled our way to getting a package of 3 rides for 500 ( jet skiing, banana boat ride and bumpy ride). The authorities do charge prices on their whim but as we all know, bargaining gets you places in India, so do not hesitate to bargain your way with them too!. The water sports were quite a delight but sadly they do not delve deep into the sea as Kashid is known for its tumultuous waves .There have been a few unfortunate incidents in the past which makes people skeptical about venturing out here, but the trick is to avoid going to the secluded areas/ rocky corners and AVOIDING the beach during the high tide hours. Otherwise, its all good and safe.
We left Kashid around 3 in the afternoon and were on the look out for a proper "Dhaba" as they have succulent spicy Indian food , the next experience we were craving after our beachy escapade.We stopped at a certain Shivraj Family restaurant in Mulshi which fit our ideal description of a "Dhaba" . Moreover it had a lot of families bustling in and out, so we thought of giving it a try. WORST judgement of all times. I plead each and every one of you not to stop here even by mistake, not even to pick up a bottle of water! The waiters are extremely hostile, the lady running the place is downright rude and the food is beyond pathetic. The rice was raw , the waiter got us roti instead of the Naan we had ordered and even tried convincing us to adjust with what he had served, the quantity was annoying less and the place is downtrodden and filthy. Worst of all- The food was unpalatable, stale and plain inedible! Adding to the misery, there is a Raj beer bar right next to the restaurant which kind of explains the waiters peculiar behavior ! Lesson learnt- The notion that smaller the Dhaba better the food IS NOT true. Not always. So we had our disastrous meal and trod-ding our sad tummy and sadder heart headed back because, MBA calling ! 
So that's about it on our weekend getaway to Kashid. I strongly recommend this place to all you college students out there hankering for some time off the hustle bustle. Go to Kashid. Peace out. Rekindle the monotony and start afresh! 
Word of advice : Venturing out in the night for a " beach stroll" is not a good idea as Kashid is extremely environment friendly, to the extent that they don't believe in street lights -_- ! Finding your way back to the hotel can be quite a task in the dark. Moreover the area is said to be unsafe post 10 pm, so stock up supplies ( food and booze) and make a night out of it in the hotel. 
Trip expense breakdown:
Travel - Tempo for 2 days ( inclusive of drivers food , toll and all other expenses)- Rs.10,500
Lunch at paradise cafe - Butter chicken full, 2 butter naan, 1 glass lassi - Rs. 180
Stay - Stay+ Maharastrian Thali ( 9 people) - Rs.3700
Water Rides- 500( all 3)