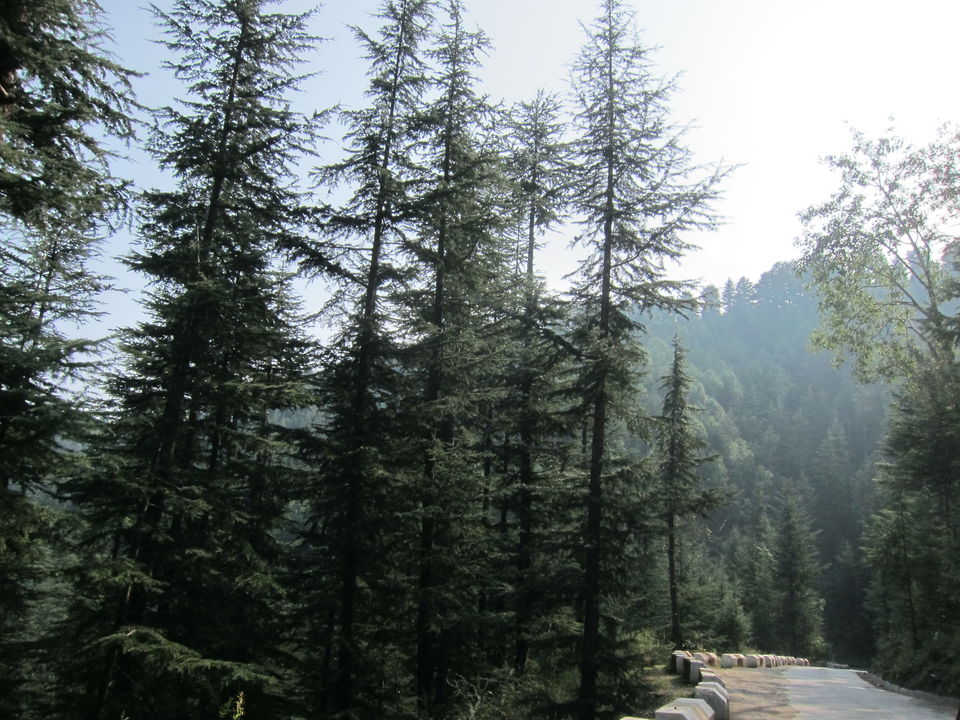 Me and husband started from Delhi at 4:00am on 2nd October. As it was the longest weekend, leaving early helped us save a lot of time. Once we were out of Delhi, and on GT Karnal Road- our first halt was Pahalwan Dhabha @ Murthal :-)! Though Sukhdev Dhabha is the more known and famous but i suggest that Pahalwan should also be tried. It is as good as Sukhdev and much less crowded. 
It took us 9hrs to reach our first destinaton Naldhera. The drive was amazing, the mountains were lush green. Not staying in Shimla helped us beat the over crowded city and traffic and be much more closer to Nature. We had booked ourselves at Chalets @ Naldhera. Now, there is where we were hugely disaappointed. The property takes full payment in advance, we paid 18k which included brkfst and dinners. Though the property looks good and is maintained well but there are couple of things which they do not clarify on TripAdvisor or any travel site. 
Not all rooms are pine log cottage. If you are a couple without kids you automatically get booked to double room which is not great at all. The bathrooms are small and very basic. 
The swimming pool is not heated, it is just temperature controlled and it was really cold. 
The buffet brkfst and dinner was below avg
I suggest if you want to stay in this property and have fun, you should come in a big group and insist on booking a cottage while doing the pre-booking. For us who were looking at peace and relaxation the property was a disappointment. Nevertheless, now that we had already paid we tried to work on Plan B :). So we checked-in at chalets about 1:00pm on 2nd October. We spent the entire day in the resort, relaxing. We went for walks. Naldhera is as pretty as a post card.  
Day 2: 3rd October, which also happened to be Dusshera, we left the resort at 10:00am and drove to Tattapani, which is 32Km. Tattapani is small town which is populated around the river Sutlej. The key attraction is natural Hot springs and river rafting in Sutlej. The drive from Naldhera to Tattapani is the prettiest on the eastern Himanchal belt. The roads are really narrow, and though there is hardly any traffic it is advisable to drive slow as the locals usually drive very fast. You would want to stop at numerous places for pics :)!!  It took us approx 1hr to reach the river base. The most exciting part was that just beside the freezing sutlej there were puddles of boiling hot sulphur water. The locals told us that anywhere on the river bed if dig deep the hot sulphur water will start coming out. There were many groups who had come for river rafting. You could do, 6km or 12km river rafting. Now, instead of bathing in hot sulphur spring right that the river bed there is an awesome option available at Hot Sulphur Spring Resort. They have created a pretty pool inside there premises, where they pump the water from the hot suphar pools. They charge Rs. 350/person. Here you can enjoy a relaxing bath in a pretty pool of hot sulphur water. We felt rejuveniated after the sulpher bath and started our trip back to Naldhera. One the way we stopped at a Dhabha for lunch. Though you do have number of Dhabha's but there is nothing special in cooking. Just normal regular food. Driving uphill to Naldhera it took us 2hrs. Once at the resort we took a one our break and then planned to go and see Shimla. 
Now, being Dusherra and long weekend we knew that Shimla would be extremely crowded and parking would be an issue. So my husband suggested instead of driving we should catch a local bus. At about 3:30pm we were on the local bus to Shimla. The frequency of such bus is every 30-45mins from Naldhera. The journey was fun and the view amazing. In the evening we could clouds all around. It felt so good crossing the beautiful lush green mountains. We reached Shimla around 5:00pm. We explored Shimla on foot, the mall road,church,theater,old buildings,tibet market,lakkar bazzar. We almost covered it all. At about 8:00pm we took a bus back to Naldhera, at 9pm we were back at our resort.
Day3: On 4th Oct, we checked-out of the resort at 11:00am. We then drove to Mashobra, which is on our route to Delhi. We explored the pretty town and also visited the famous pickle shop which gets a mention in outlook guide of India. To my dissappointmed we were informed that they have stopped making the famous mushroom pickles. After spending an hour in Mashobra we left for Delhi. We reached Delhi at about 9:30pm.