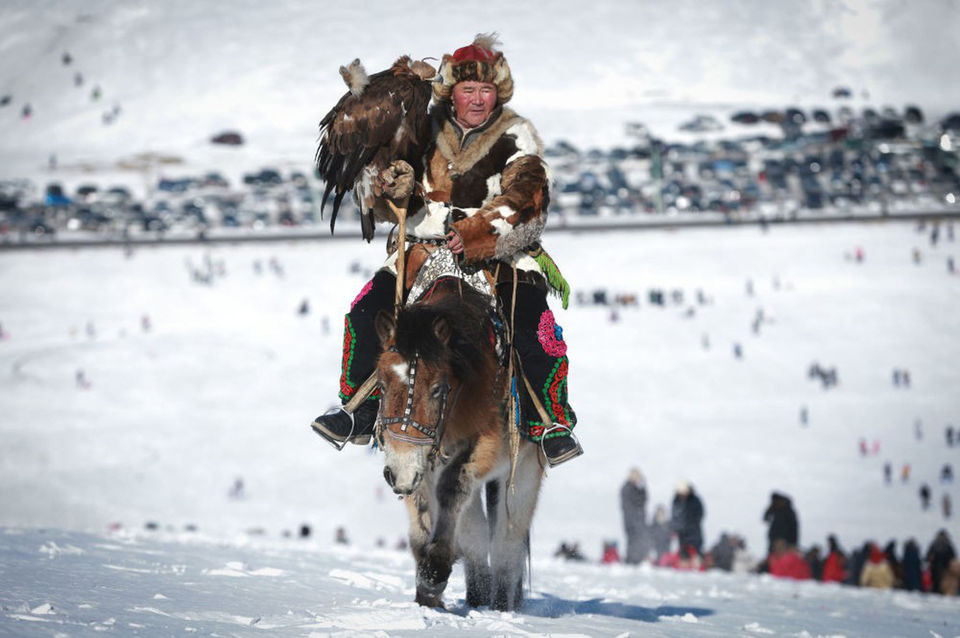 According to Russian news agency Sputnik News, the Golden Eagle Festival takes place in early March in the steppe near Ulan Bator capital of Mongolia.
The festival is held twice in a year, in the spring and fall. Autumn Festival will be held in Bayan-Ulgii province.
At the Spring Festival, 20 hunters from the age of 14 to 86 gathered in the prairie region to perform gold eagle training in action scenes like snake dives and hares.
The Mongolian Hunting Association said that the scoring criteria at the festival included the hunter's eagle training technique and the eagle's skillful hunting technique, the speed factor, the precise eagle's prey, and the aesthetics of the hunter when the traditional Kazakh costume in Mongolia is also considered.
The main goal of the Yellow Eagle training festival is to promote a culture that is strongly imprinted on the ethnic identity of the Kazakhs in Mongolia, as well as to promote the development of tourism.
Aisholpan Nurgaiv, one of the participants in the eagle training competition, said that at the age of 13 his father's career was eagle training - a tradition traditionally reserved for men because of the control techniques. Eagles require strength and determination.
In 2013, Israeli photographer Asher Svidensky was the first to discover that Aisholpan Nurgaiv was talented in training eagles and published a series of pictures of a mountain boy lifting up a giant eagle in the pride of youth.
Then, this image spread vigorously in 2014 and British director Otto Bell invited her to play the lead eagle trainer in the documentary 'The Eagle Huntress'.
"There are about 400 eagle trainers in the western province of Bayan-Ulgii, but only six trainers are female," Nurgaiv said.
In Mongolia, the tradition of training golden eagles for thousands of years has been passed on from one generation to the next in the Kazakh community.
The golden eagle training festival in the spring of 2017 attracted 2,000 visitors, this year has increased to 3,000 visitors.
For reading more Travel Articles / Travel News like this please visit NextColumn.