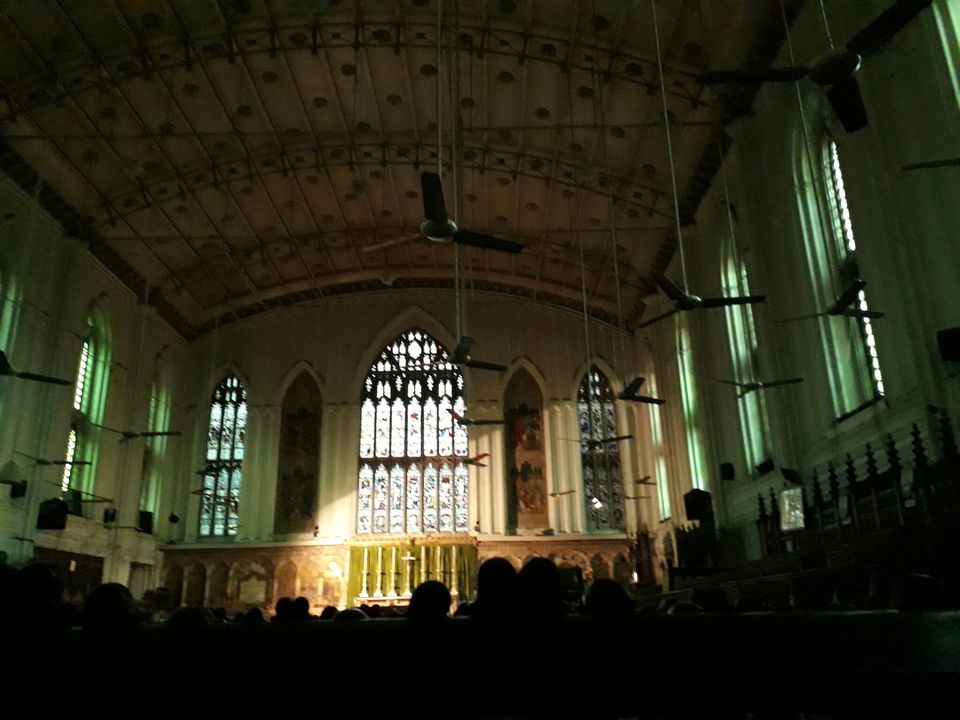 August 2014 was the time when I was finally managed to slip out a bit from the ever-protecting umbrella of my parents as I joined a college which was at the other end of the metropolitan. These were the days when I explored most of the city which was still unknown to me. As college students we learned to manage our pocket money quite well and to have fun within restrictions. One of our favourite activities was 'city walk'. Though it was not always a 'walk' but our college location made a few good places easily accessible on foot.
NANDAN
This place is can be reached by both metro and bus. Located near the Exide More crossing (Rabindra-Sadan Metro, Gate 1), it is the place where Kolkata hosts her International Film Festival each year. It is a student's favourite place as one can watch the newest releases at a quite reduced price that too in a well equipped modern movie theatre. Apart from movies, it also has its own art gallery and stage inside the same campus where various functions and art exhibitions are organised all round the year. It also serves as a peaceful hangout place.
ACADEMY OF FINE ARTS
This place is located just beside Nandan and it is a multi-gallery exhibition hall. Exhibitions and sales are held all round the year and one can see the works of many artists - from amateur, aspiring, folk-artist to the renowned ones. Visit timing : 1000hrs to 1700hrs
ST. PAUL'S CATHEDRAL The rear gate of the Cathedral is just beside Academy of Fine Arts and the Main Gate is 3 minutes walk from there. St. Paul's Cathedral was completed in 1847 and it replaced St.John's Church. It is the seat of the Diocese of Calcutta. The Church is of Anglican background built in Indo-Gothic style.
Visit timing : 0900hrs to 1200hrs, 1500hrs to 1800hrs Sunday - 0700hrs to 1800hrs
PRINCEP GHAT
This place is located just by the River Hooghly, opposite to George Gate and Water Gate of Fort William. Ghat was built in 1841 and a Palladian porch was erected in the memory of James Princep, the founder editor of Asiatic Society of Bengal. It is a well maintained garden and one can enjoy local food from the vendors. One can enjoy the view of setting sun behind Vidyasagar Setu while sitting in a boat for ride. Millennium Park and other ghats along the river bank are tastefully decorated and the scenic beauty during the evening makes one forget the rush and hustle and bustle of the otherwise densely populated city.
BHAWANIPORE CEMETERY
Located at a distance of 600m (appx) from the National Library, this cemetery has 95 commonwealth, 617 World War II and 233 civilian burials. This place is operational since 1864 and is well maintained by the authority.
BHAWANIPORE GURDWARA
This place is on the road opposite to Elgin Road and is remarkable for the Sikh community of the Bhawanipore area. One needs to climb a narrow stair to reach the first floor where the service is offered. Chants from Guru-Granth-sahib and hymns are recited all day long and the each visitor is offered prasad, irrespective of the time of the day. Visit timing : 0400hrs to 2200hrs
NETAJI'S HOUSE AT ELGIN ROAD
I first visited this place in a rainy day when Elgin Road was flooded with water. The house is just opposite to Forum Mall but only a few enthusiasts visit the place, so it remains comparatively hustle free. The house is turned into a museum. There is a pretty good collection of documents and letters of different important events of Netaji Subhash Chandra Bose's life. His uniforms, coats, badges and car are kept at display. Visit timing : 1000hrs to 1900hrs
KALIGHAT TEMPLE
This famous Kali temple was at a walking distance from our college but we rarely visited the place as everyone silently followed the rules and regulations associated with the temple. This place was once located by the side of the river Ganga but with time, the river changed its course. It is one of the 51 Sakti-peeths where, according to the legends, right foot of Sati fell. Visit timing: 0500hrs to 1400hrs, 1700hrs to 2230hrs
Most of the places are accessible on foot. Food lovers can also get the taste of Bengali food along with various others at the nearby joints at all these places which includes a few legendary eateries as well.
Cost of this trip (without food) can be managed within Rs. 100 to Rs. 150 if someone avails public transport like metro and bus. Cab, OLA and Uber services are also available.