Ubud is famously known as Julia Roberts' final stop on her Eat, Pray, and Love journey. This lush green town, often referred to as the cultural heart of Bali, was high on my list of places to visit. After weeks of hard work and no travelling for a while, I was more than ready for some peace,tranquility and ready to completely immerse myself in another culture. After 16 hours of flying in 4 planes, sleeping in 3 different airports in 3 countries, i landed in Denpasar in the Bali Island and headed to Ubud in the night.
I decided to stay in Ubud for 3 nights and 4 days. I put up at Gede's Homestay (Airbnb) which was basically a guesthouse owned by Gede( a local Balinese who by-the-way is one of the most popular folks around in Ubud) in his village, not more than 15 min away from the Ubud town center. I had never stayed in a village so this was a new experience to me, that too a Balinese village. I had a very comfortable stay at his place and he was such a gracious host to me. He took me around to the local Ubud Hotspots during my stay and gave me the doze on the best of Ubud.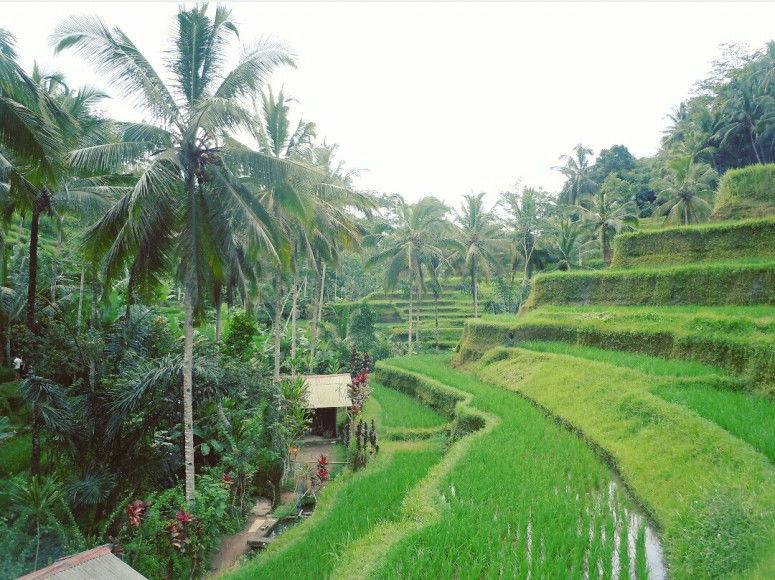 I spent my first day at the breathtaking Tegallalang Rice Terraces. A vast area covered with lush, sprawling rice terraces located in the Tegallalang Village, about a half hour north of Ubud. You can easily hire a car, or drive down in a rented Scooty. A thousand lush palm trees everywhere makes it so scenic and one of the most "instagramamable" places on earth. I spent about 2 hours in the paddy fields, trekking and exploring the wilderness and I just couldn't get enough of the green.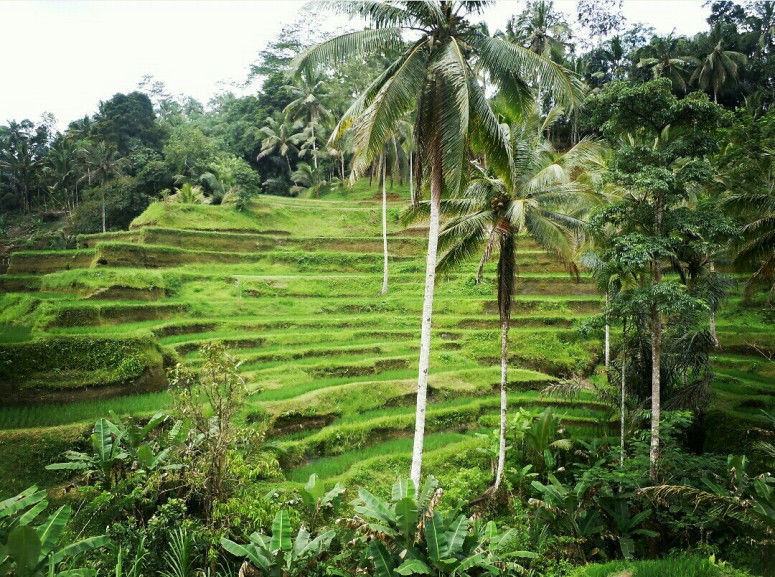 After spending a blissful 3 hours in the rice fields of Ubud, I headed towards the Tegenungan Waterfall which is on the opposite end of Tegallalang in Ubud. On reaching Tegenungan, you have to cross a lane full of shops and cafes before meeting the stairs that descend down to the ground where the waterfall is.
You have to pay an entrance fee of 10,000 IDR. I chose to walk towards the waterfall from the other side, the side of the jungle. I'm a sucker for waterfalls. There's just something about going through the thick of the forest, sweating it out and reaching that cold, strong current of waterfall and diving into it.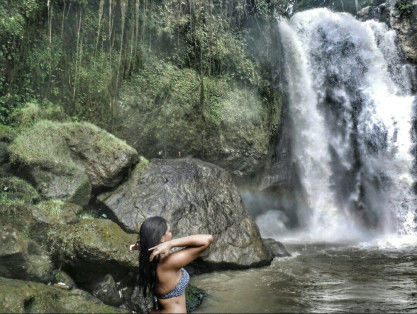 The Tegenungan waterfall isn't too high but the flow is strong and the water is fresh. You have a small area to swim as well. Since Tegenungan isn't that hard to reach, you will find quite a few people there. After having a very refreshing swim in the cold waters of the Tegenungan i stopped at a local "Warung" (Food Stall) to grab some food and head to sip one of the most expensive coffee in the world.
I visited the Abian Subak Luwak Coffee Farm ,famous for the world's most expensive coffee- The Luwak Cofee ( also known as the Cat-Poo-Cino coffee)
I sat there with green fields all around me and a nice breeze blowing, tasting 15 different kinds of teas and coffees and having a rich cup of the Kopi Luwak, which i have to admit was really good! I'm not a heavy coffee drinker but if it was upto me and if i could, i'd be sipping on the Luwak Coffee everyday!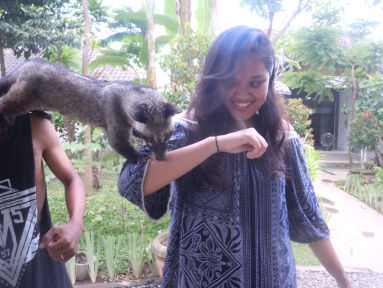 Everything generally shuts by 11:30pm in Ubud. It's not the place that will cater to your wild party side( head to Kuta) but despite that Ubud has a few good pubs with live music. Mostly its reggae music that sets the tone here, so on any given night you will find at least one pub that hosts a live Bob Marley reggae night, with a bunch of Hippie singers and the crowd jamming to "No Woman , no Cry" .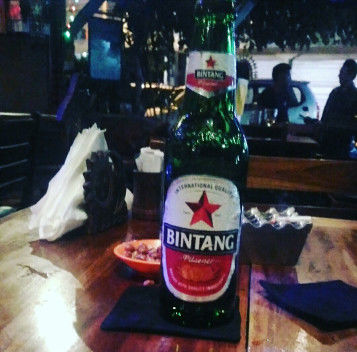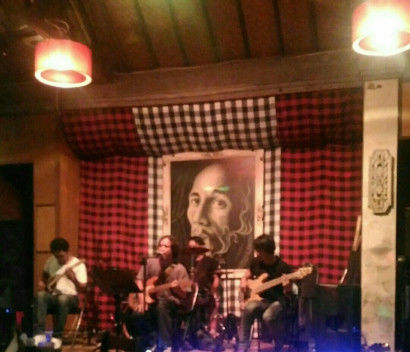 I ended up doing that in the LOL Bar at the Monkey Forest Street in Ubud almost every night after pushing down countless bottles of Bintang (The famous local beer) down my throat.
While staying in Ubud, I also managed to attend a traditional Balinese cooking class. Now if I could ,I would just hop from one city to another in the whole of South East Asia and just keep having the food. My souvenirs from my trips consist of spices and pastes, that's how hopeless I am when it comes to South East Asian food. Ever since I first tasted Nasi Goreng in Mauritius made by one of my friends, it pretty much became my desideratum to learn how to cook South East Asian Food so I can hog on it for eternity. I could come back home after a long day of work and still cook myself a Thai Curry or a Nasi Uduk in complete bliss and be happy for the night.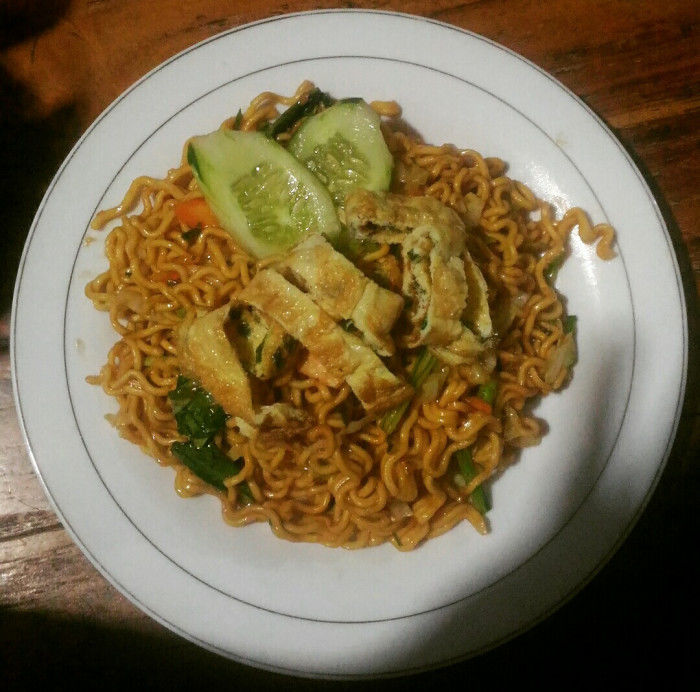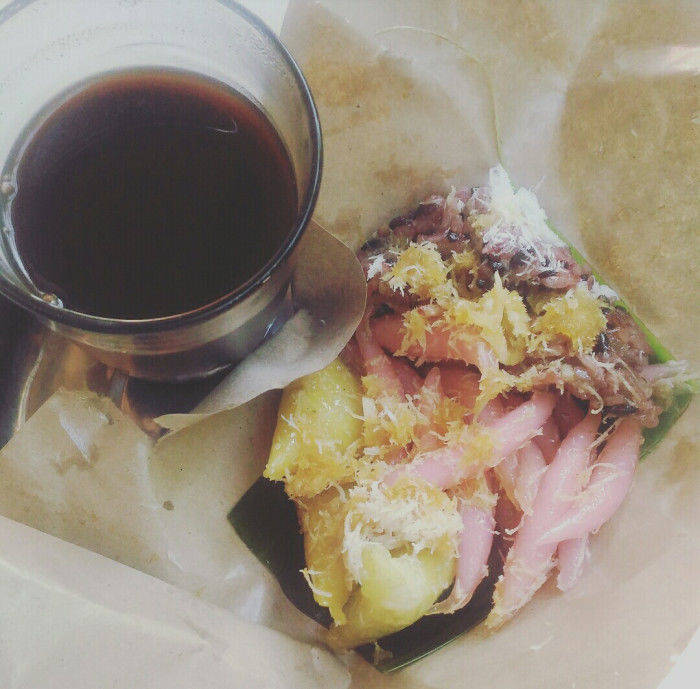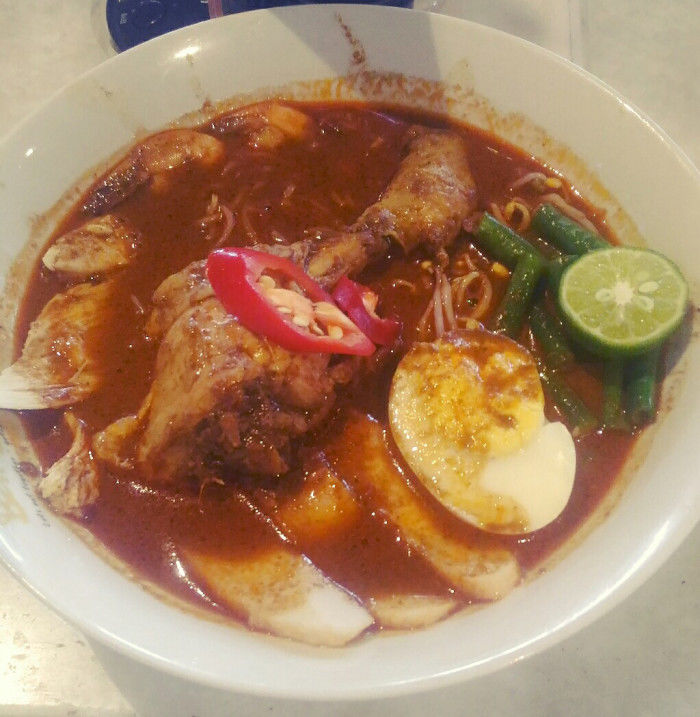 Indonesian food in particular has some of my favorite dishes, From Nasi Goreng, to the famous Suckling Pig and the exquisite Duck dishes and the Satays, Bali is a food heaven.
I enrolled at the Pulu Bali Cafe for a cooking class for 300,000. It started at 9am where my Chef- Desak took me to the local fresh market to buy the ingredients and explain to me about the spices used in Balinese cooking.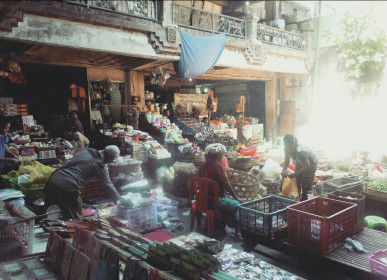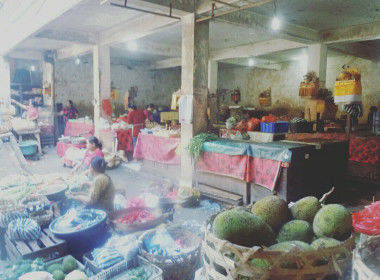 After we got back we made the masalas and the sauce by hand from scratch and started right away with the dishes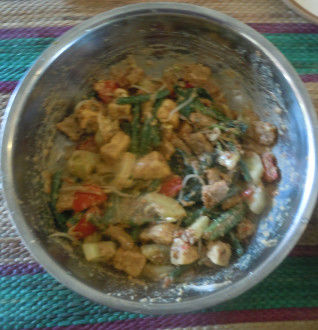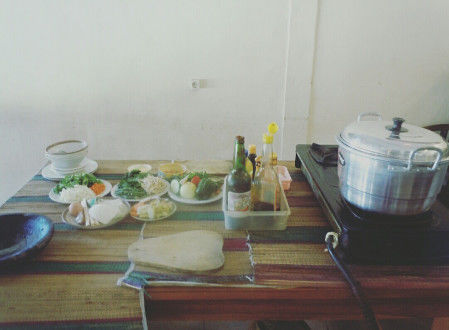 An hour and a half into it, we were able to whip up 5 delicious traditional Balinese dishes.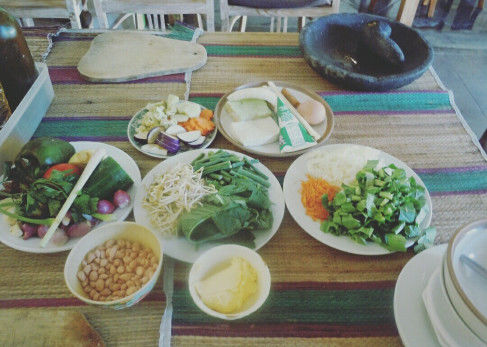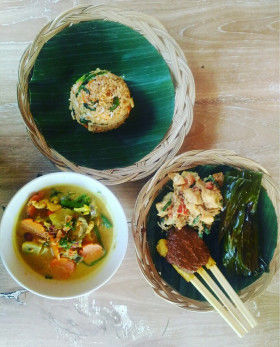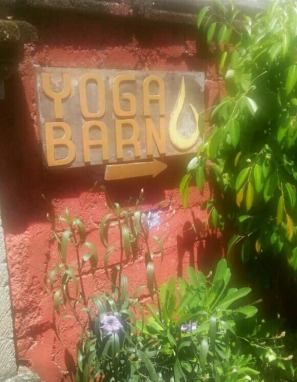 Yoga and Ubud are synonymous.You cannot know what Ubud means or totally feel it's vibe until you do Yoga in Ubud. And unless you try it, you won't know what I mean. I attended Yoga classes at Yoga Barn which is the most famous Yoga studio in Ubud. It's a sprawling Yoga Centre with accommodation aswell where a lot of people end up staying for months and practice yoga amongst many other things. A drop in class is usually priced at 130,000 IDR and you get multiple class passes as well. A class lasts for about 1.5 to 2 hours and every evening they have a community Health Satsang which is open to anyone and everyone. There are a lot of other options as well to try out in Ubud for yoga.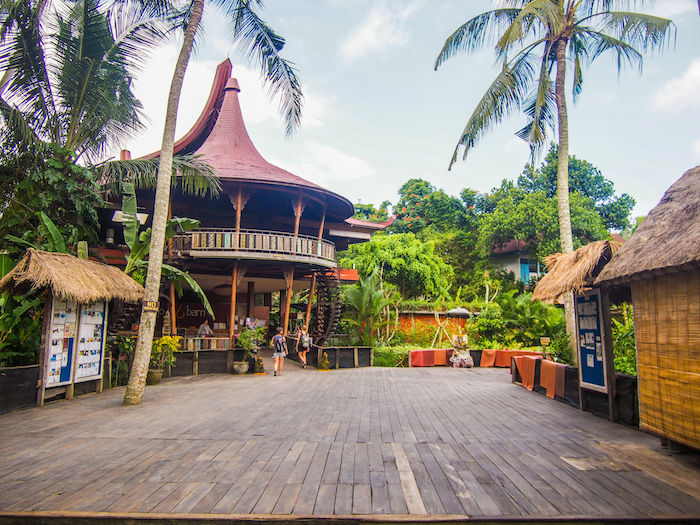 My yoga experience at Yoga Barn was beautiful; the studio is set up in the midst of the green fields. The scenery in itself will calm you down. The instructors there are really good. Every breath you take will make you so aware of your body and things that otherwise wouldn't be noticed by you.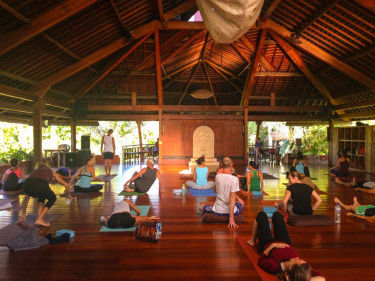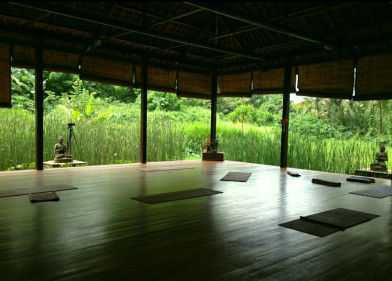 After every class, I was just so zenned out and felt so rejuvenated. Whatever said and done, experience yoga when you come here, it will be a game changer for you.
My days spent in Ubud just seemed so perfect.The laid back vibe of the town, culturally and spiritually so enlightening. The beautiful people who inhabit it and the people you meet from all over the world coming to Ubud to find their bliss. If you want to experience the beauty the Bali offers, its a no-brainer that you have to come and live here.
After days of zenning out, i pretty much ended my time in Ubud with quite the bang. My last day in Ubud, Picture this-
I'm stumbling up a slope. The soil is slippery. There are stones and rocks everywhere to climb on and trip on. The first few minutes, it's as chilly and cold as it can be and minutes later into the hike, we are all sweating. It's only a few hours past midnight, and I'm hiking in complete darkness with a torch on me. Up in the sky, there are a thousand stars, and I've caught glimpse of 3 shooting stars on my hike. There are a bunch of people with me. It's so black that you can't tell how far you've come and how far you have to go, but you just know that you have to reach the top before the first rays of the sun shine on the island.
Where was I heading to? To the top of Mount Batur, an active volcano in Bali, Indonesia.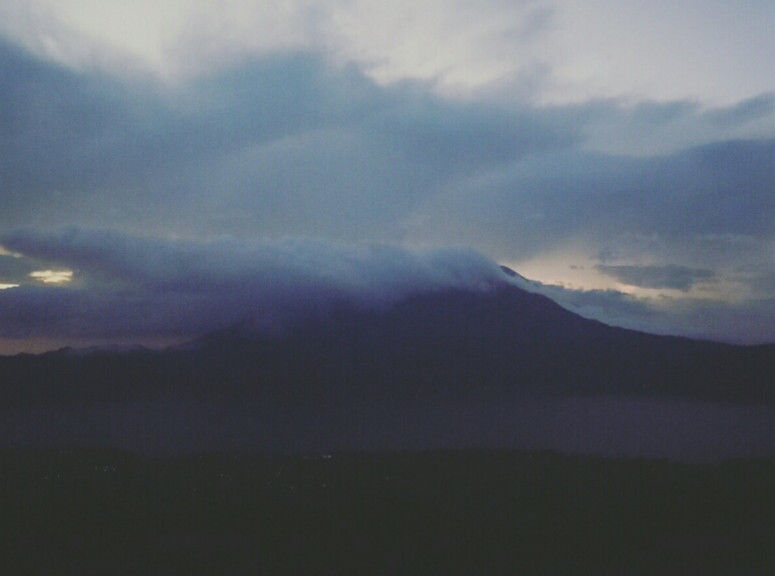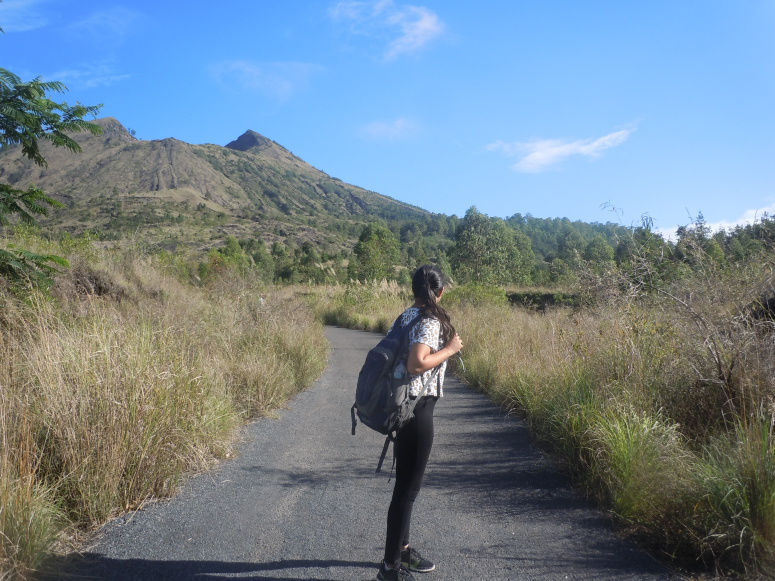 The Mount Batur Sunrise Trek is something that I wanted to tick off my bucket list as soon as I decided to come to Bali
I worked my sweaty self-up to the top of the Mt. Batur just in time for the sunrise. At sunrise, the sky turned from black to purple to pink to orange, such beautiful hues. The sun rose on a higher dormant volcano across the valley called Gunung Agung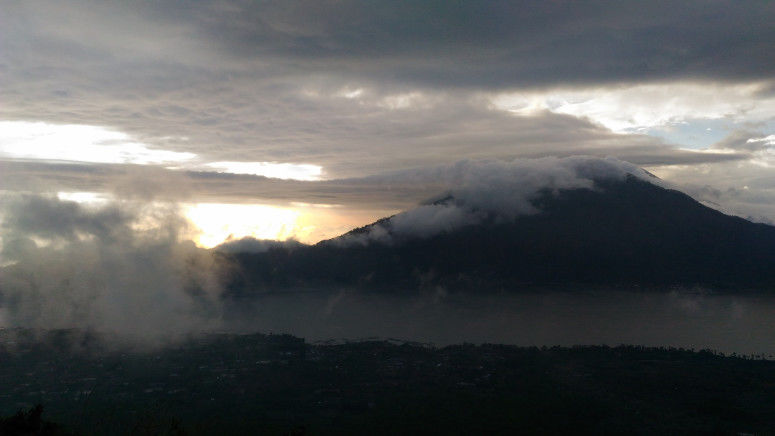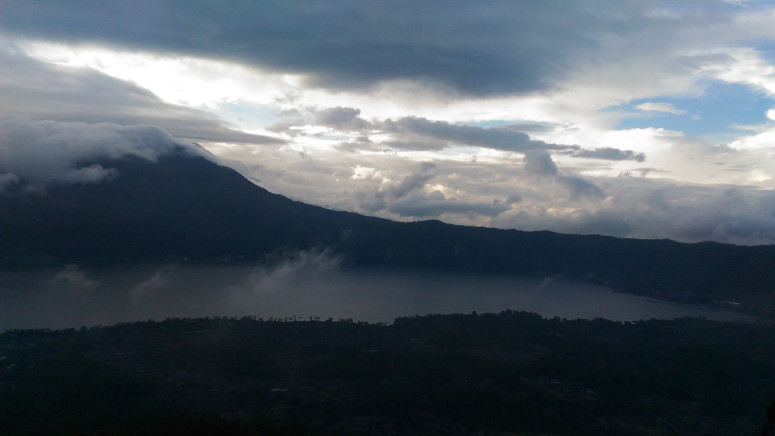 The most beautiful thing for me about hiking a mountain the motivation that drives one to reach the top.When you reach the top of Mt Batur, there's a strange adrenaline that kicks in. You feel like the world is at your feet, and that everything that led upto that moment on that spot was completely worth it. You feel proud. It's so rewarding. It's not even 6am and there's already something that you've achieved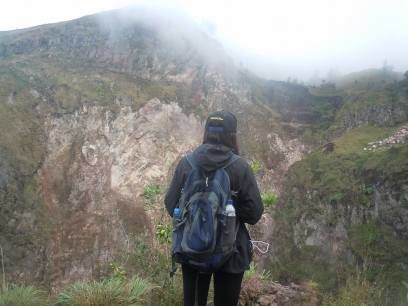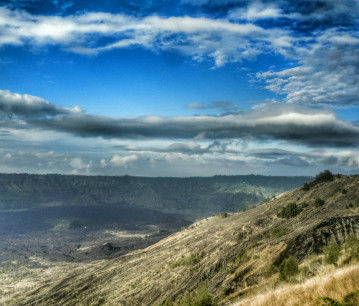 I stayed at the volcano for about 3 hours, catching the sunrise, seeing the hot springs and the crater, indulging in trying to capture the scenic views from the top of the volcano, after which i headed down to the base. The downward journey is easier , though gets tricky in some parts. But its beautiful, after descending down the volcano you walk towards the Batur Lake. For me that walk back exposed a side of Indonesia that i couldn't ever imagine. A raw and rustic countryside landscape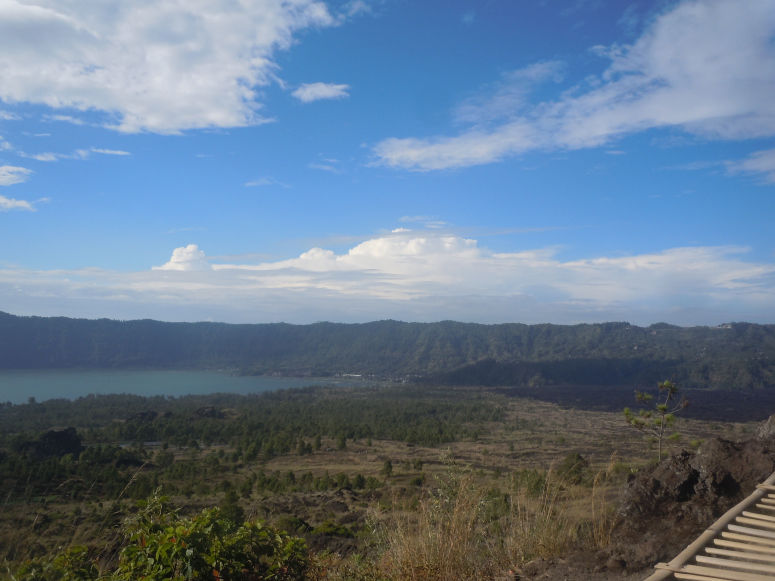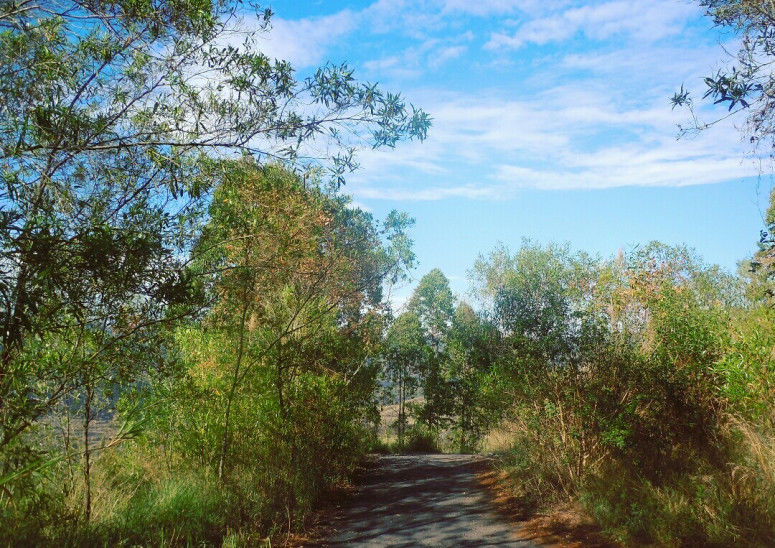 Mt. Batur is not that tough a trek. It doesn't take too much time to climb upto the top, the path is definitely slippery and you might trip here and there if you aren't wearing the right trekking shoes . But if you aren't someone who regularly works out or goes for a run, then it might prove to be a bit tough for you because you can't stop in between while hiking up as there are people behind you and there's literally just a tiny path for everyone to walk on. The final hour of climbing up is tough because the hike is pretty steep and like I said there's no stopping.The complete hike will take you about 2.5 hours each way. Here's my tip for the volcano hike- Wear good shoes, Carry a jacket because it gets freaking cold .And lastly since the hike starts at 2 am, make sure you sleep through the noon and the evening the previous day otherwise you will feel tired during the hike and be super sleep deprived after it. I couldn't get my eyes to stay open for even a minute after the hike got over.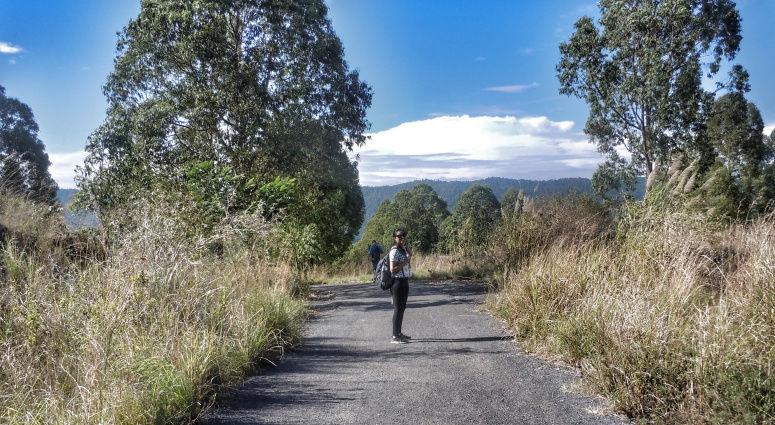 And on that sleepy note, I ended my beautiful sojourn at Ubud. Ubud gave me what I needed the most at that point of time. The people i met there while cooking, doing yoga, singing reggae songs with and hiking Batur with, and the people that I stayed with, they all just made the experience so much better for me. I went alone but didn't feel like I was alone for even a second. My favorite part of the day was waking up in the morning to do yoga in the green ,cycling in the streets of the town in the evening aimlessly, and ending up my nights listening to some good live music in a place that vibes so well. Honestly, I could spend a month just in Ubud and not get tired of it. And it's just one of those places where there's so much that you can do and it's a place where you'd be happy not doing anything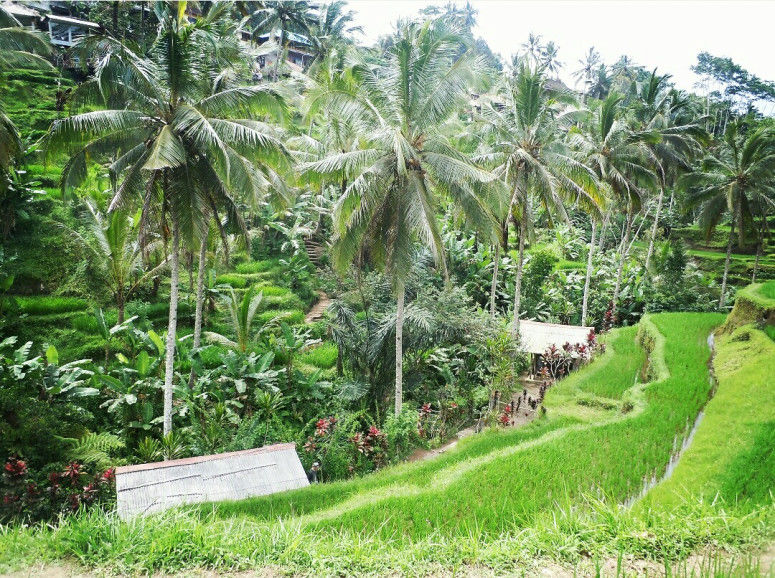 Here's the deal in short- Ubud will serve your soul, your state of mind, no matter what space you're in.
Paulo Coelho said – "Anyone who loves must learn to lose themselves and then find themselves again". For me my experience in Ubud, the people, the beautiful place,the ambience, all of it captures the essence of it. Find your bliss here.