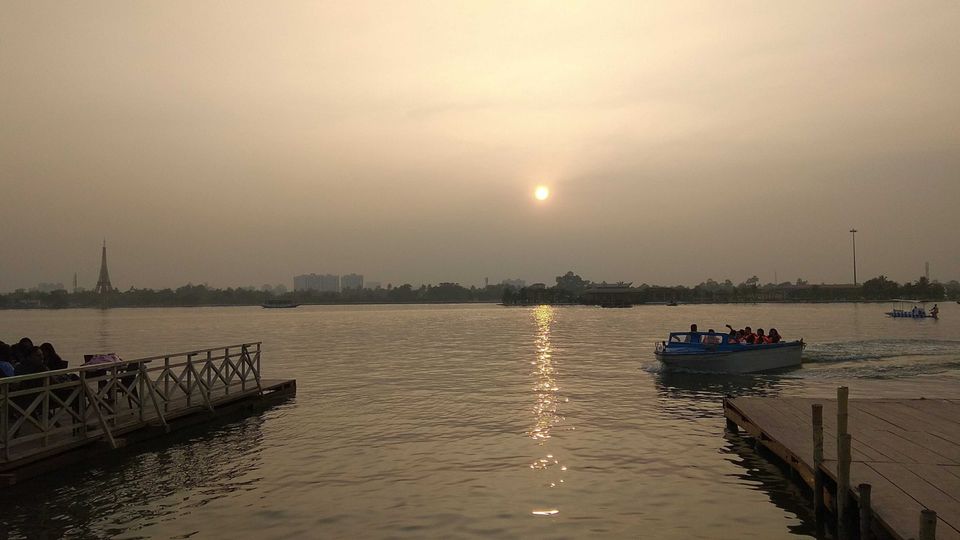 Eco park is a big nature park in kolkata which is in New Town area. It is about 480 acres in size. If some one wants to spend a day or evening with family or loving one then this is really a cool place.
It has two parking spot, so no problem of parking of your car.
Well connected roads.  Children as well as adults can enjoy some sports events like cycling, sketing , boating etc and many more.
Green trees and the cool breeze from the big lake is really so amazing.
You can enjoy the seven wonders of the world here in eco park.
Don't worry for food... It has many restaurants inside... If you want to have good bengali cuisine.. then you can enjoy it from Cafe Ekante ... It is in the island of the eco park.
You can brought your home cooked food here also..
Must enjoy all the corner of this park.
It has a seperate part inside of eco park , Japanese Garden. If want to eat sushi you can have it.
Cost in eco park:
Ticket of Japanese garden is 10 rs.
Main entrance fees of Eco park is 20 rs.
Cycling : 150 rs.
Duo cycling : 100 rs
Speed boat : 100 rs
Kayaking : 150 rs.
And many more...
Park is fully closed on Monday..
Other days : 2:30 pm to 8:30 pm
#ecopark #daytrip