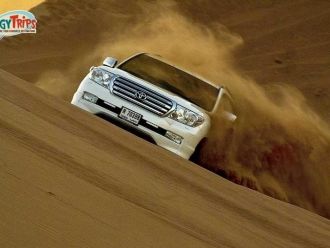 Day 1 : Arrival in Cairo airport
A warm welcome in Cairo int'l Airport by our tour manager who will assist you through all customs formalities, helping you in obtaining entry visa & taking care of your luggage. Then you will be escorted by a private air-conditioned deluxe vehicle to your hotel where you will have a smooth and speedy check in. All pick up times will be arranged and confirmed before leaving you to rest. Overnight in Cairo.
Day 2:
Cairo / Baharia Oasis 
(B/L/D)
Breakfast at your hotel.
In the morning departure by a/c van to Baharia Oasis, the gateway to the fabulous Western Desert. Lunch served. In the early afternoon we begin our local tour in the oasis escorted by your English speaking guide visiting: the ancient Egyptian temple of Ain El Muftella, Parts of which were built by Zed-Khonsu ef-Ankh, Bahariya's 26th dynasty governor. This temple contains a large depiction of Bes (strange-looking animal/man creature) and unusual groupings of major deities. Continue to a roman water springBahariya has hundreds of natural hot and cold springs that are beneficial for many health conditions including sore muscles and arthritis. Visit the Tomb of Bannantiu: a trader, wealthy land owner who was also the son of Zed-Amun-ef-Ankh Bahariya's 26th dynasty governor, Temple of Alexander the Great: This temple dates to the 4th century BC and is the only place in Egypt where Alexander's cartouche and effigy were discovered, The Museum of Antiquities, Contains mummies from the Valley of the Golden Mummies, as well as other local ancient Egyptian artifacts. Enjoying the Sunset at the English House (the highest point of the oasis): During WWI Captain Williams named this lookout post to observe troop movement of the Sanusi- the local Bedouin tribal residents of the Oasis.. BBQ Dinner and free time to visit a Bedouin tent for old tradition Bedouin music. Overnight at your Hotel in Bahareya oasis.. 
Day 3: Baharia Oasis – White desert (B,L,D)

An early start this morning to embark on your desert safari. Our first stop will be the Black Desert, where some mountains are similar to the pyramids of Giza. After climbing to the top of one of these peaks, you will have an excellent photo opportunity of the surrounding prehistoric volcanic landscape. Next, we will travel to the village of el-Haiz and swim in the natural springs surrounded by a pristine desert, or enjoy tea and snacks while soaking your feet in the spring water canal that runs nearby. Continue to the Crystal Mountainwhere you can climb over the area and see some natural ancient crystals that are still embedded in the rocks.Crystal Mountainwas once a giant geoid that, over the period of millions of years, was pushed up to the earth's surface and broke open, exposing all of the crystal inside.Next we tour off-road through the steep passes of Agabat 
where we will make another photo stop to capture the spectacular panoramic view of theWhite DesertfromAgabat.Finally we descend into the valley to the White Desert, which is known for its giant, chalk, mushroom and animal-shaped rock formations. This is where you will enjoy an amazing sunset amidst stark forests of towering white limestone figures, while your guide creates a Bedouin style camp and a delicious dinner.  Sleeping under an ever-changing blanket of brilliant stars.
 
Day 4: 
White desert / Bahareya /
Cairo (B)
Enjoy a wonderful sunrise while having a tasty breakfast at your camp. Exploring The White Desert unique natural sculptures representing different types of animals such as: a dog begging for a snack, a dinosaur extending its long neck, a giant baby chick, 2-headed monsters, and even a sphinx. Many scientists have come to this area to study the unique geology of the entire Western Desert and the unusual inselbergs of the White Desert, as they believe that other planets could have similar geological formations. The White Desert is truly a distinctive place on earth. Back to Bahariya oasis. Transfer by your a/c van to Cairo.
Day 5: Final departure (B)
Breakfast at your hotel.
Transfer to Cairo international Airport for final departure.
Rate includes:
- Meet and assist by English speaking representative.
- Return airport transfers by a/c van
- 2 nights accommodation in Cairo on bed and breakfast basis.
- 1 night accommodation in Bahareya Oasis on on half board basis
- 1 night accommodation in the White desert camp half board basis.
- Camp equipment, sleeping bags, mattresses, sheets, food, water, cookingand firewood.
- Jeep 4X4 from Bahareya Oasis guided by English speaking Bedouin guide.
- Entrance fees to all above sites
- Lunch during the Safari tour. 
- Government permission.
- Return Transfers Cairo/ Bahareya/ Cairo by a/c van