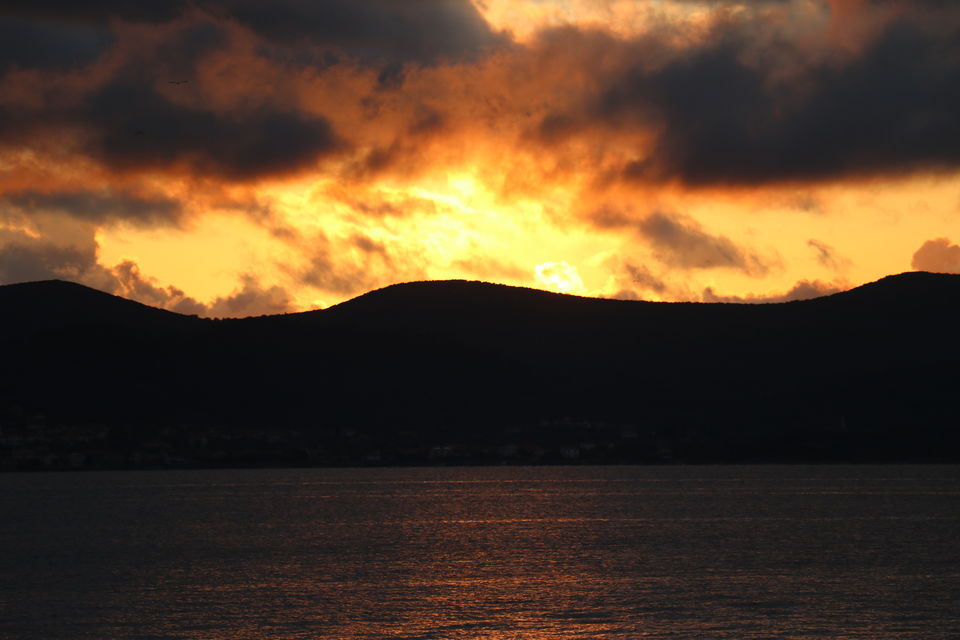 It is not an exaggeration to say that both the Significant Other and I left a piece of our heart in the drop dead gorgeous country of Croatia. We spent close to 10 days in Croatia and had a tough time explaining to friends and family, why we decided to spend so much time here. To be honest I knew zilch about this country before planning this trip. I did not even know the capital of Croatia is Zagreb! My only points of reference were that Yugoslavia had been divided into a few countries, Croatia is one of them. Goran Ivanisevic belongs to Croatia and finally good old Game of Thrones is shot in Croatia, so going there with the in-house Jon Snow had to happen. I'll be doing a more detailed post on the Game of Thrones locations in the next post. This one is only about Zadar- the city with "the most beautiful sunset in the world" as described by Alfred Hitchcock.
Day 1
We land in Zagreb from Paris expecting some food in the Air-France/Croatian Airlines flight and are given olives and cheese in a little box and some good Croatian wine to drink. Am afraid, that did not qualify as food for us :( Landed in this really small, cute airport, sat in the airport bus and went to the main bus station to catch a bus to our first destination Zadar. Since this is December, the sun sets early, so by 4:00 it is dark. Mind you we have only eaten 2 pieces of olive and cheese till now. The brain does not function on an empty belly. So forget knowing where to board the bus, we had to find out where can grab a bite first. 1 Croatian Kuna is close to 10 rupees, so we did not feel very impoverished here, we felt slightly poor. With the Euro, we felt poverty-stricken! We boarded our bus to Zadar soon after and reached at around 9:30 with a journey time of 3 hours. A bit about bus travel in Croatia. Trains here are not very frequent. Their bus service however is excellent, reasonable and absolutely punctual. I had booked all bus tickets from www.buscroatia.com in advance and had to only carry prints of the tickets. It was very convenient.
Our AirBNB home in Zadar was right next to the bus station but wait did I mention that it was raining? Or that we didn't have an umbrella? Our considerate host Renata picked us up from the bus station and drove us to her home which was literally 100 mtrs away! 9:30 pm felt like midnight. For dinner we were introduced to the Cevapi ,a balkan dish consisting of grilled meat/kebabs on a flatbread similar to our naan. The cevapi was meaty and filling. We ordered a Cevapi and a greek salad at a fast-food restaurant at the bus station and it came in pretty fast. I was taken aback by the amount of cheese on the salad. Isn't that absolutely atrocious!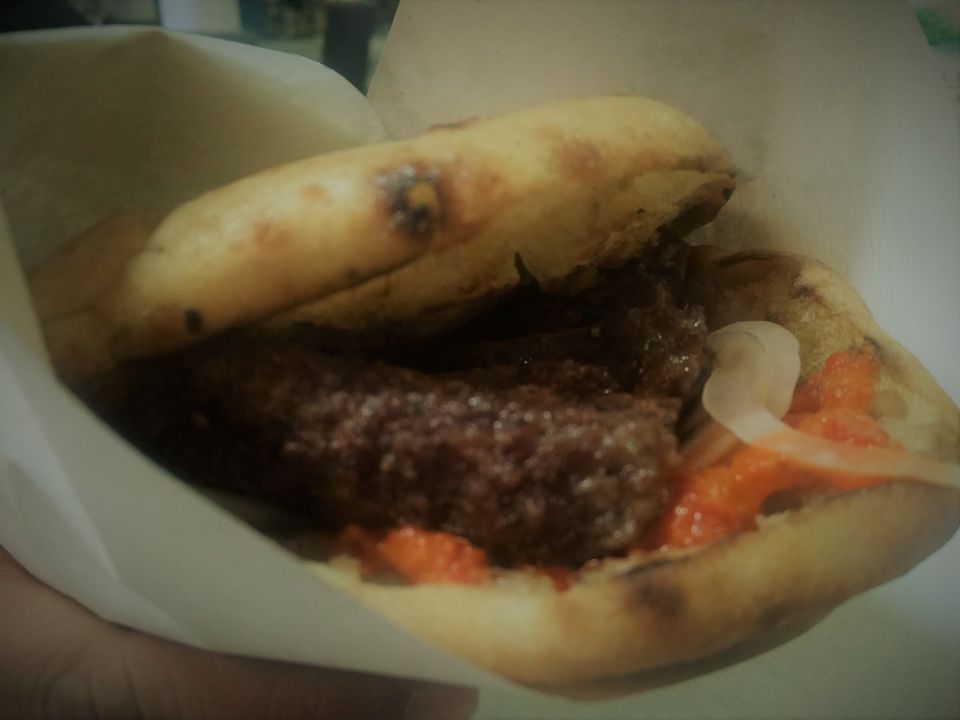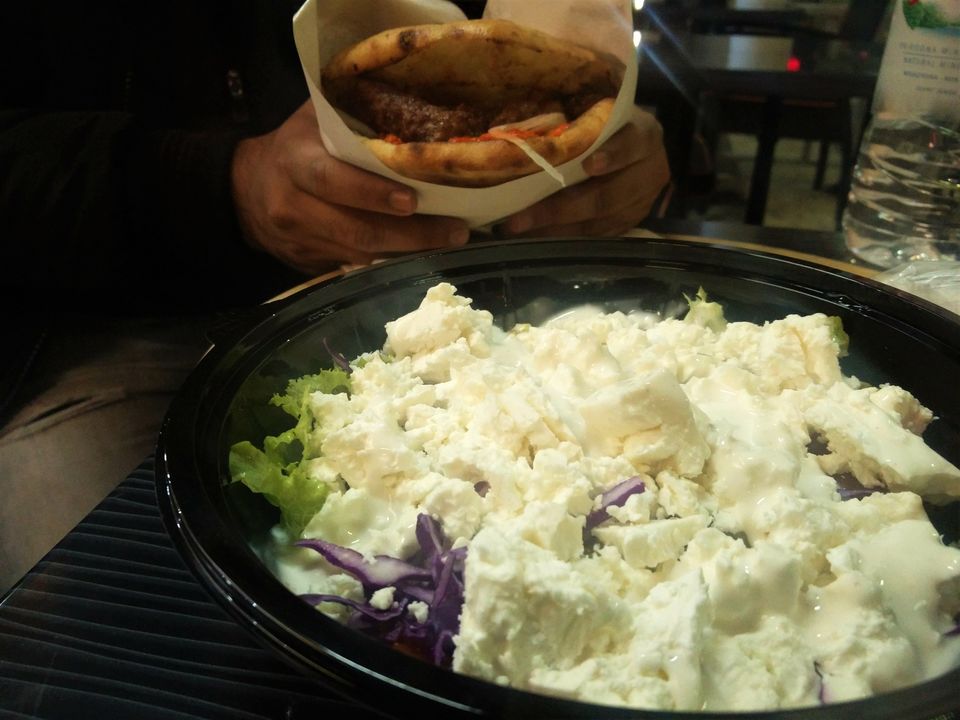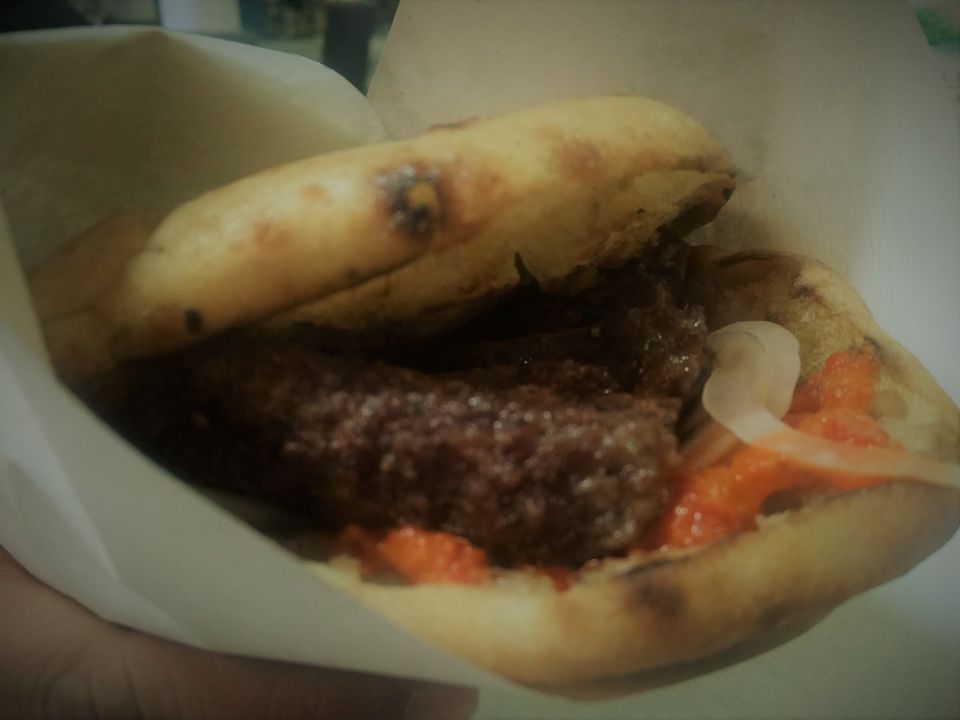 We couldn't have chosen a better place to begin our Croatian Jaunt. Zadar is a cosy, compact and absolutely enchanting town. The Old Town is located within medieval city walls and you can enter after passing through some gorgeous gates.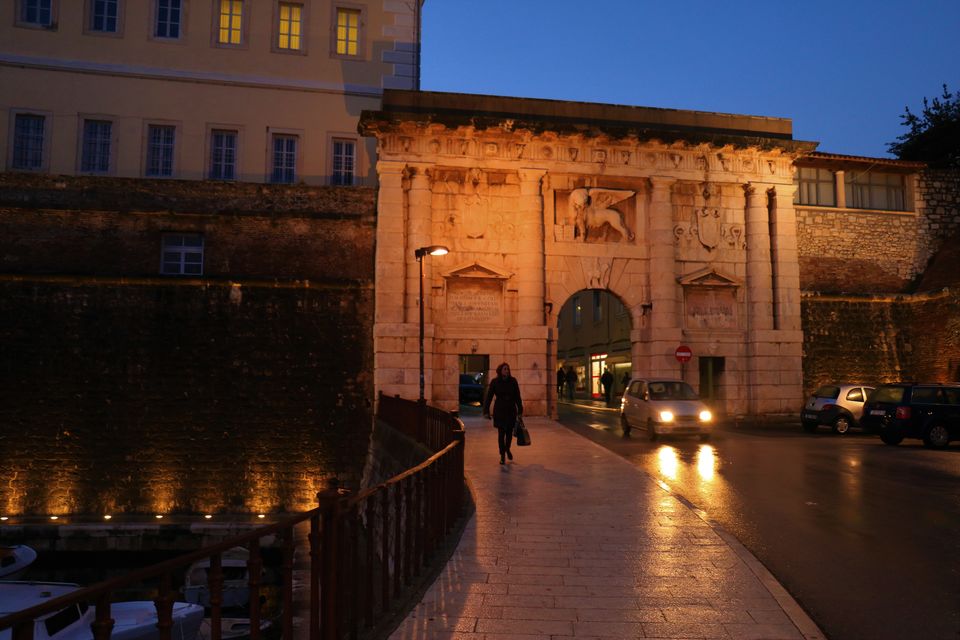 The old town was a 15 minute walk away from our home and thankfully it wasn't raining that morning when we set out to explore Zadar.
I think we were the only tourists around Zadar that day and it felt like we got the entire town to ourselves. Getting to click monuments without a crowd, you can imagine how thrilled the Significant Other must have been.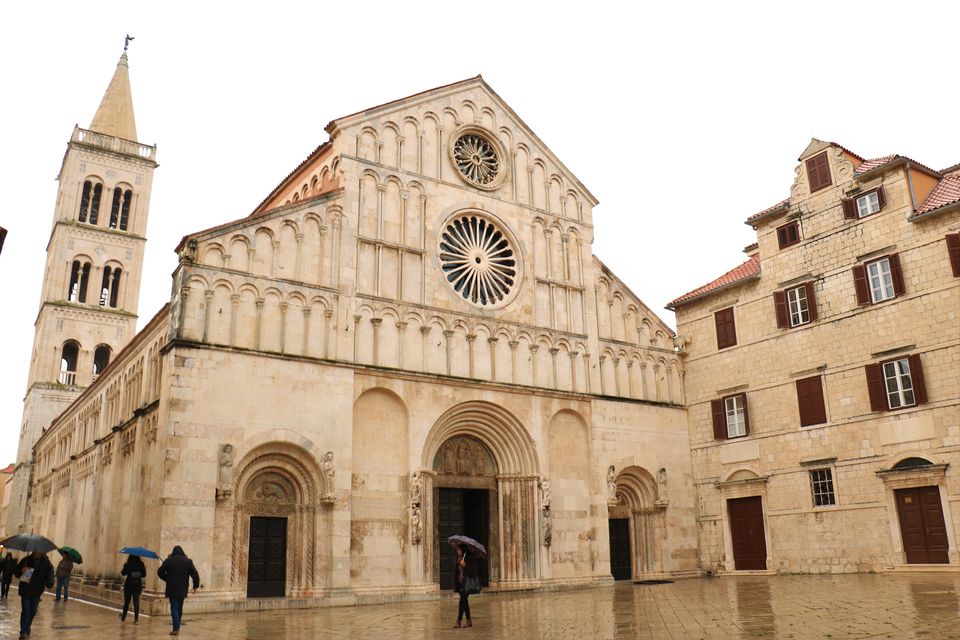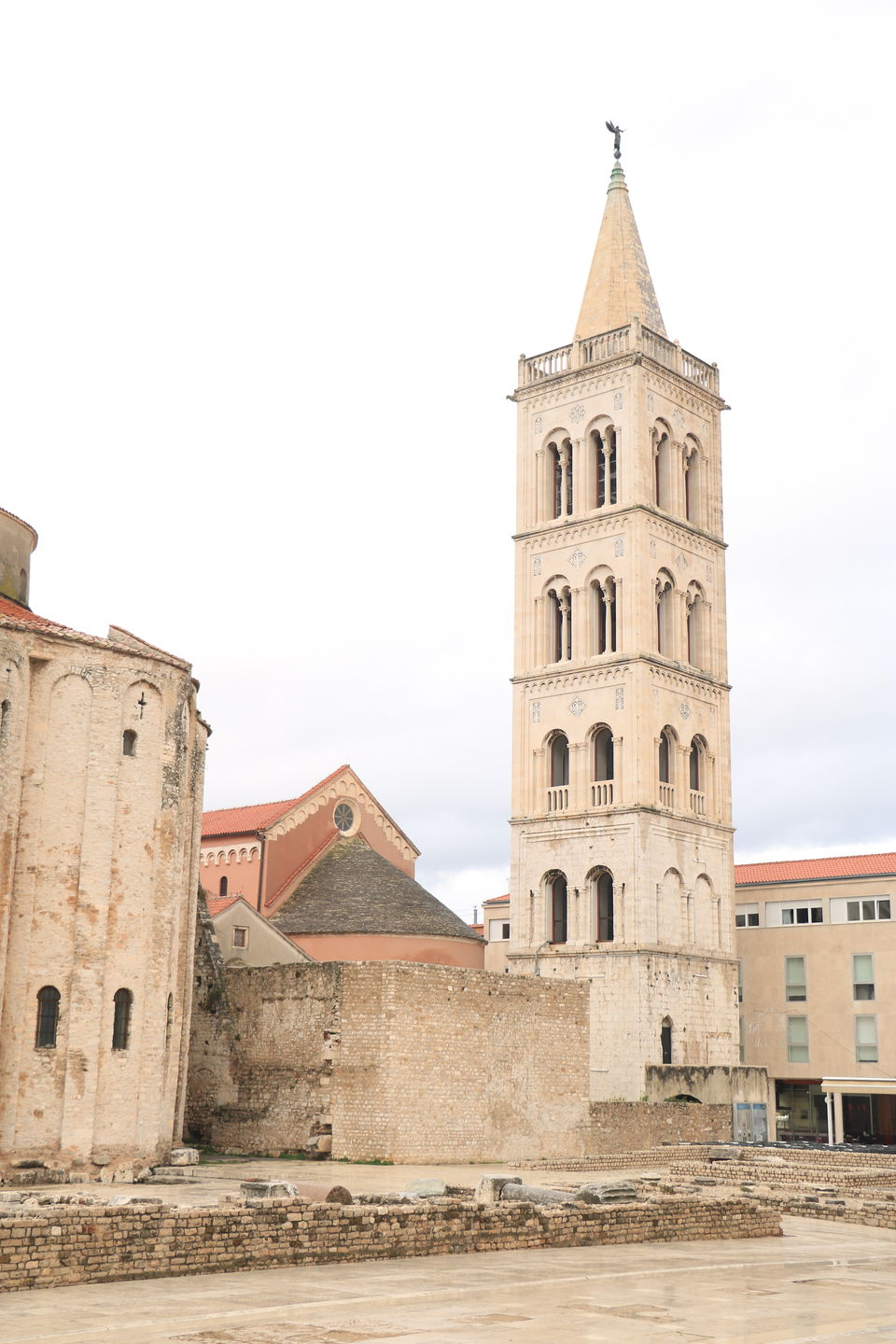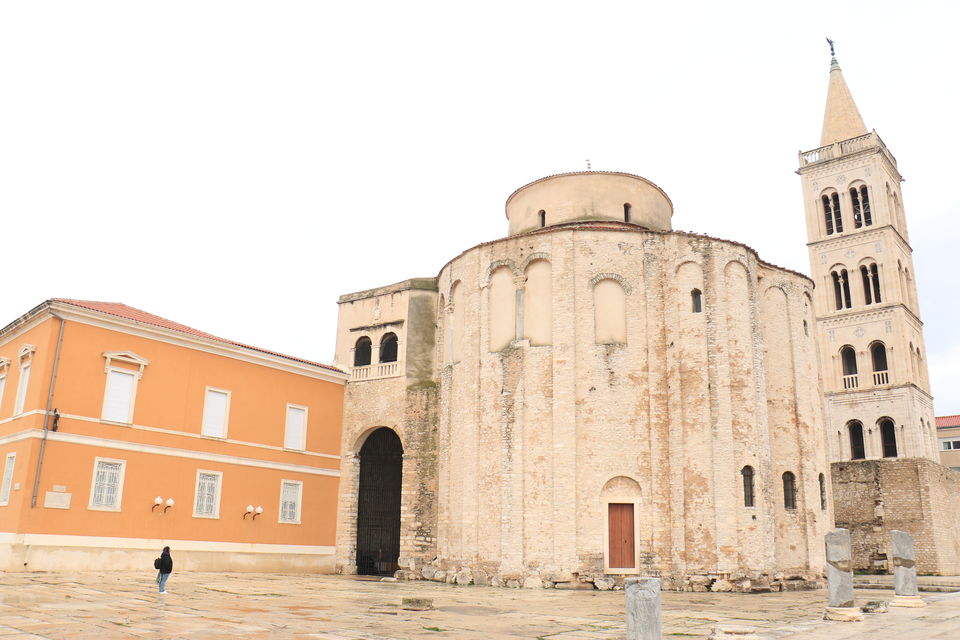 Isn't the city just drop dead gorgeous. Within the old town we walked past the Roman forum, Church of St. Donatus, Croatia's largest Byzantine church, characterized by its circular structure, St. Anastasia's church, you can climb the bell tower with a small fee. It was closed however the day we visited. Our lovely AirBNB host suggested Stomorica and 2 Ribabra(2 fishermen). Stomorica unfortunately was shut since it was off season but 2 Ribara was quite alive and kicking for lunch. Zadar is located on the Adriatic Sea on the Dalamatian coast, so there was no way I was leaving the town without sampling the sea food. I had a monkfish wrapped in dalmatian pancetta which came with some swiss chard. The fish was so fresh and flavourful and the palak added the required fibre to a diet which was dominated by bread. For dessert we shared a chocolate cake which was generously drizzled with walnut liquor. One bite was enough to take us to heaven. It was quite reasonable too by European standards. We spent around 135 kunas which is approximately 1300 Rupees.
After a rather satisfying lunch which we timed with the rains, so clever we are...we walked towards the sea to visit the most famous and amazing attraction of Zadar, the Sea-Organ.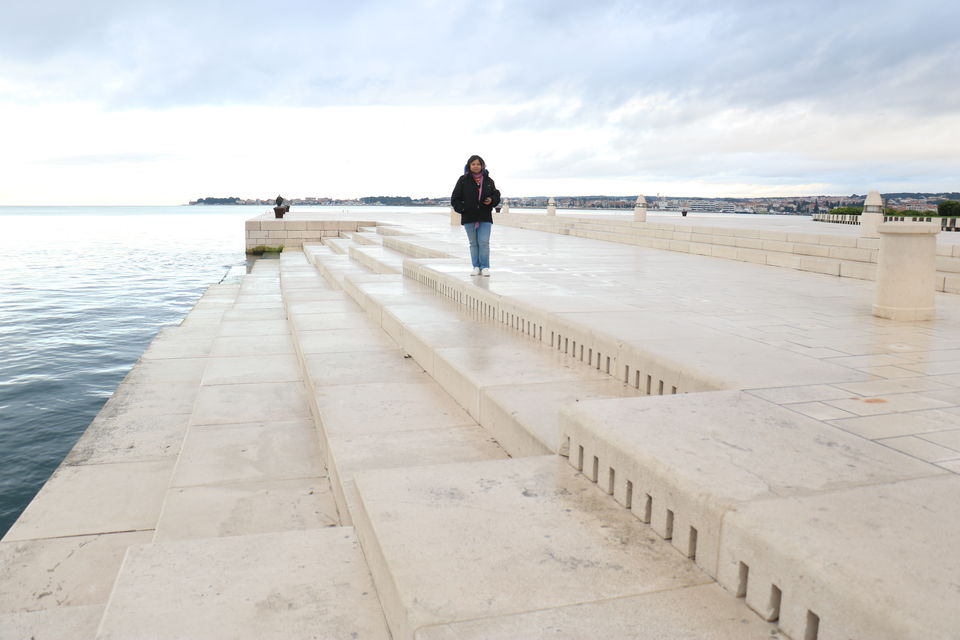 The Morske orgulje or Sea Organ is a man-made wonder which plays the most enchanting tunes simply by taking advantage of the waves in the sea. No electricity or any other power source is needed. This organ is nothing but a series of large steps leading to the gorgeous Adriatic Sea. The holes which you see below the steps are the channels which are connected to pipes. The wind pushes the water through these channels and into the pipes which leads to the creation of some astounding tunes which I don't think can be recreated because nature is the composer! The tunes had a hypnotic effect on me and I almost went into trance standing by the Riva. In summers and in the evenings I'm sure this place gets crowded, but since this was a rainy day, we had this marvel all to ourselves.
As we walked past, there was a dog playing fetch with his owner. The owner actually threw the toy into the sea and this dog jumped right into the freezing cold water in front of my eyes. Unfortunately the dog could not retrieve his toy because it sunk really fast, but to see him paddling so confidently in the sea left me awestruck. I really really really love Europe because of the way they treat their dogs, they are allowed on public transport, they can come along to historical monuments, pretty much accompany you to most restaurants, Sigh!
Since it was a cloudy, rainy day, we can't really claim to have seen the most beautiful sunset in the world, but whatever we saw was enough to make us happy. And made us want to come back on clear day and catch the sunset in all its magnificence.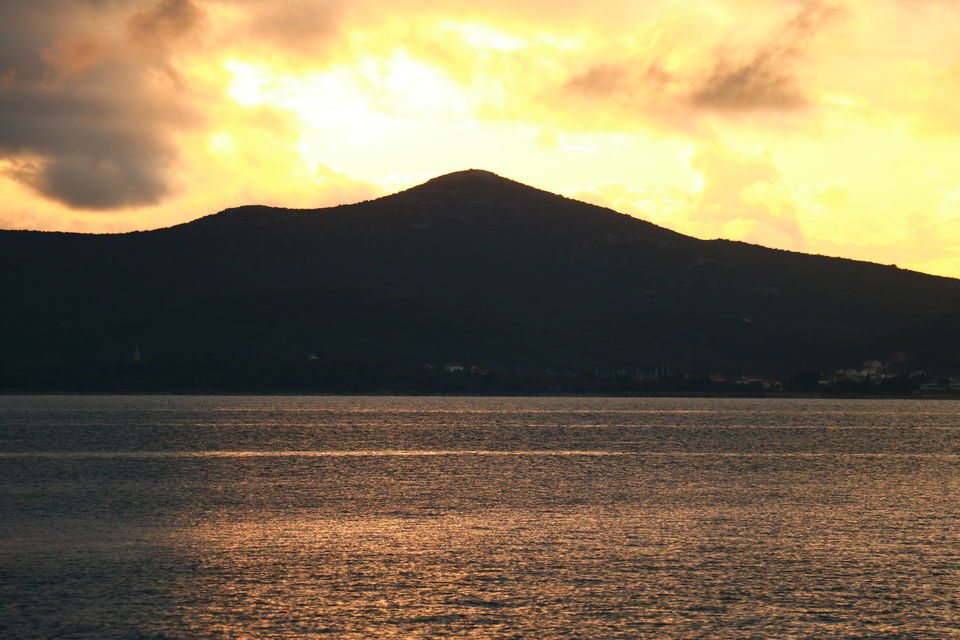 The walk down the Riva is not very long and can be covered in a span of 15 minutes. One end has The Greetings to the Sun, an installation driven by the sun. There are cells placed below glass which absorb the rays of the sun during the day and dusk onwards, the installation illuminates itself. Such phenomenal attractions can be created using renewable sources of energy. I wonder why hasn't this been replicated in other parts of the world yet. The other end is the University and then from the gate there you get into the Old Town.
Dinner was at the Christmas market. This was the first of the many Christmas Markets we encountered in our trips, but the Zadar Christmas Market or Advent-U Zadru is the closest to my heart. This particular market was held in a small square, there were young girls roaming around dressed as green elves and were offering sweets to everybody. Sensing my hesitation in accepting the sweets, the elf said, "Don't worry its free." I was embarrassed and happy at the same time. This particular Christmas market felt like a fun-fair we have in schools just in the most exquisite setting. There was a stage set up in the square. Little kids were singing, their parents were cheering, people were chugging beer and buying snacks from the stalls. We didn't know anyone here but still felt like we were a part of the festivities. Christmas is the time for hot drinks and I found my new favorite here, the hot rum punch, it is so easy to drink you don't even realize it has alcohol in it. That with a pulled pork burger from the stall and we were done with our short and sweet trip to Zadar.
Zadar is on the verge of becoming a very popular tourist destination and in the summers it does get very crowded. I personally don't think I'd be able to enjoy this city in its crowded avtaar because I have experienced this city at its solitary best and I wouldn't have it any other way.
Photos : Ritwik Sawant