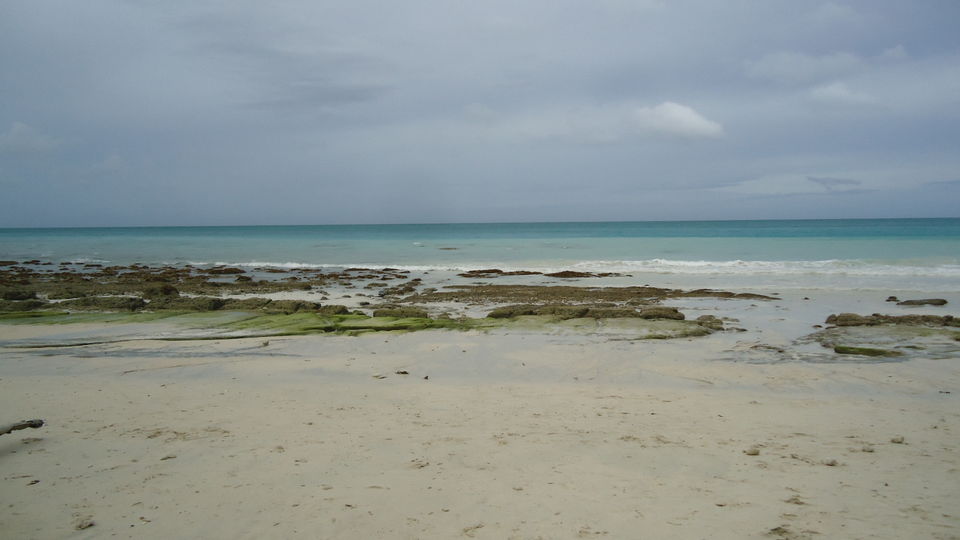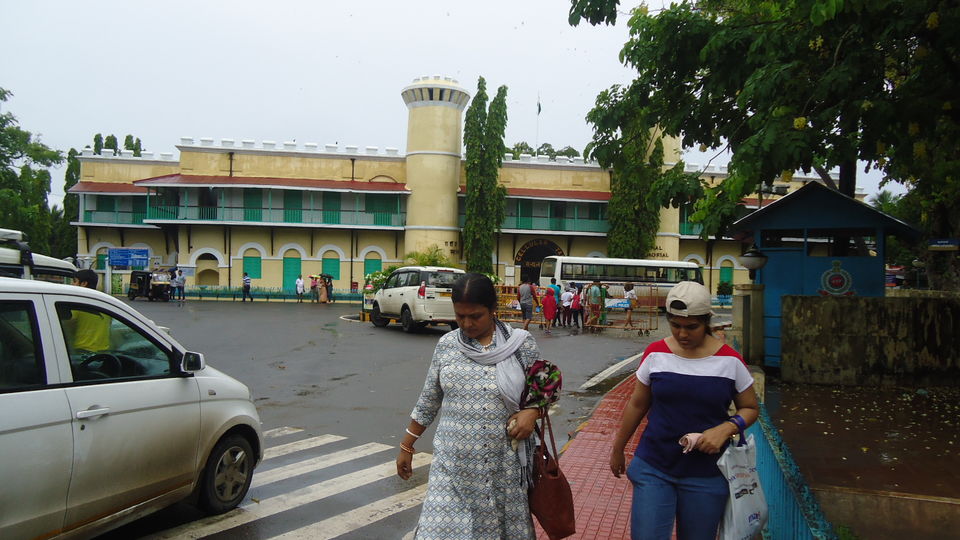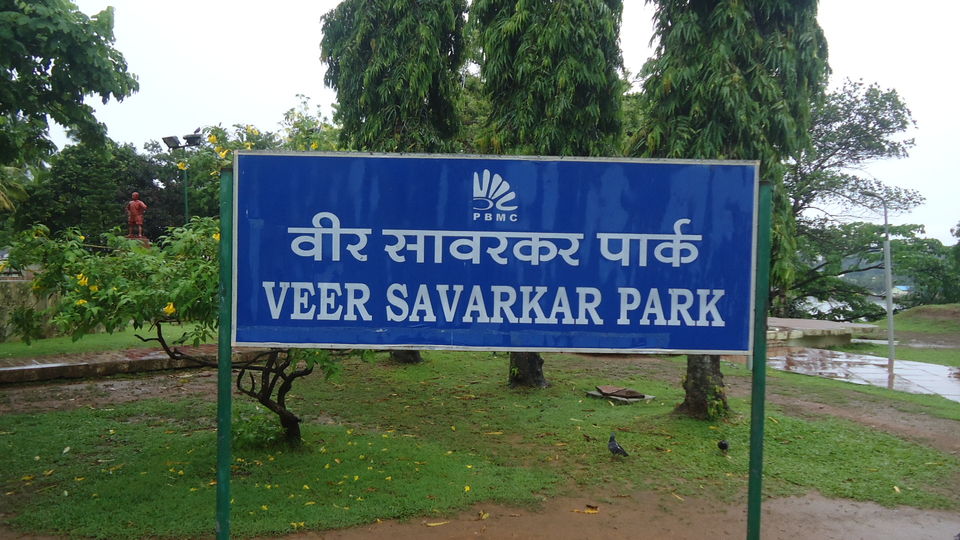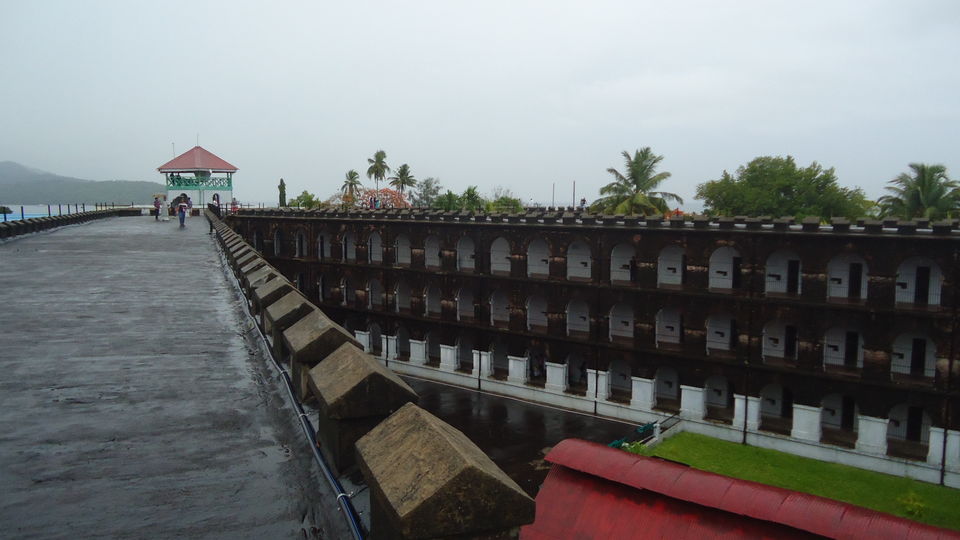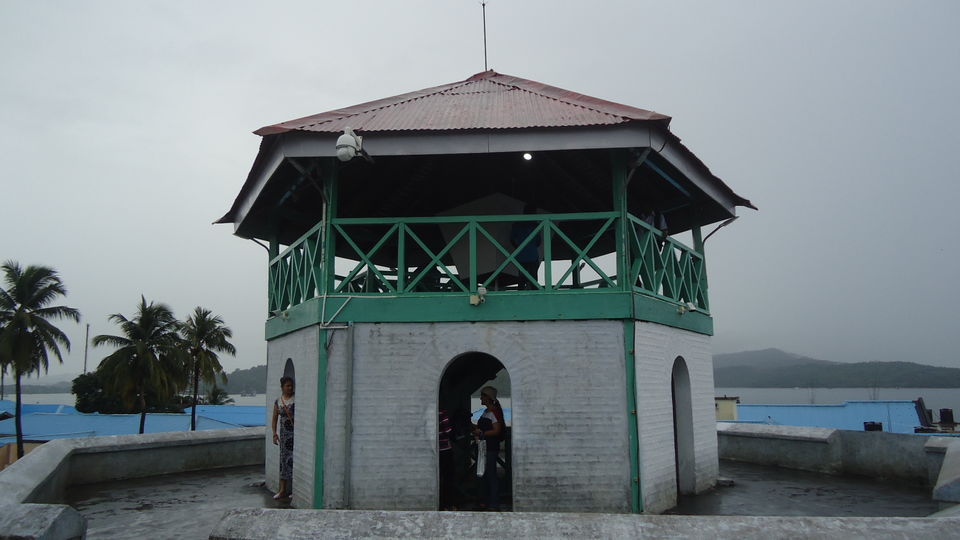 Go Air plane was 30 minutes ahead of scheduled arrival and we had reached Port Blair by 10.4o AM. The bad news:it was raining.Coming out of the Veer Savarkar international Airport I was disappointed.Well I had not imagined it to be such a messy place.It was a pretty ordinary airport with hardly any amenities and an ugly façade.Somehow we managed to get a car and the driver named Sanjoy , a Bengalee settler,dropped us to our APWD Circuit House at Haddo. we had two rooms pre booked but the staff at the reception said that only one room had been alloted in my name.When I protested and told him that I had been informed by the Protocol officer that two rooms had been allotted to me he denied and said that he had no such instructions.Then again he allotted me room which was in the ground floor but we could not have stayed there as some construction work was in progress and the entrance was all a mess with cement and sand.Moreover, irritating sound from the tile cutting machine made it hell of a place.I told him bluntly that I would not stay in such a messy place and phoned the protocol office.The man who answered the phone was impolite and he would not listen to my complaints.Then when I told him that I would lodge a written complaint to the Protocol Officer he relented and ultimately we were given a nice room upstairs. But all these had already cast a gloom on the journey and we felt let down.Anyway we got refreshed and headed to the city to look for a good restaurant where we could have lunch.The auto rickshaw driver took us to a decent Bengalee restaurant called "Adi Bangali Hotel".The food I must say was good and having finished our lunch our drooping spirit buoyed up and we straight away headed to visit the main attraction of Port Blair,the infamous Cellular Jail.But again rain played the spoilsport.We had to wait for the rain to stop.Then our guide took us around fascinating us with extraordinary story of British torture which the brave inmates had to suffer.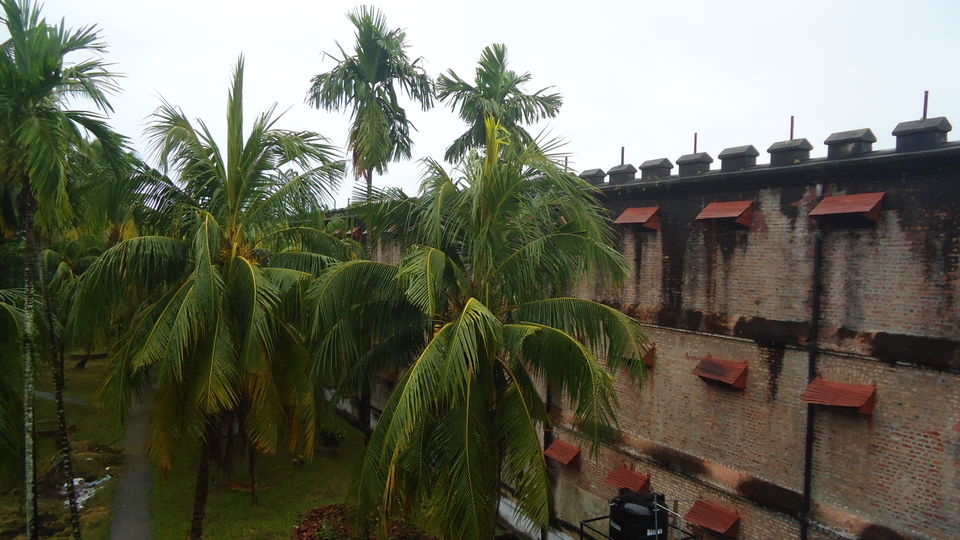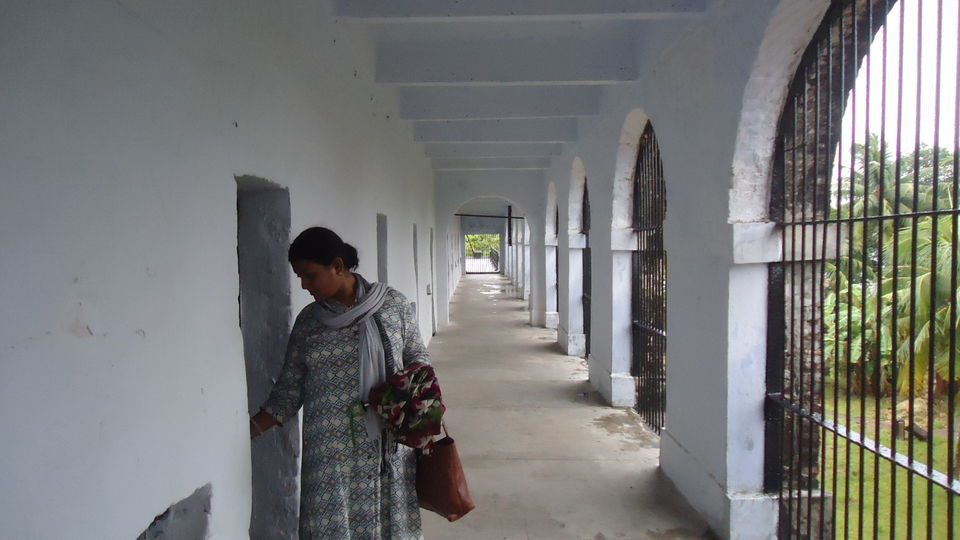 I wondered why we should not have their figures printed on our currency notes.When will these brave freedom fighters who had sacrificed their lives be given the honour they truly deserve?Visiting the small cells and the place where they were hanged to death brought tears to our eyes but we also saluted them from the core of our heart.They are our forgotten heroes and their untold life stories could be the subject matter of historical researchers.
The evening was spent inside the Rajiv Gandhi Water sport Complex and watching the beauty of the Andaman sea which looked a bit murky because of the monsoon rain.We came back to the rest house and prepared for the next days cruise to Havelock Island.Weather seemed to play the spoil sport and there was intermittent rain.As night progressed wind picked up and it seemed as if a storm was raging.I was worried and tried to keep a watch on the weather bulletin which did not predict any depression or cyclone .
Day 2: Morning does not always show the day.I thought that the ferry would be cancelled because of the rain but when we reached the Haddo jetty from where Mac Cruise and all other ferries would be sailing, we found a long queue and the good news was there would be sailing and everything was fine.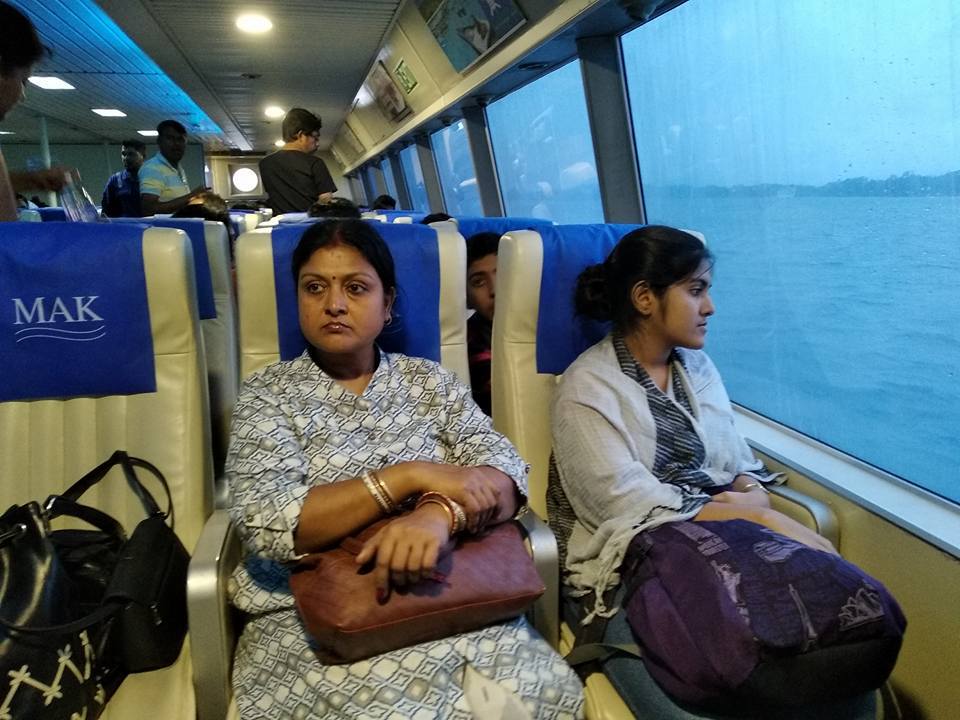 Mak Cruise was great but we could not enjoy the outside scenery as it is a closed vessel .You cannot go to the deck. The cruise started to sail around 8 o'çlock and after 1 and 1/2 hours we reached Havelock. Sea wasn't that rough.The weather God had listened to our prayer and the moment we touched the shore of Havelock Island bright sun shine greeted us. suddenly the colour of the water around us changed dramatically.It was very very different from the colour of sea we had seen in Port Blair. Riddhi ,my daughter and my son Rishabh were overjoyed to see crystal clear water with the marine life in it.I told them that there would be more beautiful beaches and virtually dragged them out of the jetty.We were to stay at an Eco Resort called Emerald Greco which was 10 minutes drive for which we had to pay INR 200,which was OK.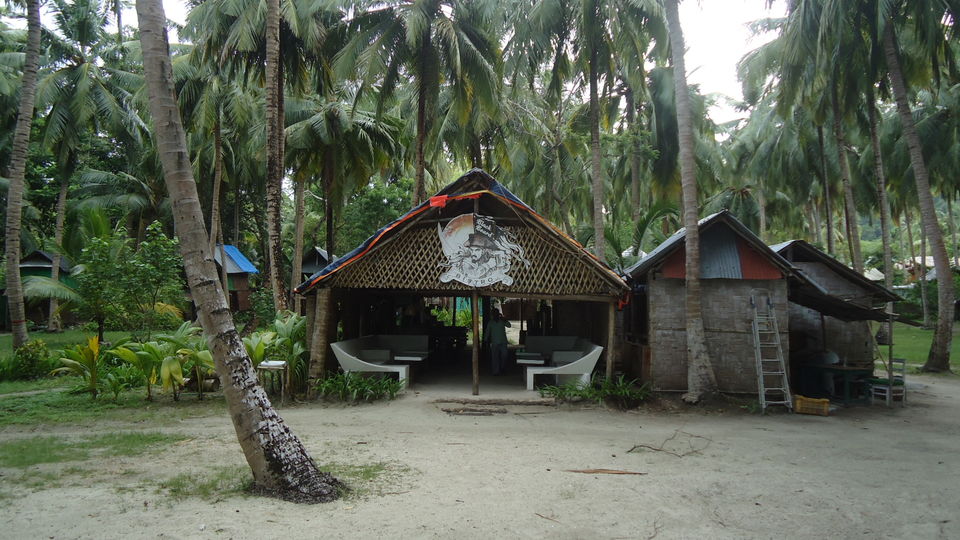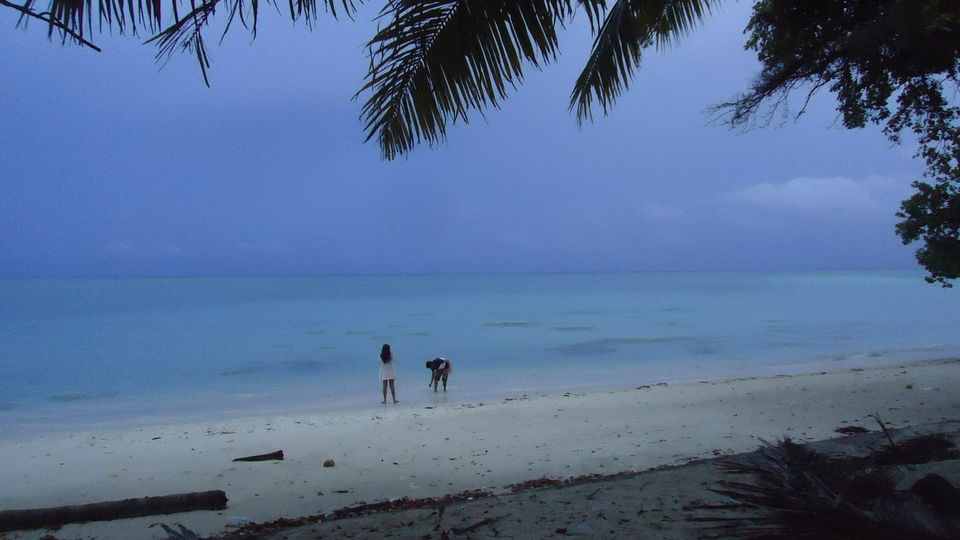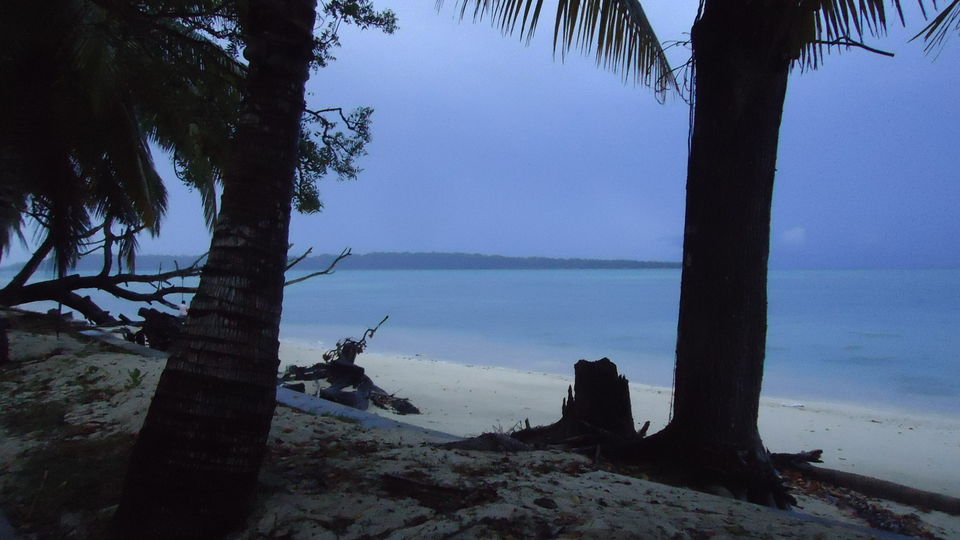 The resort was by the sea in a big coconut grove and had a private beach of its own.We were housed in two shacks ,very basic with an attached bath which had no roof.The bed and the linens were very neat and clean but the shacks were poorly li. There was a restaurant but the manager Mr Sanjoy informed that it was not functioning and we would have to have our food ouside,only breakfast(which was complimentary) would be provided.My children and kakali,my wife, didn't like the shacks for they were very basic and meant for the backpackers like me.They were afraid of insects (snakes,scorpions and what not) .I had no problem with these creatures for they were invisible to me.But they could have very well existed and I was bit concerned about their safety. Anyway the sea and its virgin beach was more endearing and so we did not give much importance to our staying comfort.The Dolphin resort, where we were to put up the following day,was next to Emerald Greko and so we decided to have our lunch and dinner in their restaurant.The buffet lunch (INR 220 per plate) was very very delicious and we did not regret staying in El Emerald Greco. The day was spent in a laid back manner and we went for a bath in the shallow but crystal clear turquoise blue water.
DAY 3: After breakfast we had to check out of our resort.But there was a brief spell of rain and I wondered how we would reach our next resort,the Dolphin Resort, one of the best resorts in the island.I decided to walk through the beach. We checked in ,got fresh ,booked a car to go to Radhanagar beach which is said to be the best and the most beautiful beaches in Asia.When we reached there we understood what made it so special.The sand was the whitest and the beach had a natural setting ,the entire shoreline was dotted with tall tropical trees and some forested cliffs which made it look so different from other beaches on the island.The day we visited was a windy one and the breeze blowing from the sea was so strong that it was difficult to walk steadily.After spending some glorious moments strolling through the beach and clicking some memory photographs we headed for lunch in a local restaurant run by a Bengalee gentleman who was an islander.We tasted a red snapper dish which was so fresh and cooked to perfection.From Radhanagar beach we headed for Kalapathar beach which was also very beautiful.Bathed in the light of the evening sun the place looked surreal.It was time to go back to our resort.The next morning we were to sail to Neil Island.....