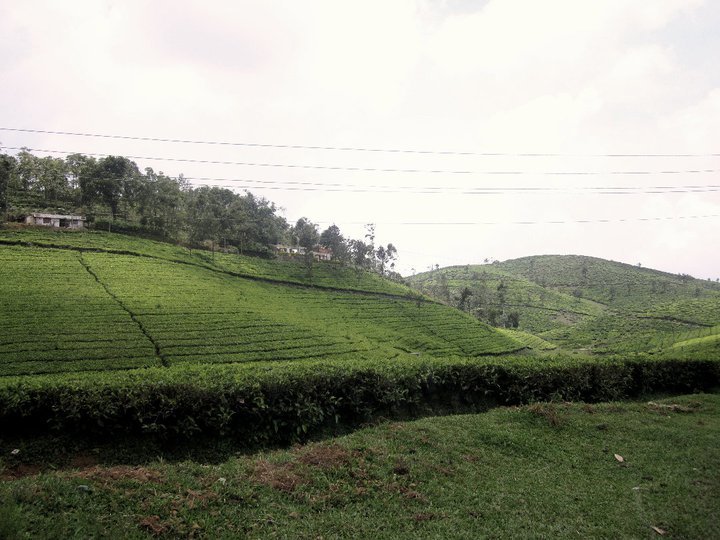 Though as a person, I've visited plenty of times with family and friends, Munnar is one of the places which I'm never tired of. The cool climate, the vivid shades of green over the tea plantations, curvy roads the bliss of the mist engulfing you at times.
Hence, we decided to take a trip to Munnar with friends.
We took the morning 6 am Jan Shatabdi train from Trivandrum to Ernakulam and reached our friend's home by 9-30 am. We'd booked tickets for the 7 pm ISL tickets for the Kerala Blasters home game against Kolkata, (Sadly we lost 2-3), so we'd plenty of time to hang around Kochi for a while. We made a visit to "Mullapanthal" a must visit place for a non veggie foodie, if you're one.
The next morning, we started our ascent towards the rising Western Ghats to the lush of Munnar, it's close to 2.5 hours journey from Ernakulam to Munnar. Roads are decent with less potholes. We checked into the room we'd arranged before, tired from the huste bustle from the past days, we crashed into the cozy beds.In the evening, we'd walked around, visited a local tea plantation, drank the famous munnar flavored tea and had a delightful dinner from 'Guru Bhavan' hotel.
The next day was for Eravikulam/Rajamalai National Park which is the natural habitat for the Nilgiri Tahrs, we'd reached early in the morning and it's tough to get tickets in the long queue if you don't make it to the ticket counter early in the morning. We'd to wait in the queue for quite a long time to get our bus ride to the peaks of Rajamala. The bus took us to a check point and halted, we are supposed to walk the rest of the ascent. It's hardly two kilometers on foot to the end of the way up the top. You'll see the Nilgiri Tahrs in plenty, click photos with them(there are a certain set of rules to adhere to), By the time we reached the top most point of the place it began to drizzle and the mist started to engulf the place and the people. It was really blissful to feel the mist in your face.We had a short chat with a British couple while we were waiting for our return journey downhill who hailed from Newcastle. Lovely people, they were. It was their maiden visit to Kerala and we helped them with some tips. After all the walking, short trekking made us carving for our lunch and we headed to Guru Bhavan again for some delightful food! Seafood, chicken, mutton, you name it! We headed back late in the evening to Trivandrum by road via Kuttikanam, Kattappana, Adoor and Kottarakkara!
Reached home by midnight and crashed into my bed for a long slumber! :)