Have you ever been to a cremation site and felt at peace?
Have you ever dreamt of breaking a piece of cloud and having it?
Have you ever seen a river flowing upwards?
Have you ever experienced a sunrise boating in a river?
Have you ever experienced "life after death"?
Have you ever thought about a delicacy which can be an appetizer and a dessert at the same time?
If answers to most or all of them are NO, then you must immediately pack your bags and head to Varanasi right now!! (Well, you can read the post and then leave). Varanasi or Benares is one of the oldest living cities in the World. Mark Twain once wrote: Benares is older than history, older than tradition, older even than legend and looks twice as old as all of them put together". You can feel the rustic charm while you transverse through the narrow lanes and by-lanes of the city along the ghats. The entire city is divided into 2 parts - Kashi Khand and Kedar Khand. The city gets its new name from 2 rivers which bisects the plains namely - Varuna & Assi, between them lays the heart of Benares - the 84 ghats along the banks of river Ganga. The entire stretch is not more than 4 kilometers. The 5 most important ghats of Benares are Assi, Dashashwamedha, Manikarnika, Panchganga and Adi keshva.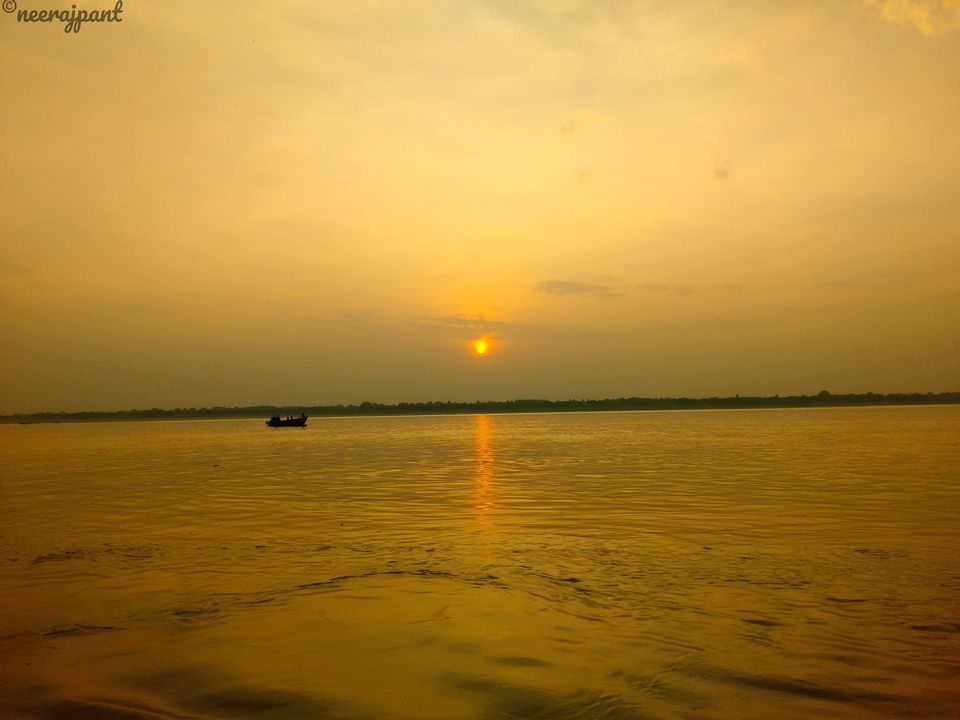 The visit to the place starts with the ghats and the famous Kashi Vishwanath temple, also considered as one of the 12 Jyotilinghams. Winter is the best time to visit, no not because of the pleasant temperatures but it will give you a chance to grab a bite of the clouds :) Malaiyo - A creamy froth like dish served on a clay cup in almost every street early morning. This is a special delicacy served in Varanasi and is something not to be missed. Not only Malaiyo, Varanasi is actually a street food delight. People generally relate Vanarasi to its ghats but is also heaven for foodies. Banarasi Chat, Pan, Malaiyo, Litti Choka and Bedami Aloo the list is endless and one needs to have those taste buds. Life in Benares cannot be imagined without Pan; it's a major meal there. People take it as appetizer before meal or at times it is served as a dessert. Benarasi Thandai at Gowdolia is another foodies's delight.
The River Ganges also adds up the mystical charm. The otherwise South-easterly flowing river changes its course while traversing through Varanasi and flow northwards to be called Uttarvahini Ganga. Dawn is the best time to explore the river .You can hire a boat ride as per your bargaining skills. Both Varuna and Assi also flow in to Ganges. Evening aarti at Dashashwamedh Ghat is also an experience in itself which is not to be missed. Infact every ghat has a story to tell, all you need is patience and chai:)
Varanasi has special place in Hindu Mythology. They say if your body is cremated in the Manikarnika Ghat the soul attains salvation or Moksha. It also releases the soul from the vicious circle of life after death. At Manikarnika Ghat, death is celebrated and it is believed that fire never extinguishes here (corpse are cremated 24*7*365). A brief stint here is enough to realize your identity against the almighty. The city also boats of countless temples spread across almost everywhere. Sankatmochan temple, Bhairav temple, Bharat Mata temple are some of the prominent names along with the famous Kashi Vishvanath. The place is not only important for Hindus but is also significant to Buddhism as Sarnath - The place where Lord Buddha had his first preaching is just 10 kilometers away. Varanasi or Sarnath hold an important place in Buddhist circuit as well.
Varanasi is very well connected on world tourist map.
By Air: Lal Bahadur Shastri International Airport; 26 kilometers northwest to the city.
By Rail: Varanasi Junction or Varanasi Cantt. Railway Station; one of the highest revenue generating railway station of India.
By Road: Varanasi was one of the prominent cities situated at the GT Road. In today's date it very connected to NH 19 and AH1 (Asian Highway connecting Japan to turkey).
So back your bags and head towards the oldest city for a time of your life!