Morning brought in another bright sunny day, it was more than welcome. We started our journey to Pangong lake, the most awaited place to visit, I was personally looking forward too. Instead of going back via Khardungla for Pangong, we took direct, more treacherous route to Pangong.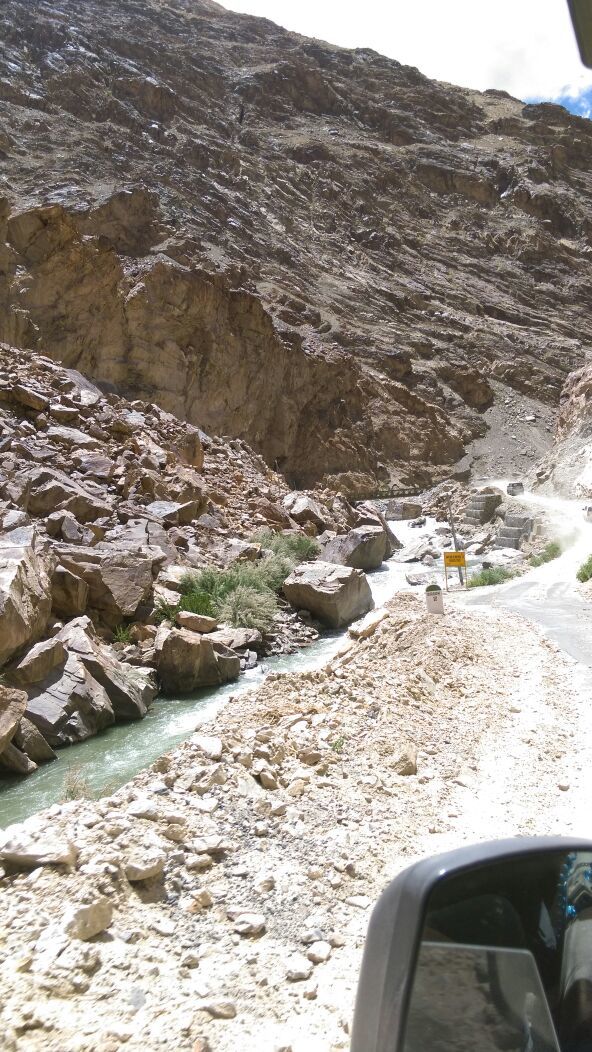 We headed towards Disket – Khalsar and after a few kms towards Khardung took left and followed board towards Agham. There were no Tar road, it was isolated and completely off track with most of the section running as dirt roads.

The Shyok River was making its own wy on the roads. Some of the sections between Agham and Shyok villages were extremely difficult, due to extreme condition of the road.

I personally would suggest not to take this route until you have very experience driver. The entire ride had different vexation from water crossing, loose rocks, sharp stones, big rocks under water crossings or standing water or sometimes even Shyok river itself on the road. We didn't spot any vehicle or locals on that route except road construction workers. The route on left is to Shayok which opens up at Durbuk on Chang La – Pangong lake road.

From Durbuk, Pangong lake is about 40kms. This route is under heavy construction, our vehicle was taking twist and turns around the swiveling paths through the magnanimous ranges on the way. We continued towards Wari La which connected us to Pangong Lake. About 15 kms before reaching Pangong lake, we got the glimpses of lake, The lake had this mesmerizing effect of making us forget all the tiredness we felt during the journey, a blue speck discovered amidst the shining in sandy mountains.


And the speck grew bigger and bigger to a long blue strip of never ending water body that challenges our eyes to think beyond the horizon. "The Pangong Lake" at a height of 14270 feet in Ladakh District of Kashmir. This lake falls in the category of Endorheic Lake with brackish water and spreads about 134km in length across border to China. Even with that length, India still owns 30% of it and the rest of it is enjoyed by China.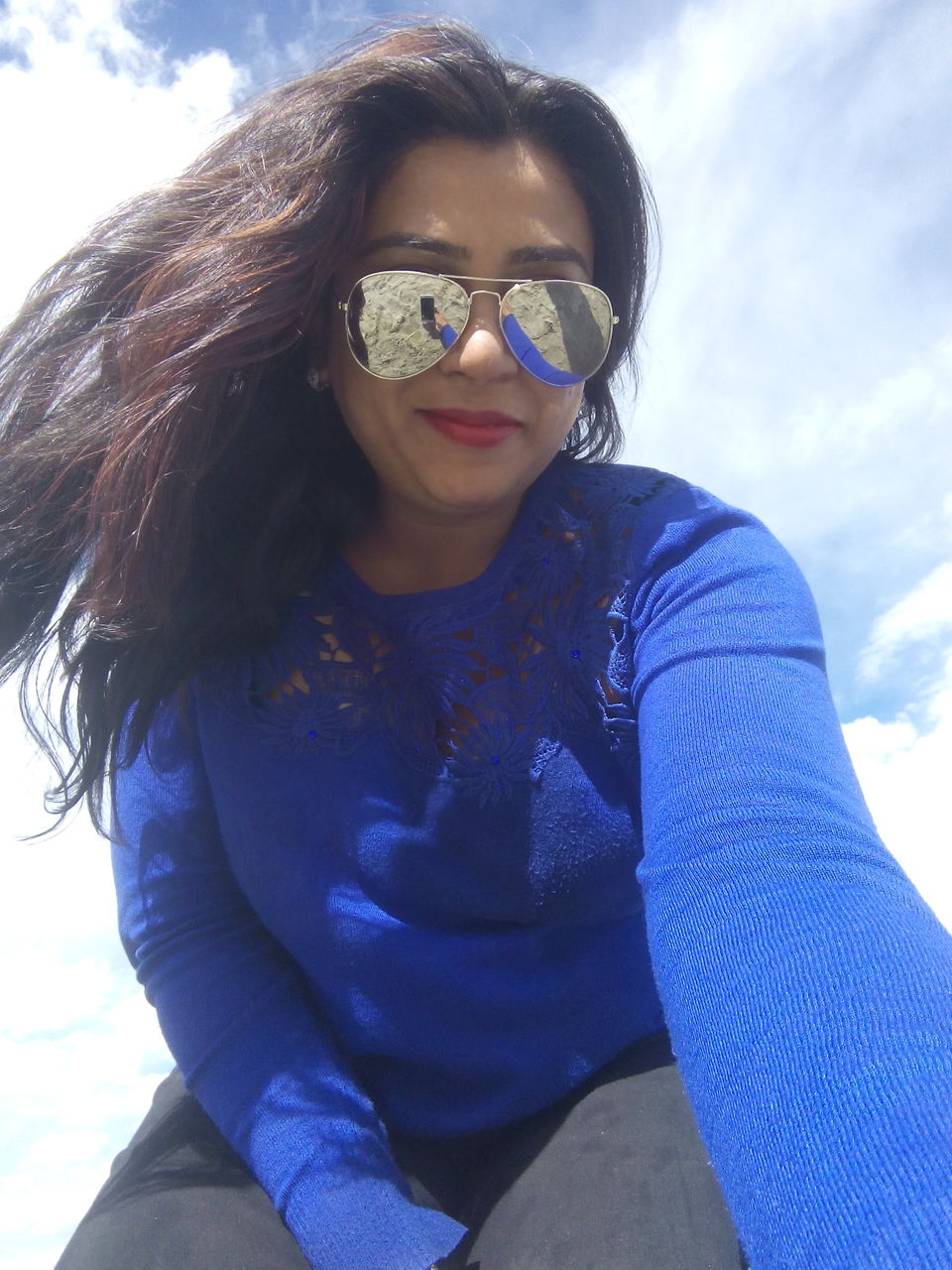 Reaching there I had to admit that India truly is a land of diversity in every respect. The topography of this lake is breathtaking –an impeccable landscape. It was like a masterpiece painting created by God. It was 4 PM and there was ample time in our hand on account of its geographical location. The drive by the bank of the lake was indeed a lifetime experience. We stopped by the bank and spent some quality time .The crystal clear water was void of aquatic life. The changing evening sunlight was changing the color of the lake from blue to turquoise. The entire package was scenic and picturesque beyond imagination.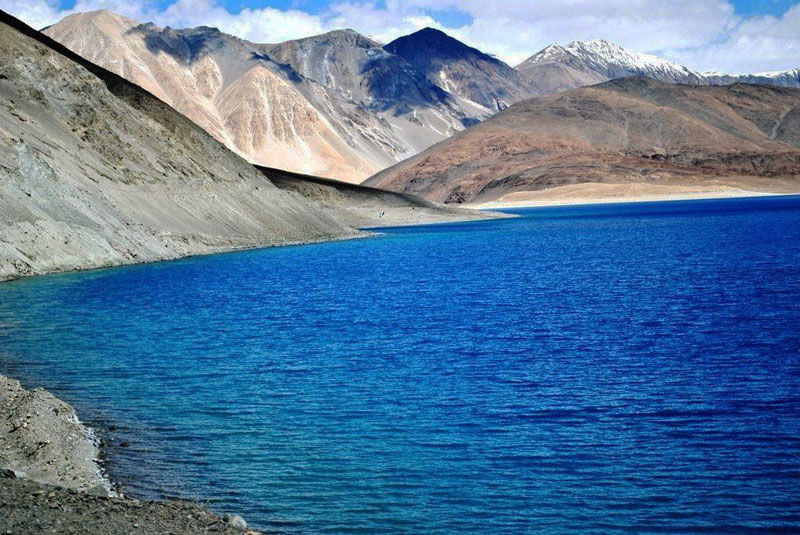 Seeing the same place which I have been dreaming about, in person adds to its charm and I was spell bound by it. We headed to a small town "Merakh" which was by the side of Pangong Lake and around 20km from main Pangong Tourist Spot. The Blue spread never left our side. It was a dusty ride with not so visible road. Merakh has a few "home stay" dwellings to spend the night. We stayed at Marzee Homestay, Clean and comfortable rooms, amicable hospitality and offered the spectacular view of the lake from our room window. The family provided food, eaten Ladakhi style in their warm kitchen, we had sumptuous homemade dinner and decided to take some time off and catch on sleep.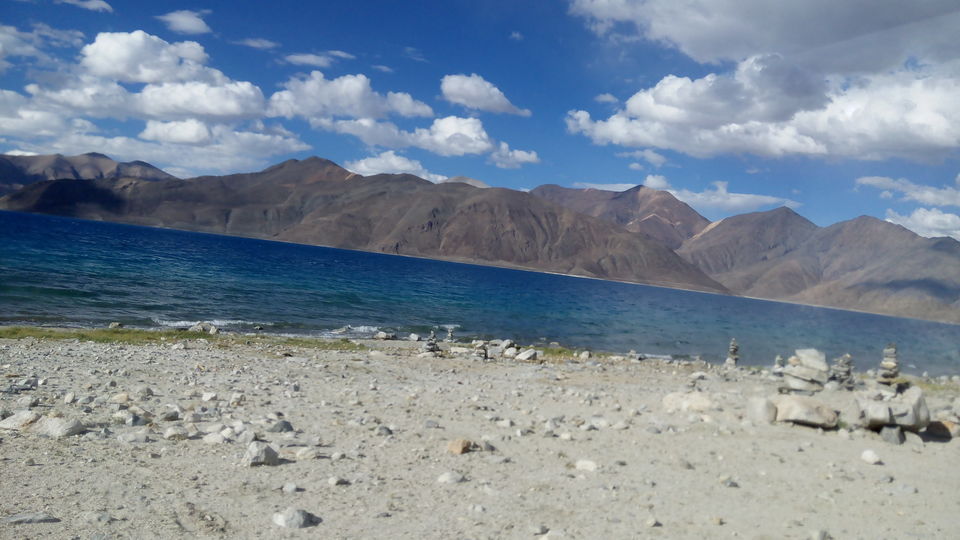 I finally say to all -Julley!