It's time to take weekend off from the office, friends, family and everyone who loves you because you need time for yourself, to love yourself, to gain your energy to give back. So, here begins another solo trip, as a backpacker, weekend gateway from Mumbai, Aurangabad.
Aurangabad is a city that has so much to offer, approx. 300 Kms from Mumbai, the rich history of the place takes you miles in reverse directions. I took a bus from Andheri to Aurangabad at 9 o clock around. 5:30' I was in Aurangabad.
They left me at Baba stand, I had booked a hotel, Hotel Shiv Tej Residency. Opened google maps, it was 1 KM from my place. I decided to walk in the mid of autowalas chaosness. Started walking in that morning, there were obviously few people on the road, it was little scary but now am kinda used to of that heart pounding. The farther I walked, I found dhudh walas, newspaper walas and it was all OK. I reached my hotel and told them about my booking. The manager said "It's from 12, come that time or pay extra". I fought,requested and finally got a room to freshen up. It was 7:30 AM, when I was all set for my Ajanta Caves trip. I reached bus stand, took an auto from my hotel to bus stand (Rs 20) per passenger. I was the only passenger :P. Reached bus stand and asked in enquiry about the bus going to Ajanta. A bus was standing right there. So, any busses going to Jalgaon will be passing through Ajanta (Rs 114) . It's 130 Kms away from Aurangabad. Passing through green picturesque of western ghats, I reached around 10:30 AM. Took a ticket, as soon as you move inside there are plenty of shops for tourists. I took a ticket to Ajanta. There are buses going to and fro from this point to the starting point of caves.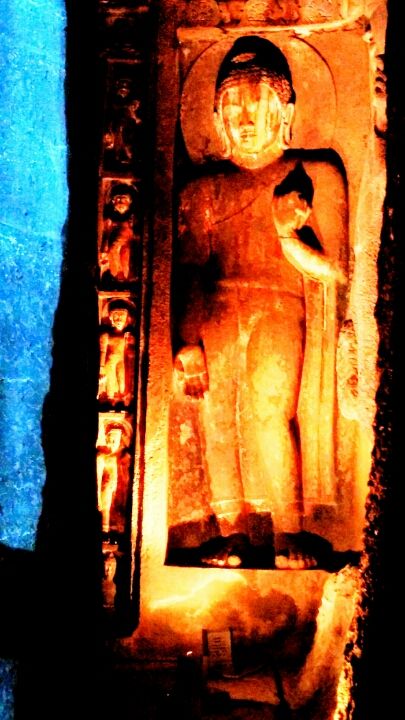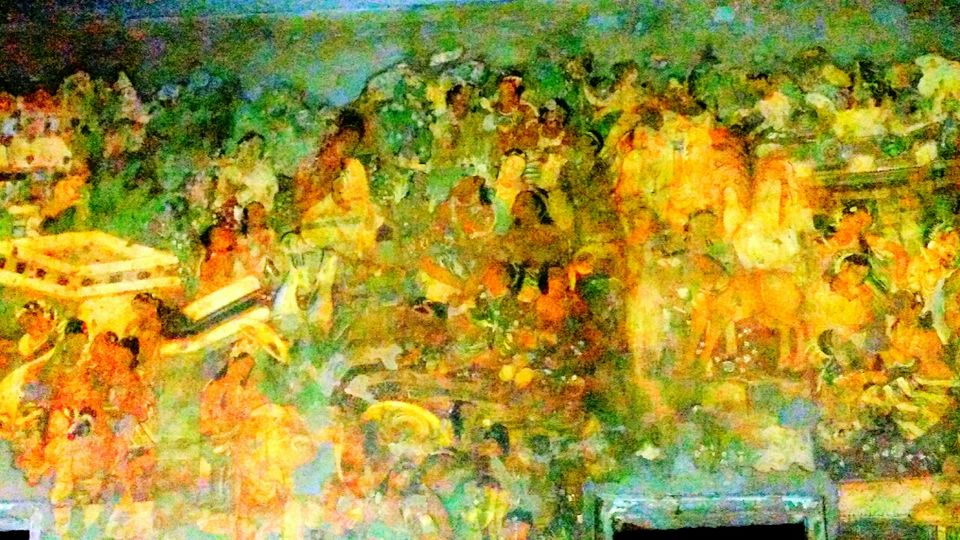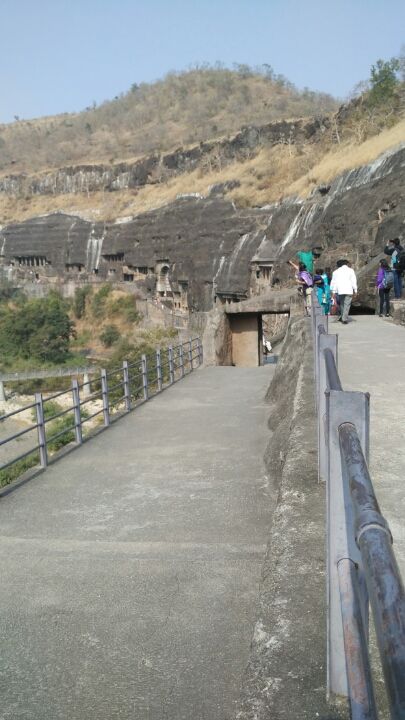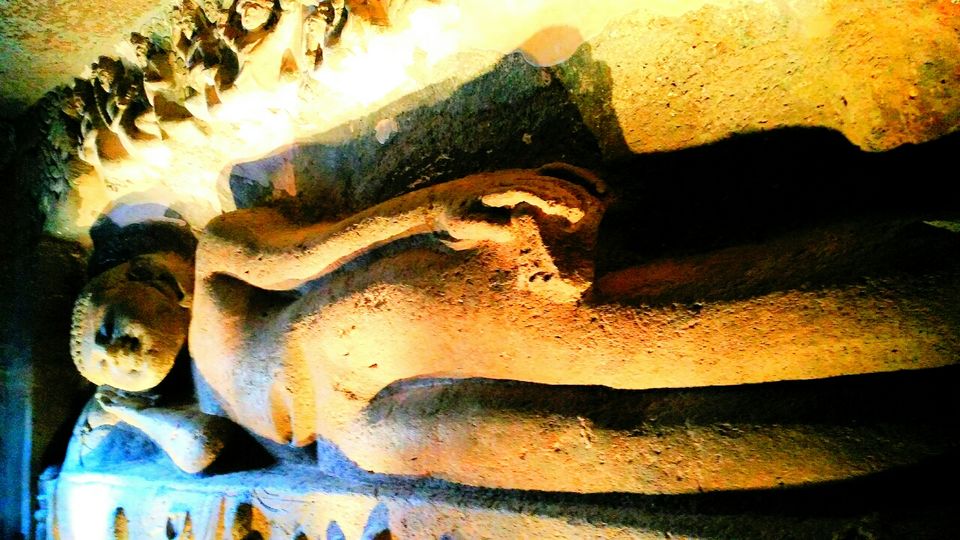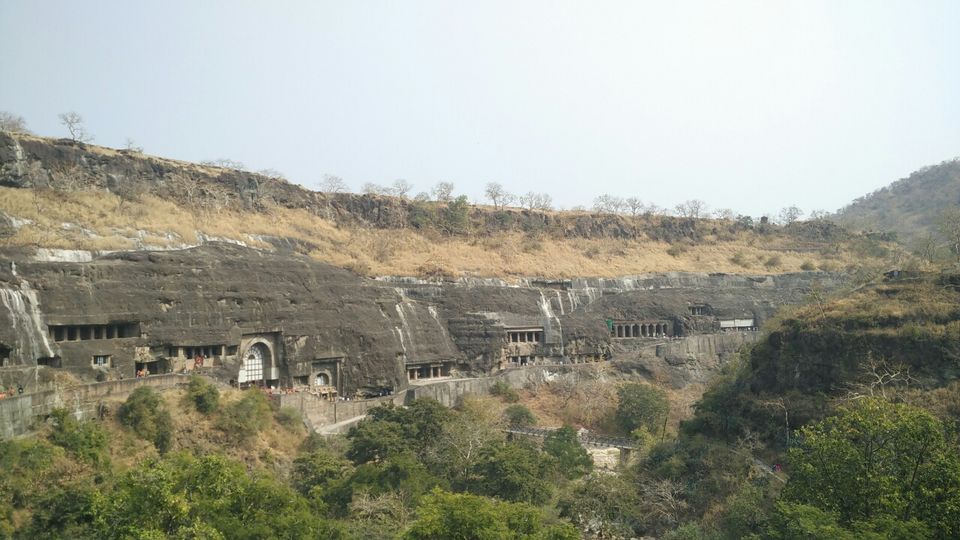 As soon as I reached this beautiful mountain, I could see this picture depicting about the caves, one of World Heritage Sites.World Heritage Sites, interesting! I had done my homework yet again about the caves. These 30 rock-cut caves actually depict the life of Buddha. I started taking tiny steps towards the cave.As soon as I entered the first cave, I could smell formaldehyde(yes I haven't forgotten the Chemistry experiments yet!), it would mostly be required to preserve the sculptures. The cave was dark, with few lights which was sufficient just to enter cave. In the centre, a huge sculpture of Buddha can be seen and on all the side walls, beautiful paintings. The paintings depicted the life of kings in those times. The most prominent colours used were white, red, green and yellow. To my surprise, I saw women wearing Maxi dresses instead of sarees. The paintings were very beautiful, the expression on the faces of the painting were enchanting sagas of those ancient times. How kings used to lure women, the aristocratic depiction of women playing drums and singing and dancing. Mesmerizing. Don't just look at the paintings, observe them. All the caves had something new to offer in terms of carvings, paintings and sculptures depicting a new story with one thing in common, Buddha at the center. Overall, the experience of caves, the echo of voices , the rock cut sculptures were one off experience. With empty messages in the phone (no network) but soul enriched with the saga, I came back and took a bus to Aurangabad. It was almost 5, when I reached Aurangabad. My friends recommended Bibi Ka Maqbara and Panchakki.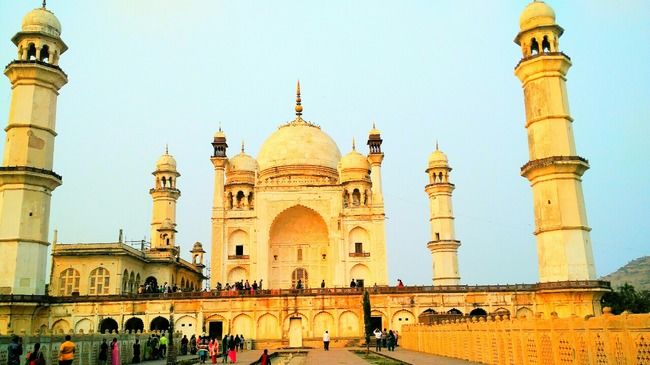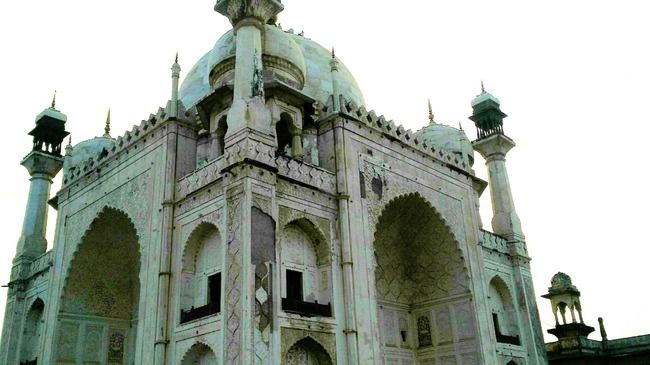 On my way back, I just used google maps to find nearest location to Bibi ka Maqbara and deboarded the bus. It was 2 Kms from where I was, so took an auto to Bibi ka Maqbara.
A Taj mahal illusion, yes it is, built by Aurangzeb's son for his mother. The monument was started on the lines of Taj Mahal but due to lack of funds, it was completed with ordinary red stones then marbel.
Again 2 Kms or near from Bibi ka Maqbara, is Panchakki. The system is arranged in a way that water is made to fall on the cistern to create energy and that energy is utilized to grind wheat. It was mainly done for the poor people who cannot afford flour for themselves. The surprising factor is that the mill is still working and is in very good position, however the park needs maintenance, infact a lot!
Done for the day, pretty much tired, went to the hotel and slept for another day.
Alarm rang at 7 o' clock.Got ready and time to checkout the hotel.Again, went to bus stand,boarded to bus to Ellora caves. Any buses going to Tapargaon, Kannauj will be passing through Ellora and Grishneshwar, which 500 metres away from Ellora. It approximately 30 Kms from Aurangabad. I reached temple around 9:15 AM, took the prasada and went for the darshan. It wasn't very crowdy at that time. It's not a very big temple, simple and has south indian style of Architecture. This linga is considered as one of the last lingas of 12 jyotirlings.It was good, the darshan was quite easy.
From there,I started to walk towards Ellora Caves. Huge, again! Beautiful, indeed! Bought a ticket and moved on. I started with Cave no.15 to Cave no.1. Beautifully carved. In some of them, the centre was Buddha and in some the centre was a shivling. As I studied, I found that the caves were built over 600 years ago. It's not easy to cut rocks and carve sculptures. Some of the caves were very spooky, very dark but I sat inside in one of the caves completely dark. There was no voice, no light, no sight, nothing! but some vibrations. Won't go much deep into it. The difference between Ajanta and Ellora are of paintings. Here, there were more sculptures than the paintings.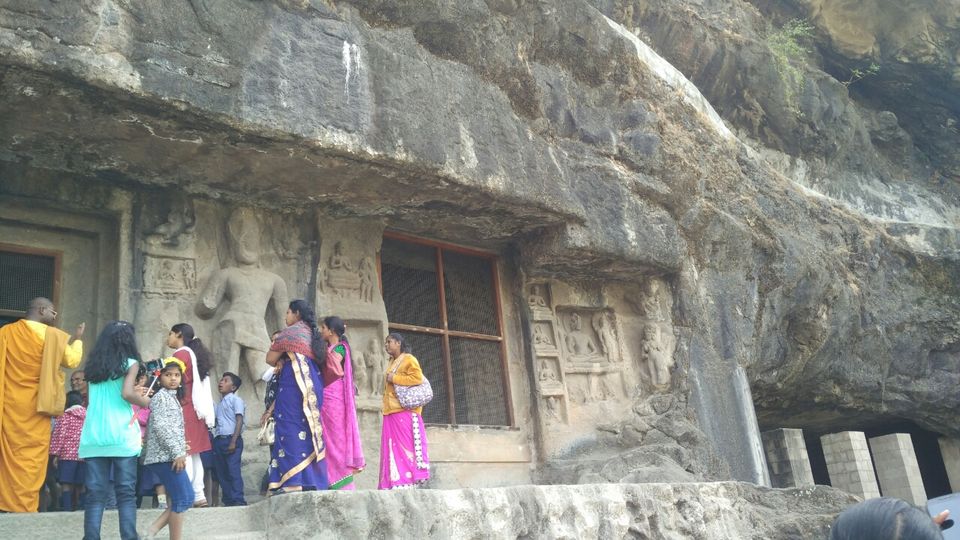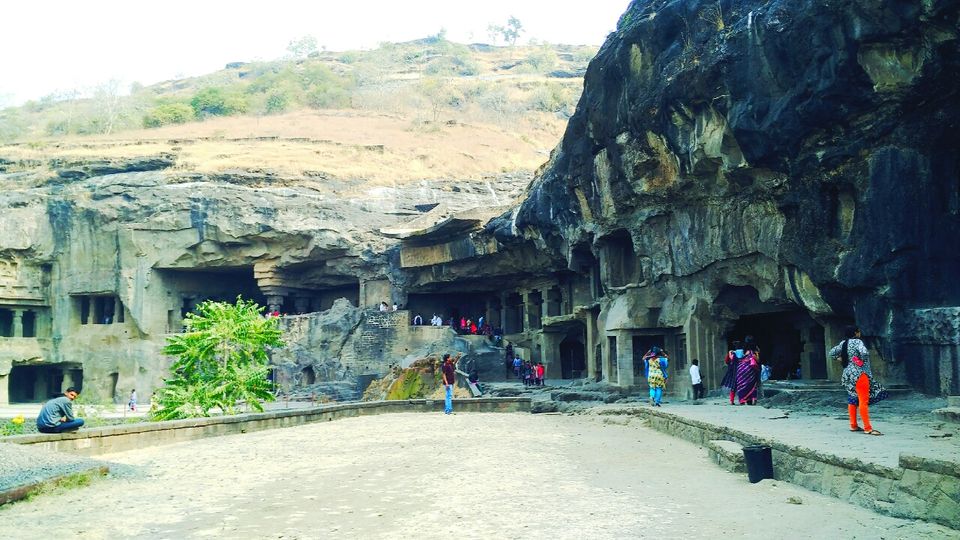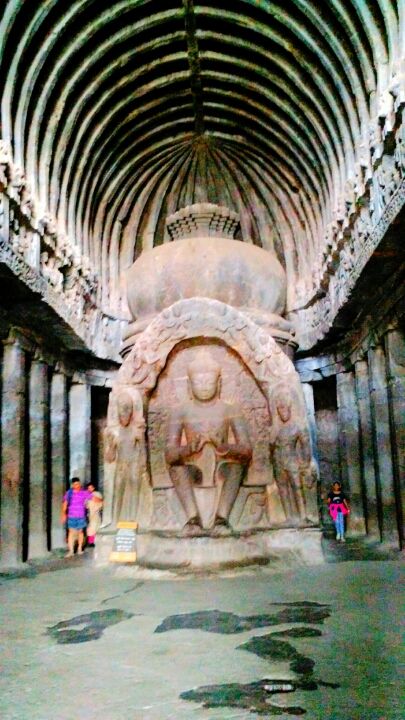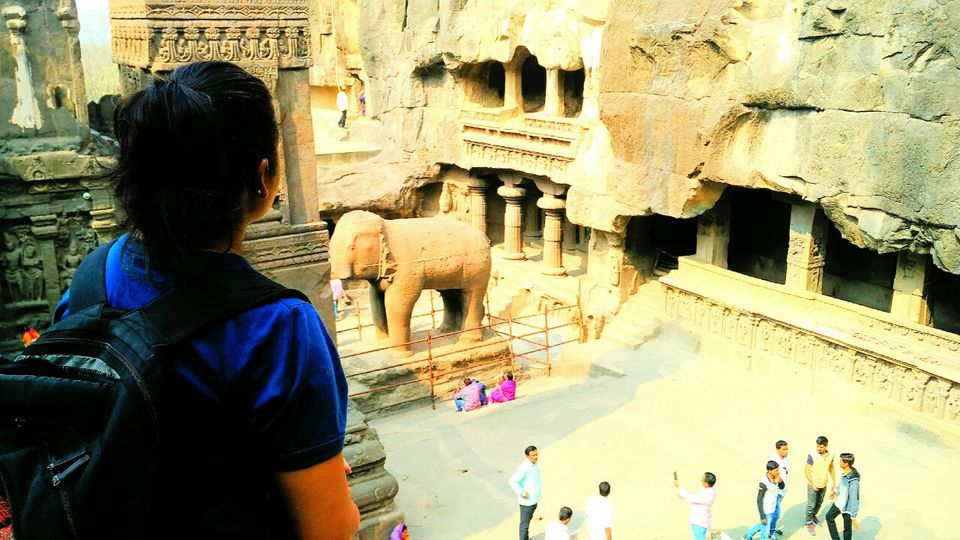 Cave no. 16. This is the cave, you should save your most time for! One of the best caves among all. The temple, the sculptures were mesmerizing. One of the common theme in Ellora caves were of Ravana carrying Kailash Parbat. You can see such sculptures in most of the caves. So in mythology, Ravana use to praise Shiva a lot. He requested to come to Lanka but Shiva replied " Mt. Kailash is my home, I won't leave this mountain." Out of ego and over confidence, Ravana said" if that's your decision, I will take the whole mountain to Lanka" and as soon as he started carrying the mountain, Shiva just put his toe on Ravana's toe and he was completely under the mountain and that's when Ravana started to chant Shiva mantras till the time he could please Shiva. The caves also had carvings from Mahabharat and Ramayana. Here, I met two very interesting people who were Vivekananda followers and had good hold on mythology.The way they were connecting things to karmas and reality was also interesting!
Last but not the least, Daulatabad fort. One of the most visits if you got to Aurangabad. There are many buses/Taxis/Autos from Ellora to Daulatabad fort.
First of all, let me tell you, a lot of energy is required to reach at the top of the fort. It's no less than a trek. At that time, the defence mechanism of the fort was one of the strongest. Capturing the fort was a matter of pride in those times because of similar reasons for timebeing Aurangabad was made capital city from Delhi but though it was taken back by Delhi.
The best part of the fort is the tunnel tour. It was made in such a way that it serves as an illusion to the enemies entering the fort, they would kill each in other in that dark tunnel. Architecture lovers would again find pleasure in coming here. You can have a beautiful view of the city from the top :)
Back to Aurangabad. Back to the station to catch train to Mumbai. Phone's on! This was all about yet another solo trip. A soul searching trip!!!!
On the basis of my experience, I am rating the city out of 5 on the following parameters.
Secure/Safe(Women Solo travelling as base) - 4.5/5
Ease of travel within city - 4/5
Cooperation from Public - 4/5