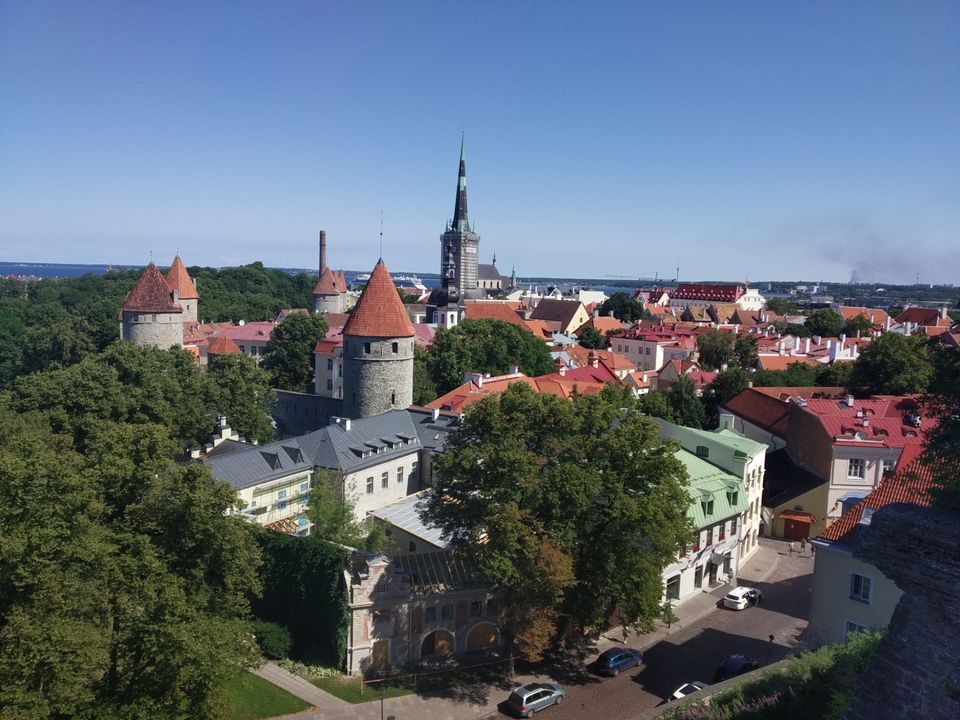 Me and my husband arrived in Tallinn, Estonia from Helsinki, Finland by Eckero Line ferry. It was just a 2hour 15mins journey and costed around 45 Euros for 2 ppl. It was an amazing experience...There was live music, restaurants on the lower & upper decks and even Casino Slot machines on board. We had a great time. We had booked our accomodation in the Old Town, Tallinn which was a short 10 minute walk from the Port. After check in, we rested for a while then headed out to explore the Old Town. The Main Town Hall Square was so lively and buzzing with tourists. There were handicraft/souvenir stalls all over the place and quaint Cafes & Restaurants offering various cuisines. We bought a couple of souvenirs and tried the local cuisine at one of the Restaurants. The weather was lovely, around 15 degrees. We enjoyed the evening.
Just off the Main Square is a road going to the top of Toompea Hill. It was a short and easy climb uphill. The views of the picturesque Old Town from the top were breathtaking. There are a few other sights on Toompea Hill like Churches etc. and restaurants & souvenir shops. This was the highlight of our Tallinn trip.
On the last day, after completing our sightseeing of the Old Town, we decided to visit the Olympic Park Casino at the Hilton which was a 20 min walk from the Old Town. We had a great time there. We then returned to the Old Town for dinner. There are a few bars and nightclubs in the Old Town. We had a couple of drinks and ended our trip on a happy note. I have been to many European Countries but the Old Town in Tallinn is one of the most beautiful. It was definitely worth the visit.