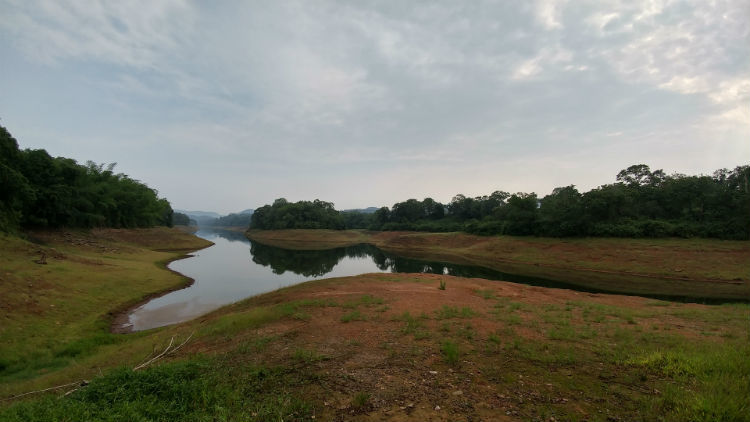 Most probably the first thing that comes to a traveler's mind when he thinks of Kerala is either the backwaters or the coconut grooves. At least a few travelers are well aware about the hill stations and the forests of Kerala. You may also find a variety of travelogues and narrative stories written by travelers about the places like Alappuzha or Aleppey, Kumarakom, Munnar, and Thekkady. You may also stumble upon a few travelogues about Kovalam and Varkala among the beach destinations of Kerala. Standing apart from all these major tourist destinations of Kerala with unique features and undiluted adventure experience is Vazhachal forest division. Here's my experience of a bike ride through the forests of Vazhachal in Kerala.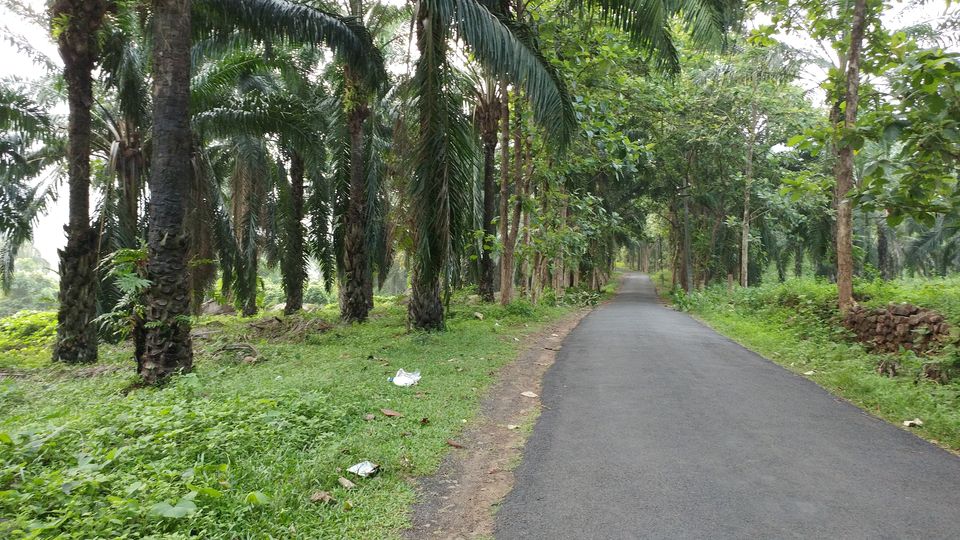 Summer peaks in Kerala from the mid of April and continues its humiliation until late May. During these months temperature can soar up to 36 °C. The highest temperature recorded in Kochi since 2004 is 35.4 °C. During May in 2017, I was suffocated by Kochi's rising temperature and swamping humidity. A decision that I have taken set me and my bike on the roads of Kerala. I had plans to cover Athirappally, Vazhachal, Valparai, Marayoor, and Munnar on a single ride.
Ride that covered Athirappally, Charpa, and Vazhachal waterfalls
Starting off from Kochi very early in the morning helped me to reach Athirappally by 6:40. Athirappally is a beautiful waterfalls in Kerala that was shot in many movies including Dil Se, Guru, Sirf Tum, and Madras Cafe. As the gates of the falls open only after 8:00, I took a short video and continued my journey to Vazhachal. As the wheels of the bike rolled through the tarmac roads from Athirappally, a few monkeys were awaiting patiently for the arriving guests. The winding roads and the steep rocks hampered my view, yet I rode my Royal Enfield Classic 350 without much of efforts - thanks to the lonely roads.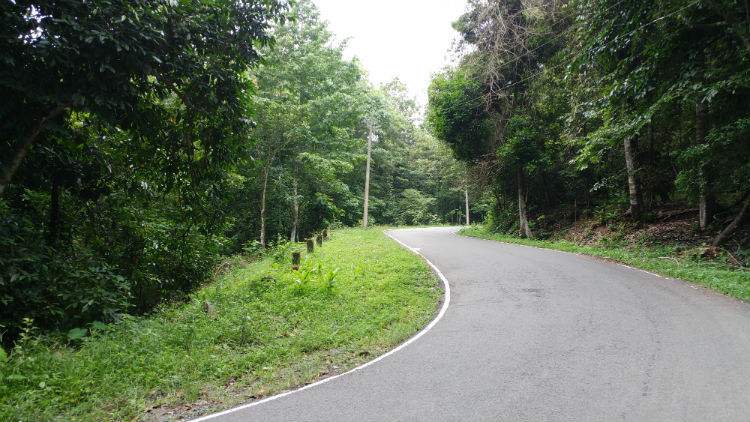 Crossing Charpa Falls and continuous bamboo thickets I reached Vazhachal. Any traveler who visit Athirappally will never return without enjoying at least a sneak peak into the ripples of Vazhachal. Vazhachal is a collection of ripples famous as Vazhachal waterfalls. Like Athirappally, gates of Vazhachal were also closed for me as the time was not yet 8:00. I stopped my bike and took a pass from the Vazhachal forest check-post. The formalities were minimal, and yet I was instructed not to stop inside the forest area.
A ride through the forest
Immediately inside the check-post my mind started wandering away from the roads. I was a bit shaky about the wilderness. Vazhachal forest is one among the few places in India where you can ride through the typical tropical forests with chances of encountering animals including elephants, Indian bisons, deers, and others. Streams, lakes and wetlands nourished the trees and bushes that they made an extremely dense forest which is an abode to many varieties of flora and fauna. I continued my ride through the narrow yet lonely road of Vazhachal forest division.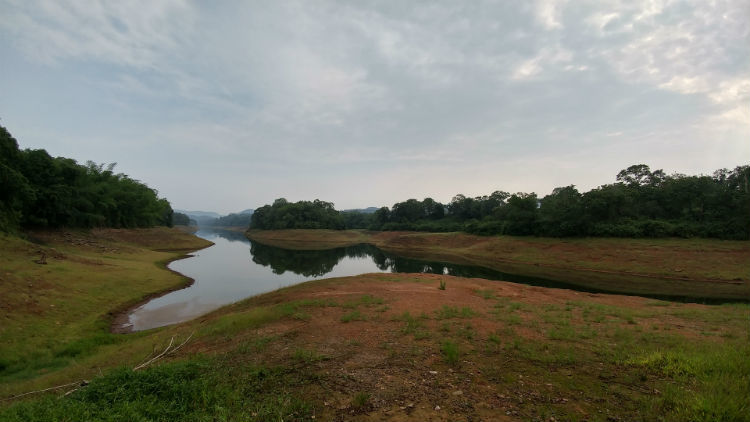 Suddenly a sign board attracted my senses and I stopped the bike -"Beware! Crocodiles may catch you, if survived you will be prosecuted". My curiosity pulled me towards the water body and I started looking for crocodiles around. I couldn't find even a single hatchling, but then I heard a loud cry - the trumpet of an elephant. The elephant was coming out from the woods to quench its thirst. I could spot him far away, on the other side of the water body. I stayed calm but he sensed a human presence even from a very far distance; he rushed back to the woods.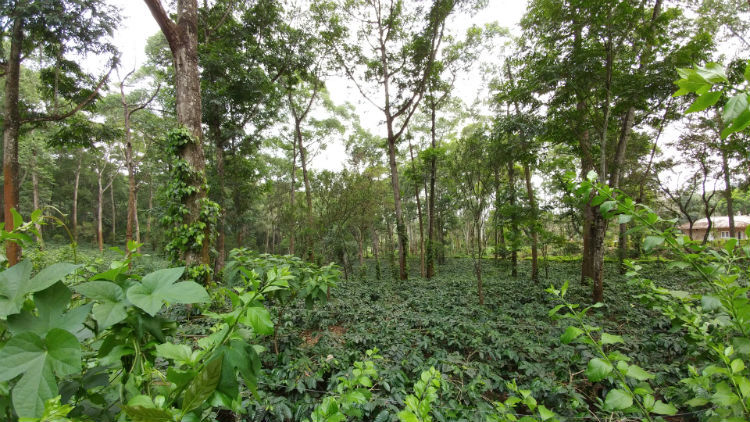 My luck for sighting another wild animal was vague. Yet the curvy roads with lush green sideways tickled my senses. The weather was mild and the breeze was refreshing. At times stopping for a few snaps and looking for other animals, I continued my ride to Malakkappara. Malakkappara was a small town in Kerala bordering to Tamil Nadu. Surrounded by tea estates and coffee plantations, this hill top town was one of the least explored destinations in Kerala. If we keep the kiosks, a few restaurants, and a couple of homestays away from this small town, the place is not less than a deserted tea estate. Hot appam (a popular Kerala breakfast) and egg masala from Ponnus café, a small roadside restaurant filled my stomach and contained my mind.
Way ahead from Malakkappara
From Malakkappara my journey was on a crooked road through the rolling hills with vibrant sky above me. The golden rays of the sun did not hurt me. Slow breeze that caressed the jungle bushes spread the fragrance of wilderness everywhere. The sound of chirping birds and whistling leaves were suppressed by the thudding sputter of my bike. Yet the least explored hills of Malakkappara and Valparai remained lucid.
I passed quickly through the traffic of slightly larger Valparai town. Valparai is a town located in Tamil Nadu, and I was starting to experience the hairpin bends on Valparai - Aliyar road. 42 hairpin bends, catchment area of Aliyar dam, and a vast spread tiger reserve kept inspiring the traveler in me. The sight of lion tailed macaques, Indian wild boars, and Nilgiri tahrs entertained me. As I climbed the hills of Valparai, I remembered that a long way is ahead of me to reach Marayoor before I could call it as a day.
Riders' Tips
Distance Covered:
Kochi to Aliyar Dam (191 km)
Cochin International Airport to Aliyar Dam (158 km)
Points of Interest:
1. Athirappally waterfalls (a scenic waterfalls in Kerala)
2. Charpa waterfalls (a small waterfalls which can be better enjoyed during monsoon)
3. Vazhachal (a collection of ripples famous as Vazhachal falls)
4. Vazhachal forest (reserved forest having a variety of flora and fauna)
5. Malakkappara (Tea gardens, coffee plantations, and rolling hills)
6. Sholayar Dam
7. Aliyar Dam
Best Time to Ride:
The the route is exotic throughout the year, I would suggest to plan a ride from October till the end of May. June onwards monsoon begins and this route gets pretty good rainfall. If you are specific to enjoy rain rides, you can go for monsoon months too.
Where to Stay:
When on this ride, you may start early morning from Kochi or Cochin International Airport. In either the case, there are hotels, resorts, and homestays of different budgets and stars. On your way, Athirappally has both luxurious and budget hotels. Malakkappara has a few homestays while Valparai has more budget accommodations. Aliyar too have a few options for night stay.
E Jey is a travel blogger from India owning his blog and YouTube channel by the name Jaunt Monkey.