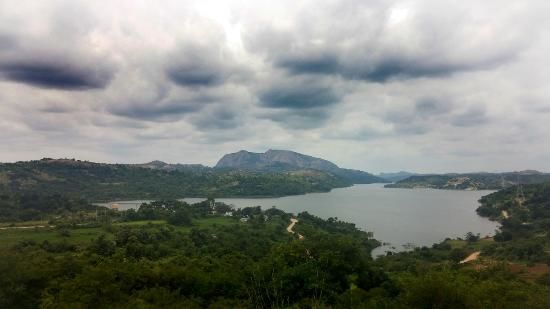 Manchanbele Dam.. I know many of you haven't heard about this place,but trust me it is worth hearing. On Saturday Morning i searched this place on Tripoto and decided to hit the Highway.
- It is lonely planet in a village Manchanbele. we started by 12 o'clock from my home and reached by 1.30 PM.
- The road condition is very good all the way. After NH 275 you will find road surrounded by forests and without any traffic, where you can capture photos and enjoy the nature's freshness.
- You will not find many food options there, but just before 1 km from Dam there is one restaurant named Laxmi ventakateshara and trust me guys this is the only decent food option in 14 km, where you can taste quality vegetarian and non vegetarian food especially fish fry.
- After having food we reached the dam and got shocked by seeing the closed gates. they won't allow people to go inside due to some incidents. But you can see Dam by doing some trekking to the top. We managed to explore small small view points by doing trekking.
Although we were not able to see dam closely, still i would say this place is perfect for day trip. Birds Chirping, Forests, cool and calm weather far from City traffic & crowd will fill your soul with calmness. For Deviation from daily Work life this place is worth to rejuvenate you.