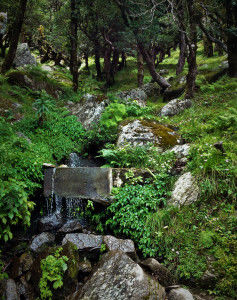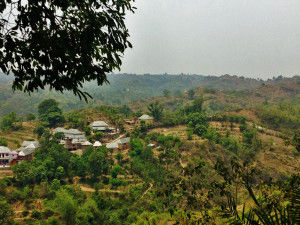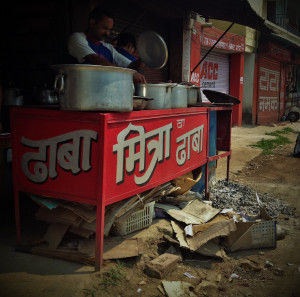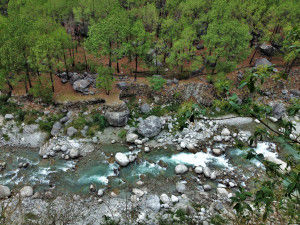 When it is raining continuously and you are still in a mood to checkout everything about the place ..
then my friend you are in Palampur :D

Located In kangra district of Himachal Pradesh is this amazing place !
The atmosphere is so serene out there that it will make you to travel more and more :)
So this travelogue just started as a lame idea to just go to place that is not so far..
still has that cultural charm residing in the aura of that place..
We were just not sure about the weather conditions out there but what we were sure about was we are going to have some real fun.
So just packed in our own MONSTER(MAruti 800) :D i prefer to call it that..we were on our way to palampur..
There are many routes to palampur but we decided to take the route via kangra as that was best known according to weather conditions
So folks ! what we experienced there was sheer bliss :)
it was raining heavily and we were stuck for half an hour as the wipers were not enough to make visibility to a level that one can drive.
Just when it stopped.. what was all in air was PETRICHOR :)
We were so rejoiced by the weather that we decided to walk some parts of town..
Palampur is not that much big but yes its worth it !
You can find tea plantations all around..and the Kangra Tea which is famous is basically derived from palampur. People are so helping
they will allow to visit their tea gardens and even click photographs out there if you follow some rules like not plucking tea leaves while roaming..
Standing in tea garden with Dhauladhar Range as front view gives a sense of relief to mind..
If you feel emotionally drained or suffocated then mate thats for sure cure to make your mind have a fresh restart :)
Next on our bucketlist was T-bud cafe at Palampur. Its pretty much known to everyone and anyone will give you directions about that Cafe..
It is surrounded by tea plantations all around the cafe which will replinish all the positive energy around you..
Having some snacks at T-bud cafe. Our next stop was Neugal Cafe :)
Yes ! Palampur has many cafes in its vicinity but most known are these two cafe :)
NEUGAL CAFE:
Neugal Cafe got its name from river neugal flowing by its side..its also a great place to enjoy serenity..
Having Coffee at Neugal Cafe it was time to flee to next spot.
BIR-BILLING :
I think some of you may have heard about this place. Its National Site for Paragliding and even Hosted the PAragliding world cup in 2015. Even dawn was there..
we were rigid to go at billing which is in vicinity of Palampur :)
The view we got from such height could not be captured by cameras..it can only be felt..
the cool breeze, lights illuminating from far off places and bunch of friends what else you can wish for ?
Having some quality time we just got back to hit the roads and decided to call it a day .
I would say-
PALAMPUR MAY BE SMALL TOWN IN HEART OF DISTRICT KANGRA BUT IT IS NO DOUBT ONE OF THE BEST PLACES TO VISIT IN MONSOON
THINGS TO DO AT PALAMPUR :
Buy some local Kangra tea to carry the essence of Himalayas with you
If you have ample time,go for paragliding
Feel the essence of mountains by roaming in tea gardens
Talk to local people about life in such a beautiful routine.(You will be surprised to know that life is not that much bad afterall
Cheers to all !
This trip was originally published on 'Travellers Photography'.