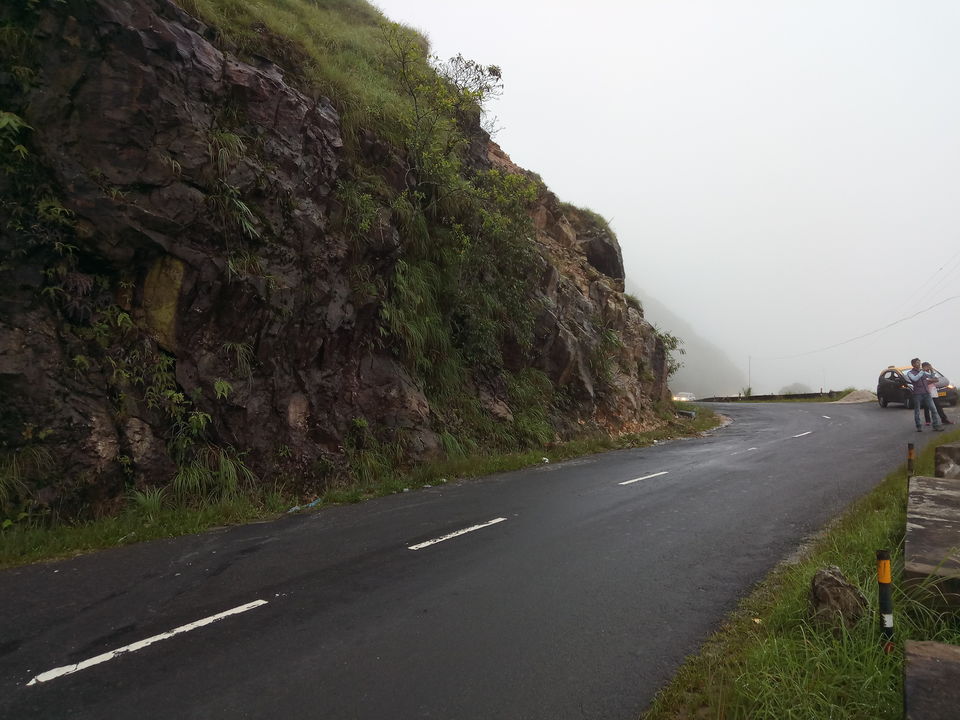 Duration: 2D/ 1N
Places covered: Shillong, Laitlum Canyon & Cherrapunjee, Meghalaya.
Mode of Transport: Rented Car.
Being a native of North East India, it doesn't sound good, if I say, I first stepped into Meghalaya at the age of 26. Even though, Meghalaya is just a three hour (80/90 km) drive from Guwahati, I didn't have the opportunity to catch a sight of her natural beauty. Finally, me and a friend of mine planned to grab the opportunity to have a trip to Meghalaya in a weekend, to be far away from our hectic schedule. We hired a car from Guwahati and our journey started around 8:30A.M. On our way, we researched places in Meghalaya where to wander and to get best exposure. We reached Shillong around 11 A.M., capital of Meghalaya which is only 100 K.M from Guwahati. We didn't spend much time in Police Bazaar, main hub of Shillong. After lot of research, we decided to explore Laitlum Canyon which is 4 to 5 km from Police Bazaar, driver was not acknowledge about this place. Google Map helped us to reach out the place.
Woooowhh!! LAITLUM CANYON (a walk on the way to touch the SKY); is the perfect spot to spend your day in enjoying greenery, cliff and smooth wind of Meghalaya that will touch your inner-peace and refresh your mind. On edge of the Greenery Mountain, while lifting up your hands towards the clouds that will drive you into it and can feel the romance of mountains and clouds in depth. And also looking to the sky and mountains, one can witness the wonderful speedy morphing of the clouds in shapes of beard old man, a parade of elephants or a sleuth of bears. We were enjoying the heavenly beauty of Laitlum Canyon. Sudden morphing of white smoky clouds on the mountain to grayish black which led to creep-down the valley as dark as the twilight falls. In simple, the breath-taking heavenly beauty of Laitlum will certainly leave you awestruck. We realised that the amount of time spent in Laitlum will never be enough to enjoy its beauty.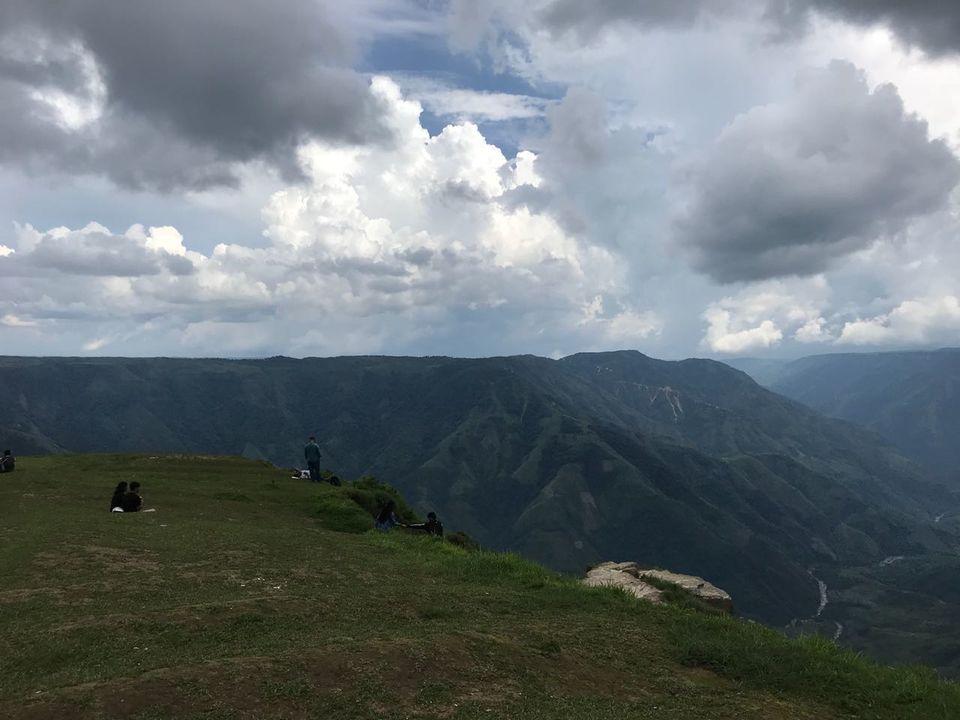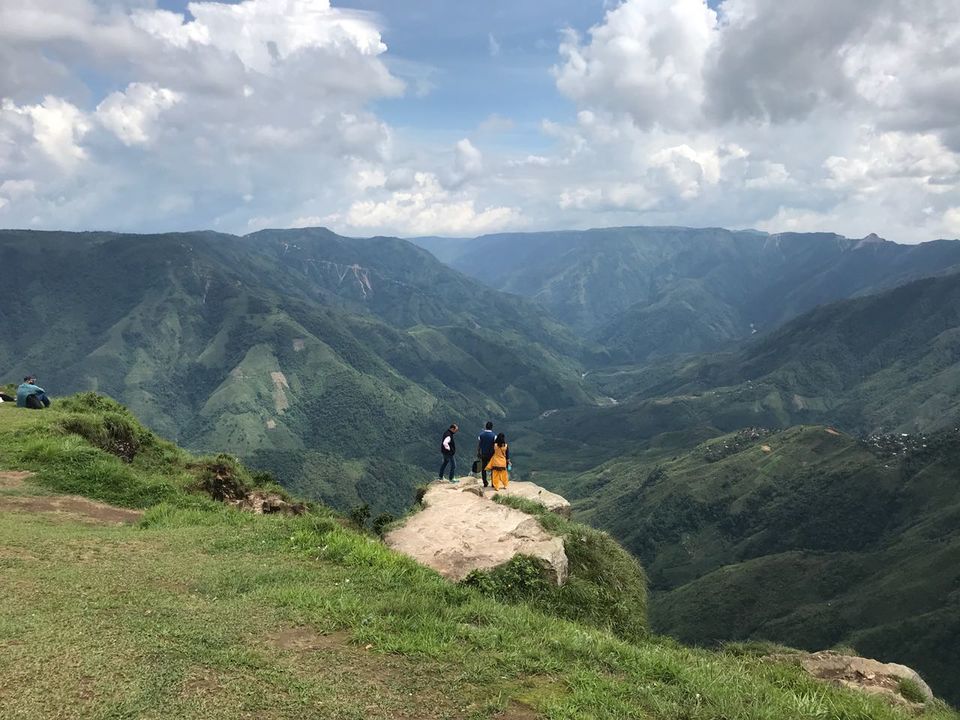 Around 4P.M. we were headed towards Cherrapunjee and reached Hotel Coniferous by 10 P.M.; booked a room of amounting to INR 2.4K per night. On the way to Cherrapunjee, we visited Elephant Waterfall which is around 12km from Shillong main city and had evening snacks at ML 05 Café which has an elegant ambiance and apart from busy traffic.
On the next morning, we were excited to explore Cherrapunjee, wettest place on Earth (as we studied in school) and also popular as Sohra among the Khasi Tribes of Meghalaya. Our first destination to visit was Seven Sisters Water Falls which was only few kilometers from the hotel. Water falls into 7 segments from the top of the mountain, that's why, the water falls are known as Seven Sisters Water Falls. We reached the spot in 8:30 A.M. A strong cold wind blew in the air, while standing near the railing, one can feel the wind with more intense from the deep gorge of the mountains. We enjoyed the enchanting view of waterfalls with a plate of Maggie and a cup of hot tea. After that, we headed towards Eco-park and Mawsmai Cave.
Mawsmai Cave is a mysterious natural limestone cave of approximately 150m in length which is richly ornamented with stalactites and stalagmites. Entry and routes in the cave are very narrow to pass across. The cave is dark and cold inside; water drips from its roof.
Our next stop was Eco-Park of Cherrapunjee which has been designed by Government of Meghalaya for tourists to enjoy the beautiful view of Green Canyon of Sohra. The park is located at the mouth of one of the Seven Sisters Waterfalls and witnessed the origin of a waterfall.
It was around 12 P.M., we decided to have brunch and reached Rain Café. Interior of the café is designed with excellent theme of reverse hanging of white and yellow umbrellas on its roof. The picturesque and spectacular view of mountain ranges and outspreading landscape of Bangladesh engrossed our eye sight. We spent one and a half hour there and headed back to Shillong. In return, we spent an hour in Police Bazar and half an hour in Barapani.
So, this was our short trip to Cherrapunjee and the wonderful memories will remain forever in my heart . The journey was worth it though we missed many places to visit in Meghalaya like Double Decker living root bridge, few caves, Dawki, Mawsynram etc.