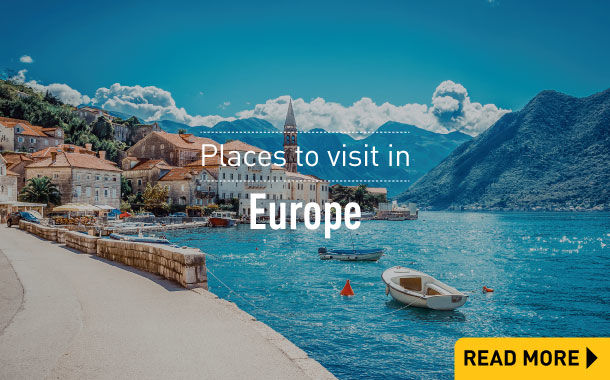 As far as us Indians are concerned, there possibly isn't a better destination than the continent of Europe to explore and revel in. Not only does it make for a great international vacation, but also ensures that we get to see the western culture, up close and personal. Moreover, it is exceedingly simple to obtain a Schengen Visa for Indians, which opens up the doors of as many as 26 countries of the west. All you need to get the Schengen Visa for Indians processed is to submit the following documents -
A duly filled and signed Schengen Visa application form
Recent passport-size photograph
A passport that is valid for at least 3 months from the date of departure, with at least two blank pages
Confirmed return air ticket
Confirmed hotel reservation
Medical insurance policy, covering expenses up to 30,000 Euros
Bank statements for the last 6 months
A cover letter stating the purpose of the visit and duration of travel
Income tax returns for the past 3 years
Appointment letter and reference letter from your employer if you are employed
Proof of legal entity, bank statements and tax returns if you are self-employed
However, even before applying for your visa, you should plan this sojourn with the goal of exploring as many places as possible from the below-mentioned list -
Paris
While Eiffel tower is something you're sure to visit, make sure you do not miss out on the stunning views from the Arc de Triomphe. Also on your itinerary should be the Louvre and at least one eminent church. If you happen to have some spare time, do try visiting the exuberant Montmartre for a hearty meal.
Barcelona
One of the most vibrant cities, Barcelona is teeming with scintillating sights, and its organic Modernista architecture along with the renowned Gaudí's Sagrada Familia are two things that you simply cannot miss. And if time permits, do experience the awe-inspiring Catalan cooking
Rome
When in Rome, make sure you get to set your eyes on the Vatican City, Colosseum, the Trevi Fountain, Pantheon, and the Spanish Steps amongst other attractions. For dining, you might want to give the Centro Storico a shot!
Vienna
The astounding Lipizzaner stallions and the flawless performance at the Staatsoper are two things that will make your halt at Vienna completely worth the while.
Berlin
One's of Europe's fastest developing city, the sweeping wall-galleries of Berlin, its many museums and memorials will simply stun you by their sheer magnificence. Add to it the city's nightlife. Bustling in Kreuzberg and Prenzlauer and prepare to be enthralled.
Dubrovnik
There's almost nothing that is even nearly as splendid as the marble streets and red roofs of this city which sits in the heart of Croatia. In addition, the rustic feel of its old town and the rejuvenating waves of its many beaches are something that will help you unwind in the most soothing way possible.
Athens
Lined with ancient ruins and flea markets, the city of Athens embodies a perfect blend of the old and the new, making it a must-visit destination for people from all walks of life.