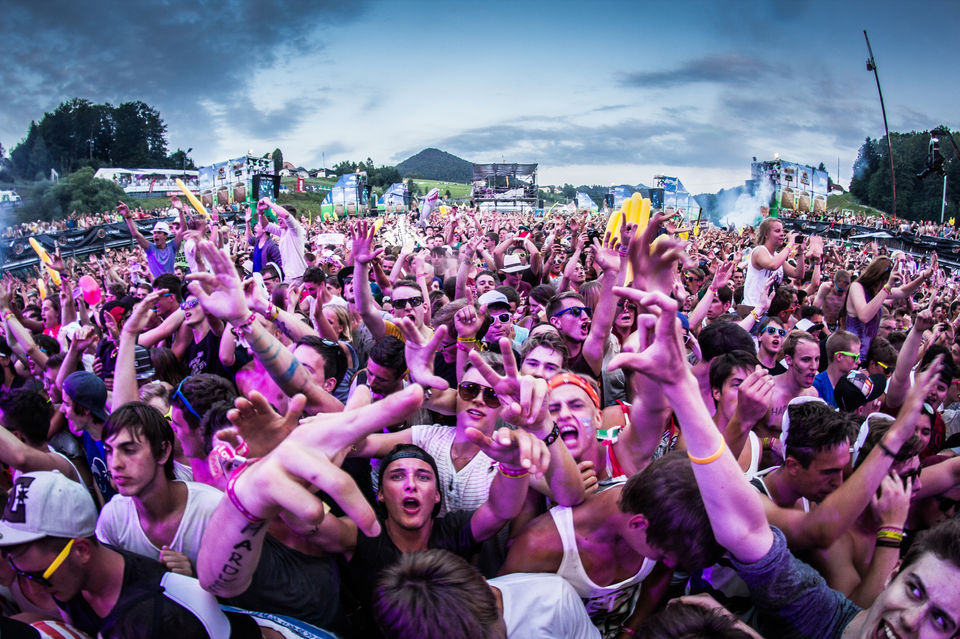 The most touristy continent in the world, Europe is a goldmine of historical gems, geographical wonders and unique cultures. In fact the ten most visited nations on the planet call this mainland home. However, an exciting feature of European countries, one that people tend to miss, are their many festivals. Right from chugging down mugs of beer in Germany's Oktoberfest and sampling gingerbread cookies at a Christmas Market to dancing to the tunes of international DJs playing at Belgium's Tomorrowland, there is no dearth of fun in this magical continent. Keeping that in mind, here are some European festivals you absolutely cannot miss in 2018:
St. Patrick's Day, Ireland
What is perhaps the biggest and the greenest festival of Ireland, St. Patrick's Day is celebrated on the 17th of March, a day that marks the death anniversary of the country's patron saint of the same name. Given the fact that shamrock leaves serve as the Irish emblem, emerald-hued food and beverages are major elements of the party and so are vibrant parades, peppy music and step dancing.
St. Patrick's Day is also observed in countries like Canada, USA, United Kingdom, New Zealand and Australia and people can be seen washing down countless pints of Guinness beer in the name of their beloved bishop.
When: 17th of March

Carnival of Venice, Italy
Attending the Venice Carnival is like going back time. You can see mysterious individuals clad in medieval clothing strutting around the streets of Italy's most beautiful city, ready to attend a grand masquerade ball. And then there are innumerable parades, splendid music, lots of confetti and fireworks to remind you of the good old days.
Also known as the 'Carnevale', the origins of this festival can be found in the ancient traditions of Greek Dionysian cults and Latin Saturnalia which used masks as symbols of the reversal of social order. Every merrymaker was and is a free citizen irrespective of their background and owing to this fact, the Venice Carnival is a must-attend. Get your costumes ready!
When: 27th January to 8th February 2018
Oktoberfest, Germany
What is easily the most popular folk festival in the world, Oktoberfest witnesses some six million visitors every year and is Munich's star attraction. Close to seven million litres of beer are consumed in this revelrous event and the number of pretzels, schnitzels and weiners that are chomped on runs into several thousands. An emblem of Bavarian pride, this fest is held in Munich's Theresienwiese and goes on for two weeks. The party also includes fantastic parades, amusement rides and a lot of dancing.
Thank God for the wedding of Prince Ludwig of Bavaria and Princess Therese of Saxony-Hildburghausen, for their union marked the very first Oktoberfest. Presently, the celebrations start at 10 am and go on till 10:30 pm. Prost!
When: 22nd September to 2nd October, 2018
Running Of The Bulls, Spain
Spain's iconic 'Fiesta de San Fermin' is held annually in order to honour the memory of Pamplona's patron saint of the same name. Several thousand visitors from across the globe visit the Navarre province in order to participate in the principal event of the festival- the running of the bulls. Also known as 'Encierro', it basically entails attempting to outrun bulls along a particular route through the narrow alleyways of the town. It certainly is an act that requires a lot of courage.
The celebration also includes pyrotechnic displays, street entertainers and traditional music. 'Zindagi Na Milegi Dobara' fans will not be able to hold back their excitement.
When: 6th to 14th of July, 2018
Tomorrowland, Belgium
The biggest electronic/dance music festival in the world, Tomorrowland has had the likes of David Guetta, Afrojack, Alan Walker, Armin Van Burren, Avicii, Alesso and DJ Tiesto perform for a crowd of several thousands at a time. The stage is a riot of colours and is nothing short of a spectacle given the fact that there is an elaborate theme (the Book of Wisdom, the Tree of Life, the Key to Happiness for example) for each year. The event stretches out over two whole weekends and the tickets for the same tend to disappear within minutes. So grab yours quickly!
When: 20th to 29th of July, 2018
Edinburgh Fringe, Scotland
The Edinburgh Festival Fringe is the largest of its kind in the world and hosts a whopping 50,000 performers in a span of 25 days. It is an open access performing arts fiesta, backed by the Festival Fringe Society, which basically means that anyone can exhibit their talent in any of the 300 venues across the city. Acts include dance, comedy, cabaret, operas and musicals. Children's shows are also a major part of this carnival. If you are a relatively unknown artist looking for some recognition, the Fringe will welcome you with open arms. For more information, check their website.
When: 3rd to 27th August, 2018

Bastille Day, France
An extremely important day in the history of France, 14th July or Bastille Day marks the storming of the fortress of Bastille during the French revolution of 1789. As many as 4000 soldiers, firefighters and policemen can be seen marching down Champs Elysees during the annual parade while the Eiffel Tower is lit up with fireworks on this national holiday.
Also known as 'La Fête Nationale Française' or simply '14 Juillet', music, dances, fairs and parties are an imperative part of the celebrations. The Champs-de-Mars also hosts a free concert which draws as many as 500,000 spectators. "Joyeux 14 juillet à tous!"
When: 14th July
Christmas Markets of Vienna, Budapest, Copenhagen, Nuremberg and Strasbourg
Think of ice-skating rinks, fairground carousels, ferris wheels, mulled wine, glazed churros, warm cookies, hot dogs, crispy fries and a multitude of lights and you get the perfect Christmas Market to have a blast in. Guests can also enjoy nativity scenes, carol-singing, elves workshops and reindeer rides. Most of these winter wonderland stalls sell beautiful Christmas souvenirs and candies if you are travelling with children.
The best markets include the ones in Copenhagen (the Tivoli Gardens also have fireworks displays), Vienna, Strasbourg, Budapest and Nuremberg. So book your tickets asap!
When: Most markets run up till December 25th while some operate until the 31st of December.