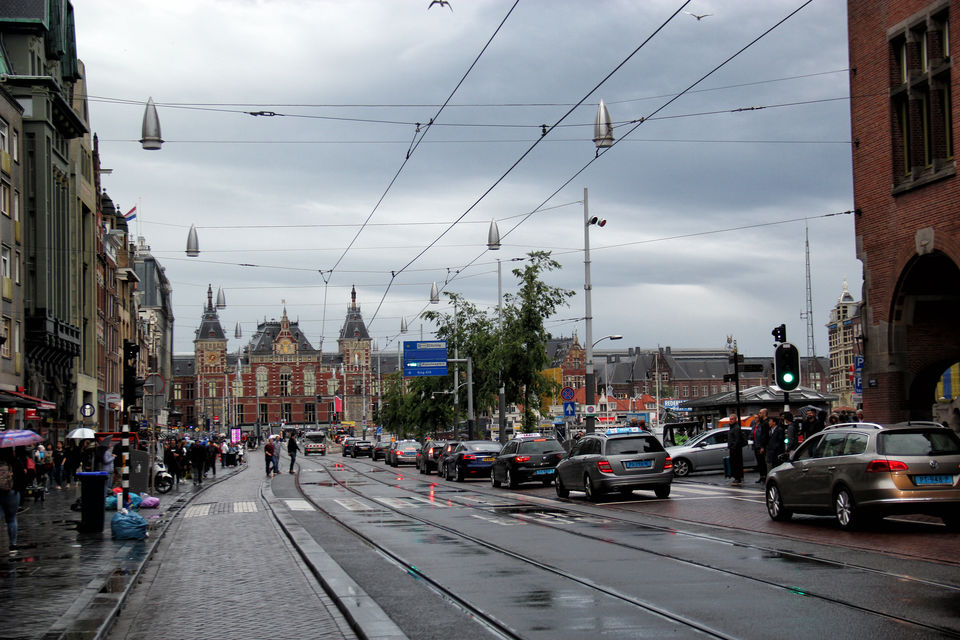 EUROTRIP #1
Air Tickets, Visa, Accommodation and Journey to Amsterdam.
#Airtickets
I used google flights to find the dates when the tickets were cheapest. Then booked the tickets from Makemytrip. I got a discount of Rs 18,000 on the tickets from HDFC and final price for return tickets were Rs 41500 per person. I chose Qatar as it has best in class service. The other options I had were Alatalia airlines and Saudi Air. After watching the video of @varun of Riyad airport we decided not to go through there. Alatalia was new to me and for a price difference of around 2k I gave priority to Qatar.
#Visa
Lot of questions and confusion. Had to contacted many persons in the field of travel and VFS customer service during filing the form. I made 2 videos sharing my experiences in youtube. You can have a look by searching my name in youtube. When we reached VFS Kolkata on the scheduled date of appointment it was heavily crowded. We sat for nearly an hour but the number of token in the screen did not move. Finally a staff from VFS approached us and asked if we were in a group or traveling solo. On hearing that we were traveling solo she asked us to take the premium lounge service by paying Rs 2600 extra. Out of which fees for courier and sms are adjusted, so around Rs 1800 extra. By using the premium lounge service we were immediately attended by another staff who cross checked the forms and the whole process took less than an hour for 4 persons. When we got out we saw the token number had not bulged.
We checked the status of application after 2 days. It said the application had been processed and after 7 days we got our passports with the visa stickers.
#Accomodation
Since we wanted to cut the cost of the trip as much as possible , we saw the cheapest option for stay was Airbnb. Hotels ranged around 10-20k per day per room near the city where as we got the airbnbs at similar prices for 2 days . so effectively 50% of the hotel cost. We got the accommodation for the whole trip at an average price of Rs 3500 per person per day.
#TheJourneyBegins.
Day 1: We started from Kolkata to Delhi by indigo. Evening flight. We reached Delhi at around 10pm at the domestic terminal. Moved to the free shuttle bus service outside the airport and were transferred to the international terminal. After checking in our luggage we moved to emigration, and were shocked to see the queue and chaos there.
There were around 10 counters, the lines started from where and are going to which counter was like a complex geometric problem. So we just stood our ground and started moving with the queue, with no idea of which counter we were aiming for. Finally after standing for nearly 45mins our turn came and we finally cleared emigration and security.
Our flight from Delhi was scheduled to depart at 3.25am. We used our credit cards to access the lounge and took some rest and some food. Finally we boarded the flight at 2.30am and finally we were off to Doha.
The flight was quite uneventful. We had selected seats in the rear part of the plane as these tend to remain empty. But this time the whole flight was full. The inflight entertainment was good and food also. After a flight of nearly 5 hours we landed in Doha. After clearing security we moved to board our next flight to Amsterdam. The layover of 3 hours passed by in a breeze and we again sitting on our final flight to Amsterdam. This was a longer 7 hours flight. We managed to get some sleep.
It was afternoon and we started descending towards Schipol Airport. We touched down on time at 1.45pm. we moved quickly towards immigration to avoid the queue, but when we reached there , it was somewhat crowded , but not as much what we saw in Delhi. The immigration process was quick. We approached the officer when our time came. He asked us our purpose of visit and how many days we were staying. After that he pointed us to put our fingers on the scanning machine and then we were done.
After clearing immigration we collected our luggage and moved out of the airport. I had inserted my orange mobile sim, which I had bought earlier and looked for transport to our 1st Bnb near Amsterdam central. We found train service runs from airport to Amsterdam central. We asked a few shops about the train terminal and in no time we were there. We bought single journey tickets which costed 5.65 Euro per ticket as we did not have plans for later that day.
Our train came and it was a direct train to Amsterdam central. The train ride was 15minutes. After reaching Amsterdam central we again used Google maps to locate our bnb, it was a 10minute walk and the distance shown was 650 meters. We started walking with our luggage heavy with ready to eat meals and winter wears. As soon as we exited the station we were blown away by the place. It was an amazing feeling. People with cycles, trams moving , cars , smell of frites and the architecture. It was too much to absorb all of a sudden. We were moving but the luggage did not seem to bother us. Soon we reached the bnb building. Our host came down and helped us with our luggage. We freshened up a bit went out for a walk. Soon we realized that it was extremely cold. It was raining lightly but the wind was unbearable. We were hungry and found the perfect solution, Belgian Frites or fries. 2 medium fries for 4 of us with samurai sauce was the perfect afternoon snack.
Afterwards we explored the area in and around Amsterdam central, the canals, and the streets leading to the red light district, when we realized that it was already 10pm. We were quite exhausted so we packed our dinner and returned to call the day off.
Day 2 . We woke up to an overcast morning. After having our breakfast of noodles, we started the day. We got a day pass (GVB pass) for 8 euro per person. Single journey tickets were around 3 euros and we had a lot to cover so it made sense to go for the day pass. Our first stop rijikmuseum. As we were approaching the place rain gods got angry and it started pouring like anything. We had our umbrellas as the rain was expected.
After spending some time we headed to Heineken Experience. Nothing extraordinary, how a brewery works, the tickets were quite expensive at 20 euro.
Our next stop the canal cruise. It was a hour long ride through the canals, showing different history of Amsterdam.
We then moved to the Dam Square. Dam Square, Old Church, new church and the royal palace are side by side. After visiting all the places and shooting photos and videos took a lot of time. Finally when we checked the watch it was already 9pm. We continued our exploration and reached Oude church.
With the sunset, the famous red light area of Amsterdam came to life. It was heavily supervised by police, with ban on public drinking. The place is more of a tourist attraction more than anything, with huge crowds gathering on the windows.
Finally we were totally exhausted by the chilling wind and the continuous walking. Still we wanted to explore more as it was the last day of our stay in Amsterdam, but the exhaustion won. We packed some Turkish doner kebabs for dinner and headed to our room.