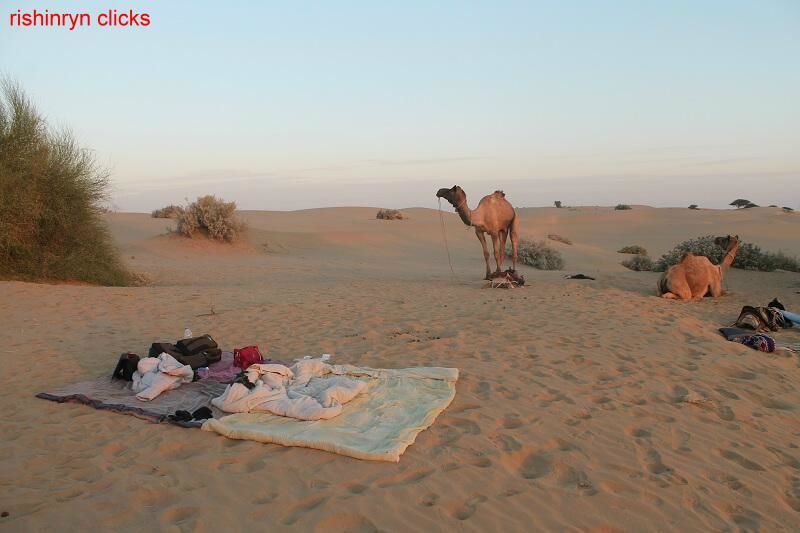 This was the most awaited day in my Rajasthan trip. A dinner and a sleep in the open sky with no one around to disturb our privacy, on the sand dunes of Khuri village in Jaisalmer, Rajasthan..
Jaisalmer has got another giant team, which serve the same for the tourists, Sam Sand Dunes, but I preferred this village on the same reason why people choose home stays on luxury hotels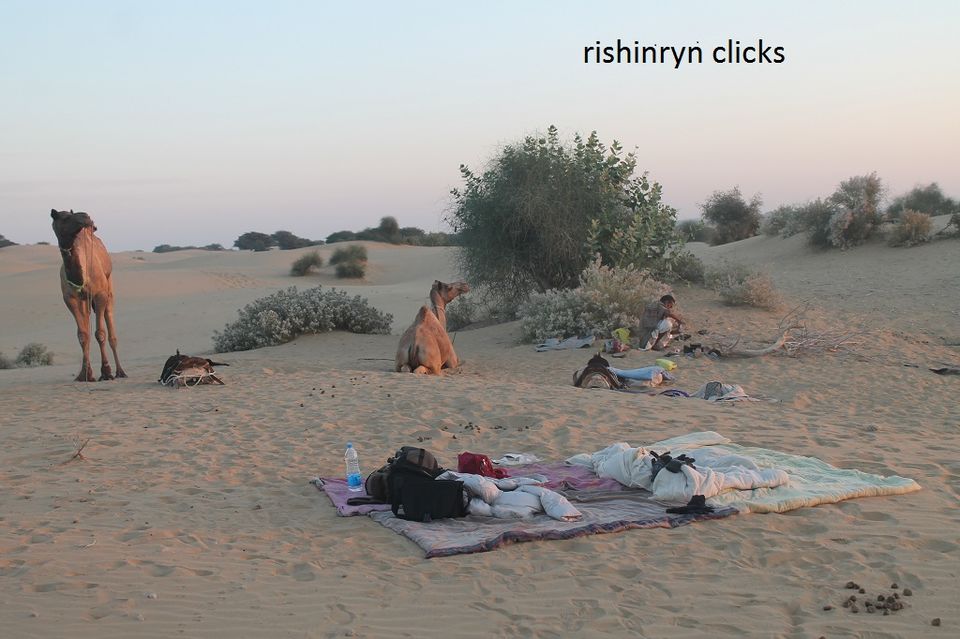 Badal Singh, the most experienced and revered man in this village has been running the same in his house for the last 25 years. While travelling to Khuri on a Honda Navi with my wife, through the completely unfamiliar world in all respects, I had nothing to keep me in courage, rather than his words that Khuri is 100% safe
The 45 k.m ride was truly awesome. For someone, who come from Kerala, this type of terrain is extremely a new one for his/her eyes. Endless land, with only shrubs and small trees, clearly indicate how infertile the soil is. The wind blowing across, has been suitably utilised, by making a large number of windmills to produce electricity. We met very few people on our trip. All of them were shepherds and they were so co-operative to show us the correct path. As there were no mile stones, we were mostly depending on google maps saved offline, and I felt, those queries to the locals were mandatory for a cross-check.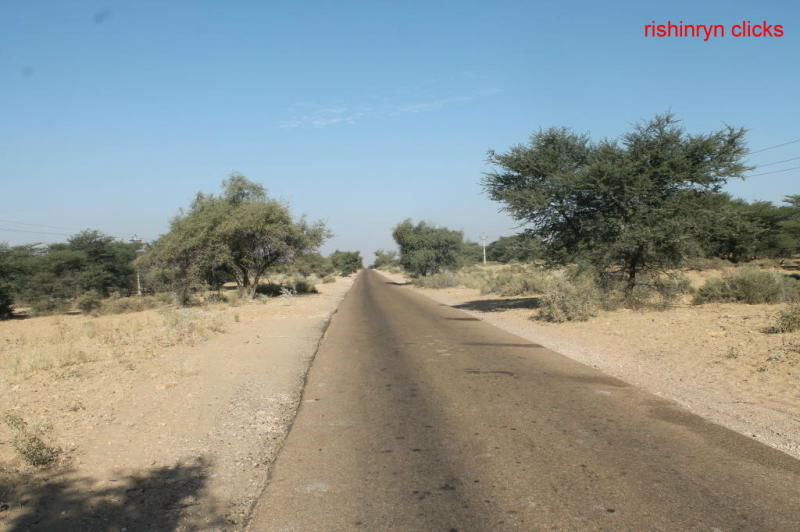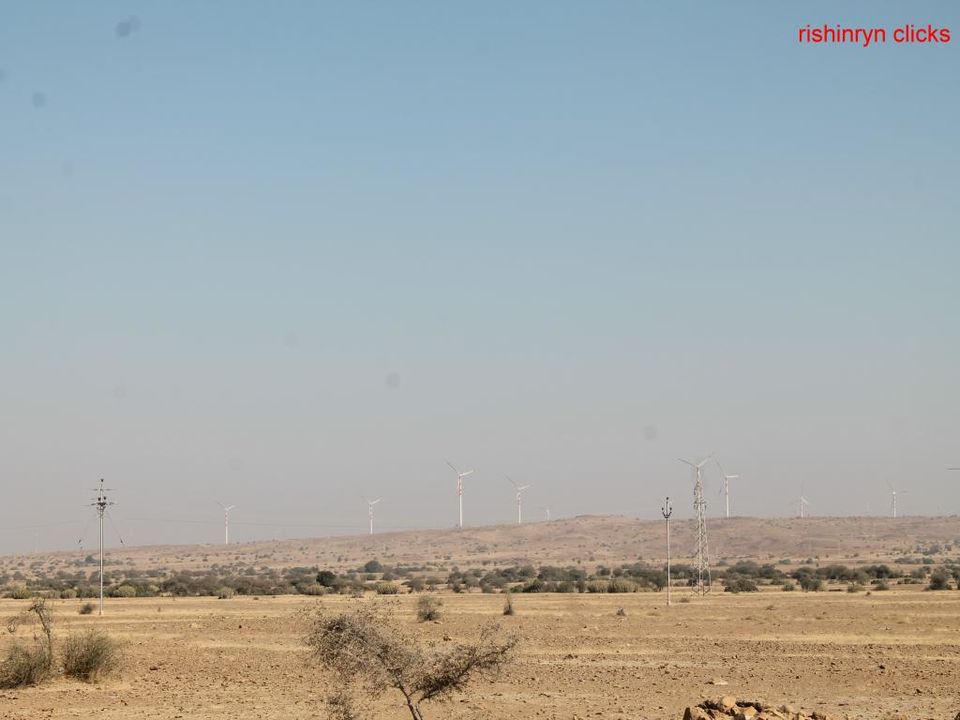 We were expecting that soon we will be in the midst of large dunes but that was not happening at all. It was just a few kilometres before Khuri we found a small sand dune. A company serving the same for the tourists has kept a board to that dune.
Soon we reached Khuri. After giving a toll of Rs.50 which they claim is being used to clean the desert, we entered into the village. We soon reached the house of Badal Singh. He opened a room for us to take rest.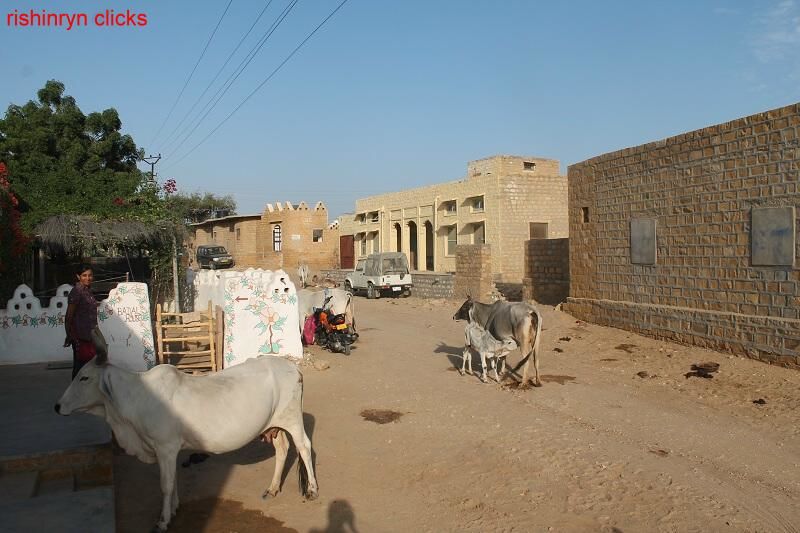 Soon a man, Rana, came with 2 camels and necessary items for a food and sleep in desert. Both of us alighted on a camel each and we set to the dunes. Before reaching the dunes, Rana collected some water from a well. The shape of the well too, was a new one for us. A small pit made on a platform, with not even a small protection to prevent anything falling inside.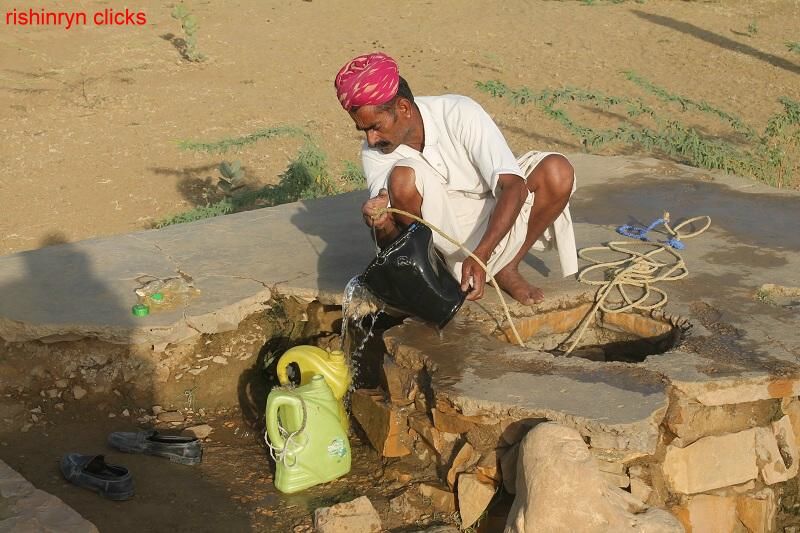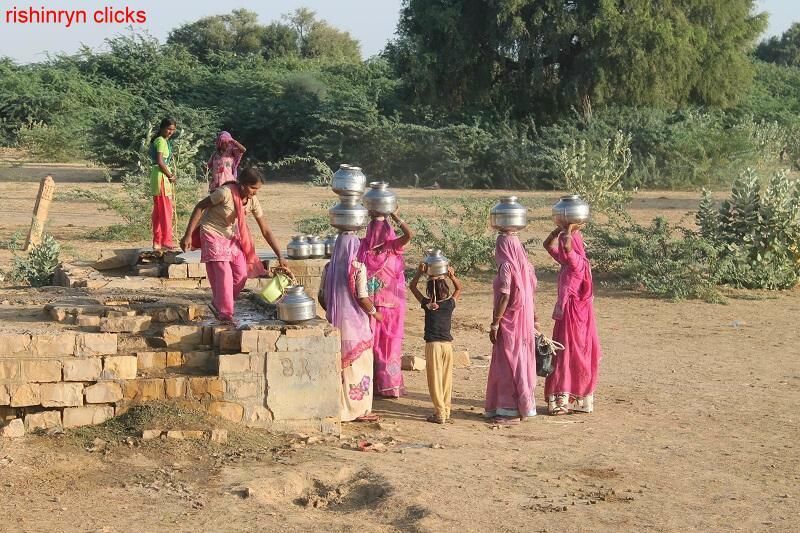 Soon dunes came into the scene and after climbing up and down 2-3 small mounts, we reached at the place where Badal Singh take his tourists. Rana helped us to alight from the camel. He told us to roam there around, but always keep an idea on which direction we have to return. He also added us to reach back to him before getting dark, lest it will be a great difficulty.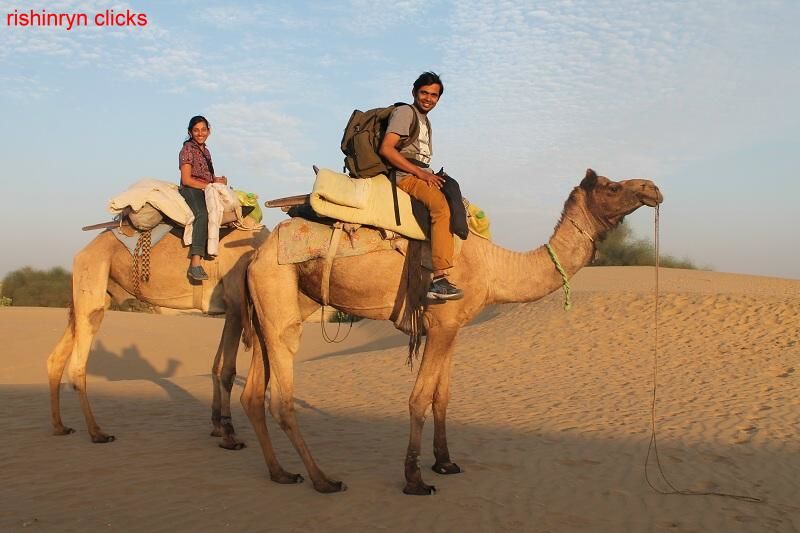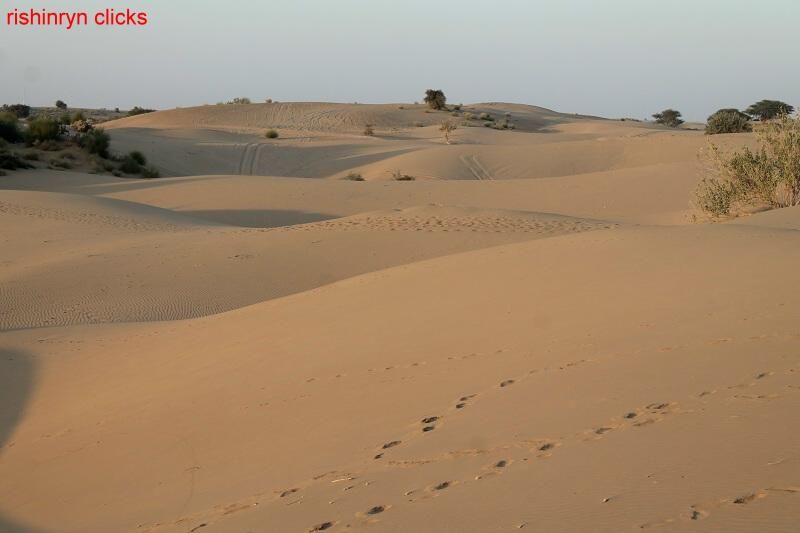 We just enjoyed the terrain for the next 1-2 hours. Climbing the dunes through the steepest part and running it down, taking pictures etc were the only things we can do there.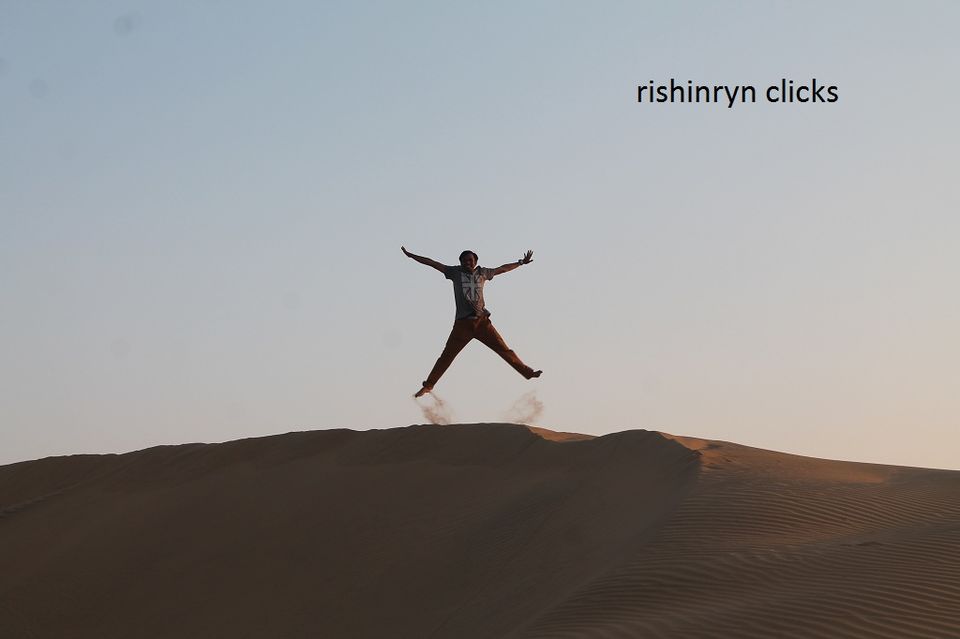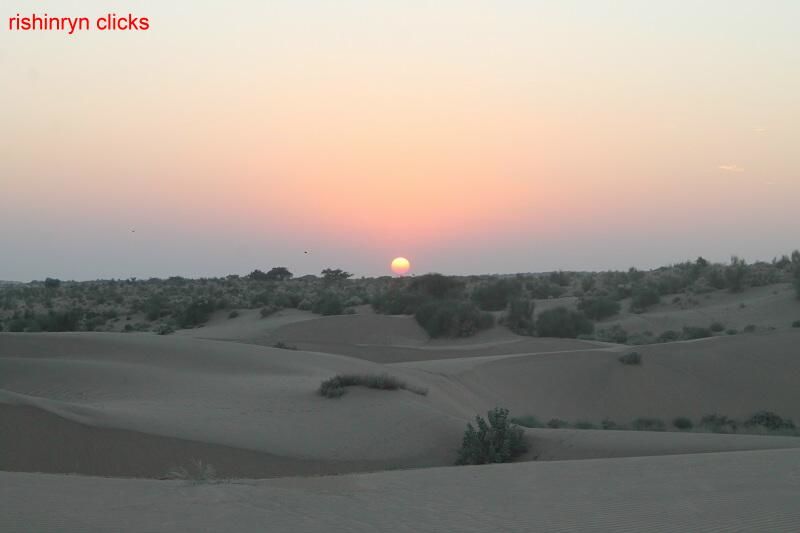 Before getting it too dark, we reached back to Rana. The simple food of Roti and Urad Dal felt so tasty after having hotel meals continuously for days.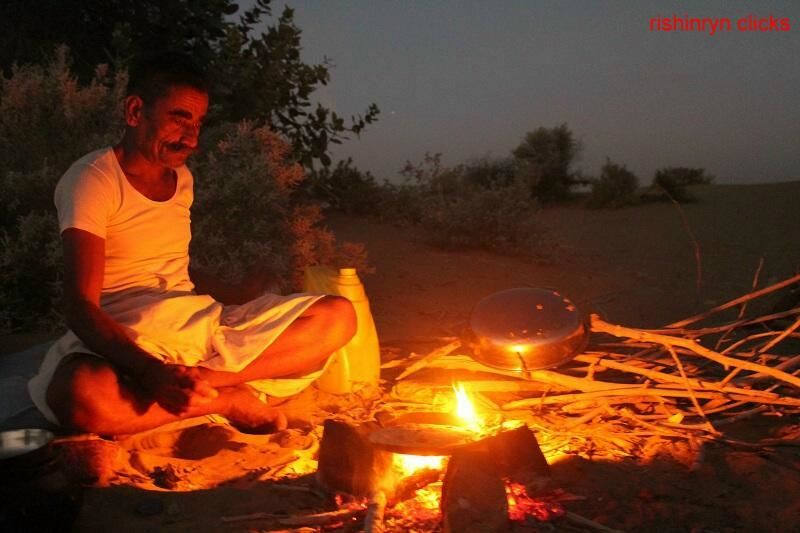 By 8pm, it was absolutely dark and the only light was from Sickle shaped moon. Behind the small shrubs we changed our dress and also added up some extra woollen. Rana unfolded the Rajai for us, and went little bit away to sleep.
It is such a great experience. An open air sleep on the dunes in a cool climate with your loved one with to disturb your privacy. Let me tell you my beloved friends, this is something that you must experience at least once in your life. And I bet, you will come back for it again and again. I met a lady from France, at Badal house, 75 years old, who come and stay in his house every year for minimum 2 weeks.
Morning we woke up by 6. Sun was bit late to enter into the scene as we are on the western part of India. When he showed his young face, it was already 7:21.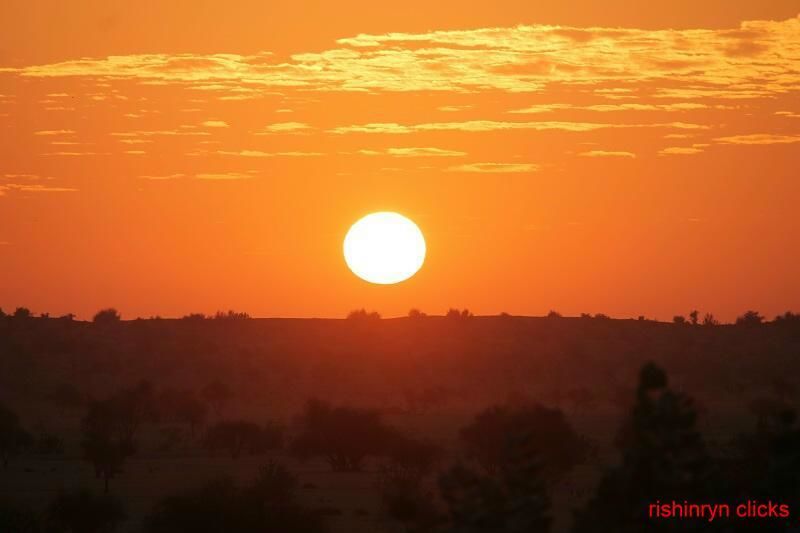 We soon brushed our teeth. The water bottle which we kept half immersed in sand was too cold by that time. When we gargled our mouth, we felt needles prickling inside. Rana served us with hot black tea.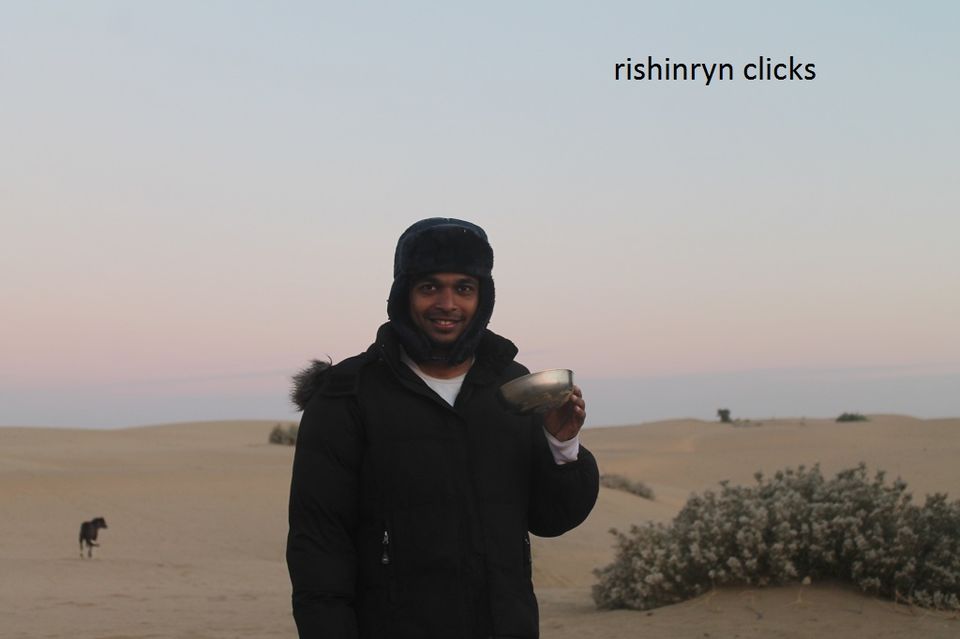 When he went to bring back his 2 camels, we wandered there for some more time and within 20 minutes we left the desert back to Badal House.
The breakfast was served (its along with the package) with Roti with pure 'desi ghee' and cued mixed with sugar. That was yet another treat.
After paying him the fee, we left back to Jaisalmer with sweet memories..
Some facts before you go to Khuri
1. The name of Badal Singh is mentioned in "Lonely Planet". What else you need to ensure the safety??
2. There are no bathrooms in desert. To change the dress or attend the call of nature, you have to depend on the cover from shrubs
3. It's pretty cool in the night. Keep woollen clothes and necessary medicines with you.
4. Try to reach Badal House by 3pm. Set from Jaisalmer by 1pm
5. Badal Singh's phone number is 081073 39097
6. Cost per head is Rs.600
7. Those who are afraid to sleep in desert, there are huts provided in Badal House