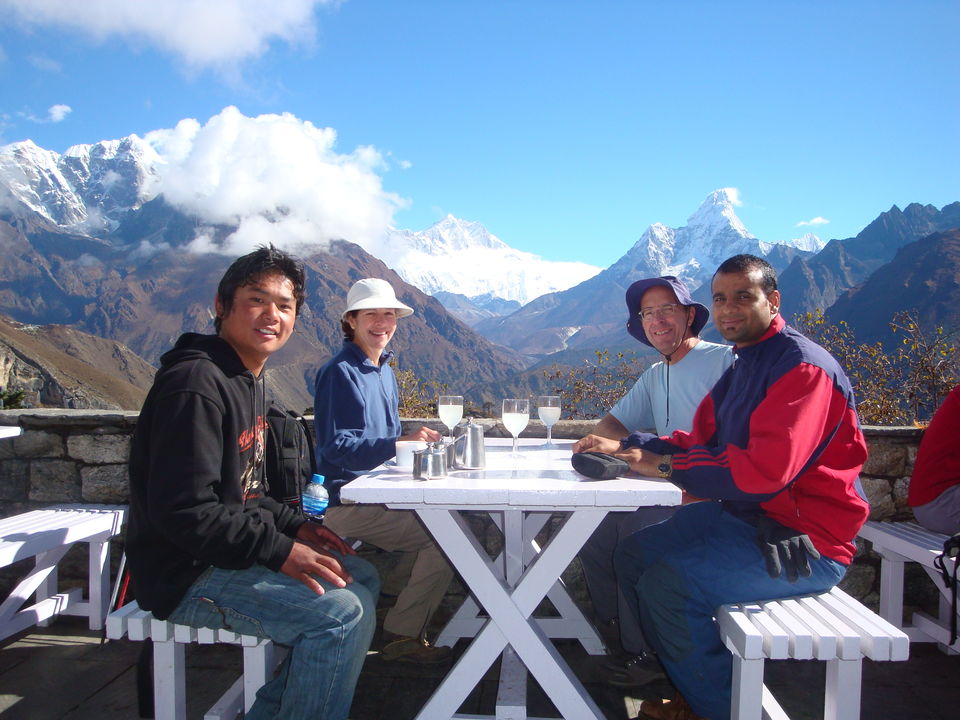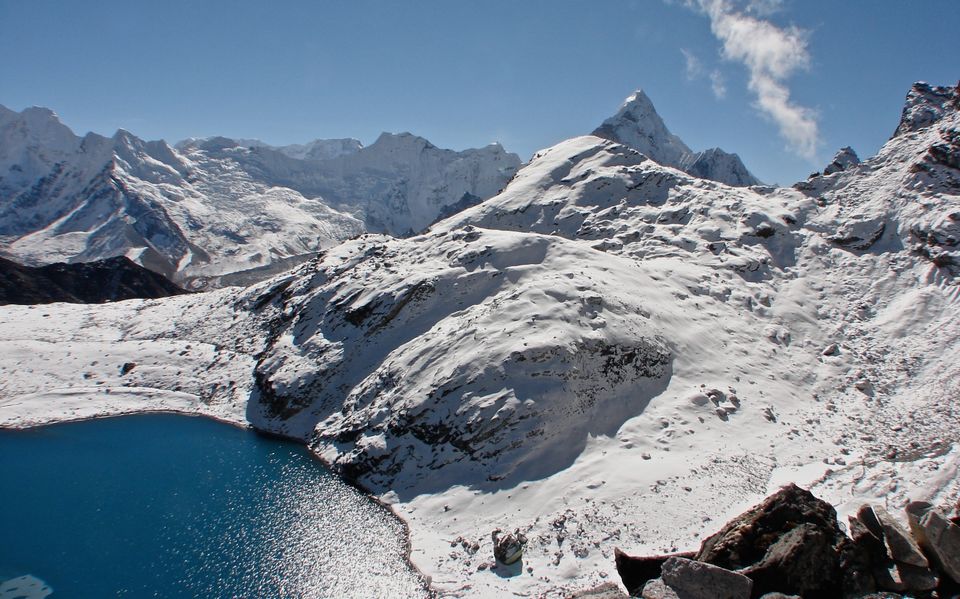 This tough trip to Everest region will have thrill of stimulation to achieve as an explorer. Renjo-La pass in Nepal is definitely tough but the decorated natural scenery offers the ample power in amiable feelings. This is not only like a trek but it will be your one of the finest mountain journeys you are ever likely to undertake in your lifetime. It is overwhelming popular, but takes you over little-trekked passes – the Renjo La (5,340m) through the remote Bhote Khosi valley. It consigns wonderful views of well-known 7,000 and 8,000m peaks. you will be snatched by the ascending the summits of Gokyo Ri, for unrivalled views of Mount Everest, offering panoramic views of Cho Oyo, Mount Everest, Cholatse and many more Himalayan.
On the way, you will have meeting with herd of Yaks and trade operates. Some lodges and trekking trails can be seen in this area. It is now considered as teahouse trekking route of Nepal. In the comparison of the past, it is being easier to cross nowadays. Renjo-la pass in Nepal has variously been spell as Henjo and Renjo but the correct way is Lhenjo La Nepal and Tibet.Based on your time and desire we can make the itinerary. The local people and Everst National park hotel has managed the good Trekkers lodge (Teahouse). Lodge management committees make good camping site to camp, which will be natural parts of natural world. Based on your health and time duration you can have other choice in Everest region Trek.Due to your hectic time and some urgent meeting, you may seek less adventurous trek than this but which includes Gokyo lakes, Kala Patthar and Everest Base Camp, then Gokyo Lakes to Everest Base camp - 18 Days would be best.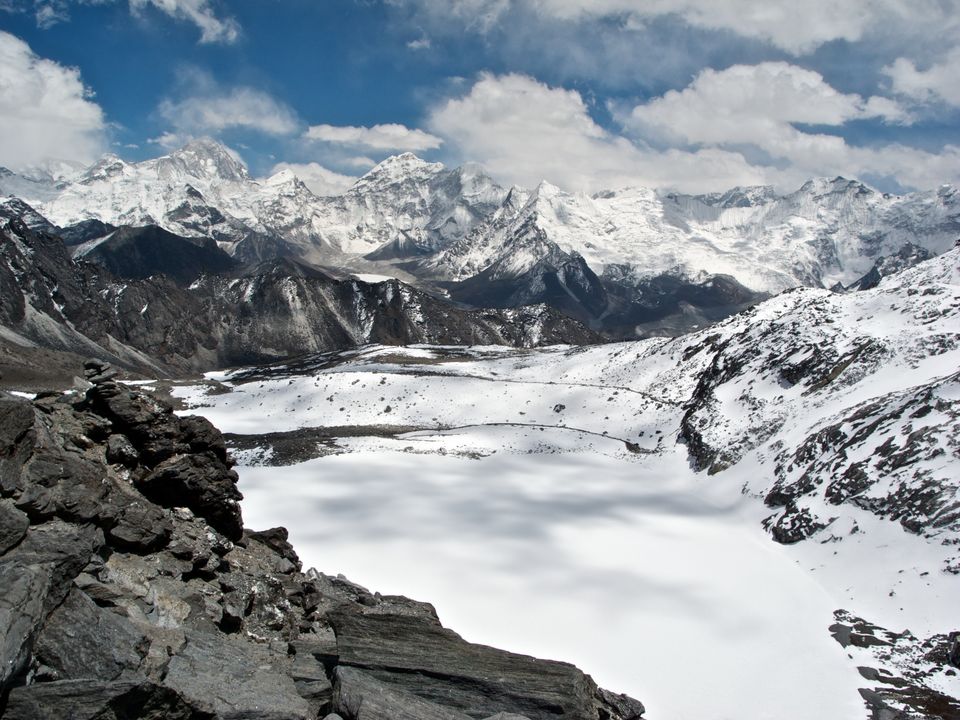 Major Highlights encountered during Everest Three Passes Trek
• The typical trail of trekking in Nepal, that goes up and down the rolling hills so many times like the waves in a ocean.
• The landscapes including the Himalayan panorama, that gradually comes closer and becomes more wonderful as the trek goes higher to Everest Base Camp. Also, the views of deep Dudh Koshi River Valley blended so well with the lush vegetation of Sagarmatha National Park
• The authentic Sherpa culture in the mountainous villages that we encounter during our Everest Base Camp Trek and the warm hospitality of the families of inborn mountaineers.
• The highland monasteries, the sacred maniwalls engraved with Buddhist prayers, colorful prayer flags portraying spirituality, the memorials, chortens and the every aspect that demonstrates Tantric Buddhism of Nygingma Pa Sect.
• The flora and fauna biodiversity of Sagarmatha National Park.
• Kalapattar for the whole view of Everest.
• The glacial walk over Khumbu Glacier that extends from Khumbu Icefall. The most important highlight the Everest Base Camp itself.
• The Gokyo Lakes and the Gokyo Ri from where 360 degree of Himalayan Panorama is seen.
• Three major passes which can be an experience of your lifetime. The Kongma La pass is the highest pass among them. Cho La pass is an Icy and interesting glacier crossing of Ngozumpa before the pass, whereas, Renjo La pass is recently found by an experienced Sherpas. This is a fusion of adventure and ethnic Himalaya culture at its best.
Good to know
If you have, quest desire to walk at 8-9 hours a day with a light rucksack Everest 3 Passes Trek-19 Days will be marvelous opportunity in your lifetime. It is more physically demanding than walking in the lower altitudes. To accomplish the trek you should have excellent health with average physical fitness, positive attitude, self-confidence and strong determination. If you have the subtle experiences on walking /trekking in high altitude, environment this trek will be really easier. Your Past hiking experiences may be worthy but you need special technical skill for this trek. To accomplish this tour you need perfect health condition. 
If this itinerary suits you:offered by Advanced Adventures Nepal
Day 01:Arrival day in Kathmandu(1350m/4428ft)- D
Day 02:Day Guided Tour of Kathmandu Valley- Breakfast & Day Guided Tour Included
Day 03:Kathmandu- Lukla Flight & Trek to Phakding (2652m/8699ft)-3 to 4 hours walking (10-12 Kms)- B, L, D
Day 04:Trek to Namche Bazaar( 3440m/11284ft)- 5 to 6 hours(14-16 Kms)- B, L, D
Day 05:Day acclimatization in Namche. Option visit to Everest View Hotel or Namche Museum- B, L, D
Day 06:Trek from Namche to Thame(3800m/12464ft)-4 to 5 hours walking(10kms)- B, L, D
Day 07:Trek from Thame to Lungden(4600m/15088ft)- 5 to 6 hours walking(12-13 kms)-B, L, D
Day 08:Trek from Lungden to Ranjo La Pass(5465m/19925ft) to Gokyo Valley(4800m/15744ft)- 7 to 9 hours walking (16-18 kms)- B, L, D
Day 09:Morning Hike to Gokyo Ri(5340m17515ft), & Afternoon, trek to Thagnak(4700m/15416ft)-6 to 7 hours walking- 12-14 kms)- B, L, D
Day 10:Trek from Thagnak to Chola Pass(5445m/17860ft) to Dzongla- 7 to 9 hours walking(16-17 kms)- B, L, D
Day 11:Trek from Dzongla to Gorekshep( 5160m/16925ft)- 5 hours walking(10 kms)- B, L, D
Day 12:Day Exploration Hike to Everest Base Camp (5364m/17594ft)- 4 to 5 hours walking( 10-12 kms)- B, L, D
Day 13:Morning Hike to Kalapathar(5545m/18188ft) & Trek back to Lobuche(4928m/16164ft)- 5 to 6 hours(12 kms)- B, L, D
Day 14:Trek from Lobuche to Kangmo-La (Khumbula) Pass( 5460m/19909ft) to Chhukung Valley(4700m/15416ft)- 7 to 8 hours walking( 13-14 kms)- B, L, D
Day 15:Trek from Chhukung to Tengboche( 3870m/12694ft)- 3 to 4 hours walking( 10 kms)- B, L, D
Day 16: Trek from Tengboche to Namche(3440m/11283ft)- 4 to 5 hours walking ( 10 kms)- B, L, D
Day 17:Trek from Namche to Lukla( 2850m/9348ft)- 6 hours walking( 14 Kms)-B, L, D
Day 18:Lukla- Kathmandu Flight( 30 min)- B, D
Day 19:Departure from Kathmandu- B B/L/D refers the Breakfast,Launch and dinner
Inclusions
• Airport picks up/ transfer
• 2 nights at 3 star standard hotel in Kathmandu with breakfast
• Half day Guided tour of Kathmandu valley with private car, entrance of all the temples and monuments
• Welcome and Farewell dinner at one of the typical Nepalese restaurant- Traditional dance & Music
• Everest Trekking permit/TIMS Card- Trekkers Security Card
• Kathmandu- Lukla- Kathmandu flight, airport tax and transfer
• 15 nights/ 16 days complete trek of Everest Base Camp will full board of meals( Breakfast, Lunch & Dinner, tea coffee)
• Mt. accommodation twin share- comfortable and clean (two nights attached bath)
• One Advance Adventures Trek Leader( Gov. Licensed, first aid and eco trained), his entire expenses, equipment and insurance
• Entire poterage cost- one porter for each two member in a group
• All the Gov and local taxes
• AA duffle bag and T- shirt
• Down jacket and sleeping bags
• Departure transfer
Exclusions
• Nepal Visa, in/out flight to Kathmandu
• Your meals at kathamndu, except provided dinner and breakfast
• Entire beverages, mineral water, beer etc. while on trek
• Travel insurance(Must includes Helicopter evacuation and trip cancellation)
• Personal nature expenses
• Tips
• Any extending trips
Equipment that might come Handy During this trip
It is very important to have right seasonal Clothing & Equipments for the safe and enjoyable trek in Nepal. Here below, we have listed the required equipments for traveling to Nepal and its Himalayas. Please remember that you should always try to keep the weight of your equipment to a minimum.
Head:
Sun hat or scarf
Light balaclava or warm fleece hat
Sunglasses with UV protection
Hands:
Lightweight gloves
Heavyweight gloves or mittens with a waterproof shell outer
Upper Body:
T-shirts (2)
Light and expedition weight thermal tops
Fleece jacket or pullover
Fleece Wind-Stopper jacket (optional)
Waterproof (preferably breathable fabric)
shell jacket
T- Shirt and Down Jacket
- Advanced Adventure provide you this
Lower Body:
Underwear (4)
Hiking shorts (2)
Lightweight cotton long pants
Light and expedition weight thermal bottoms
Fleece or wool pants
Waterproof (preferably breathable fabric) shell pants
Feet:
Thin, lightweight inner socks (4)
Thick, warm wool hiking socks (4)
Hiking boots with spare laces
Camp shoes (sneakers and/or sandals)
Gaiters for hiking in winter to the base camp
Accessories:
Sleeping bag rated to zero degrees F - Advanced Adventure provide this
Headlamp (e.g. Petzl Zoom) with spare bulbs and batteries
Small pad or combination lock-to-lock for trek bag- Advanced Adventure provide Trekking Duffle Bag.
Basic First Aid Kit (see Health and Medicinal)
Large plastic bags - for keeping items dry inside trek bag
Daypack (approximately 2500 to 3000 cubic inches)
Thermarest sleeping pad
Water bottles (2)
Toiletries
Small wash towel
Extras/Luxuries:
Binoculars
Reading book
Trail Map/Guide book
Journal & Pen
Walkman
Pencils and small notebooks
Travel game i.e. chess, backgammon, scrabble