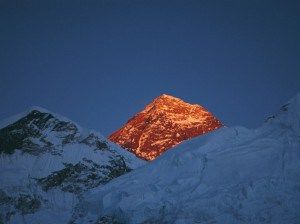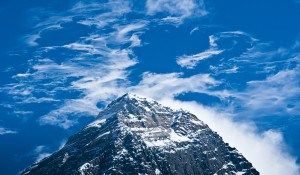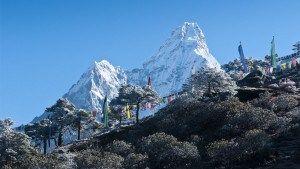 The top of the world, Mt. Everest (8848m) is one of the most awaiting peaks and people dream to conquer it. There is no place in the world more spectacular than the Everest region. It is where four of the world's six tallest peaks Mt. Everest (8848), Mt. Lhotse (8516m) Mt. Makalu (8481m), and Cho Oyu (8201m) resides. The Everest Base Camp trek is the most spectacular trek in the land of the Himalayas. Trekking in the Everest region offers scenic mountain views, and opportunities to get a real experience into the life of world famous climbers (the Sherpa people). The trek offers the opportunities to see the Khumbu mountain ranges, around Sagarmatha National Park, a world heritage site, the life style of the Sherpa people, Himalayan flora and fauna and will also get an opportunity to embark on a epic journey that our mountain legends Sir Edmund Hillary and Tenzing Norgay Sherpa set off on in 1953. You will witness the highest altitude hotel in the world, The Everest Hotel, highest altitude airport Lukla airport also known as Tenzing Hillary Airport and high altitude places where people still live.
TRIP HIGHLIGHTS:
Witness the top of the world Mt. Mount Everest and other 8000m peaks
Experience the real life standard of world famous climbers, the Sherpa people
To see the flora and fauna of high Himalaya
Opportunity to embark on an epic journey that our mountain legends Sir Edmund Hillary and Tenzing Norgay Sherpa set off on in 1953
Panoramic view of mountain ranges from Kalapattar (5545m)
Logistic services garnished by warm hospitality of Sherpa people
Is this trek for you? Trekking in Nepal are relatively easy, following well-paved paths and local village trails throughout. The maximum altitude reached on the trip is less than 5545 meters. By Himalayan standards this is fairly modest elevation and the altitude issues experienced on higher elevation trek should not be of concern to us on this trek. However, it should be noted that trekking at altitudes above 3000 meters requires greater demands on the body than walking at lower elevations, and is itself challenging even for fit hikers. Our itinerary is well staged and provides for a very gradual approach to the higher elevations encountered in the Khumbu section of your holiday. Camping is not required on this trip and we stay each night in well-appointed lodges with basic facilities. The trekking element of this trip is not long or sustained, however you will need to ensure you are physically prepared for the trek and you should be comfortable with walking for 5 to 7 hours each day. This trekking holiday should be well within the capabilities of all active hikers and hill-walkers.
---
Additional Information If you wish to discuss any aspect of trekking or your suitability for it, please phone +977 (0)1 435 2145 or email at info@trekkingexperts.com
To more detail itinerary, price and trip information, please click here and visit http://trekkingexperts.com/ebc/