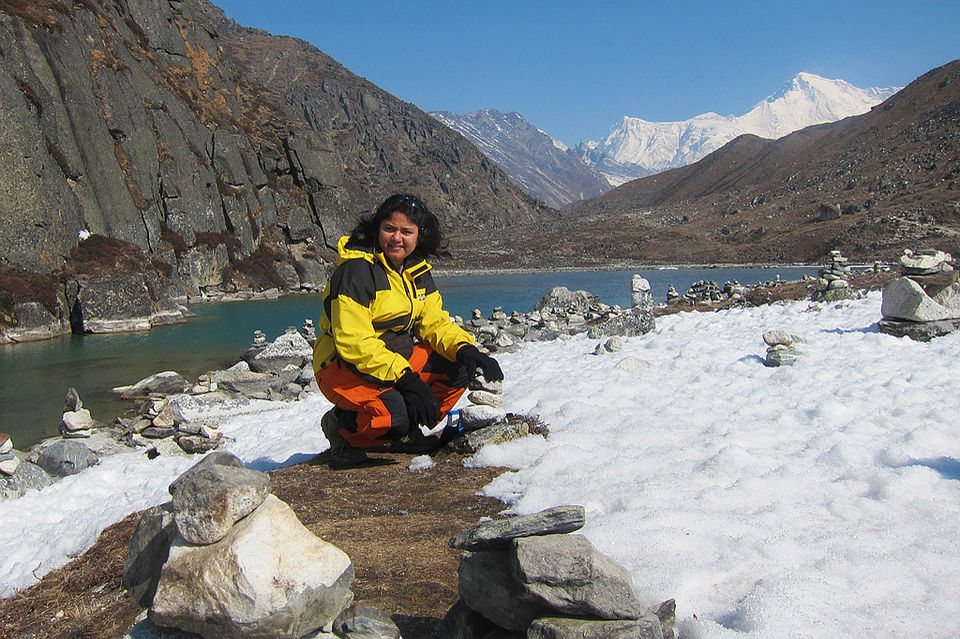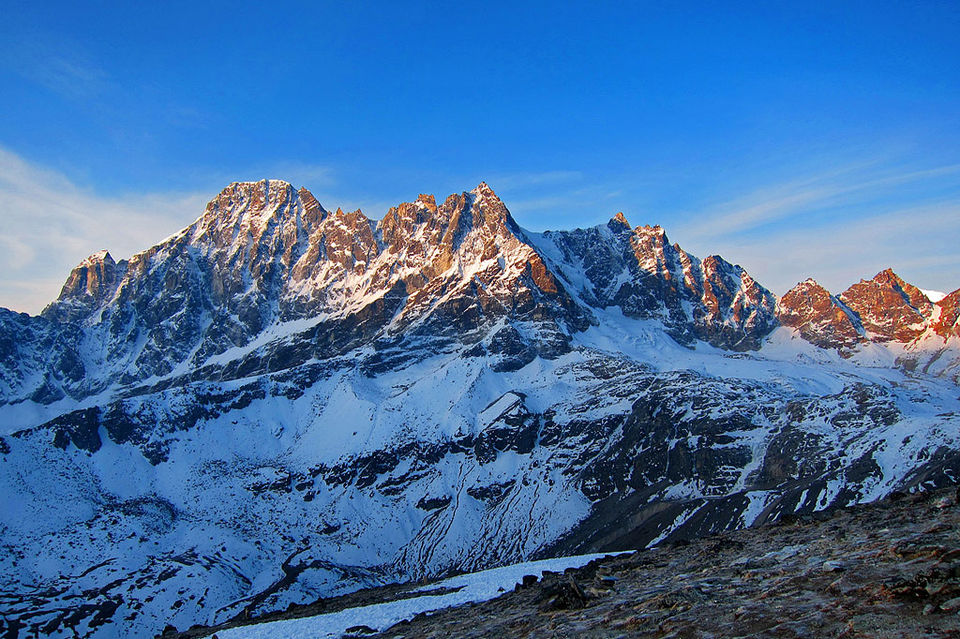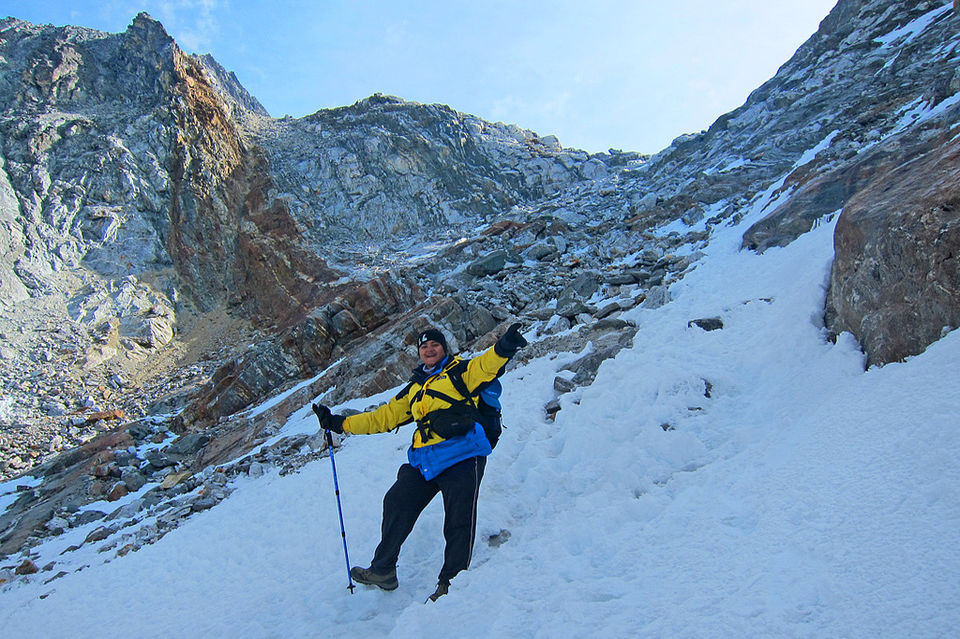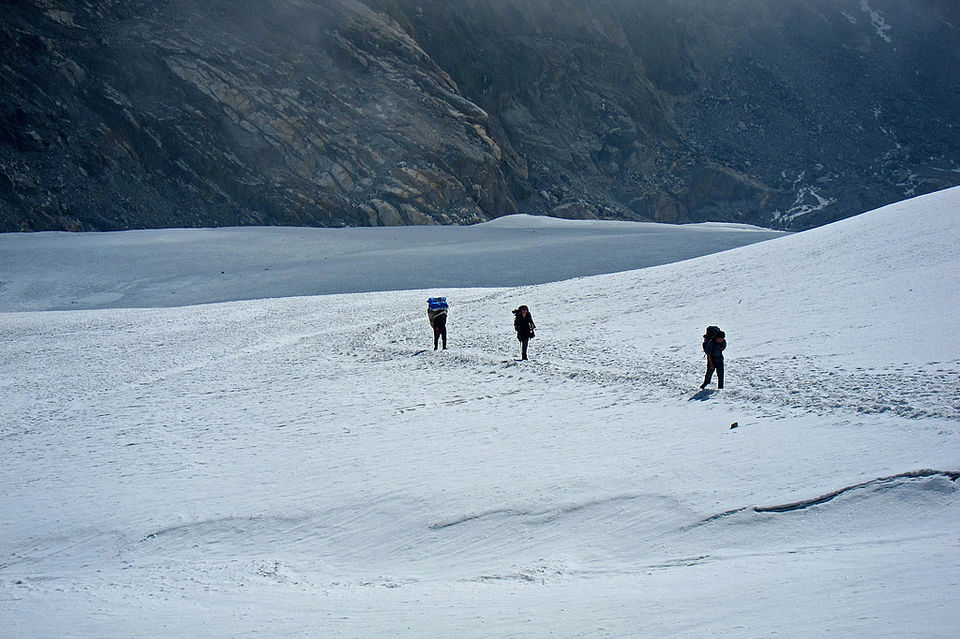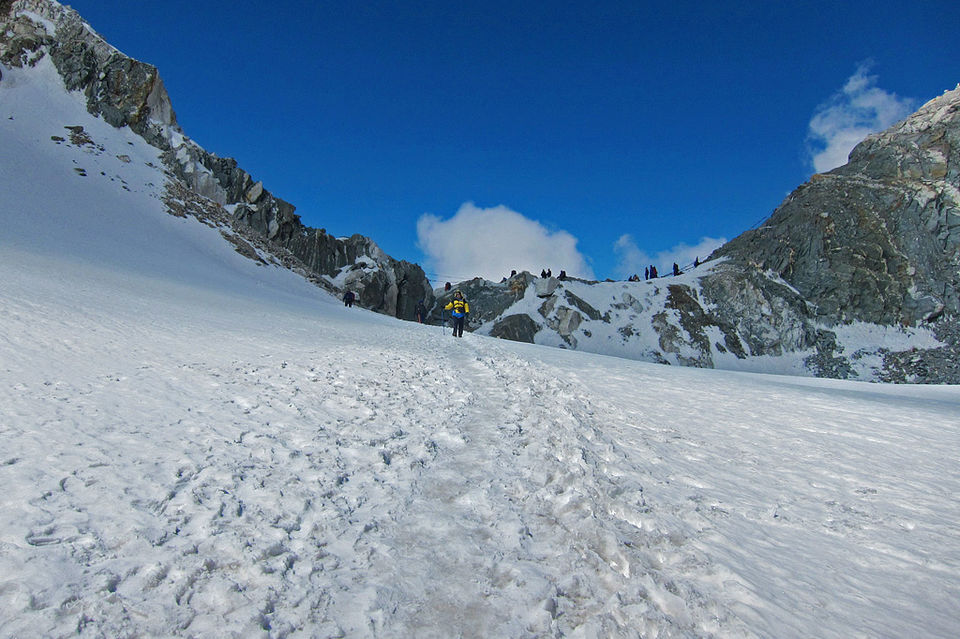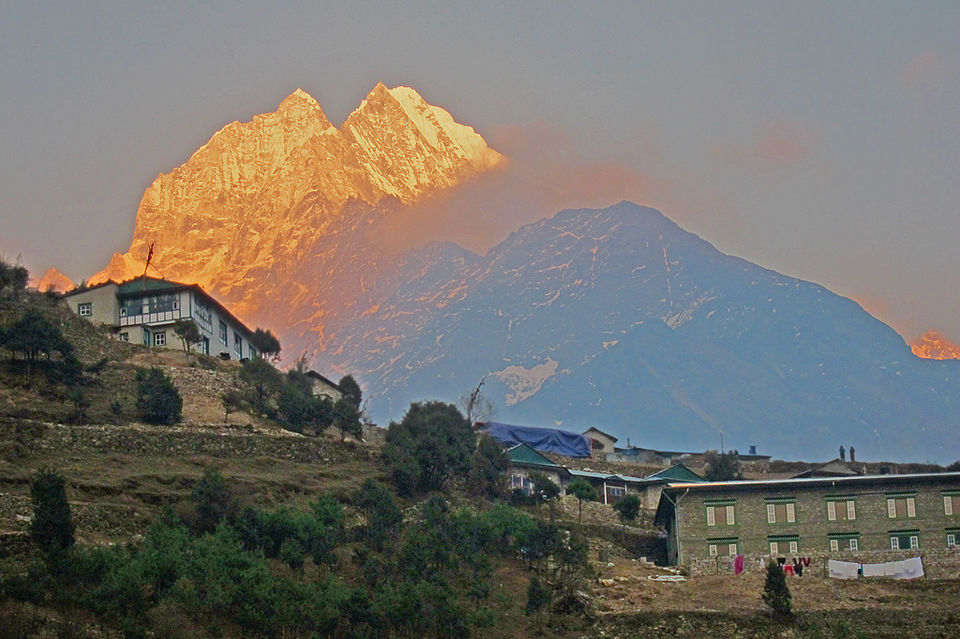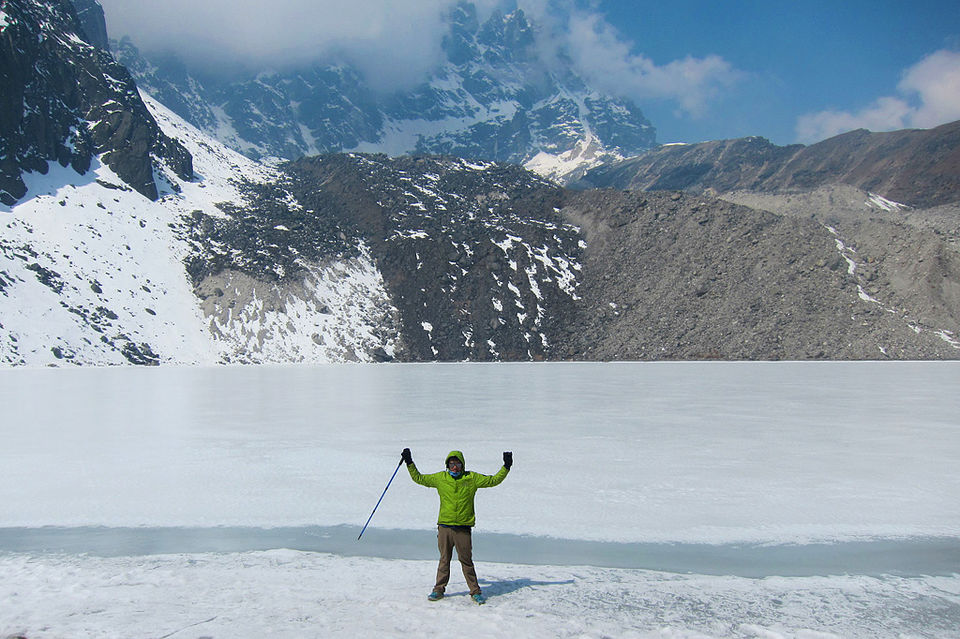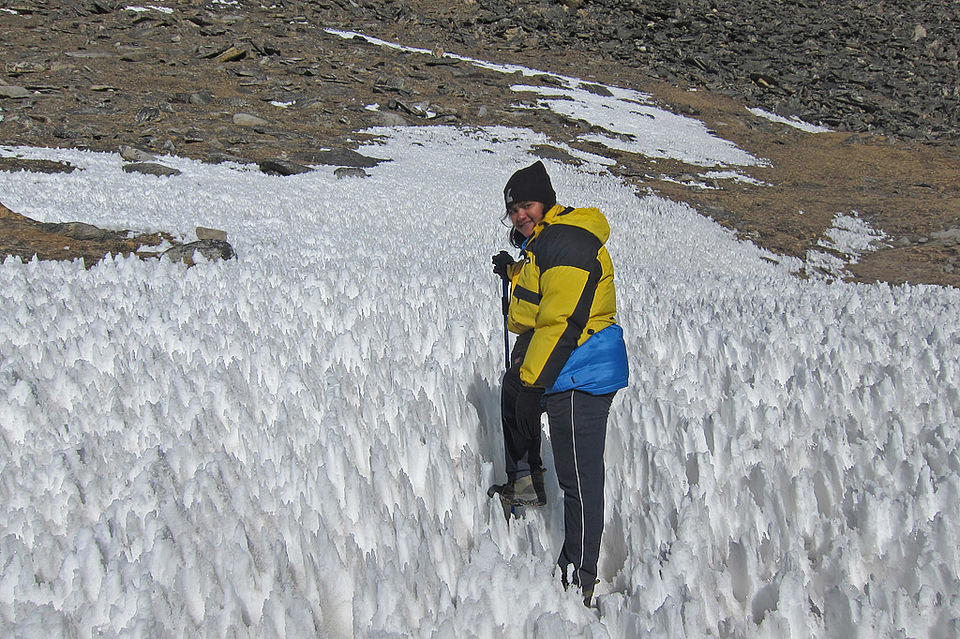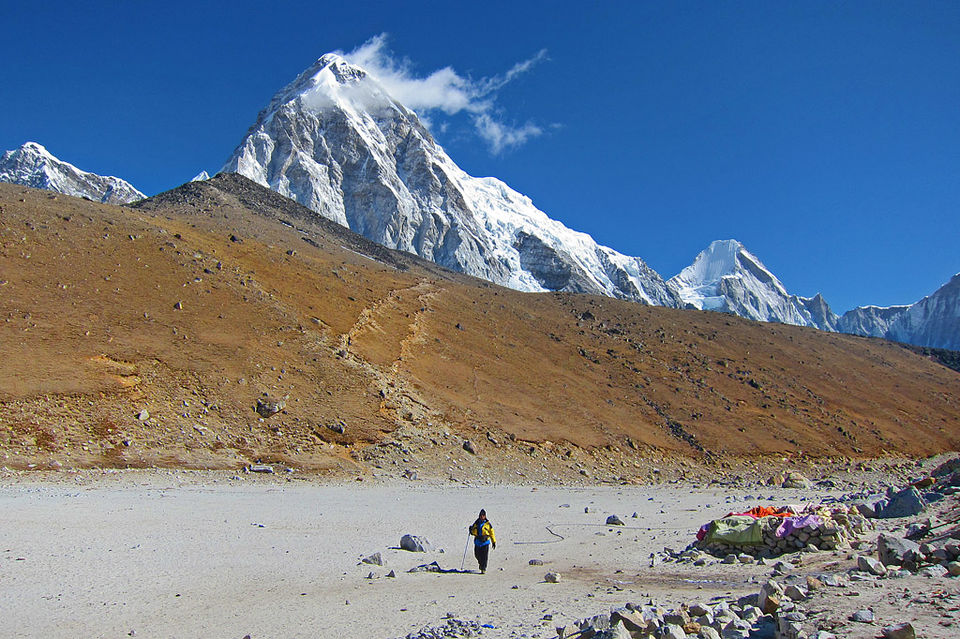 The light before the dawn was filling up the frozen Gokyo lake and the Ngozumba glacier below. I was standing on top of Gokyo-Ri, surrounded by Cho-yu, Everest, Makalu, Lhotse – the dream peaks of all mountain lovers. At this moment I knew our decision to come on this route was absolutely right, even if we couldn't make to Everest Base Camp, I wouldn't have any further regret in my life.
We lost three days at Kathmandu airport, waiting. Our flights to Lukla was cancelled due to bad weather.  It was a hard decision whether to pursue the less traveled Chola Pass route or the common trail through Teng Boche and Dingboche. We exchanged words with other trekkers and mountaineers at  Kathmandu airport about this, and it appeared that people were apprehensive about Chola pass route since it would have too much snow to negotiate at this time of the year. Although finally we decided to take Chola pass route as for all the members of the team, the journey was more important than the destination, and we knew that Chola pass could offer an unmatched experience.
So we embarked on the heavenly trail called Everest base camp – a dream of all trekkers. The fabulous Namche Bazar was the last human settlement with all facilities like shops, internet café, hospitals and even a museum. Next few days our destinations would be Mong La, Macherrama, Gokyo, Dragnag, Dzongla and then we would catch up with the main route at Dingboche.
The beauty of this trail couldn't be expressed in words; it was like walking in a dream paradise. The emerald green rivers were gushing below. The numerous waves of snow clad peaks were all around. Waterfalls were still frozen while the Rhododendron trees were in full bloom.
We walked through glacial moraine to reach Gokyo. There are three lakes en-route Gokyo. Except the first one, other two lakes were completely frozen at that time of the year.
We traversed the Ngozumba glacier to reach Dragnag from Gokyo. The walk over the glacier was enthralling. The close sights of open-jawed crevasses were giving goose flesh as we were negotiating them one by one.
Crossing Chola Pass was a lifetime experience for each member of the team. We started around 3:30 am in pitch dark. Not sure where we were heading, just kept following our guide. We were hungry, so had to stop for a while to make noodles and eat. Our guide pointed out somewhere far to show us the Chola Pass. It was so high on the mountain that it almost appeared to be touching the sky. Yes, we realized why this trail is revered by the trekkers and climbers.
We started climbing again. First, we negotiated the boulder zone and then started the steep zone with steep ascending gradient. Sometimes, we were literally on our hands and feet to stop ourselves from rolling down. Finally, we reached the top of the pass marked by Tibetan prayer flag. It was such a marvel of nature! One side of the pass was snow free (only some ice formation in early morning chill ), and the other side of the pass was completed covered with snow! We continued the other side over the snow and finally reached our day's destination Dzongla by 1 o'clock in the afternoon. A long and arduous trudge of 10 hours made us all tired physically, but the sheer beauty of nature completely exhilarated our mind to the core.
Our next day's stop was Gorakhshep, which was the final night halt in this trail. We would visit Base Camp and Kalapatthar and come back to Gorakshep. Kalapatthar is the extended ridge of Pumo Ri peak, about 2.5 hrs uphill climb from Gorakshep.
It was very early in the morning when we started our climb for Kalapatthar. The chill filled the air and no glimpse of light yet. The head torch was on. The trekkers from different parts of the world had gathered to visit their holy pilgrimage Everest from the closest distance possibly a trekker can see. The air was thin at this height of 5,600 Mt (over 18,000 Ft), and it was not easy to climb, but perhaps the desire to stand face to face with Mt Everest kept us all going.
And finally, we reached the summit. People were hugging each other. They were all strangers but tied together with the unmistakable love for the mountain.
Mt Everest, Lhotse, Nputse, Cholotse, Amadablam, Pumo Ri and many more unknown or unnamed peaks were all around us to the farthest line eyes could see. Sun was rising and the color of the morning rays on those snowy peaks transported us to a different world.
With all dreams fulfilled, we started climbing down.
This trip was originally published on Soulful Journey