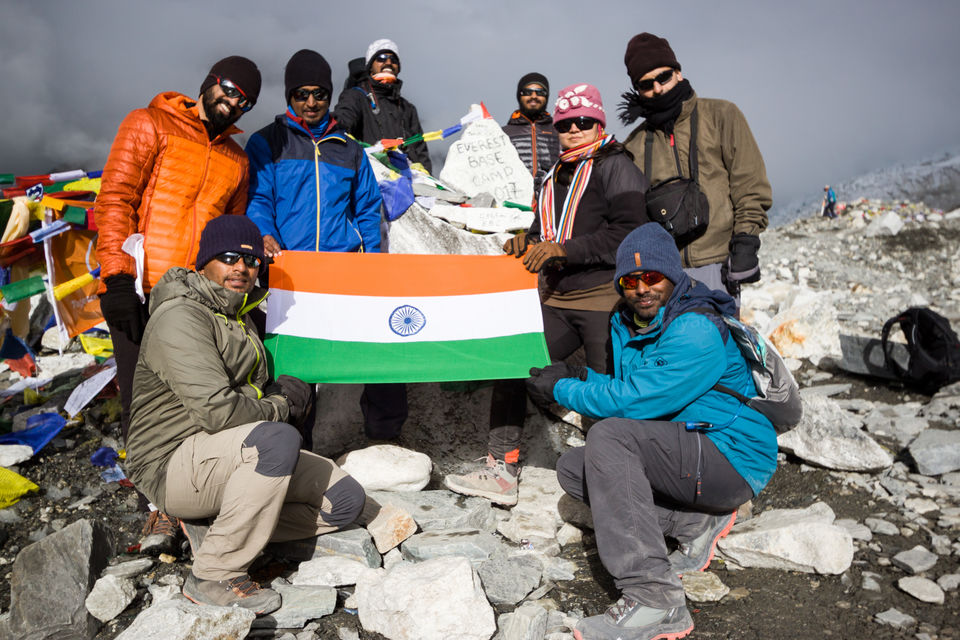 It is known as the ultimate trekker's adventure; the journey to the highest crown of all. The Everest Base Camp trek is the mission to reach the footsteps of our planet's highest point and in many ways, it proves to be one of Mother Nature's most adrenaline-filled and endurance-testing, yet gratifying quests.
Since the 1920s, some of the world's most daring explorers such as George Mallory and Tenzing Norgay have embarked on the Everest mission, paving the way for people from all walks of life to attempt this journey as fit to their abilities.
Today, the journey to Everest, or its Base Camp takes place initially by flight to the Tenzing-Hillary Airport in Lukla which has been previously dubbed as the world's most dangerous airport. From here, the trek to the Everest Base Camp starts through the Sagarmatha National Park, passing through the hillside town of Namche Bazaar,
Due to the restricted access, extreme height and its associated weather condition, the most suitable seasons for this trek are Autumn (September to December) and Spring (March to May) when the summer monsoon rains, and the extreme cold of the winter are not an issue. However, for travellers who are happy to compromise pleasant weather conditions in order to trek in off-season conditions when the trails are less busy, winter (December to February) and summer (June to August) options are available.
We here at Snowyoda Expeditions , have been specially catering to Indian customers by providing Hindi Speaking guides, good food options , better information and ease of operations and a homely feeling. We have 100 percent reviews till date for our trek which you can verify at https://www.tripadvisor.co.uk/Attraction_Review-g293890-d12502456-Reviews-Snowyoda_Expeditions_Pvt_Ltd-Kathmandu_Kathmandu_Valley_Bagmati_Zone_Central_Reg.html
We are a bunch of young professionals in the travel sector and we value our customers and more importantly our relationships with them very highly . We focus on the experience first and then towards the financial aspect of the trip . We have provided numerous freebies , add ons and other windfalls to our customers just to see them at delight and making sure that they have a good time . We also provide deep and detailed information regarding our treks explaining the dynamics to our clients and a flowchart kind of thing .
Below is our itinerary and inclusions , if you are interested you can always email us at support@snowyoda.com or whatsapp us at +9779801088423. You also can visit our website www.snowyoda.com for more treks and informaiton .
Day 1: Arrive at Kathmandu.
Upon arriving in the Tribhuwan International Airport (TIA), Kathmandu, we will pick you up and escort you to your accommodation, providing answers to any questions or help you may need when adjusting to Nepal. You can enjoy the night staying in the comfort of your lodge or exploring the city, but the main tour of Kathmandu will happen on the next day.
Day 2: Kathmandu Tour and Trek Preparation
Consider this as a cultural and physical acclimatization to the country when you can find out about the long and rich history of Nepal. While depending on your interests, this day can be customized to meet your interests, we highly recommend our package to take you to Kathmandu Valley's most iconic UNESCO World Heritage sites, including a visit to Lord Shiva's sacred Pashupatinath Temple (1500 AD), the Kathmandu Buddhist and Hindu vantage point of Swayambunath (Monkey Temple) (500 AD), Bhaktapur Durbar Square (1427 AD), as well as other potential destinations such as Boudhanath and Basantapur Durbar Square.
If you are interested in other activities such as shopping, visiting museums, and dining in small local restaurants or exquisite restaurants, we can customize your day trip to meet your requirements. Furthermore, if you need to buy any equipment for your trek, we can organize for this to happen on this day.
Finally, in the evening, we will have a briefing in the hotel about the contents of the trek and get you ready and hyped up about the start of your journey into the unknown the next day.
Day 3: Kathmandu to Lukla (2, 800 meters), then walk to Phakding (2, 652 meters)
The quest into the unknown really starts on this day as we take a highly scenic and thrilling 35 minute morning flight to Lulka's Tenzing-Hillary Airport. From this altitude of 2800m, we meet our Sherpa crew and porters and start our descending 3 hour trek to Phakding (2600m). After a relatively easy day, we will take rest overnight at a guest house/lodge in Phakding, in preparation for the mission to the hill side town of Namche Bazaar.
Day 4: Phakding to Namche Bazaar (3,440 meters)
Taking an early start and embarking on the day's trek that will take us through the Sagamartha National Park, we ascend to 3440 meters, reaching arguably the biggest and most comfortable settlement on the way to the Everest; Namche Bazaar. Here you can enjoy a variety of attractions, from restaurants and fresh bakeries to the thrilling view offered from the village overlooking the adjacent valleys and Kongde Ri (6187 m ) .
Day 5: Acclimatization at Namche Bazaar (3, 440 meters)
As there is around 2000m altitude left to gain in the following days, it is of importance that we spend a day in Namche Bazaar, hiking the hillside attractions, enjoying all the town has to offer including beautiful sunrise and sunset before we set off on the next day on the remainder of the trek.
Day 6: Namche to Tengboche (3, 860 meters)
After having acclimatized and rested at Namche Bazaar, the real portion of the expedition starts with this day's 5 hour trek to Tengboche Monastery (3860m). At this location, there are lots of opportunities to witness Buddhist spiritualism through the monastery, hear local chants / music and, take part in prayer ceremonies and visit the Buddha statue, and also take rest for the night before marching onward.
Day 7: Tengboche to Dingboche (4, 360 meters)
In another day of descent and overall ascent, we trek for 5.5 hours through Debuche, passing those thrilling uspension bridges you have seen in pictures, before reaching Dingboche (4350m) where we will take rest for the rest of the day, easing the acclimatization of the coming days. Here we will stay at a guest house where food and lodging will be provided.
The trek will be about 6 to 7 hours while it will be moderate for most part, there will be about 1 steep incline .
Day 8: Acclimatization day at Dingboche (4, 360 meters)
Depending on your well-being and fitness you have the option to stay at Dingboche today for rest and acclimatization or preferably take a short hike of 4.5 hours up to Chhukung for gorgeous views and training for the oxygen levels of the coming days. The second option is recommended as it will keep you in your rhythm as well as helping you get a glimpse of the 4700m altitude climate. Regardless, we will stay at Dingboche overnight where the lodging and food conditions will be similar to the night before.
Day 9: Dingboche to Lobuche (4, 940 meters)
Nearing the altitude of 5000m, and reaching places where we come face to face with glaciers, this day's trek really starts to show the tremendous effort needed to summit the giant Mount Everest as we pass memorials of fallen climbers, and start to feel the lack of oxygen clearly. Nevertheless, this takes us only one day away from the Everest Basecamp, and after a 5 hour trek, we arrive in Lobuche (4910m) and stay overnight for rest and anticipation of the grand finale.
Day 10: Lobuche (4, 940 meters) to Gorakshep (5, 170 meters) to Everest Base Camp (5, 364 meters) and come back to Gorakshep.
This is the day. This is as close as we can get to the sleeping giant visually and physically without the need of physical mountaineering equipment. In a course of 8 hours, we cross the Khumbu Glacier, gaining around 400 meters to reach Everest Base Camp and return to Gorak Shep after enjoying the beautiful views. Rest will be necessary on this day as the highest altitude that we will reach on the trek will happen on the next day.
.
Day 11: Hiking to Kala Patthar (5, 645 meters) and descend to Pheriche (4, 940 meters)
Starting the day with an ascent to the highest point of the trek, we will summit Mt. Kalapatthar (5555) for a soul-lifting yet mind-boggling panoramic view of the Everest as well as Nuptse, Pumori, Chagatse, Lhoste and many more. From here, the descending trend back to Lulka will start with our trek down to Gorak Shep and onward to Periche where we will stay overnight at a guest house. The total trekking time for this day is 7 hours and while proving to be the most difficult day on the trek, it will also be the most rewarding one.
Day 12: Lobuche (4, 940 meters) to Tengboche (3, 860 meters)
Today we will reach Tengboche via Pheriche it will be about 6 to 7 hours of easy declining trekking. You will be passing through the amazing Himalayan ranges.
Day 13: Tengboche (3,860 meters) to Monjo (2, 835 meters)
This will be a moderate trek; it will take about 6 – 7 hours trek to reach Monjo. Overnight stay at Monjo.
Day 14: Monjo (2, 835 meters) to Lukla (2, 800 meters)
On the descending path, we return from the same path taken earlier on the trek, reaching the airport town and enjoying the last evening in these mountains. This trek which was done on the course of two days earlier will only take 6 hours on the way back and here we will stay in a guesthouse overnight, gearing up for the return to modern civilization.
Day 15: Lukla to Kathmandu
Saying goodbye to the remote landscapes at the footstep of the world's tallest mountain, we take the 35min flight from Lukla, returning to the capital where you will be taken to your accommodation. It is important to note that the flight between Lukla and Kathmandu is highly dependent on the weather conditions of the region. While flights are generally quite reliable, it is not out of the ordinary that they are cancelled for one or two days. For this reason, it is advised that you plan your return trip to last at least one or two days more than your trek schedule in order to minimize the impact of missing your international flight in such a case.
Day 16: Departure
Now that your journey has finished, you can enjoy your last day as required by the nature of your next adventure in or out of Nepal. If you are leaving the country, we will arrange your transportation to the airport, and if not, we can offer you other adventures through the country, the details of which you can find by contacting our representative.
What is included?
1. Airport transfers from the airport to your hotels .
2. 3 nights accommodation in a 3 star hotel in Kathmandu on twin sharing basis ( Breakfast included ) according to itinerary
3. 12 nights accommodation in teahouses while on the trek on twin sharing basis
4. All necessary paperwork and permits required for the trek .
5. Domestic return flights from Kathmandu to Lukla including the guide who will be traveling with you from Kathmandu .
6. Qualified , Experienced and Certified Guide for the trek . ( If there are 6 or more than 6 people in a group , 1 assistance guide will also be provided. )Porters to carry the luggage ( 1 porter for 2 people , 10 kg weight per person . If there is a single traveler then a porter cum guide will be provided. )
7. First Aid Kit
8. Staff costs including their salary, insurance, equipment, domestic airfare, food and accommodation.
9. All government and local taxes.
What is not included?
1. Nepalese visa
2. Insurance of the travelers. Helicopter rescue insurance is a must for anyone undertaking the EBC trek.
3. Food , snack , beverages , alcohol during the trek.
4. Additional accommodation and food expenses if trek gets delayed due to weather, flight.
5. Personal expenses (phone calls, laundry, bar bills, battery recharge, extra porters, bottle or boiled water, shower, etc.) while on the trek.
6. Expenses for evacuation and rescue operations due to natural calamity, mishaps, injury or any health problem.
7. Tips for guides and porters.