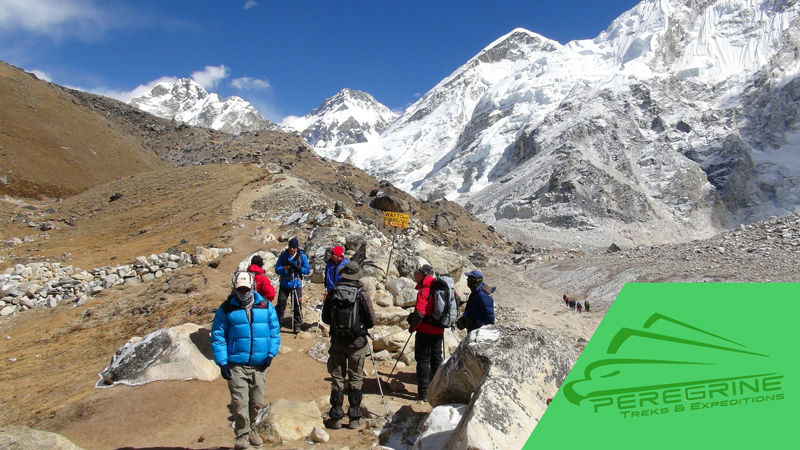 Every adventure travelers and trekkers wish to be at the world's adventure destination of the base camp of Mt. Everest but unfortunately many people can't afford more than two weeks to complete the regular Everest Base Camp Trekking Package. Peregrine Treks has specially designed this Eleven day Everest Base Camp Trek and Fly back by Helicopter with safety and comfort on top priority. Having the chartered helicopter fly out to Kathmandu after leaving the historical footprint at EBC one doesn't need to worry about returning the same way down and the Lukla flight cancellation.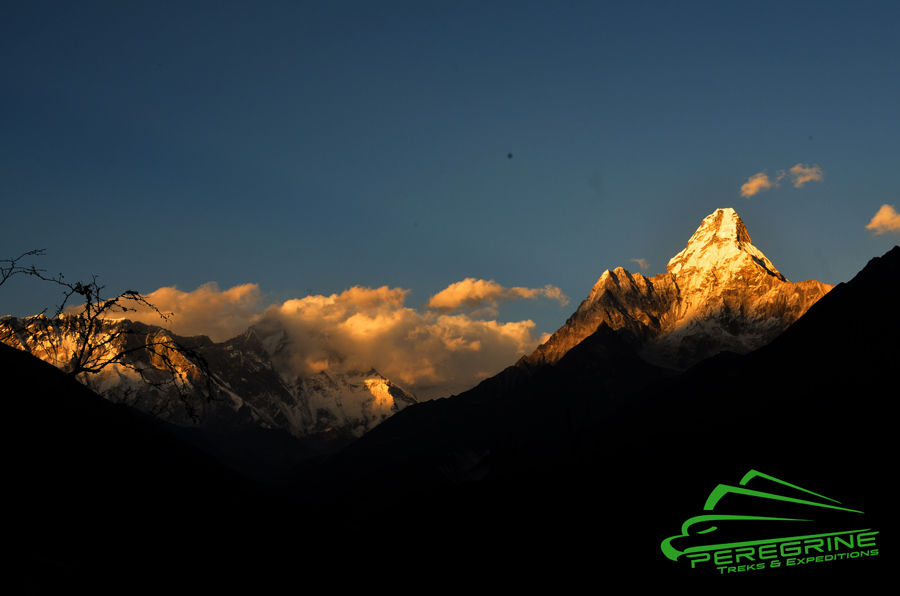 We take an exciting flight to Lukla to start the Everest base camp heli trek and hike to Namche where we spend 2 nights for the proper acclimation. We witness and explore the vastness of Tengboche monastery before we head to Dingboche – nestles in the sunny valley facing the most beautiful Ama Dablam peak – a great place to spend two nights to adjust the thinner oxygen level before we climb up above 5000 meter. The alpine landscape become more rugged as we climb above the tree line on moraines to Gorak Shep via Lobuche. The walk to EBC over the Khumbu glacier moraines can be challenging but surely a great rewarding effort for the sense of achievement. If you have ever longed to set eyes on the highest Himalayan panorama and stunning glaciers around you, the view from Kalapathar will stay with you forever. We spend a night at Pheriche before we take the morning chartered helicopter flight back to Kathmandu, one of the most scenic heli rides amidst the spectacular valleys and stunning high peaks in the Himalayas – a great experience of lifetime never to be forgotten.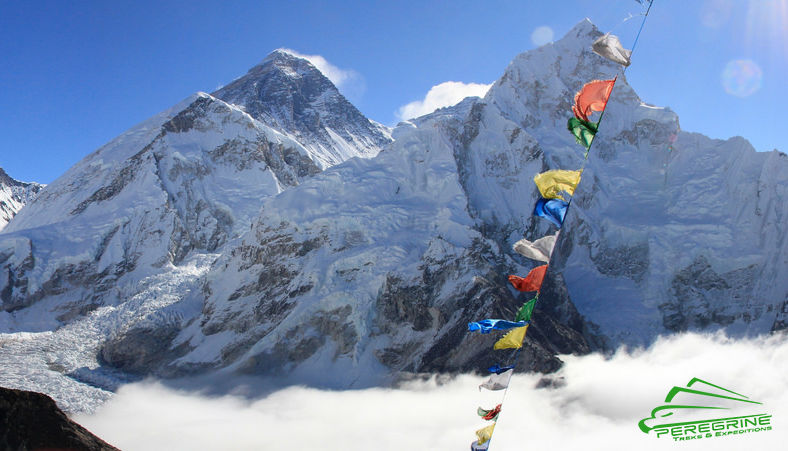 Our Everest base camp trek and fly back by helicopter itinerary is carefully designed to ensure enough time for proper acclimatization and exploration. We do stay deluxe at hotel in Kathmandu and comfortable lodges having attached bathroom at most places on trek for the comfort even in exploring the wilderness of the Everest region. We make sure to have medical trained experienced trek leader with safety back up like Oxygen tank and medical box along with enough trek crew having responsible policy of 02 TREKKER: 01 PORTER. This short Everest express trek to EBC suites best for family and group of friends who have less than two weeks for the adventure trip to Everest base camp.
For more detail, please click at this link
http://www.peregrinetreks.com/everest-base-camp-trek-and-fly-back-by-helicopter/
Itinerary for Everest Base Camp Trek and Fly back by Helicopter
Day 01: Arrival in Kathmandu (1,350m/4,428ft)
After landing at the Tribhuvan International Airport, we will be greeted by a representative of Peregrine Treks who will drop us off at our hotel. We then check-in at the hotel, freshen up and take a rest. In the evening a welcome dinner will be hosted by Peregrine Treks.
Day 02: Fly to Lukla, trek to Phakding (2,651m/8,700ft): 40 minutes flight; 8km, 3 - 4 hours trek
We take an early morning regular flight to Lukla by a Twin Otter plane which is where all Everest treks begin. We meet the rest of our team in Lukla and start trekking from there. We walk on a trail that gradually descends to Cheplung village from where we get a glimpse of Mt. Khumbila, a sacred mountain which has never been climbed. From here, we gradually descend until Phakding.
Day 03: Phakding to Namche Bazaar (3,438m/11,280 ft): 11km, 5 - 6 hours
Our trail passes through a pine forest and we continue our walk on the trail that goes up north through the Benkar valley. We cross Dudh Koshi River and pass Chumoa and Monjo villages before reaching the entrance of the Everest National Park. After entering the park, we ascend on a steep trail with incredible views. Ascending further, we reach Namche Bazaar which is the biggest town in the Everest region. Overnight in Namche Bazaar.
Day 04: Namche Bazaar: acclimatization
Spending one more day in Namche Bazaar will help us get used to the high altitude and thinning oxygen in the air. We tour the primary town of the Everest or Khumbu region which has government offices, ATMs, internet cafes, shops, restaurants, and a colorful market. We can hike-up to Sagarmatha National Park and enjoy the sunrise over the Himalayas including Mt. Everest, Lhotse, Nuptse, Ama Dablam, Thamserku, Kongde and so on. If we are interested in a day hike, we can trek to Khumjung village. Today we also visit the Hillary School and a monastery which houses a yeti scalp! Overnight in Namche Bazaar.
Day 05: Namche Bazaar to Tengboche (3,870m/12,694ft): 10 km, 5 - 6 hours
This segment of the trek includes the famous descent to the Dudh-Koshi River and the equally famous ascent along the rhododendron forests to Tengboche. While descending to Dudh Kish River, we enjoy the views of mountain tops like Mount Everest, Lhotse, Nuptse, Ama Dablam, Thamserku, Kongde and so on. Upon reaching Tengboche, we visit Tengboche monastery-the largest monastery in the region and soak in the views of Everest, Ama Dablam and other peaks. Overnight in Tengboche.
Day 06: Tengboche to Dingboche (4,360 m/14,300 ft): 9 km, 5 - 6 hours
We descend and trek through forests filled with a variety of lush trees – birch, conifers and rhododendrons. This journey again rewards us with tremendous views of Mt. Everest, Lhotse, and Ama Dablam. The picturesque trail dips down to Dibuche, crosses the Imja River and takes us to Pangboche. The upper Pangboche trails reward us with a more pristine view of the Himalayas and the Pangboche Monastery. The trek moves ahead towards the Imja Valley, Lobuche River and ultimately begins climbing up to Dingboche. Overnight at Dingboche.
Day 07: Dingboche: acclimatization
Dingboche is a popular stop for trekkers and climbers headed to Mt. Everest, Ama Dablam or Imja Tse. The village is beautiful with an array of fields enclosed by stone walls to protect barley, buckwheat and potatoes from the cold wind and grazing animals. We spend a day at Dingboche for acclimatization. We take day hikes to either Nagarjun Hill or Chukhung Valley for great views of Makalu, Lhotse, Chalotse, Tawache and Ama Dablam.
Day 08: Dingboche to Lobuche (4940 m/16,207 ft): 7 km, 5-6 hours
We start the day with a gradual climb to Duglha at the end of the terminal moraine of the Khumbu Glacier. From here, we climb up a steep trail to Chupki Lhara, where we find an array of stones with prayer flags used as memorials to Scott Fischer (American mountaineer) and 10-time Everest submitter Babu Chiri Sherpa (Nepali mountain guide) who perished on a mission to climb Everest. Next, we continue to the Khumbu Glacier moraine and find ourselves facing several great peaks - Khumbutse, Lingtren, Pumori and Mahalangur Himal. The trail then eases off as we follow the valley to Lobuche. Overnight in Lobuche.
Day 09: Lobuche to Gorak Shep (5,170 m/16,961ft), visit Everest Base Camp (5,364 m/17,594 ft): 13km, 6-7 hours
We take the trail to Everest Base Camp through the once vast Gorak Shep Lake. Continuing straight ahead, we come across the Indian army mountaineers' memorials. The path from here can be misleading; hence, it is important that we follow our lead Sherpa diligently. The walk is strenuous due to thin air in the high altitude. We pass through rocky dunes, moraine and streams before reaching the Everest Base Camp. Upon reaching the Everest Base Camp, we see tents of mountaineers that stand out in bright colors against the monotony of gray surroundings (especially in the spring). Nuptse, Khumbuste and Pumori are the mountains we can view from the base camp. We get back to Gorak Shep for a good night's rest. Overnight in Gorak Shep.
Day 10: Gorak Shep to Kala Patthar, back to Gorak Shep, fly to Lukla by Helicopter: 3 km, 3-4 hours trek
We prepare for an early morning departure amid predawn darkness and cold temperatures (-10 to -14 C). Plus, there is always the potential for chilly winds which are quite common. Familiar peaks such as Lingtren, Khumbutse, and Changtse tower are seen to the east even as Everest begins to reveal itself. But, it is upon reaching Kala Patthar (5,545m/18,192ft) that we get to see 360 degree up-close and formidable views of Mt. Everest. We take pictures, enjoy the magnificent mountain panorama, and then return back to Gorak Shep for a good night's rest.
Those participants who visit Everest Base Camp today will have an early breakfast to start early as Everest base camp hike takes longer than the hike at Kala Patthar. We descend down to Gorak Shep and take a helicopter ride to Kathmandu. We fly over the serene waters of the Gokyo Lake which holds deep cultural significance for the Nepalese. After admiring the lake's tremendous beauty, we continue our helicopter ride to Kathmandu. Overnight in Kathmandu.
Day 11: Final departure
Our Everest adventure in Nepal ends today. A Peregrine Treks representative will drop us off at the Tribhuvan International Airport a few hours before the scheduled flight.
Important Note
Your safety is of paramount concern while traveling with Peregrine Treks. Please note that your leader has the authority to amend or cancel any part of the itinerary if it is deemed necessary due to safety concerns. Every effort will be made to keep to the above itinerary; however, since this adventure entails travelling in remote mountainous regions, we cannot guarantee that we will not deviate from it. Weather conditions, health condition of a group member, unexpected natural disasters, etc., can all contribute to changes in the itinerary. The leader will try to ensure that the trip runs according to plan, but please be prepared to be flexible if required.