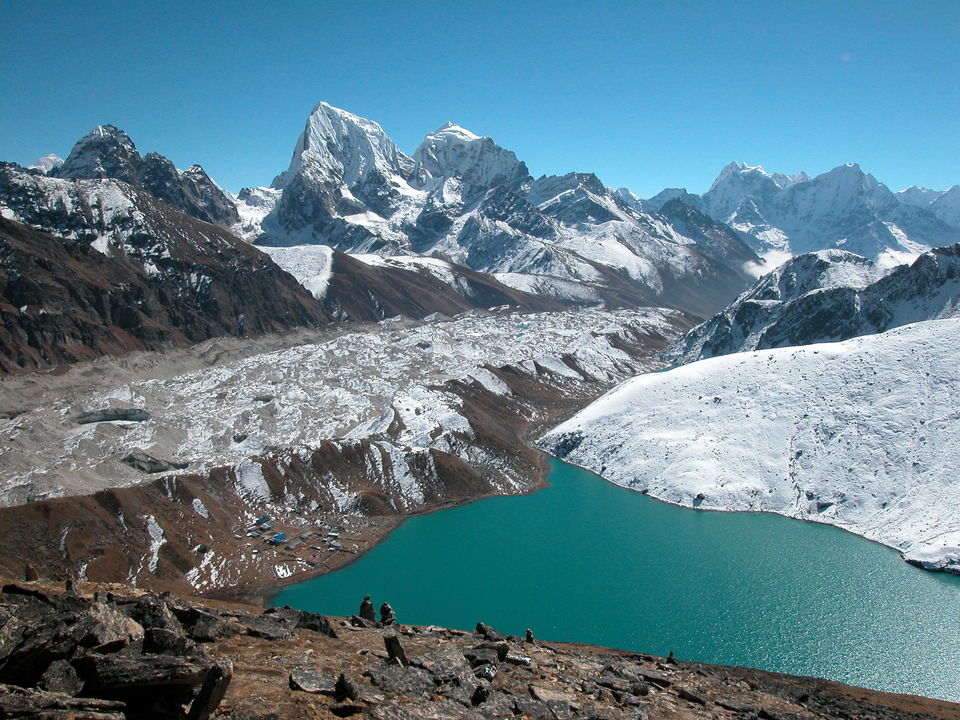 Everest high passes trek leads to the three difficult high passes Kongma La (5,535m), Cho La (5420m) and Renjo La (5340m) of Everest region. Moreover, trekkers visit Everest base camp, Kalapather, Gokyo valley and beautiful tranquil lakes. Significantly, our itinerary introduces the explorers? untouched Nangpa la valley which is a beautiful Sherpa settlement, the monastery village of Thame and glorious views of surrounding peaks. If you are the one who is looking for adventure thrill and challenge with no skill of climbing technically and do not know which trek to opt for then definitely this is the one we highly recommend to you to go with.
We start our joyous trip to the Everest high passes exploring nooks and corners of Kathmandu valley like old temples, shrines and cultural sites. On the following day take a flight to Tenzing Hillary airport at lukla followed by trekking through the classic route to sagarmatha national park fascinating mighty Dudhkoshi river beautiful landscapes, chortens and monasteries in the land locked by peaks. We make our way to the Everest base camp after reaching the summit of kongma la. We drove across the miraculous Khumbu icefalls from the western cwm. After enduring the hardship to climb through Cho la, we start our trekking to the view point of Kalapatthar and ultimately land to the cobalt blue lake at Gokyo. Enjoying the amazing view from the fifth lake and Gokyo ri make way to the next great pass the Renjo La. Following the route used for centuries by Tibetan traders via Nangpo La to get to Thame and spend overnight in Marlung. Leaving our footprints in the shadow of the Everest, we end our journey after dropping to Lukla following the same route and fly back to Kathmandu.
Trip Itinerary Details:-
Day 01 : Arrival in Kathmandu Airport(1360m)
After your arrival at Tribhuwan International Airport in Kathmandu city then you will be warmly greeted by our office representative and transfer to the hotel. After hotel check in and get some refreshment, our Himalayan guide will come to introduce with you and give brief explanation about Three High Passes Trek.
Day 02 : Flight to Lukla(2840m) and trek to Phakding(2,652m) - 4 Hrs Trek
Today early breakfast in the morning we move towards airport for adventurous 45 minutes Lukla flight. This is an awesome experience in itself by getting the picturesque mountain views from the plane. Lukla airport named Tenzing-Hillary airport in honor of Tenzing Norgay Sherpa and Sir Admund Hillary who were the first Mount Everest summiteers in the world. After reached Lukla, we meet our supporting trekking crews and pack your luggage before we begin our trek. And we starts about 4 hours trek to get Phakding. Today is a short hike to assist in acclimatizes. The trek goes through beautiful villages with green landscapes and views of Kusum Kangaru. We stay overnight at the height of 2652m. in lodge included three meals. (Breakfast / Lunch / Dinner).
Day 03 : Trek to Namche Bazar(3,440m) - 6 Hrs Trek
After breakfast in the morning, we start our trek to Namche Bazar for next camp. The walk between Phakding and Namche is amusing trek through Himalayan pine forest with up and downhill by crossing Dudh Koshi River. Besides, you will also get spectacular views of Mount Thamserku, Everest, Lhotse, Tawache, Kusum Kangaru and Kwangde peak as well. After crosses some of the suspension bridges we reached at Monjo. Monjo is the checking point of Sagarmatha National Park permits in order to keep the trekkers record. We climb uphill to get Namche bazar after crossing Hillary suspension bridge. We stay overnight at the height of 3440m. in lodge included three meals. (Breakfast / Lunch / Dinner).
Day 04 : Acclimatization Day
This day is rest day for acclimatization. After breakfast heading towards Everest view point. We have to go above Namchebazaar and pass through Syangboche. From the top of hill above Syangboche you will get view of world highest peak,which most & world famous Mount Everest,Tangboche peak (6367m), Lhotse (8414m), Amadublam (6856m) & many more others. After reaching to Khumjung you can visit school established by Hillary. We will start next trek after having lunch passing the foot path of Khimde. After having good time here you will get back to Namche. We stay overnight at the height of 3440m. in lodge included three meals. (Breakfast / Lunch / Dinner).
Day 05 : Trek to Tengboche(3,860m) - 6 Hrs Trek
Today after breakfast, we move towards Tengboche. The trail goes gradually ups and downs along the Dudh Koshi Valley with superb view of Mt. Everest, Mt, Amadablam, Mt. Lhotese, Mt. Nuptse and Mt. Themserku. The trek leads slightly tougher climb through the pine forests from Punki Thenga to Tengboche. Tengboche monastery is the most popular and biggest monastery of Khumbu region. We visit Tengboche monastery in the same day. It is also the best place for close up views of Mt. Amadablam, Everest and Nuptse. We stay overnight at the height of 3860m. in lodge included three meals. (Breakfast / Lunch / Dinner).
Day 06 : Trek to Dingboche(4,360m) - 6 Hrs Trek
Early in the morning after having captured the fabulous mountain views such like Mt. Thamseku, Ama Dablam, Lhotse, Nuptse, we start walking ahead with the trail that follows through Imja Khola. The track passes downward through a deep forest of birch and rhododendron and the magnificent views of Ama Dablam, Lhotse-Nuptse ridge. The trail eventually takes us ahead to Deboche. There is a Buddhist nunnery, prayer flags and chortens. Similarly, now the track leads us to Pangboche and Upper Panboche. Here, we can have the best view of mountains. Gradually, now the trail takes us to Shomare followed by Orsho. And finally, we arrive Dingboche for the stopover/night rest. Remember, Dingboche is cold and windy place along with chortens and colorful prayer flags waiting the visitors to welcome in. Overnight at the height of (4,360m) in lodge included three meals. (Breakfast / Lunch / Dinner).
Day 07 : Trek Chhukung(4,750m) - 4 Hrs Trek
Today after breakfast, our walk goes leisurely only about 3-4 hours hike to Chhukung. The treks lead through Imja khola valley and beautiful alpine landscapes, some stone walled fields. On the trail you will also have spectacular mountain views of Mt. Lhotse, Mt. Ama Dablam, and Island Peak. Imja Tse has awesome pyramidal shape with its step rock and icy south face. Chhukung is the best place to explore the glacier and massive snow mountains all around the place. Overnight at the height of (4,750m) in lodge included three meals. (Breakfast / Lunch / Dinner).
Day 08 : Rest Day
We need one more day acclimatization before passes Kongma La (5,535m). Today we are going to do a day trip to Nagarjun hill. Nagarjun is a hill located on the glands of the Chhukung valley directly above Dingboche. After breakfast we will head to Nagarjun. It may take about 5 hrs to reach Nagerjun. From Nagarjun we can see beautiful view of Lobuche east, Lobuche west, Lobuche peak, Thamserku, Kangtega and Amadablam. We could even see Makalu, the world?s fifth highest mountain. Then we will descend back to Chhukung. Overnight at the height of (4,750m) in lodge included three meals. (Breakfast / Lunch / Dinner).
Day 09 : Trek to Lobuche(4,940m) via Kongma La Pass(5,535m) - 7 Hrs Trek
Today is our first day to conquest Kongma La pass which is the highest pass among the three high passes of this trek. After breakfast at lodge, before start our walk we packed our snacks and lunch for a day hike because there is not available tea houses on the trail. The trek goes via wide basin dotted with small frozen lakes, Kongma la pass (5,535m) and Khumbu Glacier. One the way, you will really enjoy the remoteness of Everest region with great views of Island peak valley and sharp ridge of Amphu Lapch. We have two possible trails to choose any of them - 1) climb over the hill northwest of Chhukung of Nuptse Glacier or 2) walk back down the valley to bibre and follow a high trail above the Niyang Khola. The final descent of today's walk is the most difficult hike. Overnight at the height of (4,940m) in lodge included three meals. (Breakfast / Lunch / Dinner).
Day 10 : Trek to Everest Base camp(5,364) - Gorakshep(5,170m) - 9 Hrs Trek
Today after breakfast at logde, we climb through meadows and moraine stones steps then reach to Gorakshep,either climb to kalapathar or continue heading to Everest base camp. We recommend this day go to Everest base camp. By the way, from Everest base camp you will not see Mount Everest. From kalapatha, where we can see entire south face of Mt. Everest and peaks around & skyline of Tibet pleatue. Overnight at the height of (5,364) in lodge included three meals. (Breakfast / Lunch / Dinner).
Day 11 : Trek to Lobuche(4,940m) via Kalapather(5,545m) - 9 Hrs Trek
Today early in the morning we begins our trek to get dramatic views of sun shining on mount Everest from Kalapatthar. It is dark and cold temperature approximately -10 to -15 degree Celsius in the morning. It is tough walk to the Kalapather because of the high altitude and shivering cold. By reaching the Kalapather top, you will have incredible views of the mountains ever in your lifetime. We click many beautiful pictures from the top of Kalapather to take the memory of Everest. We return back to the Lobuche for overnight.
Day 12 : Trek to Dzongla(4,830m) - 4 Hrs Trek
After breakfast, we will be heading towards Dzongla. The trek is about 3 to 4 hours. The route goes beside the river bed off stream. The trail heads in southeastern side which provides us a lovely view of towering heights of Ama Dablam and Kangtega-Thamserku. Similarly, Taboche looms is just a few steps ahead. The ancient village, Pheriche village is also clearly visible during our trek. We will go through mound in Chukpi Lhara which will bid a good bye with fresh memories. Chola Lake spreaded below Mt Cholaste is a view to observe on our route. The lakes will give us a fresh view until we descend a basin. Then we have to climb up a spur and the then have to descend a steeply way down to another broad basin. Then after an hour walk we reach Dzongla. Meanwhile we will have to cross a bridge in this an hour walk. We will stay overnight at Dzongla at local guest houses inclusive B.L.D.
Day 13 : Trek to Gokyo(4,800m) via Chola pass(5,368m) - 8 Hrs Trek
Dzongla-gokyo is our next trek route which is about 7-8 hours walk. After our breakfast we will start our trek from Dzongla. Just after we step out of the hotel we can have the splendid view of Cholatse. We have to head towards western side of Dzongla. The trip today is little harder than earlier. The path descends; we will go beside the stream coated with ices on some places. About after an hour we will reach to the top of basin. From there we can have the enchanting view of the Chola Lake and the Ama Dablam which appears over a range of mountains in the south and Cholaste soars on the west. The journey from here seems to be little difficult as climbing the incline which is steepy made more difficult by boulders and may we have to scramble. We may have to bear a little risk as the rocks can be glazed by ice. After we reach at the top we can see prayer flags, strung across cairns, flapping in the strong wind. The exciting view will take your breathe out. The path from here is little easy as we just have to descend but it can be found dangerous if rocks are gazed by the ice. So we need to be careful. Then we reach to Thangnak, and as we pass the village we will be welcomed by shiny Mountain View. After a short walk, we will be at the edge of Ngozumpa glacier. Then after from the other side of the glacier we can have the view of beautiful Gokyo Lake. On the edge of the Gokyo Lake, gokyo village is situated. It is our final destination where we stay for a night inclusive B.L.D.
Day 14 : Rest Day
On the day, we will take rest on the Gokyo village and have the view of enchanting sites of Gokyo village. If the day is favorable then we can climb Gokyo Ri and enjoy the view of clear Everest Region. The Gokyo region not only provides you the view of Gokyo peak but also adds an opportunity viewing series of six lakes. You can also see Thonak Thso Lake(forth lake) and Ngozuma Thso lake(fifth lake). The forth lake of this series has high cliff and peaks raising above the lake just about 3 kms north. We can have the view of the turquoise colored water of the lake. Moreover we can climb on the hill and get amazing view of Mt. Cho-Oyu, Mt. Gyachung Kang, Mt. Everest, Mt. Lhotse, Mt. Nuptse, and Mt. Makalu. Cho-Oyu base camp situated beyond fifth lake, from where we can have the closer view of Mt. Cho Oyu and Gyachung Kang. Cho-Oyu base camp and the biggest glacier of the world- the Ngazumpa Glacier is the view to observe from the northern part of the fifth lake. If possible we may even head to the sixth lake too. Then we return to Gokyo village and spend overnight at lodge inclusive B.LD.
Day 15 : Trek to Marlung(4,210m) via Renjo La(5,360m) - 8 Hrs Trek
After having one day rest and some sightseeing in Gokyo, our next trek will be to Marlung via Renjo-La pass. We need to be little hurry to head towards Marlung as there is no place to stay at Renjo-La. After we leave Gokyo valley, we will turn to Renjo-La trial by Dudh Pokhari. After a walk of about 3 hours we can reach to Renjo-La where we can see highest peak in the world Mt.Everest (8,848m), Mt Lhotse (8,516m), Mt. Cholaste (6,440m) and Mt. Tabuche (6,542m) smiling at us. We can have the similar view here in Renjo-La as we had from Gokyo Ri where third Gokyo lake and Gokyo village can be seen beneath Ngozumpa glacier. Continuing our journey, the trial steps down a stone staircase and then need to scramble to reach the south bank of a small dazzling lake named as Angladumba Tsho. There might be presence of ice on the way while moving down the trek. We can see Relama tsho and Renjo Lake during our walk. Then we walk down narrow valley to Lumde where we may find a hotel but it is often found closed. After we reach Lumde, we can reach Marlung almost after an hour on the east of the Bhote Koshi. We will stay overnight at Marlung inclusive BLD.
Day 16 : Trek to Namche Bazar(3600m) - 6 Hrs Trek
After staying a night at Marlung, we will be descending to Namche Bazar. We will start our journey in the early morning from Marlung. We will be following the route used to be used by the Tibetan traders. We cross Bhote Koshi and step downwards Taranga. The pat goes through the valley of Langmuche Khola. This khola (stream) drains from the glacial lake named Dig Tsho. This lake was once burst in 1985 causing floods affecting Dudh Khosi valley and Thame. Thame is a beautiful village. We can get dew hotels in this village. Moreover we can see some eye-catching view of some mountains namely Thamserku, Katenga, Kusum Kangguru, etc. There situates a famous gompa situated some fields farther on the west hill. This gompa is believed to be established some 325 years ago. This gompa features three big images of Chenresig (Avalokiteswara), Guru Rimpoche, Buddha Sakyamuni. if you visit on may then you can experience the fun of Colorful Mani Rimdu festival featuring colorful mask dances as this festival is held only on may. Moving forward we cross a bridge and reach to Samde. Again we descend downwards to thamo village. We can see a monastery called Khari Goma which is a nunnery being home to some nuns and monks. Leaving this village behind we come to the world's highest hydroelectric power station built on Austrian help. Then after we come to purthe after a short walk where you can find is Laudo monastery which is run by Kopan monastery of Bouddhanath in Kathmandu and is popular among the westerners for Buddhist study and meditation center. Then after we ultimately reach Namche bazar. We can see some Gompas on the way to Namche bazar colorful player flags, and Mani stones. Overnight at Namche bazar inclusive BLD
Day 17 : Trek to Lukla - 8 Hrs Trek
Following the morning breakfast, we continue our trek to Lukla along the Dudh Koshi River. The trail goes steeply downward with rocky terrain. Even though, we are walking the same route, we feel completely different then the before. We pass through the rhododendron, pine and oaks forest and several snow covered peaks. Overnight at loges included all the three meals. (Breafast/Lunch/Dinner.)
Day 18 : Fly Back to Kathmandu
Usually, flight from Lukla to Kathmandu is schedule in the early morning. We take a scenic flight from Lukla to Kathmandu about forty five minutes. And then transfer to your hotel for the refreshment. But sometime the flight can be delayed or cancel in the mountain regions due to bad weather and other unprecedented reasons that are beyond our control.
Day 19 : Departure Day
Today, we drop you to the international airport three hours before our schedule flight to catch to flight back to your home and pray for your Safe journey.
Our Service Includes:-
• All the hotel and airport transfer.
• Round airfares (Kathmandu- Lukla - Kathmandu)
• An experienced trekking guide and supporting porters.
• Full board meals duing the trek (Breakfast, Lunch, Dinner)
• 2 nights hotels accommodation in Kathmandu city at 3 star category hotel.
• Twin sharing best lodges accommodation during the trek.
• All the National park trekking permits and entry fees.
• World heritage sites sightseeing in Kathmandu and all the entrance fees.
• Company guarantees professional rescue services, in case of emergency.
• Hiking pole, trekking route map and sleeping bag for the trek.
• All the government and service charge included. 
• Farewell dinner at typical Nepali restuarunt with cultural dance show.
Our Service Doest Not Includes:-
• Inernational flights and Nepal entry visa.
• Any alcoholic beverages and cold drinks such as coke, fanta, mineral bottle water.
• Your personal expenses such as laundry, phone calls etc. 
• Tips to the trekking guide and porters.