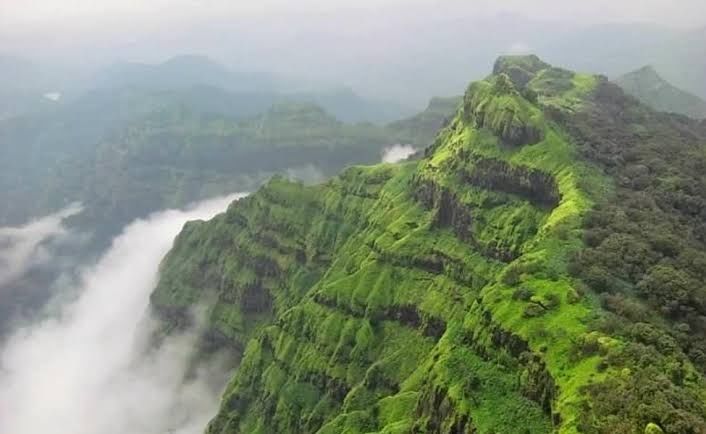 The mountain can be viewed, in its entirety, from Bari village located on its eastern side, about six km from Bhandardara. It can be reached by road, via Igatpuri on the Mumbai-Nasik route. Trains leaving from Mumbai provide an alternate mode of transport till Kasara railway station with connecting State transport buses, plying on the Akole-Kasara route, leading up to the base village. Private vehicles from Kasara provide yet another alternative to public transport.
The peak attracts a large number of trekkers and devotees determined to scale the mountain. To reach the summit there are well designated trekking routes.The most popular route is through the eastern mountain face taking off from the base village Bari. The Waki river, a tributary of Pravara, takes origin on its eastern slope and flows as a stream through the outer fringes of Bari. A short distance away from the stream a Hanuman temple has been built. This provides an important landmark to commence the trek as well as a resting post for those nearing the final lap of their trek. The route from behind this temple takes the hiker straight to the summit. The trek along this route is a mix of easy to ascend slopes as well as treacherous rocky outcrops overlooking the valley below. Considering the increasing foot fall in recent years, the government has built iron ladders along the vertical hill slopes. These assist trekkers to allow for a convenient and safe ascent.
The route via Indore is relatively unexplored as not many people are aware of it. Unlike the regular route via Bari, which has fixed ladders, cemented steps and several people flocking during the monsoon, the route via Indore is raw with stone steps and a huge iron chain for support at the dangerous patches.
Kalsubai temple
Edit
Temple at the summit
The truncated summit provides a modest area of flat land which holds a sacred temple of a local deity.
A traditional prayer service is held every Tuesday and Thursday by a priest. During the festival of Navratri a fair comes to be organized each year with many stalls being set up near the summit to provide pooja materials to the devotees. On these special occasions local villagers participate in this fair which helps to supplement their livelihood and as well as provides them an opportunity to revere the mountain.